Market Overview
The variable frequency drive market size stood at USD 23.56 billion in 2022, and it is projected to grow at a CAGR of 5.20% during 2022–2030, to reach USD 35.34 billion by 2030. This is due to the increasing demand for energy-efficient electrical equipment such as motors, pumps, and fans, and the surging government regulations in this field.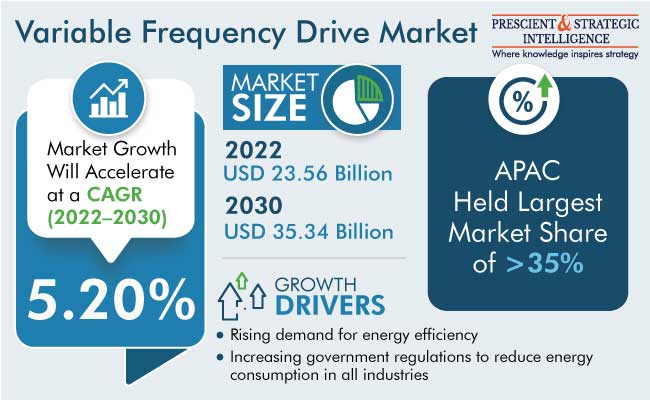 The need for reducing electricity consumption and increasing energy efficiency is rising. The world is going toward a clean energy transition, which will help in achieving net-zero emissions by 2050, along with measures such as electrification, material efficiency, and digitalization. With this goal of energy efficiency, a transition toward efficient buildings, transport, and industries is needed.
Moreover, there are various government policies and regulations to reduce the consumption of energy and use efficient methods. For instance, the Irish government has launched campaigns to promote and encourage energy efficiency and the campaign is run with the help of the Sustainable Energy Authority of Ireland (SEAI). These regulations help exclude worst-performing practices and equipment from industries, set rules for the measurement of performance, and boost average efficiency levels. Due to these measures toward energy efficiency, the market for variable frequency drives (VFDs) is rising.
In addition, the Industrial Efficiency and Decarbonization Office (IEDO), a body under the U.S. Department of Energy, helps in the advancement of technologies and the implementation of sustainable practices to enable industrial sectors to cost-effectively decrease greenhouse gas (GHG) emissions. Through this type of program, the U.S. is on a way to cut CO2 emissions by 50% by 2030. The industrial sector accounted for around 30% of the nation's energy-related emissions.
Furthermore, IEDO is constructing the foundation of energy efficiency as a decarbonization path to include the use of low-carbon fuels and feedstocks, process electrification, and carbon capture to meet industrial emissions reduction targets. Due to these, the demand for VFDs is rising, as these help in decreasing the usage of energy in industries and reaching their targets.
Rapid Industrialization
Rapid industrialization is also one of the key factors driving the demand for such drives. With more and more industries being set up globally, the need for variable frequency drives is increasing, as they are used in areas such as conveyors, mixers, welders, pumps, ventilation fans, grinders, cutting machines, and many more.
Almost all industries globally are dependent on some types of motors, which consume a lot of energy. Almost 300 million motors are used in the world and they account for more than 45% of the world's electricity consumption. The use of VFDs is helping in managing motor speed, which is needed for several applications, and thus, helps industries to achieve the energy efficiency demand.
Modernization of Power Infrastructure
With the growing energy consumption, the demand for stable and energy-efficient power infrastructure is also increasing. Continuous power can only be ensured with the help of a system that is capable of handling such an amount of power generation and unexpected fluctuations. The increasing number of blackouts is due to the aging power infrastructure and lack of clear vision toward the same. Now various measures are being taken for modernizing the power infrastructure globally. With the rising need for energy efficiency and the modernization of power infrastructure, the variable frequency drive market is expected to grow at a high rate in the forecast period.
AC Drive Category To Witness Faster Growth
In the type segment, the AC drive accounted for a revenue share of more than 69% in 2022. This can be because most of the traditional DC drives are being replaced by AC drives, due to their higher operation and maintenance costs and generation of carbon dust. They also generate poor power factors, which can be detrimental to electrical systems.
Moreover, in AC drives, the need for power system components is low, as there is no need for transformers, breakers, and HT capacitors. Also, these drives help in reducing energy consumption and improving equipment life. Thus, these factors are expected to boost the demand for AC drives in the coming years.
Variable Frequency Drive Market Report Coverage

| | |
| --- | --- |
| Report Attribute | Details |
| Historical Years | 2017-2022 |
| Forecast Years | 2023-2030 |
| Market Size in 2022 | USD 23.56 Billion |
| Revenue Forecast in 2030 | USD 35.34 Billion |
| Growth Rate | 5.20% CAGR |
| Report Scope | Market Trends, Drivers, and Restraints; Revenue Estimation and Forecast; Segmentation Analysis; Impact of COVID-19; Companies' Strategic Developments; Market Share Analysis of Key Players; Company Profiling |
| Segments Covered | By Type; By Application; By Voltage; By Power Rating; By End User; By Region |
Explore more about this report - Request free sample pages
Low-Voltage Drives Dominate the Industry
Based on voltage, the low-voltage drive category accounted for the largest revenue share in 2022, and it is also expected to remain the largest in the forecasted period. This is because these drives provide various general and industry-specific solutions with a variety of functions. In addition, they are being used in several industrial automation applications from small to large areas in various industries, such as steel & metal, cement, oil & gas, mining, sugar, pulp & paper, water & wastewater, rubber, and plastics. Also, due to their ability to work for both low- and high-power applications, the demand for these drives is increasing.
APAC Is the Market Leader
APAC is the largest market for VFDs, accounting for a revenue share of 35% in 2022. The regional industry is also expected to witness the fastest growth in the coming years. This is ascribed to the rapid industrialization in the region, driven by countries like China, India, Japan, and Australia; various government initiatives to reduce energy consumption through energy-efficiency norms; and the rising investments in this field, which can lead to the advancement in technology to focus on high reliability and reduced energy costs.
According to Asian Development Bank, improving energy efficiency is a highly cost-effective alternative to increasing energy availability and this can be done by fitting the energy-efficient industrial equipment, which costs about half that of adding the equivalent coal-fired power-generating capacity.
Moreover, the demand for VFDs is also increasing in North America, due to the presence of strict regulations for energy efficiency, the upgradation of aging infrastructure to secure electrical distribution systems, and rapid industrialization in the region.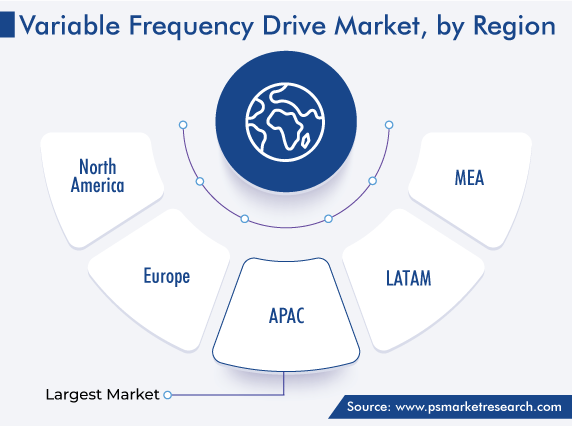 Demand for Medium-Power Drives Will Rise at the Highest Rate
On the basis of power rating, the demand for medium-power drives (41–200 kW) is expected to witness the fastest growth during the forecast period. This can be ascribed to the surging usage of these drives in medium-voltage electrical equipment, such as HVAC systems, exhaust fans, and conveyor belts. For example, in chiller systems, chilled water pumps may not be needed to operate at a single speed, which may differ during different seasons. This will help in significant savings due to less use of electricity. Installing VFDs to assist pumps allows operators to run chilled water pumps at lower optimum speeds to maximize system efficiency and save energy.
In addition, the low-power drive (6–40 KW) category is expected to grow at a significant rate in the coming years, owing to the amount of saving they can provide at a low capital cost and better process control. Also, due to their increasing applications in different industries, such as automation, food & beverage, and construction, the demand for these drives is increasing.
Oil & Gas Holds the Largest Share
Based on end user, the oil & gas category accounted for the largest revenue share in 2022. This is due to the usage of a large number of pumps and motors at production sites in this industry. Various motors and pumps, which are used in extraction, pumping, and distribution processes, use variable frequency drives to decrease energy consumption. The main advantages of such devices include the cost-effectiveness and smoothness of the regulation of pumping modes. It will help decrease pressure waves in pipelines in the transition from one process mode to another and reduce the number of unstable process modes.
During 2022–2030, the industrial category is expected to grow at a high rate, due to rapid industrialization and the increasing trend of using energy-efficient equipment in the industry. In this sector, VFDs are used in conveyors, welders, grinders, mixers, washers, and many more. Also, with the increasing use of the industrial internet of things (IIoT) in VFDs, technicians can monitor equipment conditions from anywhere and enabling them to correct anomalies in a timely manner. It also enables predictive maintenance and real-time monitoring of the equipment.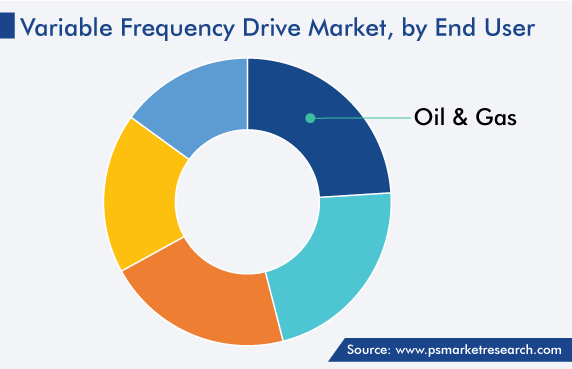 Key Variable Frequency Drive Manufacturers Are:
ABB Ltd.
Siemens AG
Danfoss
Schneider Electric
Rockwell Automation
Fuji Electric Co. Ltd.
Toshiba Mitsubishi-Electric Industrial Systems Corporation (TMEIC)
Hitachi Industrial Equipment & Solutions America, LLC
General Electric
Nidec Corporation
Delta Electronics Inc.
Sew-Eurodrive GmbH & Co KG
Parker Hannifin Corporation
Eaton Corporation Plc
Market Size Breakdown by Segment
The report analyzes the impact of the major drivers and restraints on the variable frequency drive market, to offer accurate market estimations for 2017–2030.
Based on Type
Based on Application
Pumps
Fans
Compressors
Conveyors
Based on Voltage
Low Voltage
Medium Voltage
Based on Power Rating
Micro Power Drive (0-5 KW)
Low Power Drive (6-40 KW)
Medium Power Drive (41-200 KW)
High Power Drive (>200 KW)
Based on End User
Oil & Gas
Industrial
Power
Infrastructure
Geographical Analysis
North America
Europe

Germany
U.K.
France
Italy
Spain

Asia-Pacific

Japan
China
India
South Korea
Australia

Latin America
Middle East and Africa

Saudi Arabia
South Africa