Chiller Market Overview
The global chiller market size was $7,330.7 million in 2019, and it is expected to reach $10,880.3 million by 2030, progressing at a CAGR of 5.0% during the forecast period (2020–2030). The major driving factors for the industry are the increasing global temperature, rising requirement for cooling equipment from industrial units, and surging spending on the development of infrastructure.
In the current scenario, the COVID-19 crisis is hampering the chiller market growth, as lockdowns have been imposed in numerous countries to stop the virus from spreading further. This has resulted in the shutting down of major manufacturing and commercial units, as well as diminished international trade. Similarly, construction projects have also been put on hold due to social-distancing norms and a shortage of laborers. In this way, the lockdown has affected the production of, as well as the demand for chillers, but the outlook for the future remains bright.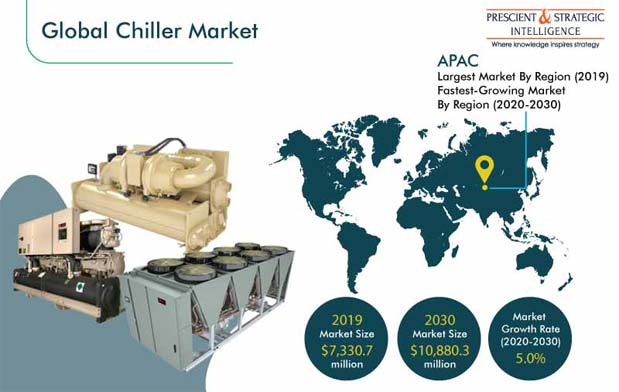 Segmentation Analysis
Scroll-Type Chillers Account for Largest Size in Market
The scroll category, on the basis of type, held the largest chiller market share in 2019, due to the rising demand for low-cooling-capacity chillers from commercial offices and buildings and the hospitality sector. Scroll chillers are further of the air-cooled and water-cooled types, of which the air-cooled bifurcation contributed the higher revenue to the market in the past. The usage of water to cool scroll chillers, especially for low-capacity requirements, is not feasible, which is why air-cooled scroll chillers are more popular.
Residential Category To Witness Fastest Growth in Chiller Market Share
During the forecast period, the fastest chiller market size growth, based on end-user, would be witnessed in the residential category. The rising popularity of the district cooling approach in urban areas and surging urbanization rate are propelling the sales of chillers.
Geographical Outlook
Asia-Pacific (APAC) — Largest and Fastest-Growing Market for Chillers
Asia-Pacific (APAC) held the largest chiller industry share during the historical period (2014–2019), driven by the massive demand for these systems from China. The construction sector is expanding in the country, especially in Wuhan and Shanghai; China also plans to lay 6,800 km (4,225 mi) of railway lines in the years to come. Similarly, the expanding IT sector and network of data centers in APAC are creating a high demand for chillers, which is why the APAC chiller industry would observe the fastest growth in the world throughout the forecast period.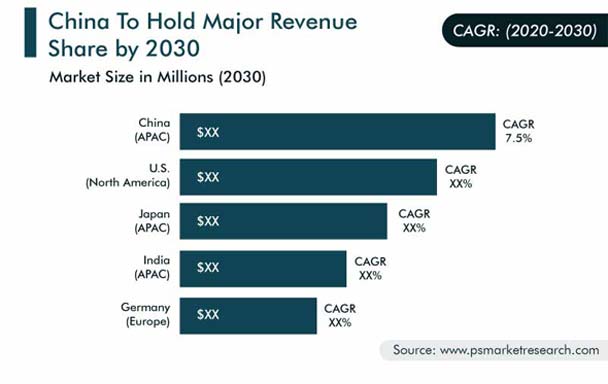 Trends & Drivers
Usage of R32 Refrigerant Is Significant Market Trend
One of the key trends in the chiller market currently is the usage of the R32 refrigerant. Compared to R22, R32 conveys heat more efficiently and decreases the chiller's consumption of electricity by 10%. Similarly, R32 also has a considerably lower Global Warming Potential (GWP) than the R410A and R22 refrigerants. Furthermore, since the cooling capacity of R32 is higher than many other refrigerants, chillers using it require less piping, which results in a higher operational efficiency. Due to all the energy efficiency and eco-friendliness advantages of R32, its usage in chillers is rising.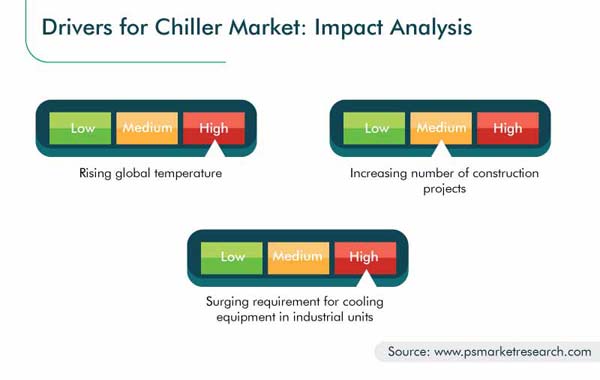 Rising Global Temperature Augmenting Chiller Market Growth
The strongest factor pushing the chiller market on the path to prosperity is the constant rise in the temperature. As coal, natural gas, and other fossil fuels burn, they release greenhouse gases (GHG), including methane, nitrous oxides, and carbon dioxide, into the atmosphere. The rising GHG concentration is leading to the increasing absorption of infrared radiation by the atmosphere. As a result, compared to the average of the late 19th century (1850–1900), global temperature in 2019 was 1.28 °C (2.31 °F) higher. This is leading to the rapid adoption of chillers in the residential, commercial, and industrial sectors across the world.
Chiller Market also Being Aided by Expanding Construction Sector
Yet another reason behind the chiller market size growth is the expansion of the construction sector. As per estimates, from $10.5 trillion in 2017, the global construction market will reach $12.8 trillion by 2022, driven by the growing pipeline of office premises, residential building, airport, and metro rail construction projects. For instance, London had 115 under-construction high-rise buildings in 2018, whereas Chicago had 42 such under-construction projects in 2019. Similarly, China is planning to construct 136 airports by 2025, while India has plans to build 100 airports in the next 15 years. Since chillers are used in all such spaces, the demand for them will continue to rise, with the growth in the infrastructure sector.
Chiller Market Report Coverage

| | |
| --- | --- |
| Report Attribute | Details |
| Historical Years | 2014-2019 |
| Forecast Years | 2020-2030 |
| Base Year (2019) Market Size | $7,330.7 Million |
| Forecast Period CAGR | 5.0% |
| Report Coverage | Market Trends, Revenue Estimation and Forecast, Segmentation Analysis, Regional and Country Breakdown, Competitive Analysis, Company Share Analysis, Companies' Strategic Developments, Product Benchmarking, Company Profiling |
| Market Size by Segments | Type, Capacity, End-User, Region |
| Market Size of Geographies | U.S., Canada, Italy, Germany, Turkey, France, Spain, Russia, U.K., China, Japan, India, South Korea, Malaysia, Indonesia, Thailand, Sri Lanka, Bangladesh, Bhutan, Brazil, Mexico, Argentina, Saudi Arabia, U.A.E., Egypt, Israel, Oman and Bahrain, Nigeria, South Africa, Kuwait, Qatar, Kenya, Tanzania, Ivory Coast, Uganda |
| Secondary Sources and References (Partial List) | Air-Conditioning, Heating, and Refrigeration Institute (AHRI), All India Air conditioning & Refrigeration Association (AIACRA), American Society of Heating, Refrigerating and Air-Conditioning Engineers (ASHRAE), Building Performance Institute Europe (BPIE), Indoor Environment Energy Efficiency Association (ACCA), International Council of Air-Conditioning, Refrigeration, and Heating Manufacturers Association (ICARHMA), International Monetary Fund (IMF), Japan Refrigeration and Air Conditioning Industry Association (JRAIA), Mechanical Contractors Association of America (MCAA) |
Explore more about this report - Request free sample pages
Cooling Equipment Rapidly Being Deployed in Factories too
The chiller market advance is also being supported by the growing requirement for such systems in industrial settings. Chillers are used for cooling the machinery, as well as the products being manufactured. The key areas where these devices find usage within the industrial sector are chemical processing, pharmaceuticals, food and beverage processing, paper and cement processing, power generation, X-ray diffraction systems, and welding. With the increasing number of manufacturing plants, the demand for chillers is surging. For instance, INEOS Holdings Limited and Borealis AG are planning to build a 750,000-ton and 750,000-ton-per-year propane dehydrogenation (PDH) plant, respectively, in Europe.
Players Launching New Chillers to Make Most of Market Opportunities
The global chiller industry is consolidated, as per the report analysis, as the top four players hold the majority of the share. The key companies offering chillers are Johnson Controls International Plc, Carrier Global Corporation, Daikin Industries Ltd., Mitsubishi Electric Corporation, and LG Electronics Inc.
The industry's competitive landscape is presently characterized by product launches, as these moves give companies the best chance of targeting existing and new customers.
In February 2019, Johnson Controls International plc added two new models — 041 and 048 — to its YORK YLAA line of air-cooled scroll chillers. Two independent circuits provide these chillers with partial redundancy and augment the cooling capacity of the YORK YLAA range from 40 tons to 230 tons.
In August 2018, RTHF G was introduced by Trane Technologies plc under its XStream range of water-cooled screw chillers. These high-efficiency chillers with variable-speed compressors have an Energy Efficiency Ratio (EER) of 6.3 and European Seasonal Energy Efficiency Ratio (ESEER) of up to 9.5.
In July 2018, Daikin Industries Ltd. unveiled a new generation of air-cooled scroll chillers. These variants, which use the R32 refrigerant, have a 10% higher SEER ratio than models which use R410A.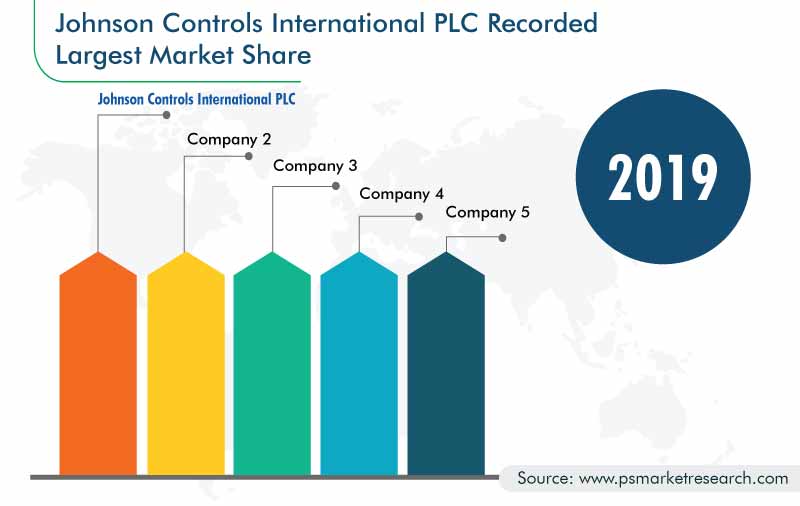 Most Prominent Players Profiled in Chiller Market Report Include:
Johnson Controls International PLC

Daikin Industries Ltd.

LG Electronics Inc.

Mitsubishi Electric Corporation

Gree Electric Appliances Inc. of Zhuhai

Danfoss A/S

Smardt Chiller Group Inc.

Qingdao Haier Co. Ltd.

GAMI Air Conditioners Manufacturing

Trane Technologies Plc
Carrier Global Corporation

Zamil Air Conditioners

SKM Air Conditioning LLC

Petra Engineering Industries Co.

Thermax Limited

Midea Group Co. Ltd.

Thermal Care Inc.

Blue Star Limited

The Arctic Chiller Group Ltd.

Frigel Firenze SpA
Chiller Market Size Breakdown by Segment
The chiller market report offers comprehensive market segmentation analysis along with market estimation for the period 2014–2030.
Based on Type
Screw
Scroll
Centrifugal
Absorption

Direct-fired
Hot-water
Steam

Reciprocating
Based on Capacity
Water-cooled

Less than 500 T
500 T–1,000 T
1,001 T–2,000 T
Above 2,000 T

Air-cooled

Less than 150 T
150 T–300 T
301 T–500 T
Above 500 T
Based on End-User
Commercial

Hospitality
Transportation
Offices and buildings
Healthcare
Supermarkets/Hypermarkets
Government

Industrial

Oil and gas
Food and beverage
Energy and utilities
Pharmaceutical
Automotive

Residential
Geographical Analysis
North America
U.S.
Canada

Europe

U.K.
Germany
Italy
France
Spain
Turkey
Russia

Asia-Pacific (APAC)

China
Japan
India
South Korea
Indonesia
Thailand
Malaysia
Sri Lanka
Bangladesh
Bhutan

Latin America (LATAM)
Middle East and Africa (MEA)

Saudi Arabia
U.A.E
Egypt
Israel
Nigeria
Oman and Bahrain
South Africa
Kuwait
Qatar
Ivory Coast
Kenya
Uganda
Tanzania