Market Overview
The global vaccine adjuvants market was valued at USD 877.5 million in 2023, which is expected to reach USD 1,375.9 million by 2030, growing at a CAGR of 6.7% during 2024–2030. The growth is ascribed to the rising incidence of infectious illnesses and the escalating usage of vaccine adjuvants, as a result.
There has been a tremendous rise in the burden of communicable diseases, such as TB, HIV, and malaria, in recent years. This has led to an increase in the usage of prophylactic and therapeutic vaccines, which, in turn, has boosted the demand for adjuvants.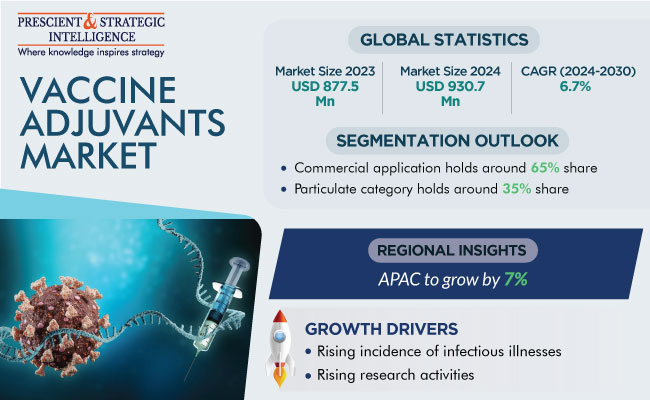 Additionally, this surge in demand is driven by a sharp surge in the prevalence of stage IV A–B cervical cancer, which is quite an uncommon diagnosis, with a five-year survival rate of roughly 17% for individuals with limited availability of treatments. This has increased the awareness among people to get vaccinated as it is observed that human papillomavirus (HPV) vaccination programs for children can reduce the prevalence of atypical cervical lesions and HPV infection in adults in several populations.
Furthermore, the increasing prevalence of zoonotic diseases, such as bird flu, animal flu, and brucellosis, is a major contributor. The primary factor involved in the spread of contagious zoonotic diseases is close contact with animals. According to the Centers for Disease Control and Prevention, 3 out of every 4 novel or emerging infectious diseases in humans and more than 6 out of every 10 of the existing ones in humans can be transmitted from animals. As a result, many vaccine types are utilized to treat the aforementioned infectious zoonotic diseases. Hence, the demand for vaccine adjuvants is primarily driven by the rising rates of zoonotic diseases.
Moreover, due to the insufficient immunogenicity of novel vaccine antigens, the importance of adjuvant research during the development of vaccines has increased significantly. The need for these chemicals is also expected to increase due to the strong emphasis on long-lasting vaccination effects against both existing and novel illnesses.
Thus, a number of major firms are working to find and develop novel adjuvants to cure deadly diseases. For instance, in 2021, GSK announced plans to produce 1 billion doses of its pandemic vaccine adjuvant system to support the development of numerous adjuvanted COVID-19 vaccine candidates.
Increasing Funding for Research on Infectious Diseases and Vaccines To Create Lucrative Growth Opportunities
Government officials and pharmaceutical and biotechnology firms have realized the significance of infectious disease research in the wake of the novel coronavirus outbreak.
For instance, through the Health Resources and Services Administration (HRSA), the U.S. Department of Health and Human Services (HHS) announced a new USD 350 million initiative in November 2022 for HRSA-supported health centers, to increase COVID-19 vaccination rates in their communities, with a special emphasis on marginalized people.
Moreover, for preventing future epidemics, early detection of disease threats, and quick and efficient response, the U.S. has announced a funding commitment of USD 122 million to three top medical research institutions in India.
Rising Research Activities Drives The Market
There has been a significant surge in research initiatives in healthcare, ascribed to the drastic escalation in the burden of various communicable and non-communicable diseases. For instance, the growing cases of cancer due to the poor lifestyles, which are characterized by a poor diet, smoking, and tobacco consumption, have led to robust research in order to create better and more-effective solutions for its prevention, diagnosis, and treatment.
One of the most-important developments in vaccine research has been the use of adjuvants to enhance the immunological response to vaccinations. The first adjuvant used was aluminum salt, commonly referred to as "alum," and it is still widely used today. Moreover, studies have shown that adjuvants for vaccines can improve cancer immunotherapy. With the growth in the popularity of immunotherapy as a cancer treatment, several such agents are being researched, and numerous adjuvanted cancer vaccines are currently in the clinical development stage.
Vaccine Adjuvants Market Report Coverage

| | |
| --- | --- |
| Report Attribute | Details |
| Market Size in 2023 | USD 877.5 Million |
| Market Size in 2024 | USD 930.7 Million |
| Revenue Forecast in 2030 | USD 1,375.9 Million |
| Growth Rate | 6.7% CAGR |
| Historical Years | 2017-2023 |
| Forecast Years | 2024-2030 |
| Report Scope | Market Trends, Drivers, and Restraints; Revenue Estimation and Forecast; Segmentation Analysis; Impact of COVID-19; Companies' Strategic Developments; Market Share Analysis of Key Players; Company Profiling |
| Segments Covered | By Product; By Disease Type; By Route of Administration; By Application; By Region |
Explore more about this report - Request free sample pages
Particulate Category Dominates Product Segment
The particulate category led the product segment, with a market share of 35%, in 2023. The availability of a wide variety of products and their increasing effectiveness against the target diseases can be credited for this large share.
Adjuvants made of alum, virosomes, and cytokines are included in the category of particulates. The most-widely used adjuvant made of aluminum salts is alum. When used for this purpose, most aluminum salts exhibit outstanding safety profiles, beginning with alum in diphtheria and tetanus vaccines.
Additionally, it is a component of the HPV and hepatitis B vaccines. On the other hand, hepatitis A, Epaxal, and influenza vaccine Inflexal use virosomes, which are particles that resemble non-infectious viruses, as efficacy enhancers.
Furthermore, emulsions held a significant share as well, credited to the growth in the count of adjuvanted vaccines against SARS-CoV-2.
Moreover, the pathogen category is expected to experience the quickest growth, with a CAGR of 7.5%, over the projection period. Monophosphoryl lipid A is among the pathogenic adjuvants that have been studied for use in vaccines. It is mixed with alum to make the AS04 adjuvant, which is a component of the Cervarix HPV vaccine.
Infectious Diseases Category Dominates Disease Type Segment
Infectious diseases held the largest share, of 45%, in 2023. This can be attributed to the steadily rising prevalence of infections, including hepatitis A, B, and C; influenza, and malaria. Moreover, the significant surge in the incidence of such illnesses has led to the increase in research and development in order to get the best and most-efficient treatment.
The cancer category is set to expand the quickest. This will be due to the high prevalence of and active R&D for targeted therapies for different types of cancers. In this regard, the increasing use of adjuvanted vaccines, such as Cervarix, will spur this growth.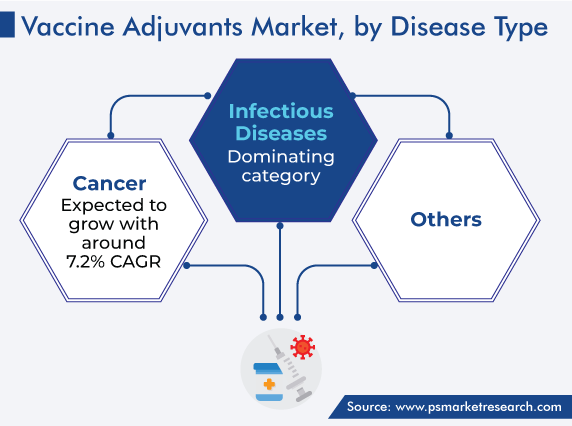 Intradermal Route Showing High Growth Rate
In 2023, the intramuscular category held the greatest market share, of 30% because of the improved immunological specificity of vaccines given into the muscle. Such drugs consist of meningitis, HPV, influenza, and many other vaccines. Moreover, the method of administration governs the effectiveness of vaccines. For instance, the most-popular parenteral adjuvants—alum salts—are not effective when taken orally or through the nose.
The intradermal category is predicted to develop at the highest growth rate, since this route has a longer duration of action and absorption than others. When injected intradermally with vaccines, certain efficacy enhancers, such as TLR3-Ligand Poly (I:C), stimulate mucosal antibody responses and guard against genital HSV-2 infection.
The intranasal category is also expected to witness remarkable growth, because of the sudden surge in the usage of intranasal vaccines since the coronavirus pandemic. Additionally, they are believed to offer better patient compliance as they remove the need for needles, thereby eliminating pain and discomfort, which are usually associated with injections through the intramuscular or any other route. In addition, these vaccines are not only more comfortable but also believed to be more effective, since they would prepare a person's mouth and nose for the coronavirus, which are the two most-prevalent routes for the virus to enter the human body.
North America Is Market Leader
On the basis of regional analysis, North America held the largest share, of 45%, in 2023, globally. This dominance is ascribed to the presence of top players, well-established healthcare infrastructure, technological advancements, and beneficial reimbursement policies for healthcare in the region. Additionally, the widespread use of innovative technologies in healthcare and the growing demand for higher-quality healthcare services are key contributors.
Moreover, an increase in the R&D spending on novel treatments and an uptick in the incidence of deadly epidemic diseases drive the market, by making immunization against acute and chronic diseases necessary.
The growth is also due to the significant investments in research and development in the pharmaceutical and biotechnology industries, presence of reputable healthcare organizations, and strong support for the establishment of new R&D facilities in the continent. Furthermore, there is an increasing demand for combined vaccinations, driven by government and non-government initiatives and numerous immunization programs.
In the region, Canada is also characterized by the superior healthcare infrastructure, rising consumer awareness, strong backing of the government, and technological advancements in the field of disease prevention and treatment.
Europe is predicted to account for a significant share as well, primarily credited to the aging population, rising chronic disease prevalence, existence of established biopharma and specialty chemical companies, and surging rate of product introductions. For instance, in June 2022, VLA2001, a whole-virus, inactivated, and adjuvanted COVID-19 vaccine, was launched with the marketing approval in Europe for use as the primary preventive strategy in individuals between the ages of 18 and 50.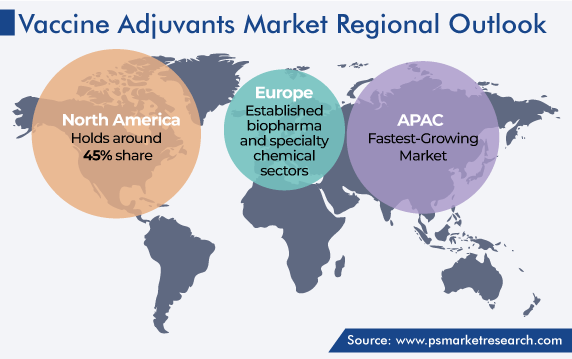 Furthermore, the presence of trained doctors and other healthcare professionals and established drug and pharmaceutical chemical producers in the region are contributing to Europe's notable share. Germany leads the sector in Europe because of the growing prevalence of infectious diseases, such as influenza, which is leading to a rise in the awareness among people of the importance of vaccines.
Top Players in Vaccine Adjuvants Market Are:
GlaxoSmithKline plc
Dynavax Technologies
Novavax Inc.
Agenus Inc.
Croda International plc
Seppic
OZ Biosciences
Phibro Animal Health Corporation
InvivoGen
Market Size Breakdown by Segment
This fully customizable report gives a detailed analysis of the vaccine adjuvants market from 2017 to 2030, based on all the relevant segments and geographies.
Based on Product
Pathogen
Adjuvant Emulsion
Particulate
Combination
Based on Disease Type
Infectious Diseases
Cancer
Based on Route of Administration
Oral
Intradermal
Intranasal
Intramuscular
Based on Application
Geographical Analysis
North America
Europe

Germany
U.K.
France
Italy
Spain

Asia-Pacific

Japan
China
India
South Korea
Australia

Latin America
Middle East and Africa

Saudi Arabia
South Africa
U.A.E.