U.A.E. Chiller Market Overview
U.A.E. chiller market is estimated to stand at $134.7 million in 2018, and is further anticipated to advance at a CAGR of 5.9% during the forecast period of 2019-2024. Some of the major factors driving the market includes growing hospitality sector and overall growth in the construction sector. Additionally, growing demand from the transportation industry is also propelling the growth of U.A.E. chiller market.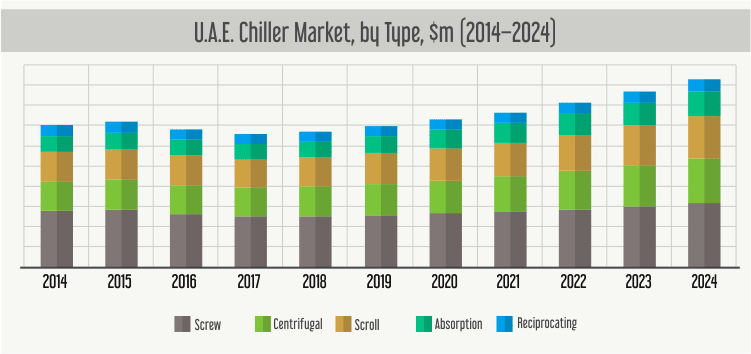 Based on chiller type, the market is categorized into screw, scroll, centrifugal, reciprocating, and absorption, of which centrifugal chillers category is anticipated to offer huge opportunities in the forecast period. Adoption of high energy efficiency magnetic bearing centrifugal chillers with a smaller energy footprint instead of conventional centrifugal chiller is one of the most significant trends being observed in the market.
Based on end-user, U.A.E. chiller market has been segmented into commercial, industrial and residential. Among these, commercial sector is registering an extensive adoption of chillers in application areas including hotels, commercial buildings, and offices. The hotel industry in U.A.E. is citing huge investments, and rise in the number of hotel construction projects. As of November 2018, the construction pipeline in U.A.E. stood at 233 hotels and 63,734 rooms.
On the basis of region, Dubai is the prime market for chillers in the country. In short term, rising construction activities in the region owing to upcoming World Expo event in 2020, is expected to drive the chillers market. On the contrary, in the long term, government efforts toward reducing dependency on oil and gas sector, where it would divert its resources toward tourism and hospitality sector. Dubai is registering more than 150 hotel projects in response to upcoming major event, to cater to the demand for upcoming tourist influx.
U.A.E Chiller Market Dynamics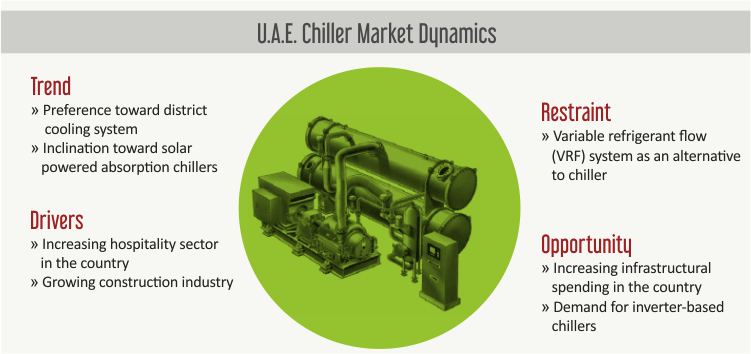 Driver
U.A.E. chiller market is driven by several factors primarily, overall growth in hospitality sector. The hospitality sector in U.A.E. registered significant growth in the recent years. According to World Travel and Tourism Council, the travel and tourism sector contributed 11.3% share in the country's GDP in 2017. It is due to increasing business opportunities in cities including Dubai and Abu Dhabi, resulting improved growth in travel and tourism sector.
The government of U.A.E. has also launched initiatives to boost the growth of tourism sector in the country. It includes Dubai Tourism Strategy 2020, Sharjah Tourism Vision 2021, and Ajman Tourism Plan for Tourism 2015-2021. Additionally, the international tourism sector of Ras Al Khaimah, U.A.E. is expected to register rapid growth in the coming years. The number of visitors expected to reach 3 million by 2025, further aiding the growth in demand for hotels and restaurants in the region. The government is investing heavily on attractive projects some of which include Heart of Europe 2020, Marasi Business Bay 2022, Jewel of the Creek 2019, Dubai Creek Harbour 2025, and Marsa Al Arab 2020.
Trend
Increasing electricity consumption has been cited as one of the major concerns in U.A.E. Consumption of electricity increases during summer due to extensive use of air conditioners. Therefore, the country is focusing on utilization of renewable sources of energy. The country is witnessing annual average global solar radiance of 6kWh/m2/day. To use this energy, in 2017, the government of U.A.E. launched 'Energy Strategy 2050', which focuses on promoting renewable energy. The strategy aims to generate 44% of the domestic power by clean energy, 38% by gas 12% by coal, and 6% by nuclear power.
Inclination toward solar powered absorption chillers has been observed in the country due to growing demand for cost effective cooling systems and the need to reduce energy consumption. In absorption chiller, energy comes from waste heat, such as steam from industrial processes or heat generated from solar panels. As a result, solar energy driven chillers are predicted to register high growth in U.A.E. chiller market in the coming years.
U.A.E Chiller Market Competitive Landscape
U.A.E. chiller market is primarily characterized by four brands namely York, McQuay, Carrier, and Trane. The popularity of these brands can be attributed to their reputation, competitive price, and high energy efficiency. Trane, a brand of Ingersoll-Rand plc is one of the top players in the U.A.E. chiller market. For instance, the company signed a deal with Emirates Central Cooling Systems Corporation in February 2019, to supply ecofriendly centrifugal chillers with a total capacity of 110,000 RT to Empower.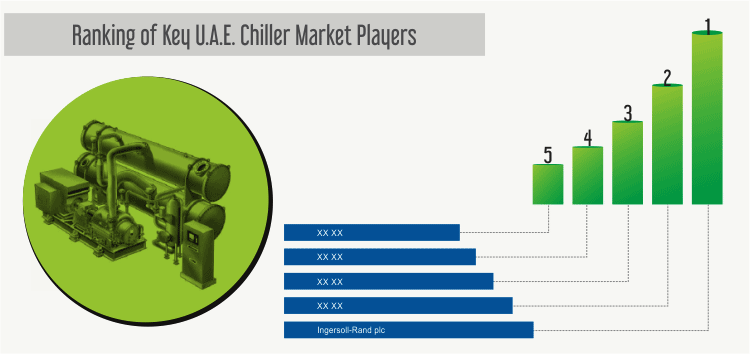 Johnson Controls International plc, Ingersoll-Rand plc, United Technologies Corporation, Daikin Industries Ltd., Mitsubishi Electric Corporation, LG Electronics Inc., Gree Electric Appliances Inc. of Zhuhai, Zamil Air Conditioners, DANA Group of Companies, S.K.M Air Conditioning LLC, are some of the major players in the U.A.E. chiller market.