Transplant Diagnostics Market Size & Share
The global transplant diagnostics market generated a revenue of USD 4,686.7 million in 2023, which is expected to observe a CAGR of 7.5% during 2024–2030, to reach USD 7,713.5 million by 2030. This is due to the increasing demand for organ replacement procedures, the rising need for diagnostic procedures before the organ replacement procedure, and the surging incidence of infectious diseases. Moreover, the count of individuals with end-stage organ failure has been increasing, and due to the improvement in organ transplantation procedures, a high percentage of patients are now able to access such surgeries.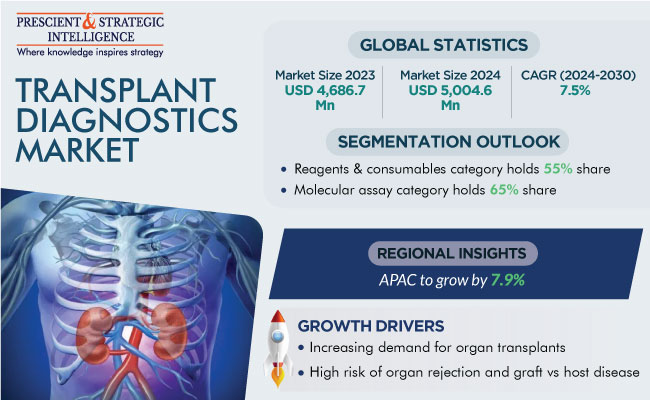 With the increase in the incidence of diseases that can cause the failure of an organ, the development of transplant diagnostics, including both pre-and post-transplantation screening, is expected to rise. Moreover, the interest of healthcare professionals is surging in this field, due to several advantages offered by this test, such as verifying the suitability before a procedure. Also, organ transplantation is one of the most popular approaches for the treatment of many end-stage renal disease patients who are on dialysis procedures for several years.
Moreover, the need for organ transplants is rising because of two factors – increasing public and private funding for transplantation and various awareness campaigns run by private and government organizations. The demand for such healthcare services has always been higher in comparison to the supply of organs. For instance, according to Health Resources & Service Administration, approximately 50,000 such procedures were performed in 2022, 104,234 people were on the national transplant waiting list, and 17 individuals die per day due to the excessive waiting period for organs.
Additionally, an increasing prevalence of chronic illnesses, which frequently result in organ failure, is driving the demand for such procedures. Moreover, the surging adoption of personalized and stem cell therapy is escalating the demand for stem cells, which, in turn, leads the market expansion. Furthermore, the supply of organs available for transplantation is already far low than the demand, and this may grow substantially in the forthcoming period.
Such diagnostics include the immunogenetics and histocompatibility of organs and hematopoietic stem cell transplantations. Furthermore, the need for high throughput diagnostic instruments with improved accuracy is leading to the rapid replacement of existing diagnostic procedures, such as the serological method used in human leukocyte antigen (HLA) type, with next-generation sequencing (NGS) technology. Moreover, the new transcriptomics, proteomics, and genomic indicators in molecular diagnostics can help better tailor transplantation therapy and early detection of rejection events. Also, strategic initiatives by key industry players, advancement in technology for pre-procedure diagnostics, high sterility assurance, and growing investment for improving healthcare infrastructure are boosting the need for pre-operative diagnostics.
Rising Number of Transplant Procedures
The number of such procedures is increasing globally due to the surging adoption of various advanced methods & technologies, screening tests, and profile detection of genomes, and the rising incidence of renal failure and several chronic diseases. For instance, according to the U.S. Department of Health & Human Services, in 2021, 41,354 organ transplants were performed in the U.S., an increase of 5.9%, as compared to 2020. Moreover, it was the first time the annual total went above 40,000, according to the preliminary data from the Organ Procurement and Transplantation Network. By the analysis of this data, it is expected that the number of such procedures will grow exponentially, which will lead to the growth in the market.
Moreover, the geriatric population across the world is growing significantly. Among the elderly, liver cirrhosis, end-stage renal diseases, and TB are common, which makes it a compulsion for individuals to undergo transplantations. Thus, these factors are expected to boost the market growth in the forecast period.
Molecular Assay Holds the Largest Revenue Share
Based on technology, the molecular assay category accounted for the largest revenue share, of 65%, in 2023, and it is further expected to maintain its dominance during the forecast period. This is because molecular assays are widely used in pre-surgical diagnostic procedures for testing the compatibility of a donor and recipient. These assays are mainly adopted due to their technological benefits as compared to non-molecular assays, such as the study of various samples and real-time analysis and high procedural efficaciousness.
Due to the advantages including efficacy, reduced risk, and high accuracy, HLA typing has gradually surpassed serological assays in popularity. Currently, PCR-based molecular assays are higher in demand, due to their multiple applications. In addition, these pre-transplantation analysis techniques are used to ensure safe and effective procedures. In addition, the rising awareness among physicians and the rapid adoption of technologically advanced tools are expected to drive the market growth in the forthcoming period.
Transplant Diagnostics Market Report Coverage

| | |
| --- | --- |
| Report Attribute | Details |
| Market Size in 2023 | USD 4,686.7 Million |
| Market Size in 2024 | USD 5,004.6 Million |
| Revenue Forecast in 2030 | USD 7,713.5 Million |
| Growth Rate | 7.5% CAGR |
| Historical Years | 2017-2023 |
| Forecast Years | 2024-2030 |
| Report Scope | Market Trends, Drivers, and Restraints; Revenue Estimation and Forecast; Segmentation Analysis; Companies' Strategic Developments; Market Share Analysis of Key Players; Company Profiling |
| Segments Covered | By Technology; By Offering; By Application; By Transplant Type; By End User; By Region |
Explore more about this report - Request free sample pages
Reagents & Consumables Dominate the Industry
Based on products & services, the reagents & consumables category held the largest revenue share, of 55%, in 2023, and it is further expected to maintain its dominance during the forecast period. This is because producers of these kinds of diagnostic goods are increasingly implementing strategies like purchase contracts for reagents and consumables, the growing patients' emphasis on effective and early profiling during organ transplantations, and the increasing applications of molecular assay techniques in transplant diagnostics. In addition, the order of repeat purchases is the key factor for the adoption of reagents and consumables.
On the other hand, the software & services category is expected to register the fastest growth in the forthcoming period. This can be due to regular updates in software and improved services offered by industry players to remain in the competition. Moreover, the development of more advanced instruments has led to an increase in the demand for training sessions to instruct technical employees on how to handle and use an instrument. These factors have led to the growth of the market in this category.
Diagnostics Application Accounts for the Largest Share
The diagnostics category held the largest revenue share, of 70%, in 2023, and it is further expected to maintain its dominance during the forecast period. This is attributed to the rising prevalence of diseases. In addition, the diagnostic category is further classified into pre-transplantation diagnostic and post-transplantation diagnostic. Moreover, for transplant procedures, all relative diagnostic tests will be followed before the transplant to see the compatibility of the transplant such as histocompatibility testing, blood profiling, and infectious disease testing.
On the other hand, the research category is projected to witness significant growth in the coming years, due to the growing research activities in the field of transplant. Many scientists and transplant institutions are doing continuous research for heart transplants and taking initiatives for making transplants smooth and successful. For instance, the Mayo Clinic Transplant Research Center is a unique example of how the expertise has been integrated across three campuses in Arizona, Florida, and Minnesota, to conduct interdisciplinary research for solid organ, reconstructive and blood, and bone marrow transplantation.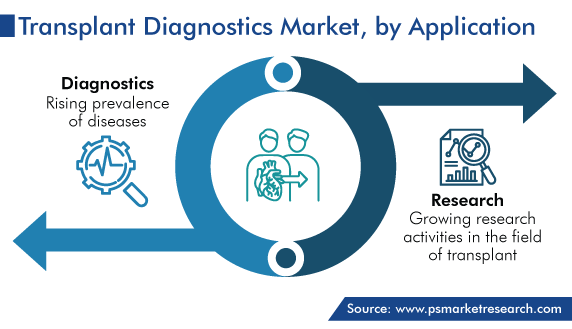 North America Is the Market Leader
North America captured the largest revenue share, of 50%, in 2023, and it is further expected to maintain its dominance during the forecast period. This is due to the high adoption rate of advanced techniques and diagnostic tools, high healthcare expenditure, the availability of skilled professionals, and the widespread use of stem cell therapies, soft tissue transplants, and personalized medications in the region. Moreover, the increasing number of organ replacements, the rising awareness of transplantation, the surging prevalence of infectious diseases, and the growing geriatric population that is susceptible to chronic diseases are driving the regional market.
On the other hand, the Canadian market also shows significant growth, due to the advancement in healthcare facilities, the surging incidence of chronic diseases, and the growing geriatric population in the country. Moreover, the rising preference for organ replacement among individuals makes the country a profitable market.
The European market is showing significant growth, due to its advancing healthcare infrastructure, the presence of highly professional healthcare staff, and the existence of key industry players. Additionally, initiatives taken by the European Commission for organ harvesting have resulted in the availability of donated organs. The availability of the European donor card and spreading awareness among people have also augmented the organ donation rate in the region.
Furthermore, companies taking strategic initiatives and investing more in their research and development activities, to get approval and expand their portfolio for HPV assays in the serology testing sector. For instance, in February 2023, Becton, Dickinson and Company received approval for BD Onclarity HPV assay in the serology testing segment. Moreover, in March 2023, the use of Bio-Rad's iQ-check family real-time PCR detection kits for the detection of foodborne pathogens in a wider range of samples has been approved by AOAC International.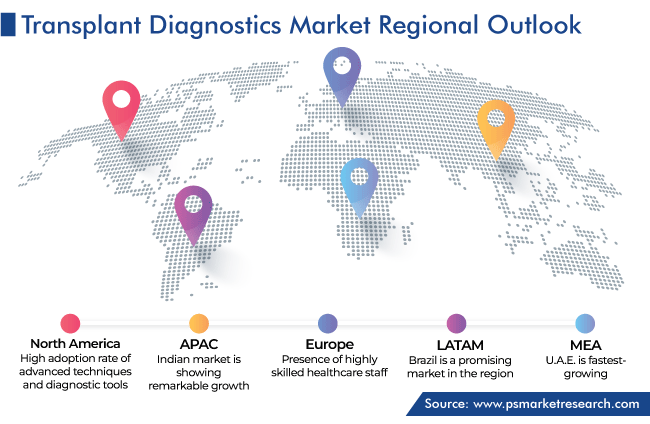 In addition, companies are launching new platforms for the expansion of their services. For instance, in January 2022, F. Hoffmann-La Roche Ltd. unveiled Cobas infinity edge unit, a cloud-based platform that links patient test results, medical records, and third-party applications, to enable professionals to track patient health, modify treatment plans, and make swift data-driven patient care decisions whenever and wherever they need to in clinical settings.
Top Providers of Transplant Diagnostics Are:
bioMérieux S.A.
Thermo Fisher Scientific Inc.
Bio-Rad Laboratories, Inc.
Abbott Laboratories
Hologic Inc.
F. Hoffmann-La Roche Ltd.
Laboratory Corporation of America Holdings
BAG Diagnostics GmbH
Illumina Inc.
Market Size Breakdown by Segment
This fully customizable report gives a detailed analysis of the transplant diagnostics market from 2017 to 2030, based on all the relevant segments and geographies.
Based on Technology
Molecular Assay

PCR-based
Sequencing-based

Non-Molecular Assay

Serological
Mixed lymphocyte culture
Based on Offering
Reagents & Consumables
Instruments
Software and Services
Based on Transplant Type
Solid Organ

Kidney
Liver
Heart
Lung
Pancreas

Stem Cell
Soft Tissue
Bone Marrow
Based on Application
Based on End User
Hospitals and Transplant Centers
Research and Academic Institutes
Independent Reference Laboratories
Geographical Analysis
North America
Europe

Germany
U.K.
France
Italy
Spain

Asia-Pacific

Japan
China
India
South Korea
Australia

Latin America
Middle East and Africa

Saudi Arabia
South Africa
U.A.E.