Surgical Staplers Market Overview
The global surgical staplers market size was valued at $3.2 billion in 2016, and it is projected to grow at 7.7% CAGR during the forecast period. The market will be led by disposable surgical staplers, both in terms of size and growth. Reusable is the other product type offered by the players in this industry and are utilized less when compared to disposable type. The disposable surgical staplers market share is predicted to grow during the forecast period as regulatory bodies encourage the use of disposable staplers to prevent infections and complication associated with surgical procedures.
GLOBAL SURGICAL STAPLERS MARKET, BY TYPE, $M (2013–2023)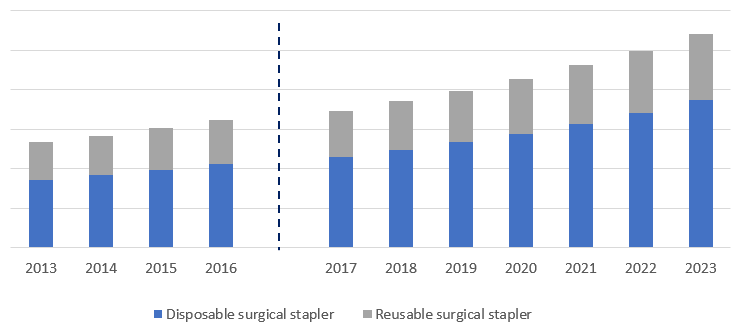 General surgeries were the largest application area of staplers due to increasing aesthetic surgeries, breast surgeries, surgical oncology, and pediatric surgery procedures. The surgical staplers demand is also driven by increasing use of these products in abdominal & pelvic and cardiac surgeries due to increasing problems associated with abdomen and heart. According to the Society for Thoriacic Surgeons (STS), there was an increase in cardiac surgery procedures from 287,964 in 2008 to 295,705 in 2016.
Powered surgical staplers market is expected to witness higher growth during the forecast period than manual type due to lower rate of bleeding complications, and comparatively shorter operating room time. Hospitals have been the larger end users in the surgical staplers market during 2013-2016, compared to ambulatory surgery center and clinics. Rapidly increasing patient volume, subsequent increase in the number of complex surgeries, easy accessibility to multiple specialty treatments in a single facility, and favorable reimbursements are the major factors driving the growth of the market in hospitals.
Globally, North America was the largest surgical staplers market, followed by Europe. North America had been the largest market due to increase in the number of surgeries for preventive and corrective treatments, growing aging population and increasing preference for cosmetic and bariatric surgeries in the region. The presence of leading surgical stapler vendors in the region, availability of technologically advanced products and their higher adoption rate among surgeons and patients, and better healthcare facilities and infrastructure are expected to support the growth of the North American surgical staplers market. During the forecast period, the industry is expected to register the fastest growth in Asia-Pacific.
Surgical Staplers Market Dynamics
Some of the factors hampering the growth of this industry includes high cost of these products, lack of skilled professionals and availability of alternative wound closure techniques.
Growth Drivers
The surgical staplers market is growing due to the increasing number of surgical procedures, introduction of technologically advanced products, and growing number of bariatric and other weight loss surgeries. Expanding demand for minimally invasive surgical procedures, increasing preference for staplers over traditional sutures to be used in surgeries and increasing prevalence of chronic diseases, are some of the other factors supporting the growth of the market.
According to the World Health Organization (WHO), chronic diseases are the leading cause of mortality, comprising 60% of all deaths globally. Among all the chronic diseases, cardiovascular diseases are the leading cause of deaths. Approximately 17.7 million people died from cardiovascular disease in 2015, representing 31% of the global deaths. Of these deaths, approximately 7.4 million deaths were due to coronary heart disease and 6.7 million were due to stroke. Due to these increasing diseases there are chances that the patient might need surgery in the most extreme cases, which is expected to support the surgical staplers market growth.
Surgical staplers, in comparison to conventional sutures, allow for efficient and rapid wound closure system with minimal inflammation and ease in staple extraction procedure. On contrary to the surgical sutures that lacks in product innovation, staplers have evolved and are available in variants such as, disposable, absorbable systems that add to their low level of tissue reactivity, generating higher resistance in case of impaired immune response. This makes them a preferred option as compared to the traditional sutures.
Opportunities
Increasing prominence of cosmetic surgeries, rising medical tourism and improved healthcare in emerging economies act as opportunities for the players in the surgical staplers market. According to the American Society for Aesthetic Plastic Surgery (ASAPS), Americans spent more than $15 billion on surgical as well as non-surgical cosmetic surgeries in 2016, of which 56.0% was spent for surgical and 44.0% for non-surgical procedures. Most of the cosmetic procedures include surgeries such as procedures for face and head, breast, body and extremities and these products are used for such procedures to hold tissues together. Due to increasing awareness about cosmetic procedures and increasing appearance consciousness, these procedures are gaining more popularity, thus creating ample growth opportunities for the players in the market.
Surgical Staplers Market Competitive Landscape
The key players in the surgical staplers market are developing new products and getting approvals for their innovations, which is expected to increase their market share in the coming years. For instance, in April 2017, Ethicon Inc., received 510(k)clearance from U.S. Food and Drug Administration (USFDA) for its ECHELON CIRCULAR Powered Stapler, designed to reduce the anastomotic complications associated with colorectal, gastric and thoracic cancer surgery. The ECHELON CIRCULAR Powered Stapler with its advanced gripping surface and 3D surface technology offers a considerable 61% reduction in leaks at the staple line without compromising perfusion.
Moreover, in March 2016, Intuitive Surgical, Inc., received 510(k)clearance from USFDA for its da Vinci Xi EndoWrist Stapler 30 (30mm) instruments and reloads. This approval has expanded Intuitive's EndoWrist Stapler portfolio of curved and straight tip instruments and four reloads. This will provide enhanced placement and visualization around tenuous vasculatures in case of general surgery, thoracic, gynecologic and urologic surgery.
Some of the other key players operating in the surgical staplers industry include Medtronic plc, Frankenman International Ltd., Intuitive Surgical, Inc., Ethicon Inc., Smith & Nephew Plc, Becton, Dickinson and Company, B. Braun Melsungen AG, Zimmer Biomet Holdings, Inc., Meril Life Science Pvt. Ltd., and CONMED Corporation.