Market Overview
The solid oxide fuel cell market size stood at USD 470 million in 2022, and it is projected to advance at a compound annual growth rate of 34.4% during 2022–2030, to reach USD 5,005 million by 2030. This is primarily ascribed to the superior efficiency, long-term stability, and fuel flexibility of solid oxide fuel cells, the increasing government subsidies and R&D on fuel cells, the rising need for energy-efficient power production, strict pollution rules and regulations, increased environmental concerns, and the growing emphasis on the utilization of renewable energy sources.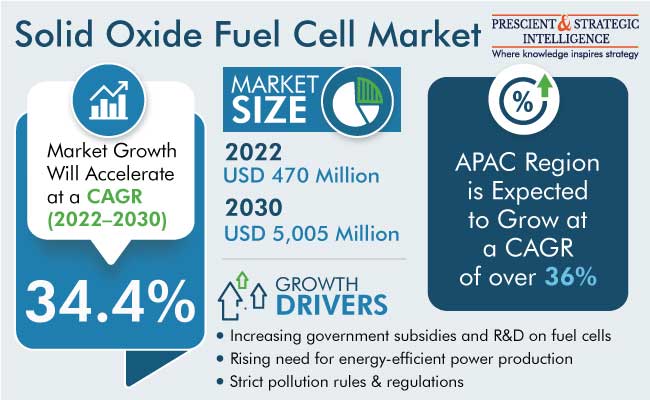 Planar Type Holds a Larger Share
The planar category accounted for a larger revenue share, of more than 60%, in 2022, and it is also expected to hold its position during 2023–2030. This is primarily ascribed to its easy geometry, relatively easier construction procedure, and low-operating cost. Moreover, planar solid oxide fuel cells (SOFCs) are generally planned in a way that the ceramic fuel cell modules are positioned one above the other like a sandwich design with the electrolyte implanted between electrodes, which serve as the most vital components in the manufacturing of these fuel cells.
Additionally, the increasing stringency of government regulations, coupled with a rise in energy prices, is one of the key trends being observed in the planar SOFC market. With the surging awareness of alternative energy sources, combustion-based electricity generators are being replaced by renewable energy systems such as solar panels, which display a higher efficiency in energy conversion. In addition, the fuel cells used in these devices do not cause any harmful emissions, owing to which these are suitable for applications in stationary/backup, transportation, and portable power.
North America Is the Market Leader
North America held the largest revenue share in 2022, and it is further projected to witness the same trend in the coming years. This is because of the strong support of government policies and initiatives, such as the Department of Energy's Solid-State Energy Conversion Alliance programs. In the region, the U.S. is a larger and faster-growing market. This is due to the presence of a large number of data centers of major companies, such as IBM, Google, and Equinix, adopting SOFCs; the increased need for fuel cell power generation; tax benefits; and high R&D spending for hydrogen generation.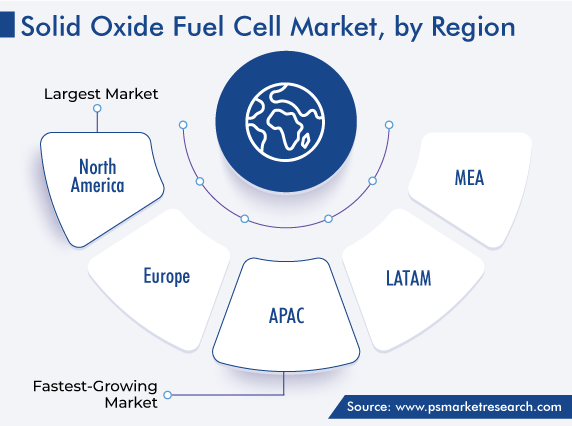 European Market To Witness a Significant Growth Rate
The European market is projected to grow at a steady growth rate in the forecast period. The growth can be ascribed to the increasing demand for renewable energy production and the rising focus on curbing carbon footprint and deploying hydrogen-based combined heat & power systems. In the region, Germany is one of the top-growing markets for SOFCs. This is majorly due to the structured fuel policies and concrete targets set by the German government. Moreover, the future growth of technologies, related to solid oxide fuel cells, has also been defined in the energy policies.
Demand for Data Centers To Grow at the Highest Rate
The data centers category accounted for a revenue share, of more than 38%, in 2022. This can be because data centers are highly power intensive and power-consuming, and these required a regular power supply around-the-clock to prevent the loss of important data. As per the IEEE Communications Society, in 2018, electricity requirement from data centers was around 198 terawatt-hours, or almost 1% of the electricity demand globally. Due to the high electricity needs from different establishments of data centers, companies are looking for a way to cost reductions by using distributed power generation, especially fuel cells.
Solid Oxide Fuel Cell Market Report Coverage

| | |
| --- | --- |
| Report Attribute | Details |
| Historical Years | 2017-2022 |
| Forecast Years | 2023-2030 |
| Market Size in 2022 | USD 470 Million |
| Revenue Forecast in 2030 | USD 5,005 Million |
| Growth Rate | 34.4% CAGR |
| Report Scope | Market Trends, Drivers, and Restraints; Revenue Estimation and Forecast; Segmentation Analysis; Impact of COVID-19; Companies' Strategic Developments; Market Share Analysis of Key Players; Company Profiling |
| Segments Covered | By Type; By Application; By End User; By Region |
Explore more about this report - Request free sample pages
Military & Defense Category Is Rising at a Steady Growth Rate
The military & defense category is increasing at a steady growth rate. There is a growth opportunity for SOFCs in this sector, due to the surging demand for efficient and noiseless power production for military applications and the rising portable and stationary power generation by SOFCs. With increased chances for continued expansion in the industry, it is projected that portable SOFCs for military use will increase; and unmanned aerial vehicles and undersea vehicles are also using SOFCs to increase working durations.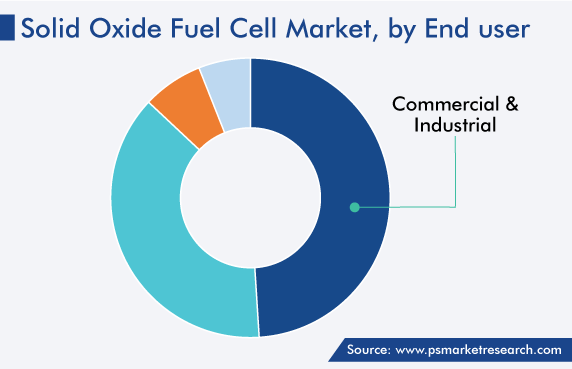 Demand for High-Energy Efficiency Drives the Industry
Chemical and material technology advancements are enticing industry participants to use low-cost raw materials and attain low operating temperatures. Additionally, these companies are taking action to reduce manufacturing and operational costs while gaining advantages from the high-energy conversion provided by solid oxide fuel cells. All these factors are responsible for the SOFC market growth.
Additionally, the use of clean energy sources has grown due to the expanding global population and rising energy consumption. With the increasing environmental concerns, governments across the globe are aiming to reduce the consumption of non-renewable energy sources. In an effort to achieve this, stringent regulations for limiting the usage of non-renewable energy sources are being formed, which are leading to the development and adoption of alternative methods to create electricity. The fuel cell technology shows high efficiency in energy generation, owing to which it has a huge application base in stationary power generation. Therefore, such factors are expected to propel the market in the years to come.
Increasing Government Incentives and R&D Activities on Fuel Cells
Government regulations and support for fuel cells are one of the key driving growth factors for the SOFC sector. For instance, the U.S. introduced several fuel cell programs and offers incentives and support for fuel cell installations, resulting in the high adoption of solid oxide fuel cells and other fuel settings in the country. In addition, fuel cells installed until December 31, 2016, were entitled to a tax reimbursement of USD 3,000/kW or around 30% of the project cost.
Moreover, in the APAC region, China, South Korea, and Japan are some of the well-known nations that are focusing on various applications of SOFCs, such as utility-scale power generation, and offering subsidies for these cells. For instance, in 2019, the Ministry of Industry, the Ministry of Science and Technology, China's Ministry of Finance and Information Technology (MIIT), and the National Development and Reform Commission together declared subsidies for new fuel automobiles in the country.
Additionally, to build utility-scale energy facilities based on SOFCs, Bloom Energy and its holdings have been collaborating closely with government agencies in South Korea. In addition, two distinct utility-scale power plants with a combined capacity of 19.8 MW and 8.1 MW will be built over the years in two different cities. Similarly, SK E&C (Bloom Energy) and the South Korean government have decided to construct a microgrid based on SOFCs.
Moreover, in September 2021, Bloom Energy unveiled the Hydrogen Energy Server, which can offer on-site hydrogen-powered electricity, and applied solid oxide stacks. This server was tested for 5 months in Ulsan, in alliance with the SK Eco plant (South Korea). These elements are the main causes of the SOFC market expansion in the APAC region.
Increasing Demand for SOFCs from Several Industries
Countries across the world are shifting from traditional, non-renewable sources toward renewable sources of energy, to reduce their dependency on fossil fuels and keep the environment clean. The regulatory bodies of countries, including the U.S., Japan, and Germany, have framed stringent regulations, to cut down on harmful emissions from several industries, such as power generation, chemicals, and automotive. SOFCs offer several advantages, including high efficiency, fuel adaptability, and extremely low levels of nitrogen oxide (NOx) and sulfur oxide (Sox) emissions. Owing to such factors, the demand for such products is projected to increase from several industries in the coming years, thereby helping the SOFC market grow.
Key Players in the Solid Oxide Fuel Cell Market Are:
Bloom Energy
Mitsubishi Power
Aisin Seiki
Hitachi Zosen Corporation
Ceres Power
Adelan Ltd.
Upstart Power
Adaptive Energy
Solid Power
Watt Fuel Cell Corporation
Market Size Breakdown by Segment
The study uncovers the biggest trends and opportunities in the solid oxide fuel cell market, along with offering segmentation analysis at the granular level for the period 2017 to 2030.
Based on Type
Based on Application
Portable
Stationary
Transport
Based on End User
Commercial & Industrial
Data Centers
Military & Defense
Residentials
Geographical Analysis
North America
Europe

Germany
U.K.
France
Italy
Spain

Asia-Pacific

Japan
China
India
South Korea
Australia

Latin America
Middle East and Africa

Saudi Arabia
South Africa
U.A.E.