Market Overview
The global sleep tech devices market generated $12,888.4 million revenue in 2020, and it is expected to grow at a CAGR of 14.5% during 2020–2030. The key factors responsible for the growth of the market include the increasing prevalence of sleep disorders, growing awareness about ill effects of untreated sleep apnea, and surging usage of oral appliances.
During the COVID-19 pandemic, a large number of affected people suffered with sleep deprivation, as a result of health problems caused by the coronavirus, which in turn, affected the sales of these devices. Although the market for sleep tech devices was highly impacted, due to the closing of production facilities of devices, as a result of implementation of lockdown globally. The sales started to increase at a good pace after the lifting of lockdowns, in 2021, due to the emerging demand for telemedicine and teleconsultation, which leads to the increased growth of the market.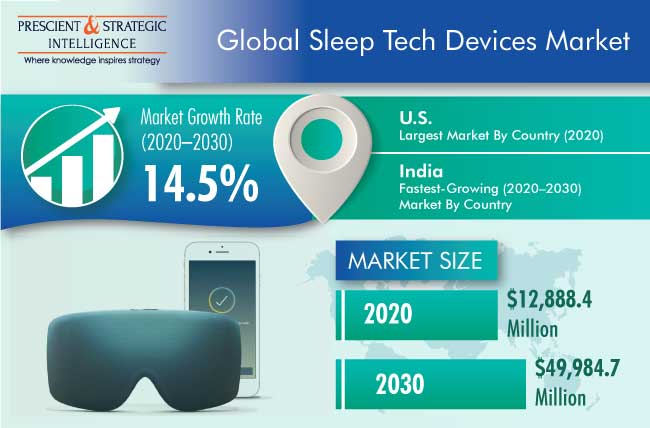 Wearable Devices, Female Category, and Indirect Distribution Channels Held Larger Share
The wearable category held the larger share in the sleep tech devices market, in 2020, based on the product segment. This is primarily because of their portable nature and advanced microsensors fitted into the devices that continuously monitor physiological activities of a person. Moreover, wearable devices are less expensive as compared to non-wearable sleep tech devices.
The females are highly opting the sleep tech devices, thus holding a dominating market share, in 2020, based on gender. This can be majorly attributed to the sleep issues persist in females due to a major hormonal transition in a woman's life, such as menstruation, pregnancy, and menopause. For instance, according to a news article of India, 12% of females out of the total population usually suffer from sleep deprivation.
The indirect category held the larger market share growth in the sleep tech devices market, in 2020, based on distribution channel. Many of the larger e-market places are global platforms, selling products across the world to millions of consumers, many companies are using third-party e-commerce platforms, which help to increase their profit from overseas sales.
Sleep Apnea Application and Below 45 Years Age Group to Witness Fastest Growth
The sleep apnea category is expected to witness the fastest growth in the market for sleep tech devices during the forecast period, based on application. This can be attributed to the increasing stress and health issues like obesity and excess weight. For instance, according to the RT magazine, sleep apnea afflicts more than 936 million people worldwide.
Below 45 years category is expected to be the fastest growing category in the market during the forecast period, based on age. This is primarily because the people belong to this age group are tech-savvy and consume technology faster than people in other age group. They can rapidly pick up new technology and master it.
North American Region Dominated the Market
Geographically, North America lead the global sleep tech devices market throughout the forecast period. Factors such as a high prevalence rate of chronic sleep disorders, fast-paced lifestyle, a large percentage of obese people, and rise in the elderly population have contributed to the leading position of North America in the industry. For instance, according to the U.S. Census Bureau, the number of Americans ages 65 and older will more than double over the next 40 years, reaching 80 million in 2040.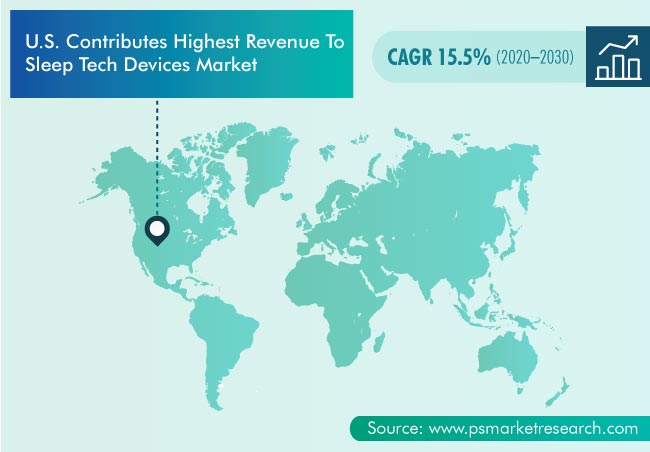 Technological Advancement Is a Key Market Trend
Technological advancements in the portable sleep tech devices, leads to the growth of the sleep tech devices market. For instance, Kryo Inc., the parent company of sleep technology brand ChiliSleep, collaborated with two big league baseball teams: the Cincinnati Reds and the Seattle Mariners, in July 2021. By this, players have the chance to use the OOLER sleep system, which is ChiliSleep's advanced, temperature-regulated sleep tech device that decreases body heat to trigger deep sleep for players at home and on the road.
Moreover, consumer sleep technologies have rapidly evolved from wrist-worn activity trackers to multisensory products. These technologies reflect a widespread interest in sleep health, and their ubiquitous ownership allows for remote sleep monitoring. The collaboration among manufacturers, sleep scientists, and clinical sleep medicine teams is required to supply useable, verified technologies that enhance and personalize the care of patients with sleep disorders.
Prevalence of Sleep Disorders and Growing Awareness About Its Ill Effects Are Major Drivers
The prevalence of sleep disorders, such as insomnia, restless legs syndrome, narcolepsy, parasomnias, and sleep apnea, has increased significantly across the globe, which in turn drives the sleep tech devices market. This can be affecting every aspect of life, including safety, relationships, school and work performance, thinking, mental health, and body weight, and also leading to the development of diabetes and heart diseases. According to the Philips Global Sleep Survey, in 2019, 62% of adults do not sleep properly, and 67% of adults report sleep disturbances at least once every night. Thus, this factor drives the demand for sleep tech devices.
The growing awareness about ill effects of untreated sleep apnea is driving the growth of the market for sleep tech devices. According to the American Academy of Sleep Medicine (AASM), OSA is a common sleep disorder that involves pauses in breathing during sleep. If it is left untreated, sleep apnea can have a detrimental impact on health and well-being. These breathing pauses produce drastic changes in vital signs and oxygen levels, while also fragmenting sleep. Over time, untreated apnea puts an incredible amount of stress on the body, increasing the risk for several other health problems.
Sleep Tech Devices Market Report Coverage

| | |
| --- | --- |
| Report Attribute | Details |
| Historical Years | 2015-2020 |
| Forecast Years | 2021-2030 |
| Base Year (2020) Market Size | $12,888.4 Million |
| Market Size Forecast in 2030 | $49,984.7 Million |
| Forecast Period CAGR | 14.5% |
| Report Coverage | Market Trends, Drivers, and Restraints; Revenue Estimation and Forecast; Segmentation Analysis; Country Breakdown; Impact of COVID-19; Companies' Strategic Developments; Company Profiling |
| Market Size by Segments | By Product; By Gender; By Age; By Application; By Distribution Channel; By Region |
| Market Size of Geographies | U.S; Canada; Germany; France; U.K.; Italy; Spain; Japan; China; India; Australia; South Korea; Brazil; Mexico; Saudi Arabia; South Africa |
| Secondary Sources and References (Partial List) | American Counseling Association; American Psychiatric Association; American Psychological Association; Anxiety and Depression Association of America; Anxiety Canada; Anxiety Disorders Association of America; Anxiety Disorders Association of Victoria; Anxiety U.K.; Association of Healthcare Providers; Brazilian Medical Association; Canadian Mental Health Association; Geriatric Mental Health Foundation; Global Organization for Stress; International Stress Management Association |
Explore more about this report - Request free sample pages
Market Players Involved in Product Launches to Gain Significant Position
The sleep tech devices industry is fragmented in nature with the presence of several key players. In recent years, the players in the market have been involved in product launches in order to attain a significant position in the market. For instance:
In September 2020, Samsung Electronics Co. Ltd. launched Samsung Galaxy Fit 2 with various features such as sleep tracking, heart rate tracking, and fitness tracking. It is a fitness tracker that has tracking step, sleep, and heart rate at its core all wrapped up in a design that does not feel as cheap as its price tag.
In August 2020, Fossil Group Inc. launched new features in its Gen 5 smartwatch such as sleep and heart rate tracking, V02 max estimation, and cardiovascular fitness tracking.
Key Players in Global Sleep Tech Devices Market Include:
Koninklijke Philips N.V.
Resmed
Xiaomi Inc.
Huawei Technologies Co. Ltd.
Apple Inc.
Samsung Electronics Co. Ltd.
ASUSTek Computer Inc.
Motorola Mobility LLC
Masimo Corporation
Fitbit Inc.
Garmin Ltd.
Fossil Group Inc.
Compumedics Limited
Nihon Kohden Corporation
Withings
Market Size Breakdown by Segment
The global sleep tech devices market report offers comprehensive market segmentation analysis along with market estimation for the period 2015–2030.
Based on Product
Based on Application
Insomnia
Sleep Apnea ­­­
Narcolepsy
Restless Legs Syndrome
Rapid Eye Movement (REM) Sleep Behavior Disorder
Based on Gender
Based on Age
Below 45 Years
45–64 Years
Above 65 Years
Based on Distribution Channel
Geographical Analysis
North America
Europe

Germany
France
U.K.
Italy
Spain

Asia-Pacific (APAC)

Japan
China
India
Australia
South Korea

Latin America (LATAM)
Middle East and Africa (MEA)

Saudi Arabia
South Africa