Market Outlook
The sleep apnea devices market revenue stood at $4.4 billion in 2017, and it is expected to reach $6.8 billion by 2023, progressing at a CAGR of 7.7% during 2018–2023.
Asia-Pacific (APAC) is expected to register the fastest growth in the adoption of such devices in the coming years. This can be attributed to the surging prevalence of obstructive sleep apnea (OSA), immense work pressure, unhealthy lifestyle of people, and changes in the diet and sleep patterns. According to a study funded by the JurongHealth Services Research and Quality Improvement Grant, one in three people in Singapore are living with moderate-to-severe OSA, and one in every ten people suffers from severe sleep apnea. Additionally, the rising aging population is driving the demand for sleep apnea devices in APAC.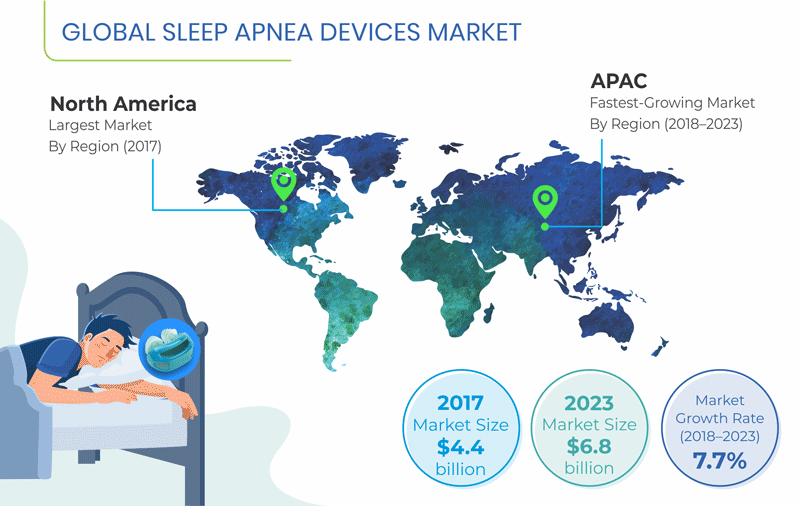 Market Dynamics
The usage of home sleep monitoring devices has become a prominent trend. These devices play a significant role in monitoring the sleep pattern of a patient, either overnight or during the day. The tests done by these devices are painless and extremely useful in diagnosing sleep disorders, including sleep apnea, narcolepsy, and insomnia. The sleep apnea devices market is witnessing a high demand for sleep monitoring devices in homecare settings as they assist people in studying various indicators of sleep apnea, including the respiratory effort, oronasal airflow, oxygen saturation, and body positions.
Moreover, the tests conducted by these devices are more cost-effective than those conducted at sleep laboratories. Home sleep apnea testing (HSAT) devices are priced between $150 and $200. The increasing prevalence of co-morbidities and OSA is one of the prominent factors behind the sleep apnea devices industry growth.
The National Sleep Foundation estimates that nearly 18 million adults in the U.S. are affected by sleep apnea and approximately 2–3% of all the adults in the country are suffering from OSA. Moreover, OSA is highly prevalent among 10–20% of the children who snore habitually. This further increases the risk of atrial fibrillation, high blood pressure, and congestive failure when these children grow up.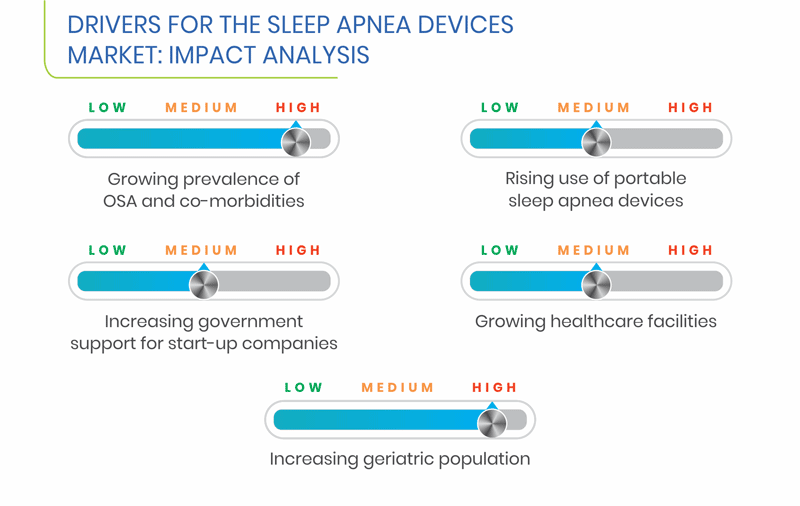 Segmentation Analysis
The therapeutic devices category, within the product segment, is expected to witness the faster growth in the coming years due to the rising burden of sleep apnea and increasing adoption of technologically advanced treatment products.
In 2017, the sleep laboratories category, under the end user segment, held the larger share in the sleep apnea devices market. This can be ascribed to the escalating per capita healthcare spending and soaring investments by private and public organizations.
Geographical Analysis
In 2017, North America generated the highest revenue in the market for sleep apnea devices. This can be credited to the burgeoning number of research and development (R&D) activities, technological advancements, increasing investments by public and private organizations, and surging cases of sleep disorders and associated health conditions, such as heart diseases and obesity. For instance, the American Sleep Apnea Association (ASAA) provided 5,000 continuous positive airway pressure (CPAP) equipment packages in July 2017, under its CPAP Assistance Program (CAP), to patients who have required them for three years.
Furthermore, the APAC region is expected to witness the fastest growth in the sales of sleep apnea devices for therapeutic and diagnostic purposes in the foreseeable future. This can be ascribed to the radical changes in the lifestyle of people and their sleep patterns, rising incidence of OSA, and escalating work stress. In 2017, Japan accounted for the largest share in the APAC sleep apnea devices market owing to the rapid economic growth, a surge in healthcare expenditure, and vast geriatric population in the country.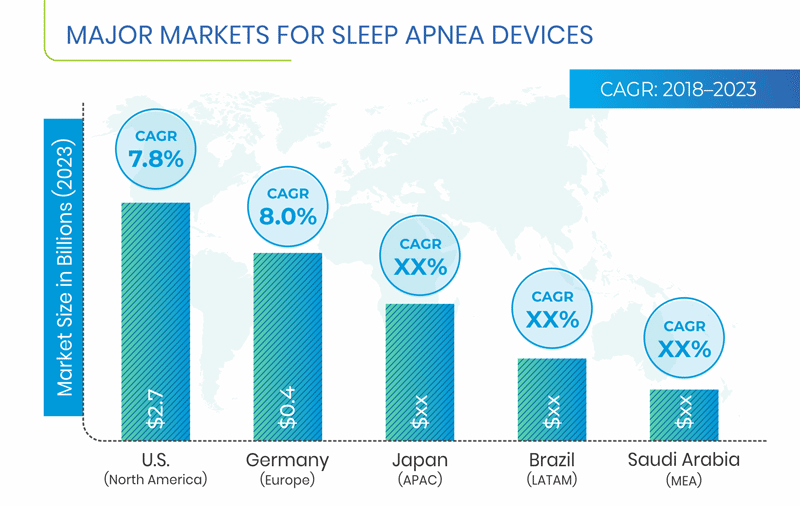 Competitive Landscape
The global sleep apnea devices market is fragmented in nature, due to the presence of several giant and small- and medium-sized players. These include Natus Medical Incorporated, Löwenstein Medical Technology GmbH & Co. KG, SleepScore Labs, Koninklijke Philips N.V., BRAEBON Medical Corporation, Compumedics Limited, Circadiance LLC, Fisher & Paykel Healthcare Limited, Alaxo GmbH, BodiMetrics LLC, SLEEPON Inc., ResMed Inc., and BMC Medical Co. Ltd.
Sleep Apnea Devices Market Report Coverage

| | |
| --- | --- |
| Report Attribute | Details |
| Historical Years | 2016-2017 |
| Forecast Years | 2018-2023 |
| Market Size by Segments | Product, End User |
| Market Size of Geographies | U.S. and Canada, Germany, U.K., France, Italy, Spain, Japan, China, Australia, India, Brazil, Mexico, Saudi Arabia, U.A.E., South Africa |
Explore more about this report - Request free sample pages
Recent Strategic Developments of Sleep Apnea Devices Market Players
The major players operating in the sleep apnea devices market are actively involved in mergers and acquisitions, product launches, and several other business activities, to gain a competitive edge.
For instance, in April 2018, SleepScore Labs, the developer of a non-contact sleep improvement system for consumers, namely SleepScore Max, announced that it has acquired Sleep.ai, a Netherlands-based digital health company, to help consumers know if they snore or grind their teeth during sleep. Based in California, the U.S., SleepScore Labs is a joint venture between ResMed Inc., Dr. Mehmet Oz, and Pegasus Capital Advisors L.P. This acquisition was mainly aimed to improve people's lives, by diagnosing and improving their sleep health and helping them get better treatment and outcomes.
Similarly, in January 2018, ResMed Inc. introduced Mobi, a portable oxygen concentrator, which offers optimal balance of oxygen delivery, is light weight, and features a longer battery life, so that patients with COPD or other respiratory conditions can get benefits of daily remote patient monitoring at home or on the go.
Sleep Apnea Devices Market Size Breakdown by Segment
The sleep apnea devices market report offers comprehensive market segmentation analysis along with market estimation for the period 2016–2023.
Based on Product
Therapeutic Devices

Positive airway pressure (PAP) devices

Continuous positive air pressure (CPAP) devices
Automatic positive air pressure (APAP) devices
Bi-level positive air pressure (BPAP) devices

Facial interfaces
Oral appliances
Adaptive servo-ventilators (ASVs)

Diagnostic Devices

Polysomnography devices
Respiratory polygraphs
Pulse oximeters
Actigraphy devices
Sleep screening devices
Home sleep testing devices
Based on End User
Sleep Laboratories
At-home
Geographical Analysis
North America
Europe

Germany
U.K.
France
Italy
Spain

Asia-Pacific (APAC)

Japan
China
Australia
India

Latin America
Middle East and Africa (MEA)

Saudi Arabia
U.A.E
South Africa