Market Overview
The silicon photonics market stood at USD 1,212.5 million in 2022, and it is expected to grow at a compound annual growth rate of 27.5% during 2022–2030, to reach USD 8,475.1 million by 2030. This is ascribed to the rising demand for high-performance computing and data centers as well as the subsequent need for high-speed data transmission.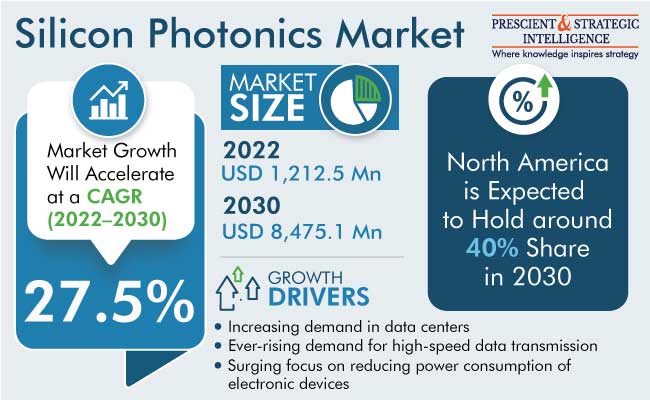 Silicon photonics is a technology, formed by combining semiconductor laser and silicon integrated circuit, that enables faster data transmission for supporting the evolving network technology needs such as 5G and smoother functioning of various next-gen applications at lower power consumption levels. In addition, sophisticated defense systems, medical facilities, and high-speed network capabilities are other key application areas that would drive the silicon photonics market.
Escalating Demand for High-Speed Data Transmission Drives the Industry
The necessity for high-speed transmission of digital information has evolved considerably in the past few years and is likely to propel further. The deployment of 5G and other latest network technologies across various regions is gearing up and subsequently, the need for data storage and faster access to the same is also gaining pace. The improved network latency and high internet traffic are some other factors considered for efficient digital information transmission.
Moreover, broadband networks are required to be faster, more efficient, and have higher bandwidth capacities for supporting quick and reliable transmission as well as easier access to 5G network services. Efforts are being made to ensure that the transition to faster network technologies is cost-effective as well as efficient. For instance, there are more than 90 countries across the globe that have access to 5G services and it has applications in varied industrial sectors such as automobiles, wherein it is used in self-driving cars and navigation services.
Silicon photonics aid in transferring the data at a quicker pace whilst consuming comparatively lesser power than conventional electric circuits, thus the rising demand for high-speed transmission is expected to boost the market growth during the projected period.
Rising Number of Data Centers and High-Performance Computing Boot the Market
The data storage needs have been constantly growing, considering the enormous volumes of digital information being generated in various forms, such as audio, video, text, and photographs, in high-resolution as well as various advanced applications being introduced and used. Data centers are dedicated spaces or facilities that have servers, computers, and other IT-related components and infrastructure for efficiently managing the storage as well as the processing of all types of information for various applications and services. The rapid developments related to big data as well as IoT are further driving the need for efficient data centers.
Moreover, governments of various countries are aiming to make these facilities carbon neutral by 2030 or latest by 2050, and thus, technologies that generate low-to-minimal carbon emissions are being preferred. Additionally, there are certain regulations that mandate companies, employing 250 or more employees or having a certain turnover to report their power usage, to comply with the Energy Savings Opportunity Scheme (ESOS).
Hence, for supporting the digital communication needs of these facilities along with keeping a check on power consumption as well, the usage of silicon photonics is expected to propel significantly in the coming years.
Silicon Photonics Market Report Coverage

| | |
| --- | --- |
| Report Attribute | Details |
| Historical Years | 2017-2022 |
| Forecast Years | 2023-2030 |
| Market Size in 2022 | USD 1,212.5 Million |
| Revenue Forecast in 2030 | USD 8,475.1 Million |
| Growth Rate | 27.5% CAGR |
| Report Scope | Market Trends, Drivers, and Restraints; Revenue Estimation and Forecast; Segmentation Analysis; Impact of COVID-19; Companies' Strategic Developments; Market Share Analysis of Key Players; Company Profiling |
| Segments Covered | By Product; By Component; By Waveguide; By Application; By Region |
Explore more about this report - Request free sample pages
Transceivers Category To Exhibit the Highest CAGR
Based on product, the transceivers category is likely to exhibit the fastest growth, advancing at a CAGR of 30% during the projection period. This can be because advanced network architecture requires advanced optical transceivers, and these are manufactured by utilizing photonic integration circuit technology and are primarily used in data centers.
On the other hand, the switches category is expected to hold a significant market share in the coming years, growing at a CAGR of 27%. This can be due to their surging demand in data centers. The switches aid in routing the information in these facilities, hence the utilization of silicon photonics for faster transfers in such devices would considerably increase in the coming years.
Telecommunication Category To Hold Substantial Market Share
The telecommunication category is likely to hold a substantial market share in the coming years. This can be attributed to the deployment of 5G network technologies across several regions for better connectivity and efficient data transfer needs. In the coming years, the demand for 5G connections would increase due to the rising adoption of 5G smartphones. Also, the demand for improved access to high-speed internet and related network services has been constantly increasing. Smartphone and other gadget users want to access various types of digital information to be made available at a click, hence propagating the deployment of 5G network technologies.
Additionally, apart from telecom and data centers, silicon photonics has significant applications in sectors such as military, defense, and aerospace as well as medical and life sciences. The technology has military applications such as surveillance and communications. Furthermore, it aids in reducing the weight, size, and power consumption as well as the costs of silicon photonic-based systems when compared to other electric systems. In the medical and life sciences sector, the technology is utilized for safe medical diagnosis, and in devices such as scanners, biosensors, and microscopes. It has also aided in making medical instruments compact and much more efficient.
Hence, all these factors would contribute to the increased usage of silicon photonics technology, which aids in the transmission of data at an exceptionally high speed and lower power consumption levels, thus, providing an enhanced network experience to users.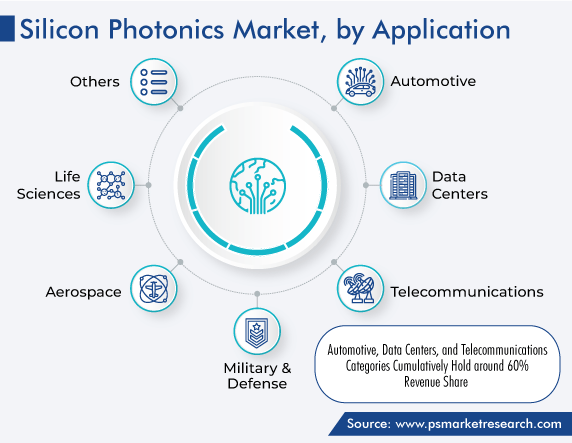 North America To Hold Largest Market Share
During the projection period, the North American market is likely to hold the largest revenue share, around 40%. The growth can be attributed to the presence of advanced manufacturing facilities and the rigorous research and development activities aimed at improving manufacturing and the overall efficiency of silicon photonics.
In the region, the U.S. holds majority of the market share. This is because it is a developed nation and has several technological advantages as compared to other countries across the globe. It also has a sophisticated defense system wherein silicon photonics is considered one of the critical technologies.
Moreover, a government agency, the National Institute of Standards and Technology (NIST) announced its partnership with AIM Photonics (established by the U.S. Department of Defense) for the development of photonic chips that will have various applications in fiber-optic networks and other high-performance computing fields. Similarly, a cooperative agreement was approved by the U.S. Air Force Research Laboratory between its nanoelectronics material branch and a tech-based startup in 2021. Considering the collaborations and technological advancements in the U.S., it leads the North American silicon photonics market.
Also, in Canada, the market is growing significantly due to the surging investments. For instance, an investment worth about $184.0 million (CAD 240 million) was announced in 2022 for boosting the semiconductor design and manufacturing industry, thereby generating favorable market conditions for silicon photonics as well.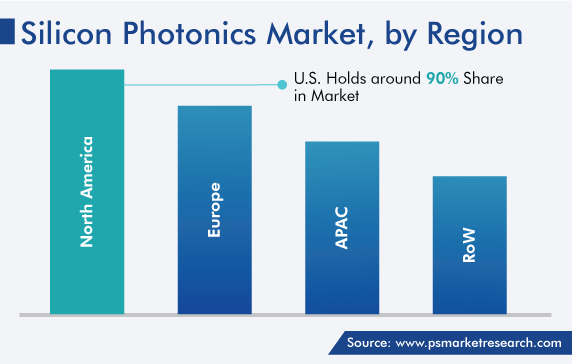 Government Initiatives Drive the Demand
Governments of countries, such as India, are investing in the semiconductor industry to ultimately increase the production of electronic goods within the country itself. Moreover, countries such as the U.S., Canada, and China are also investing in promoting manufacturing as well as research and development for upgrading the efficiency levels of semiconductors.
For instance, some of the schemes introduced by the Indian government include the Scheme for Promotion of Manufacturing of Electronic Components and Semiconductors, Production Linked Incentive (PLI) Schemes, and the Modified Electronics Manufacturing Cluster (EMC 2.0). Moreover, there is a scheme for setting up semiconductor manufacturing facilities, which include silicon photonics, wherein about 30% of capital expenses would be provided as financial support to applicants.
The schemes, initiatives, investments, and collaborations that are aimed to improve semiconductor design and manufacturing and the development of photonics technology, as well as the evolving digital information transmission needs over a high-speed network are all indicative of the market growth.
Some Top Companies Offering Silicon Photonics Are:
AIO Core Co Ltd.
Broadcom Inc.
Cisco Systems Inc.
Coherent Corp.
GlobalFoundries Inc.
Hamamatsu Photonics K.K.
Intel Corporation
MACOM Technology Solutions Inc.
Marvell Technology Inc.
NTT Advanced Technology Corporation
Sicoya GmbH
Market Size Breakdown by Segment
The report analyzes the impact of the major drivers and restraints on the silicon photonics market, to offer accurate market estimations for 2017–2030.
Based on Product
Transceivers
Variable Optical Attenuators
Switches
Cables
Sensors
Based on Component
Lasers
Modulators
Photodetectors
Based on Waveguide
400–1,500 nm
1,310–1,550 nm
900–7,000 nm
Based on Application
Automotive
Data Centers
Telecommunications
Military & Defense
Aerospace
Life Sciences
Geographical Analysis
North America
Europe

Germany
U.K.
France
Italy
Spain

Asia-Pacific

Japan
China
India
South Korea
Australia

Rest of the World