Radiation Dose Management Market Overview
Global radiation dose management market (RDM) size was $ 129.8 million in 2016, which is forecasted to grow at CAGR of 46% during 2017-2023. Vendors in the global market offer RDM solutions and services, with solutions being the larger contributor in the Radiation Dose Management market in 2016 followed by services, since these solutions enable the healthcare providers to track and evaluate the radiations emitting from different modalities such as computed tomography (CT), radiography & mammography, fluoroscopy & interventional imaging and nuclear medicine.
Global Radiation Dose Management Market, by Modality, $M (2013 – 2023)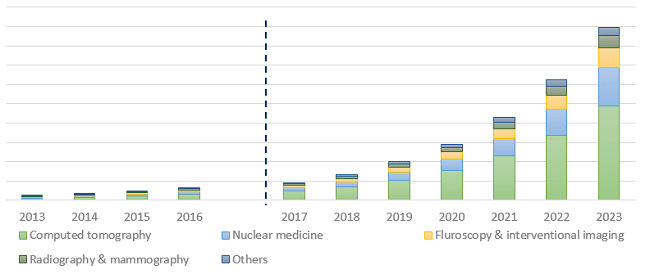 The different type of solutions used for RDM include integrated and standalone solutions. Integrated solutions are projected to register faster growth during the forecast period, owing to their higher efficiency, since these solutions are easily integrated with other systems such as PACS, EHR, and RIS to monitor, track and archive the patient dose and helps in improving patient safety.
RDM solutions and services are mostly utilized for monitoring radiation dose in CT as compared to other modalities. On the basis of modality, CT registered the largest share in the radiation dose management market in 2016, since it involves much higher doses of radiation, resulting in a marked increase in radiation exposure in the patients. The key end users in radiation dose management market include hospitals and super specialty clinics. Some of the other end users of RDM are academic institutes and research laboratories. The market in hospitals is projected to hold the largest share during the forecast period, since large number of diagnostic procedures are performed in the hospitals for the treatment and management of various diseases.
Geographically, the radiation dose management market is segmented into North America, Europe, Asia-Pacific and Rest of World (RoW). North America was the largest market in 2016, followed by Europe and Asia-Pacific. Europe is expected to register the fastest growth during the forecast period owing to increasing prevalence of chronic diseases and rising awareness about radiation dose safety through campaigns and conferences. The EU directives regarding the use of ionizing radiations which will be repeal by February 2018, is expected to increase the adoption of RDM solutions in the Europe.
Radiation Dose Management Market Dynamics
Key factors driving radiation dose management market growth include increasing concerns associated with radiation overexposure, growing focus on improving quality of patient care, and growing awareness and industry initiatives. The factors that impede the growth of the industry include, low adoption of RDM solutions and nuclear medicine facilities in developing countries and lack of reimbursement for adopting radiation dose management solutions.
Opportunities
Technological advancements for RDM have been creating ample opportunities for Radiation Dose Management market players to develop advanced RDM solutions for managing radiation dose emitting from various imaging modalities. Some of the players in the market have developed RDM solutions with advanced features. For instance, in July 2017, Medic Vision, a provider of 3rd party XR-29 standard solutions, announced that the company was granted a patent by the U.S. Patent and Trademark Office on its XR-29 Dose-Check system, which is an integral part of the notable market-leading SafeCT-29 product suite. SafeCT-29 has been installed in hundreds of medical care centers throughout the U.S. to reduce the radiation dosage automatically in CT scan.
Medsquare announced the integration of the organ dose module VirtualDose CT into its DACS (dose archive and communication system) RDM solution and was developed in partnership with Virtual Phantoms Inc. Several advancements such as these are being initiated in the radiation dose management market to limit the dosage provided to the patients and reduce the ill effects of radiation such as cancer, nerve cell damage and others.
Growth Drivers
One of the most important purpose of radiological protection is preventing the detrimental effects of the radiation from causing harm to a patient. Exposure to high doses of radiation over a short span of time can cause radiation sickness and sometimes even life-threatening diseases such as cancer. Some of the symptoms of radiation sickness include nausea, fainting, vomiting, confusion and diarrhoea, hair loss, mouth and skin sores, and bleeding. The radiation exposure is not only limited to the patients but there is also public exposure, medical exposure and emergency exposure where radiations can have a harmful effect on a person.
Since patient care is the main focus of dose management, therefore, certain novel web-based management systems are established that use Microsoft cloud technology to track, analyze, and report practice-level radiation dose data. For instance, GE Healthcare has launched a data management solution DoseWatch Explore which is a cloud-based RDM software suite that tracks, analyses, and reports practice-level radiation dose data for GE computed tomography (CT) systems. Using Microsoft Azure cloud technology and GE's InSite connection, DoseWatch Explore collects radiation data directly from the CT scanner; no additional hardware integration, infrastructure, or installation is required. Utilizing such solutions for managing the radiation dose helps in reducing the adverse effects on humans.
Radiation Dose Management Market - Competitive Landscape
Key players in radiation dose management market are acquiring other players and introducing new solutions for RDM. For instance, in January 2017, Koninklijke Philips N.V. announced an agreement to acquire Electrical Geodesics, Inc. (EGI). EGI's portfolio of EEG hardware, software and acquisition sensors is expected to complement Koninklijke Philips N.V.'s existing portfolio of imaging technologies such as MRI and PET-CT and advanced informatics including IntelliSpace Portal for neurological applications. The combined portfolio is expected to enable Philips to address neurological disorders such as stroke, epilepsy, traumatic brain injury and Parkinson's disease.
Some of the other key players operating in radiation dose management market include Bayer AG, General Electric Company, PACSHealth, LLC, Bracco Imaging S.p.A, Novarad Corporation, Siemens AG, Sectra AB, Agfa Gevaert, and Qaleum N.V.