Radiotherapy Market Overview
The global radiotherapy market size was $7,222.4 million in 2019, which is set to progress at a CAGR of 8.4% during the forecast period (2020–2030). The rising number of cancer cases and increasing adoption of advanced treatment measures across the globe are the primary factors spurring the radiotherapy industry advance.
Due to COVID-19, the radiotherapy market witnessed negative impact across the globe in the first two quarters of 2020. This was primarily due to the lockdown and non-operational cancer-specialty hospitals in several countries. Additionally, the import and export of radiotherapy systems and related accessories were affected due to limited air transport services, which imposed a negative impact on the market.
However, in the current scenario, several countries are undergoing lockdown relaxations, and most hospitals have resumed cancer surgeries. As a result, the number of radiotherapy surgeries is now increasing, and they would reach an adequate volume in the near future.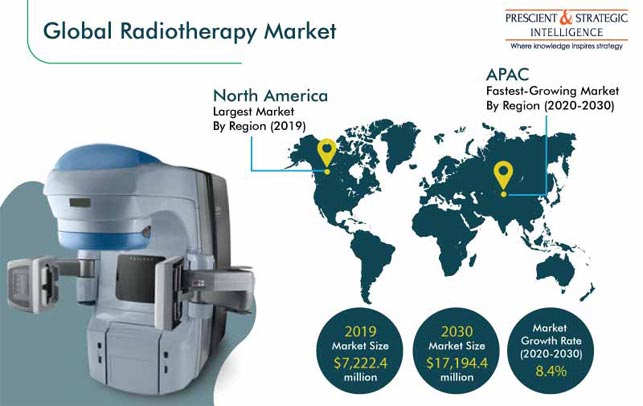 Segmentation Analysis
External Beam Category To Observe Fastest Growth during Forecast Period
The external beam category is expected to witness the fastest growth in the radiotherapy industry during the forecast period. External-beam radiation therapy uses a machine, outside the patient's body, to deliver direct high-energy X-ray radiation to tumors inside the body.
Hospitals Expected To Be Largest and Fastest-Growing Category in Industry
The hospitals category held the largest share in the radiotherapy market in 2019, on the basis of end user. This is mainly because, as a radiotherapy procedure is complex in nature, it is mostly done in hospitals, in the presence of trained healthcare professionals. These healthcare settings are the first point of contact for the diagnosis and treatment of diseases, as they provide the best possible service.
Geographical Outlook
North America – Largest Region in Industry
North America accounted for the majority share in the radiotherapy market in 2019, and it is expected to continue to dominate the global industry throughout the forecast period. The regional market is dominated by the U.S., primarily due to the wide installation base for radiotherapy equipment in the country. Moreover, the presence of private healthcare providers and research institutes that are heavily deploying radiotherapy equipment is also playing a pivotal role in the growth of the market. In addition, the healthcare expenditure is also on the rise. As per the World Bank Group, the expenditure on healthcare in the U.S. grew from 16.5% of its gross domestic product (GDP) in 2014 to 17.1% in 2017. Further, the expenditure on healthcare in Canada grew from 10.1% of its GDP in 2014 to 10.6% in 2017. This trend is further expected to continue during the forecast period, thereby helping in the advance of the industry in the continent.
Asia-Pacific (APAC) – Fastest Growing Region in Industry
Globally, APAC is expected to advance at the highest CAGR during the forecast period in the radiotherapy market. Some of the factors leading to the market growth include the widespread burden of cancer, improving healthcare infrastructure, and increasing investments by public and private organizations. For instance, according to the data published by Global Cancer Observatory (GLOBOCAN), 883,395 cancer cases were reported in Japan in 2018. The number is further expected to increase to 3.5 million by 2025.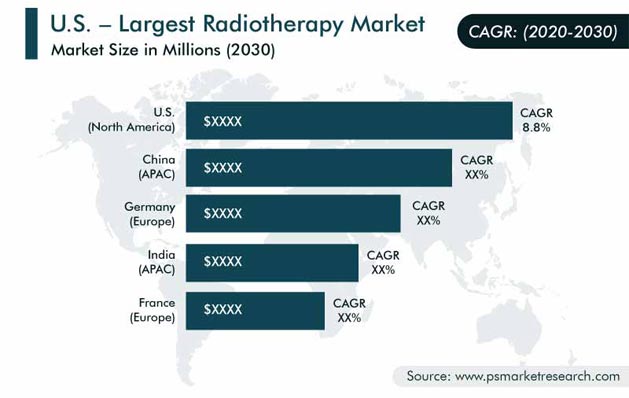 Trends & Drivers
Evolution in Radiotherapy Techniques Is Key Market Trend
In the radiotherapy domain, recent innovations have resulted in a rise in the effectiveness of treatments, thereby leading to improved outcomes and reduced treatment-related side-effects. Significant developments are being observed in the areas of intensity-modulated radiation therapy (IMRT), stereotactic body radiation therapy (SBRT), nanotechnology, particle therapy, and 4D imaging, which are improving the radiotherapy treatments. One important development has been the introduction of the adaptive radiation therapy (ART) treatment that can be adjusted, to improve the patient outcomes, as tumor and patient characteristics change throughout the course of radiotherapy.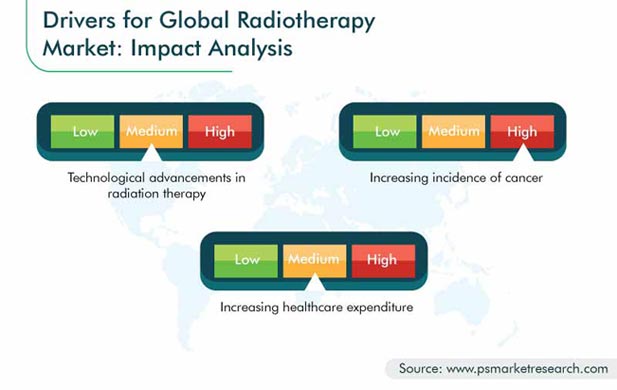 Technological Advancements in Radiation Therapy
Advancements in the treatment protocols have created a significant demand for automated products, which can be integrated into clinical practice systems, thereby making treatments quicker and more effective. With technological advancements, extensive focus on the improvement of patient care is also being observed. In addition, the availability of more advanced, automated, and efficient clinical tools in radiation therapy, along with the advent of more-precise forms of radiotherapy treatment (IMRT, brachytherapy, proton therapy, volumetric modulated arc therapy [VMAT], SBRT, stereotactic radiosurgery [SRS], and image-guided radiation therapy [IGRT]) are resulting in the growth of the radiotherapy market across the globe. Hence, innovative technology and equipment that enable hospitals to reduce treatment duration and increase patient throughput are contributing to the growth of the radiotherapy market.
Increasing Incidence of Cancer Is Expected To Boost Market Growth during Forecast Period
The radiotherapy market is experiencing significant growth, due to the rising number of cancer cases. According to the American Institute of Cancer Research, the number of new cancer cases is projected to reach about 25 million by 2030, led by low- and middle-income countries (LMICs), such as China and India.
The rising incidence of chronic diseases is a healthcare burden affecting high-income countries as well as LMICs. Cancer, for instance, is one of the most widespread chronic diseases in the world. Its impact can be ascertained from the fact that it was responsible for 9.6 million deaths in 2018, as reported by the World Health Organization (WHO). Moreover, LMICs report 70% of the total deaths, globally, due to cancer. This number can be reduced if proper medical care is provided at its initial stages, which can be accomplished by chemotherapy and radiotherapy.
Radiotherapy Market Report Coverage

| Report Attribute | Details |
| --- | --- |
| Historical Years | 2014-2019 |
| Forecast Years | 2020-2030 |
| Base Year (2019) Market Size | $7,222.4 million |
| Forecast Period (2020-2030) CAGR | 8.4% |
| Report Coverage | Market Trends, Revenue Estimation and Forecast, Segmentation Analysis, Regional and Country Breakdown, Competitive Analysis, Companies' Strategic Developments, Product Benchmarking, Company Profiling |
| Market Size by Segments | Type, End User, Geography |
| Market Size of Geographies | U.S., Canada, Germany, U.K., France, Italy, Spain, Japan, China, India, Indonesia, Australia, Brazil, Mexico, Saudi Arabia, South Africa |
| Secondary Sources and References (Partial List) | German Cancer Research Center, Hong Kong Sanatorium & Hospital, Institute for Health Metrics and Evaluation, Instituto Mexicano Del Seguro Social, International Agency for Research on Cancer, International Atomic Energy Agency, International Medical Device Regulators Forum, Japanese Cancer Association, Korean Cancer Association, Union for International Cancer Control |
Market Players Launching New Products and Services to Gain Competitive Edge
The global radiotherapy market is fragmented in nature, with the presence of several key players, such as Varian Medical Systems Inc., Elekta AB, and Accuray Incorporated.
In recent years, major players in the radiotherapy industry have taken several strategic measures, such as product launches, partnerships, and acquisitions, to gain a competitive edge in the market.
In April 2020, Elekta AB announced the launch of Geneva, a universal gynecological applicator, for brachytherapy. The adaptable product can accommodate most female pelvic anatomies.
In April 2020, ViewRay Inc. entered into a strategic collaboration with VieCure, an AI informatics company. Through this alliance, clinicians will have access to ViewRay's MRIdian magnetic resonance imaging (MRI)-guided radiation therapy system and VieCure's VCurePrecision electronic medical record (EMR) platform.
In May 2019, Varian Medical Systems Inc. acquired CyberHeart, a privately held company which developed the technology to use radiation therapy for cardiovascular diseases. The acquisition of CyberHeart has opened ways for Varian Medical Systems Inc. to expand its focus on the cardiac radioablation space.

The Key Players in Radiotherapy Market include:
Sumitomo Heavy Industries Ltd.

Varian Medical Systems Inc.

ViewRay Inc.

Mevion Medical Systems Inc.

Optivus Proton Therapy Inc.

Panacea Medical Technologies Pvt. Ltd.

P-Cure Ltd.
Radiotherapy Market Size Breakdown by Segment
The radiotherapy market report offers comprehensive market segmentation analysis along with market estimation for the period 2014–2030.
Based on Type
External Beam

By product

Linear accelerators (LINACs)
Particle/proton therapy systems
Conventional cobalt-60 teletherapy systems

By technology

Stereotactic therapy
Image-guided
Intensity-modulated
Particle beam therapy
3D conformal

Internal Beam

By product

Seeds
Electronic brachytherapy systems
Afterloaders
Applicators

By technology

High-dose rate (HDR)
Low-dose rate (LDR)
Pulsed-dose rate (PDR)

Systemic
Based on End User
Hospitals
Independent Radiotherapy Centers
Cancer Research Institutes
Geographical Analysis
North America
Europe

Germany
France
Italy
Spain
U.K.

APAC

China
Japan
India
Australia
Indonesia

LATAM
MEA

Saudi Arabia
South Africa