Market Overview
The global PTA balloon catheter market was valued at USD 2,231.6 million in 2022, and the market size is predicted to reach USD 4,591.2 million by 2030, advancing at a CAGR of 9.4% during 2022–2030. The market is driven by the increasing prevalence of cardiovascular diseases, growing number of minimally invasive surgical procedures, and rising consumption of tobacco and incidence of obesity.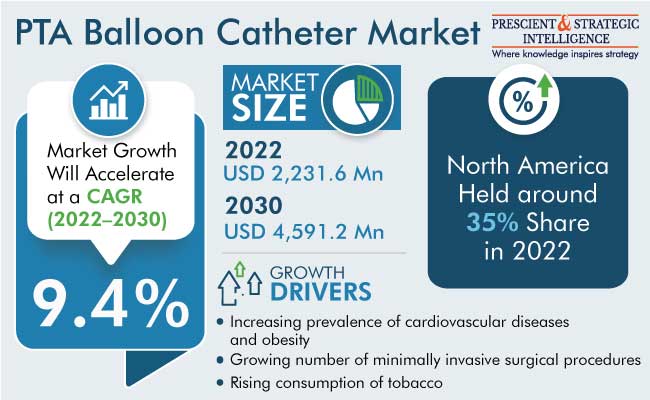 One of the major causes of cardiovascular disease is smoking, which causes 1 of every 4 deaths worldwide. It has been found that in Germany, 1 in 3 people above the age of 14 smokes. The rate had increased to more than 30% in 2021 from 26 to 27% in the end of 2019 and beginning of 2020. A person who smokes less than five cigarettes in a day may also shows signs of a CVD. The cells that line the blood vessels become inflamed and swollen because the chemicals in cigarette smoke make the lumen thin and cause various vascular problems.
The demand for PTA balloon catheters is also growing due to the rising number of minimally invasive surgical procedures. This technique is now one of the standards in numerous routine operations. This is mainly because it results in fewer and smaller scars, lesser pain, lower risk of post-operative complications, and faster recoveries; is cost-effective, and has overall better outcomes. Moreover, it has been found that American hospitals could collectively prevent thousands of post-surgical complications and, each year, save up to USD 350 million, by opting for minimally invasive surgeries for routine operations.
In the coming years, companies in the market can leverage the growth opportunities being offered by developing countries. an increasing number of people in emerging economies, including China and India, are becoming subject to stressful lifestyles, insufficient sleep, lack of exercise, and poor diet, all of which increase the prevalence of CVDs. Moreover, developing nations are also reporting a large number of aged people, who are prone to cardiac diseases. All these factors are together raising the demand for cardiac procedures, including angioplasties, thereby offering PTA balloon catheter providers several lucrative opportunities.
Peripheral Vascular Disease Is Dominating Market
Peripheral vascular disease held the larger share, over 60%, in 2022. The prevalence of this disease in the U.S. is 45 to 50 million. The incidence of the disease increases sharply with age, with more than 20% of the people over 80 years old having it. It majorly results from progressive atherosclerotic disease, which results in a decrease in major organ blood flow and emergence of end-organ ischemia.
The most-common cause is atherosclerosis, which is a buildup of fatty deposits within the blood vessels, which reduces blood flow to that area. Apart from this, other causes are diabetes; a high level of sugar in the blood can damage and weaken the blood vessels, causing them to narrow. Infections, such as syphilis or salmonellosis, can also cause this disease.
Some autoimmune diseases can also cause inflammation of the arteries, which eventually causes peripheral vascular disease. People who are prone to this condition include tobacco users, diabetes mellitus, hypertension, HIV, and high cholesterol patients; a person whose BMI is greater than 30, people who have a medical history of stroke, CVDs, or heart attack or a family history of peripheral vascular disease, stroke, or coronary artery disease; and obese person.
PTA Balloon Catheters Are Widely Used in Hospitals
The demand for PTA balloon catheters is increasing in hospitals owing to the rise in the incidence of cardiovascular diseases, surge in the number of patient visits, and the fact that hospitals accept various reimbursement programs and health insurance policies. Additionally, the availability of skilled professionals, a large patient pool, increasing number of cardiac specialty hospitals, and growing medical tourism industry are the key factors driving the growth of the market in this category.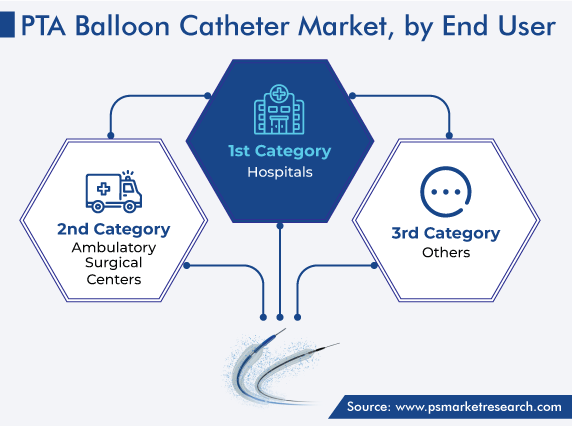 North America Held Largest Share
North America held the largest global PTA balloon catheter market share, around 35%, in 2022. In the U.S., for many years, cardiovascular diseases have been one of the major causes of death. As per the CDC, 0.69 million people in the country died of heart diseases in 2021, with more than one death every minute. Moreover, 1 out of every 3 adults are obese because of high calorie consumption, less physical activity, lack of opportunity and settings for exercise, oversized food portions, genetic factors, stress and emotional factors, and certain diseases, such as thyroid issues, Cushing's syndrome, and polycystic ovary syndrome. Moreover, the U.S. government spends a significant portion of its gross domestic product (GDP) on healthcare every year.
PTA Balloon Catheter Market Report Coverage

| | |
| --- | --- |
| Report Attribute | Details |
| Historical Years | 2017-2022 |
| Forecast Years | 2023-2030 |
| Market Size in 2022 | USD 2,231.6 Million |
| Revenue Forecast in 2030 | USD 4,591.2 Million |
| Growth Rate | 9.4% CAGR |
| Report Scope | Market Trends, Drivers, and Restraints; Revenue Estimation and Forecast; Segmentation Analysis; Impact of COVID-19; Companies' Strategic Developments; Market Share Analysis of Key Players; Company Profiling |
| Segments Covered | By Material Type; By Application; By End User; By Product Type; By Region |
Explore more about this report - Request free sample pages
APAC Is Fastest-Growing Region
The APAC market is growing mainly because of the rising prevalence of issues related to the heart and increasing aging population. In India, the most-common heart diseases are cardiomyopathy, coronary artery disease, rheumatic heart disease, valvular heart disease, cerebrovascular disease, heart attack, and heart failure. Factors such as economic development and rising healthcare expenditure are expected to boost the growth of the market over the forecast period. The growing interest of private companies in investing in this market and the favorable government policies for cardiovascular disease patients are some of the other factors that are projected to boost the market advance over the forecast period.
In addition, health tourism activities are increasing in the country, which drives the market. In India, the quality of healthcare is progressing at a high rate. The country is one of the best medical tourism destinations, offering high-quality treatments at low costs, which is why it is now considered among the top six medical travel destinations in the world. Each year, around 2 million patients visit the country for advisory and treatment.
Hospitals in the country now utilize advanced technologies for the diagnoses and treatment of cardiac ailments. Another prominent factor for the rising arrivals of heart patients to the country is that they get an appointment with a well-known cardiologist with relative ease.
In addition, APAC has become the center of the global tobacco epidemic, and, unavoidably, it will face a rising burden of tobacco-related health problems in the years to come. Starting at a younger age, a growing proportion of males are smoking. Globally, China is the largest manufacturer and consumer of tobacco products.
There are more than 300 million smokers in China, accounting for more than 33% of the world's total. Over half the adult men are tobacco smokers in the country, and it accounts for about one in every three cigarettes smoked across the globe. Moreover, there are more than 250 million tobacco users in India, making it the country with the second-highest number of tobacco users, globally, after China.
Moreover, Europe is also growing at a significant rate. The increasing adoption of minimally invasive surgeries, growing geriatric population, rising number of approved products, and presence of favorable reimbursement policies are expected to boost the market in the region in the coming years.
Moreover, in Italy, the increasing prevalence of heart diseases and resultant surge in the number of heart surgeries are expected to drive the market. The increasing number of ongoing clinical studies in this country is another factor expected to boost the market. In the country, more than 3 million people were suffering from heart diseases in February 2021. Therefore, the number of heart surgeries continues to increase in Italy, in turn, propelling the demand for balloon catheters for percutaneous transluminal angioplasties.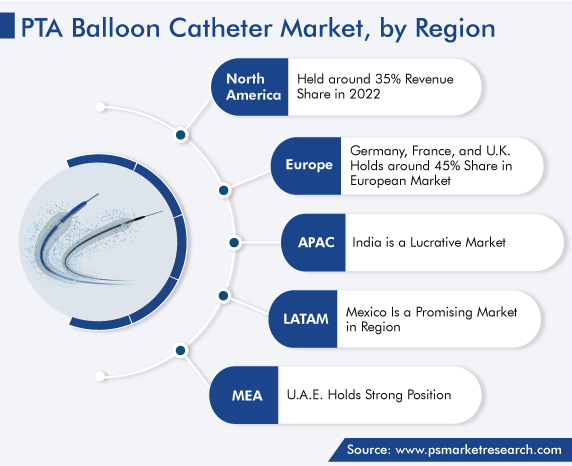 Top PTA Balloon Catheter Manufacturers Are:
Medtronic plc
Terumo Medical Corporation
Cardinal Health Inc.
Boston Scientific Corporation
Cook Medical
BIOTRONIK Inc.
Abbott Laboratories
Becton, Dickinson and Company
Natec Medical Ltd.
Surmodics Inc.
Market Size Breakdown by Segment
This fully customizable report gives a detailed analysis of the PTA balloon catheter market from 2017 to 2030, based on all the relevant segments and geographies.
Based on Material Type
Based on Application
Coronary Artery Disease
Peripheral Vascular Disease
Based on End User
Hospitals
Ambulatory Surgical Centers
Based on Product Type
Standard and High-Pressure PTA Balloon Catheter
Specialty PTA Balloon Catheter
Geographical Analysis
North America
Europe

France
Germany
Italy
Spain
U.K.

Asia-Pacific

China
India
Japan
South Korea
Australia

Latin America
Middle East and Africa

Saudi Arabia
South Africa
U.A.E.