Competitive Landscape of Private Healthcare Insurance Industry
A healthcare insurance can cover medical and surgical expenses of an individual's treatment and can reimburse the expenses incurred from illness or injury, or pay care provider directly for the treatment of an insured individual. The customers pay tax-free premiums monthly or annually for this service.
The private healthcare insurance companies offer various types of plans for medical, disease, and income protection. The medical insurance refers to the health insurance policy that covers high deductible medical expenses. This policy covers limited amount for specific expenses, such as hospital bed expenses, emergency services, and ambulatory patient services. Furthermore, the medical insurance covers benefits, such as hospitalization, prescription drugs, mental health and substance use disorder services, laboratory services, and pediatric services.
Disease insurance is meant for a specific disease, as it provides benefits and coverage for specific disease, sickness, and injuries, such as heart attack, cancer, sclerosis, coma, paralysis, and kidney failure. The disease insurance provides per day, per medical service expenses incurred; and several benefits upon the occurrence of medical events, or diagnosis related to the treatment of a condition.
Income protection provides a regular replacement of income, if a policyholder is unable to work because of an injury or illness. This insurance policy may not cover pre-existing conditions and tends to cover a maximum percentage of tax-free salary.
Penetration of Private Healthcare Insurance Service Providers
Allianz SE, AXA Group, Aetna Inc., Cigna Corporation, Aviva plc, British United Provident Association Limited, Zurich Insurance Group, Assicurazioni Generali S.p.A., GIE BNP Paribas Cardif, and Continentale Krankenversicherung a.G. are some of the international players present in the U.S., Germany, France, Italy, Spain, the U.K., Switzerland, China, Japan, India, Australia, Brazil, and Mexico.
Allianz SE
Founded in 1890, Allianz SE is an insurance provider that offers insurance products and services through its three reportable segments, namely, property-casualty insurance, health/life insurance, and asset management, in 70 countries. As of 2017, Allianz SE insured 92 million customers across the world.
The property-casualty segment includes motor, property, accident, general liability, and travel insurance and assistance services. The life/health insurance segment offers savings and investment options, along with life and health insurance. The company runs its insurance operations primarily in countries, such as India, Germany, France, Italy, China, and the U.S.
Allianz SE operates its asset management operation through two management businesses, namely, Pacific Investment Management Company (PIMCO) and AllianzGI. This segment functions in major markets of the U.S., Germany, France, Italy, and the U.K. Corporate and other division function in the domain of the asset management and supports Allianz's businesses through banking, alternative investments, and holding & treasury.
AXA Group
Founded in 1982, the AXA Group is an insurance company, operating in six reportable segments, namely, France, Europe, Asia, the U.S., international, and transversal and central holdings. The Group offers products and services in the following categories: life and savings, property and casualty, health, asset management, and banking. The company sells its products through agents, salaried sales representatives, aligned distributors, brokers, and independent financial advisors.
Aetna Inc.
Founded in 1853, Aetna Inc., a subsidiary of CVS Health Corporation, offers a wide range of traditional, voluntary, and consumer-directed health insurance products and related services, including medical, pharmacy, dental, behavioral health, group life and disability, medical management capabilities, Medicaid healthcare management, Medicare Advantage, and Medicare Supplement; workers' compensation administrative services; and health information technology (HIT) products and services. Aetna Inc. works through three reportable segments: healthcare, group insurance, and large case pensions. The company's customers include employers, individuals, college students, part-time and hourly workers, healthcare providers, government organizations, labor groups, and expatriates.
Geographical Scenario of Private Healthcare Insurance Industry
Countries in this research include the U.S., Germany, France, Italy, Spain, the U.K., Switzerland, China, Japan, India, Australia, Brazil, and Mexico. These countries have well-established insurance network of international players. Moreover, government-mandated insurance policies are also playing pivotal role in the growth of the public and private healthcare insurance industry.
Private Healthcare Insurance Industry in the U.S.
In the U.S., the private healthcare insurance industry is mainly led by the increasing geriatric population, growing prevalence of chronic diseases, rising medical costs, and government funding programs for healthcare insurance. According to the Population Reference Bureau (PRB) report "Aging in the United States", the number of Americans aged 65 years and older is projected to reach more than double from 46 million in 2016 to over 98 million by 2060, and this age group's share of the total population will rise to nearly 24% by 2060 from 15% in 2016. Geriatric population require medical attention quite often, leading to frequent visits to hospitals and clinics, inducing burden of increased medical bills. Thus, people in this age group tend to invest heavily in health insurance to lower the burden of escalating medical expenses.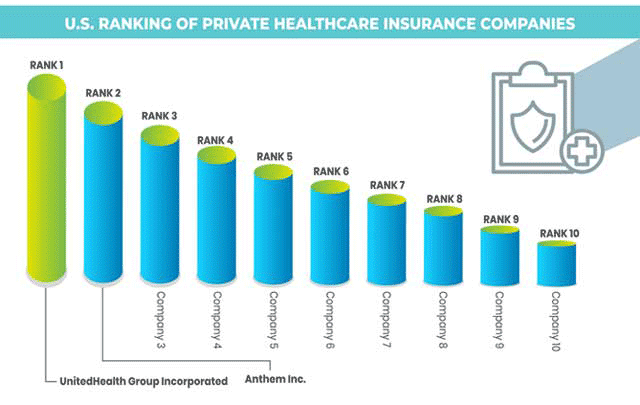 Private Healthcare Insurance Industry in European Countries (Germany, France, Italy, Spain, U.K., and Switzerland)
The private healthcare insurance industry is growing in Germany, France, Italy, Spain, the U.K., and Switzerland, due to the increasing geriatric population, growing GDP, and rising healthcare expenditure, and increasing prevalence of chronic diseases.
Increasing prevalence of chronic diseases is a major healthcare concern in these countries. Often due to this, medical expenditure becomes a burden that cannot be handled by individuals. To reduce this medical burden from patients, healthcare insurance proves to be of great benefit, and often has a separate coverage for chronic diseases. According to statistics published by the Institute of Health Metrics and Evaluation (IHME), a research institute working in the area of global health statistics and impact evaluation at the University of Washington, in 2017, cardiovascular disorders were among the top reason of mortality in France. A similar scenario has been observed in Germany, with high blood pressure being the second most common reason for death. Thus, rising prevalence of chronic diseases further raises the need for healthcare insurance plans to meet the burden of escalating medical expenses.
Private Healthcare Insurance Industry in APAC Countries (China, Japan, India, and Australia)
Globally, the private healthcare insurance industry is expected to witness the fastest growth in APAC, especially in China, Japan, India, and Australia. This is primarily attributed to the expanding healthcare insurance industry, increasing healthcare awareness, and surging prevalence of chronic ailments in the region. Increasing medical tourism industry is also supporting the growth of the industry in APAC.
Further, overall dynamics of the healthcare insurance industry is changing in the region, mainly on account of improving healthcare expenditure and infrastructure in APAC countries. With these changes, healthcare insurance plans are gaining popularity among the Asian population. Besides, conferences, seminars, and training sessions are being actively organized related to healthcare insurance in the region. For instance, in November 2018, Insurinnovator Connect conducted a conference on health insurance in Hong Kong. The conference witnessed the presence of esteemed healthcare insurance market players, specifically players of the APAC region. The conference focused on the innovations and advancements of the growing healthcare insurance industry.