Market Overview
The printed electronics market is estimated to have generated revenue of USD 13.0 billion in 2023, advancing at a CAGR of 18.5% during the forecast period, to reach USD 42.4 billion by 2030. This is ascribed to the increasing demand for printed electronic products in the consumer electronics, healthcare, automotive and transportation, and other sectors, the rising adoption of IoT solutions, significant cost advantages offered by printed electronics, and the growing consumer electronics industry.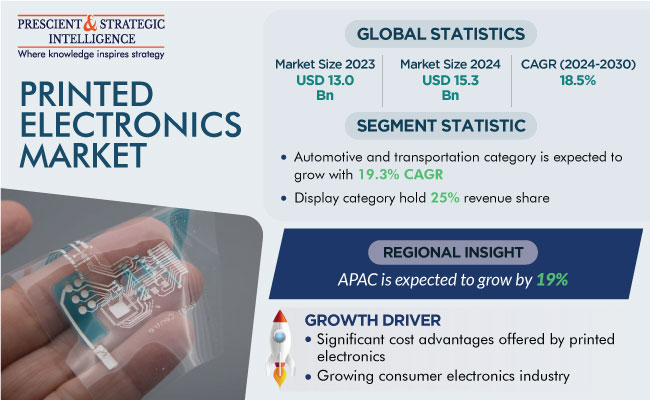 Significant Cost Advantage Drives the Demand for Printed Electronics
With the introduction of more efficient and cheaper manufacturing techniques, the manufacturing cost of conventional electronics is higher than that of printed electronics. This is due to advances leading to the mass production of displays and sensors for solar cells. These processes layer semiconductors, components, and barriers onto a substrate for economical manufacturing. Moreover, they are light, eco-friendly, and thin.
Additionally, the use of polymeric materials and the introduction of low-cost high-volume printing techniques enable the production of economically viable, lightweight, and durable components.
Screen Printer Holds the Largest Share
Based on printer component, the screen printer category holds the largest share of 25% in 2023. This is due to the increasing use of screen-printing technology for manufacturing displays and sensors. It is mainly used to produce displays for high commercial devices such as laptops and smartphones. In addition, by printing thick and thin lines precisely on the base material, it is an advanced method that can integrate electronic printing materials such as paper, nylon, and cotton. Also, it helps create affordable smart objects using plastics and glass.
Screen printers are categorized into flatbed printers and rotary printers. Flatbed printing is known for its precision and versatility in applications requiring intricate patterns and details and is well-suited for producing small, high-resolution electronic components and circuits. In addition, rotary printing plays an important role in the manufacturing of broadband and flexible electronics because of its continuous and fast printing technique, which makes it ideal for fabricating electronic circuits and designs on flexible surfaces. Also, the demand for stretchable and flexible electronics, such as foldable displays and wearable devices, continues to grow. Thus, the demand for rotary printers is expected to increase in the coming years.
In addition, inkjet printers are a widely used technology in electronic printing, with contactless printing, high resolution, and compatible features, leading to a significant increase in the potential demand for conductive non-electrolyte inks for printing. This is suitable for a variety of applications including sensors, OLED displays, and printed circuit boards (PCBs).
Inkjet printers are further divided into continuous printers and drop-on-demand printers. Continuous printing is very important for the mass production of electrical devices because roll-to-roll printing can efficiently produce smart labels on electronic devices, flexible displays, and electronic textiles. In addition, drop-on-demand technology enables precise control of ink droplet placement and is suitable for the manufacture of small electronic devices, enabling accurate and high performance of such products. Its applications include RFID tags, electronic labels, and medical sensors. The drop-on-demand category is expected to grow significantly in the market, as companies adopt more IoT devices and smart packaging solutions.
Moreover, offset printing has traditionally been used for high-quality printing of graphics arts and has applications in printed electronics. It is commonly used to print conductor patterns and circuits on substrates for various applications like smart cards and touch sensors.
In addition, gravure printing is a high-speed and high-resolution printing process used in printing to create circuits, antennas, and other functional patterns. It is mainly used in specific applications such as banknote security functions and printing sensors in the automotive industry.
Printed Electronics Market Report Coverage

| | |
| --- | --- |
| Report Attribute | Details |
| Market Size in 2023 | USD 13.0 Billion |
| Market Size in 2024 | USD 15.3 Billion |
| Revenue Forecast in 2030 | USD 42.4 Billion |
| Growth Rate | 18.5% CAGR |
| Historical Years | 2017-2023 |
| Forecast Years | 2024-2030 |
| Report Scope | Market Trends, Drivers, and Restraints; Revenue Estimation and Forecast; Segmentation Analysis; Impact of COVID-19; Companies' Strategic Developments; Market Share Analysis of Key Players; Company Profiling |
| Segments Covered | By Component; By Application; By End User; By Region |
Explore more about this report - Request free sample pages
Inks Category To Register a Higher CAGR
Based on material component, the inks category is projected to grow at a higher CAGR, of 19.0%, during the forecast period, in the printed electronics market. This can be ascribed to the surging use of metal-based inks to manufacture electronic components and their advantages such as low-temperature capabilities, cost-effectiveness, and improved product performance.
The inks category is further divided into conductive and dielectric inks. Dielectric inks are used in critical processes such as in the field of electronic printing, to create insulating layers, which are essential for electronic components and circuits. Moreover, electronic devices and components are made possible through the widespread use of conductive inks. These inks contain metals and are ideal for their non-leak and non-interference capabilities, ensuring reliable operations of electronic devices. Interestingly, conductive inks are more commonly produced by manufacturers than dielectric inks and the silver variety has dominated the market.
The substrate category is expected to register the second-highest growth in the coming future. This can be because it is used as a flexible substrate, making it possible to manufacture mechanically flexible circuits, thereby reducing manufacturing costs. The inkjets and screen-printing generally imprint hard substrates such as silicon and glass, while substrate-printing methods use flexible foils and papers. Polyethylene terephthalate is the most widely used material for substrate, due to its higher temperature stability and low cost.
Additionally, flexible electronic devices are having a major demand in the healthcare, energy, and automotive industries. For example, flexible ICs mounted on plastic substrates have been incorporated into electronic devices with organic light-emitting diodes (OLEDs) and solar arrays. These are carbon-based organic materials mainly used for manufacturing white light panels.
Display Category Dominates the Market
Based on application, printed electronics revolutionized the display industry with the introduction of flexible and lightweight display technology. These displays include OLEDs, electroluminescent displays, and electronic paper, which lead to the development of enhanced functionality flexible screens and designing devices, which are used in various fields such as consumer electronics, automobiles, and wearable technology. In addition, electroluminescent displays use electrical energy to generate light, making them indispensable in lighting applications and signage, and are widely used for a variety of backlighting and illumination purposes.
In addition, the photovoltaics category holds a significant share of the market, as it is attracting attention as an alternative energy that uses sunlight to generate power. This type of printed solar cell is suitable for integration into building facades, solar panels, and portable chargers.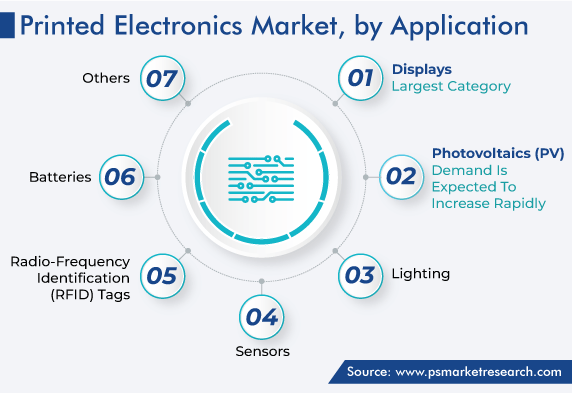 Automotive and Transportation Category To Witness the Fastest Growth
Based on the end user segment, the automotive and transportation category is expected to witness the highest growth rate in the coming years. This can be because the automotive industry adopts printed electronics for a wide range of products such as smart sensors, flexible panels, and printed antennas, which enable advanced automotive features like cabin touch controls, convenient lighting, and others. Even with the use of intelligent materials, the demand for small, low-power electronic devices are increasing, leading to a driving system that is intelligent and self-controlled.
In addition, printed electronic devices are widely used in the healthcare industry. Sensitive printed medical sensors for electronic components are used in several applications in this industry, such as wearable health analyzers, remote disease monitoring systems, non-invasive surgical devices, and smart medical packaging.
Moreover, the aerospace and defense category plays an important role in the development of the market, as this sector accepts printed electronics for applications such as lightweight antennas, conformal sensors, and energy harvesting devices. Also, the intrinsic characteristics of printed electronics are lighter and more flexible, which help optimize aircraft design and reduce fuel consumption.
Furthermore, the construction and architecture category is expected to witness significant growth in the coming years. This can be because of the surging applications of printed electronics in smart building systems, energy-efficient lighting, and building-integrated sensors. Also, solar cells and energy harvesting devices are utilized to enhance the sustainability and energy efficiency of buildings. Further, the integration of construction materials and surfaces enables innovative functionalities, such as self-monitoring and adaptive lighting.
APAC Market To Register Highest CAGR
Globally, the Asia-Pacific printed electronics market is projected to register the highest CAGR during the forecast period. This can be due to the increasing adoption of printed technology in consumer electronic applications and China is a hub of electronics manufacturing in the region. Moreover, the surging growth in end-use industries such as automotive, consumer electronics, healthcare, retail & packaging, aerospace & defense, and construction, and increasing disposable income in APAC drive the demand for printed electronics.
In Europe and North America, the demand is rising due to the rising investments in R&D, the increasing adoption of the technology in several industrial applications, including lighting, photovoltaics, and RFID devices, and the surging popularity of electronic products.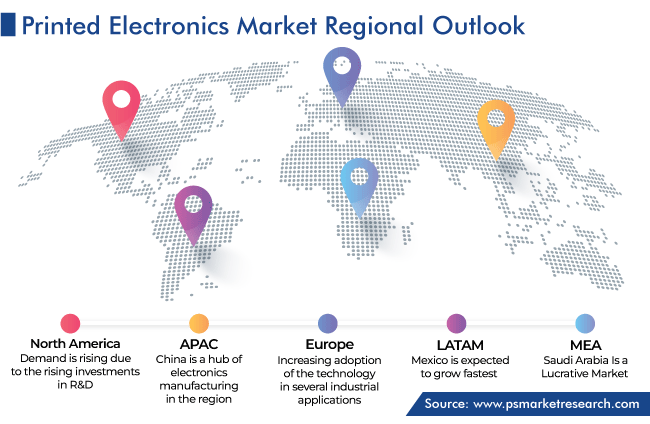 Major Key Players for Printed Electronics
E INK HOLDINGS INC.
Ynvisible Interactive Inc.
Nissha Co. Ltd.
Xerox Corporation
Agfa-Gevaert N.V.
DuPont de Nemours Inc.
Molex LLC
NovaCentrix Corp.
BASF SE
Palo Alto Research Center LLC
Market Size Breakdown by Segment
This fully customizable report gives a detailed analysis of the printed electronics industry from 2017 to 2030, based on all the relevant segments and geographies.
Based on Component
Printers

Screen
Inkjet

Continuous
Drop-on-demand

Offset
Flexographic
Gravure

Material
Based on Application
Electroluminescent
Electronic paper (e-paper)
Lighting
Sensors
Radio-Frequency Identification (RFID) Tags
Batteries
Based on End User
Automotive & Transportation
Consumer Electronics
Healthcare
Retail & Packaging
Aerospace & Defense
Construction & Architecture
Geographical Analysis
North America
Europe

U.K.
Germany
France
Italy
Spain

Asia-Pacific

China
Japan
Australia
India
South Korea

Latin America
Middle East & Africa

Saudi Arabia
Turkey
South Africa
U.A.E.