Sensor Fusion Market Outlook
The global sensor fusion market generated revenue of USD 8,252.9 million in 2023, which will reach USD 25,401.3 million by 2030, advancing at 17.6% CAGR between 2024 and 2030. The market is primarily driven by the rise in the demand for autonomous vehicles and advanced consumer electronics, increasing rate of automation in the manufacturing sector, and growing need for smart home appliances. In addition, since COVID-19's devastation, the technological advancements in the healthcare sector have driven the demand for this technology in medical devices too.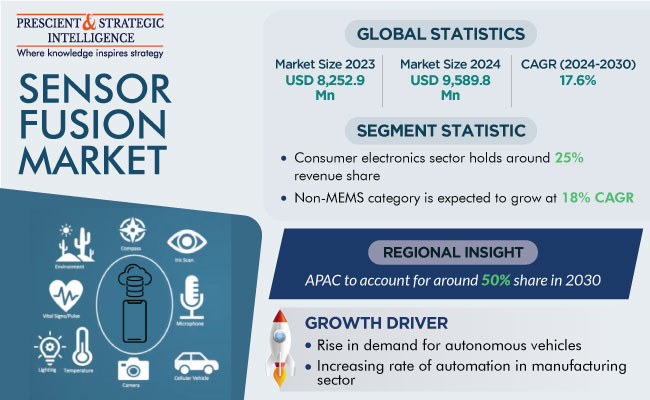 This technique is used to surpass the constraints of individual sensors, by combining their inputs to create a unified model, or generate more-dependable information with reduced uncertainty. This process improves accuracy by leveraging the strengths of different sensors, including camera, radar, LiDAR, ultrasonic, and others. Through sensor fusion, data from diverse modalities is integrated, and software algorithms are utilized to establish a comprehensive and, consequently, a more-precise environmental model.
Moreover, the growing need for autonomous vehicles around the globe is because of the technological advancements that are allowing vehicles to determine their location, speed, and direction precisely. With the incorporation of fusion algorithms, objects or vehicles in the front or behind can be detected, and the vehicle takes evasive actions, such as changing lanes or applying brakes, to avoid a collision. In this regard, the demand for this technology is driven by people's rising concerns about the safety of self-driving automobiles. Additionally, the collaboration between the developers of sensor fusion platforms with vehicle manufacturers has resulted in many cutting-edge technologies, including advanced driver assistance systems (ADAS) and anti-lock braking systems (ABS).
Furthermore, the launch of high-speed broadband services throughout the globe, specifically 5G, would significantly facilitate vehicle-to-everything (V2X) communication. Various government initiatives aim to foster the development of autonomous vehicles, for the reduction in road traffic and chances of human error, to overcome road accidents. The rapid rise in the demand for industrial robots and automated drone systems will further fuel the worldwide usage of the sensor fusion technology across sectors.
Further, companies in various sectors, such as public safety, wearable technology, industrial automation, and wastewater management, are directing their investments toward research and development, thus propelling the demand for this technology.
Kalman Filter Is Most-Widely Used Algorithm in Sensor Fusion
The Kalman filter algorithm is a mathematical tool applied in sensor fusion applications to integrate and further process the data obtained from various sensors, including GPS, accelerometers, gyroscopes, and magnetometers, to detect or monitor objects and the environment. It is further used in navigation, control, and positioning systems. The demand for this algorithm is growing in the automotive sector, specifically in GPS-enabled systems, because of its ability to integrate data to provide more-accurate predictions of unknown values compared to individual ones made using single measurement methods.
Based on Technology, MEMS Category Is Dominating Market
The MEMS technology holds the larger market share, as it is widely utilized in various industries worldwide, including automobile, advanced manufacturing, healthcare, and system navigation devices. Microelectromechanical systems are known for their compact size, energy efficiency, and optimal performance, after the fusion of multiple sensors into one. MEMS sensors are small-scale biases that integrate mechanical and electrical functionalities on a single chip, to reduce the dependence on data from individual sensors. Some types of MEMS-based sensors the data from which can be combined for more-accurate results are accelerometers, gyroscopes, magnetometers, and pressure detectors.
The integration of sensor fusion technology into systems based on the MEMS technology enhances data collection accuracy and reliability. MEMSs find applications in navigation, robotics, virtual reality (VR), augmented reality (AR), motion tracking, gesture recognition, and other domains. By improving measurement accuracy, robustness, and the reliability of the data or observations obtained, the MEMS-based sensor fusion technology significantly upgrades performance across various fields.
The non-MEMS category will be the faster-growing, with a CAGR of 18.2%, over the forecast period. This can be attributed to the increasing demand for image and radar-based products, which aim to strengthen safety systems in vehicles and other devices. The non-MEMS sensor fusion technology finds wide-ranging applications across industries, including environmental monitoring, robotics, smart cities, and aerospace & military.
Furthermore, its adoption is witnessing significant growth in the healthcare sector, driven by the deployment of AI-, ML-, and IoT-enabled algorithms. This combination of advanced technologies enables the real-time monitoring of patients' health and environmental conditions, including temperature, humidity, air quality, and brightness levels, within hospitals.
Sensor Fusion Market Report Coverage

| | |
| --- | --- |
| Report Attribute | Details |
| Market Size in 2023 | USD 8,252.9 Million |
| Market Size in 2024 | USD 9,589.87 Million |
| Revenue Forecast in 2030 | USD 25,401.3 Million |
| Growth Rate | 17.6% CAGR |
| Historical Years | 2017-2023 |
| Forecast Years | 2024-2030 |
| Report Scope | Market Trends, Drivers, and Restraints; Revenue Estimation and Forecast; Segmentation Analysis; Impact of COVID-19; Companies' Strategic Developments; Market Share Analysis of Key Players; Company Profiling |
| Segments Covered | By Algorithm; By Technology; By Offering; By End User; By Region |
Explore more about this report - Request free sample pages
Hardware Offering Holds Larger Market Share
Hardware is the larger category in the offering segment due to the growing need for various types of sensor components, including semiconductors, communication modules, memory modules, microcontroller units (MCUs), and time of flight (ToF) sensors. Sensor fusion techniques have the capability to integrate data from multiple sensors, thereby enhancing functionality and enabling intelligent and context-aware operation across a wide range of devices and systems, including sensor hubs, IoT gateways, smart home systems, and AR & VR applications.
Additionally, the sensor fusion market is driven by the increasing demand for this technology in various automotive systems, inertial measurement units (IMUs), GPS receivers, robotics, and automation systems. Therefore, the major sectors that are witnessing an increasing the demand for the associated hardware components include automotive, real estate, and services.
Based on End User, Consumer Electronics Category Holds Largest Market Share
The consumer electronics category held the largest market share, of 25%, in 2023. The growing demand is primarily attributed to the rising adoption of a diverse range of Wi-Fi-enabled devices, including smartphones, tablets, wearables, VR headsets, gaming consoles, and smart home devices. Here, sensor fusion plays a crucial role by enabling various applications, such as gesture recognition, image stabilization, navigation, and motion-based gaming.
The worldwide demand for smart devices is fueled by the desire to simplify daily tasks and improve overall operational efficiency, by leveraging precise and dependable data. Moreover, owing to the rising need for better user experiences and energy efficiency, consumer electronics with sensor fusion capabilities are in high demand. This demand growth is aided by the developments in various innovative technologies, primarily IoT, AR/VR, autonomous driving, and health & fitness tracking. Sensor fusion functionalities will become even more essential for enabling smarter, more-intuitive, and consumer-connected electronic gadgets as these technologies continue to advance over time.
Furthermore, the automotive industry will witness significant growth in the forecast period. This can be attributed to the increasing demand for vehicle safety features, advancements in electric and connected vehicles, and government rules & regulations pertaining to vehicular emissions. There is a rising need for autonomous vehicles to reduce the number of road accidents, improve the driving experience, and enhance overall road safety. For this, a proper measurement of the engine temperature, tire pressure, and other operational parameters is essential.
Therefore, internal sensors are utilized to monitor the , while external sensors measure or gauge the surroundings and facilitate communication with other objects, vehicles, and the roadside infrastructure, to reduce the chance of accidents and allow the automobile to easily navigate through traffic. Hence, the demand for this technology in the automotive sector will continue growing due to the investments being made by automakers in ADAS, adaptive cruise control (ACC), and other self-driving technologies.
The market expansion will be further propelled by the development of more-sophisticated algorithm-based sensor fusion applications and the integration of AI and ML into them.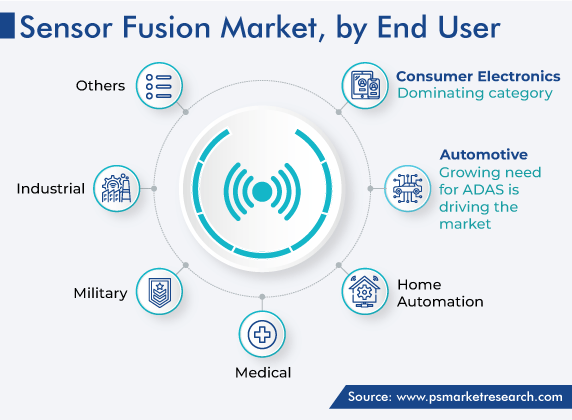 APAC Region Is Dominating Global Market
The APAC region held the largest market share in 2023, and its revenue contribution will rise at a CAGR of 18.6% over the forecast period.
The rising adoption of next-generation equipment, including smartphones, autonomous vehicles, and smart home appliances, is driving the regional market. The growth is also resulting from the rapidly rising rate of industrialization and urbanization, which ultimately leads to the expansion of the consumer electronics and automotive industries and their adoption of advanced technologies. The need to combine and properly utilize sensor data to enhance the safety, efficiency, and autonomous capabilities of vehicles essentially drives the adoption of this technology by OEMs and auto parts manufacturers.
APAC countries, such as India, China, Japan, South Korea, and Bangladesh, have experienced a substantial rise in the disposable income of the middle and upper-middle classes in recent years. This has further contributed to a higher demand for the sensor fusion technology, with consumers seeking advanced solutions for their vehicles, electronic devices, and home automation systems.
Additionally, the growing emphasis on advanced military equipment, including missiles, short- and long-range radar systems, and ultrasonic sensors, in several regional countries drives the demand for this technology in the APAC region. It plays a crucial role in the proper navigation and mobility of terrestrial military vehicles, naval ships, and high-velocity fighter jets, thus allowing them to operate efficiently in diverse terrains and environments.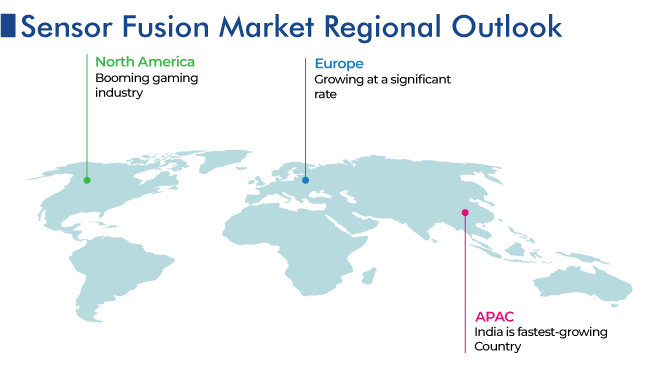 Moreover, governments in the APAC region are taking initiatives to promote research, manufacturing, and deployment of advanced technologies. Government policies such as Make in India and Made In China 2025 aim to boost domestic manufacturing capabilities and technological advancements. Similarly, the Japanese government has recently emphasized increasing its defense budget, which will further drive the demand for this technology in the region.
Some Key Players in Sensor Fusion Market Are:
Amphenol Advanced Sensors
Analog Devices Inc.
Asahi Kasei Microdevices Corporation
BASELABS GmbH
InvenSense
Infineon Technologies AG
NXP Semiconductors
Qualcomm Technologies Inc.
Renesas Electronics Corporation
STMicroelectronics N.V.
Market Size Breakdown by Segment
This fully customizable report gives a detailed analysis of the sensor fusion market from 2017 to 2030, based on all the relevant segments and geographies.
Based on Algorithm
Kalman Filter
Bayesian Filter
Central Limit Theorem
Convolutional Neural Networks
Based on Technology
Based on Offering
Based on End User
Consumer Electronics
Automotive
Home Automation
Medical
Military
Industrial
Geographical Analysis
North America
Europe

Germany
U.K.
France
Italy
Spain

Asia-Pacific

Japan
China
India
South Korea
Australia

Latin America
Middle East and Africa

Saudi Arabia
South Africa
U.A.E.