Piezoelectric Ceramics Market Outlook
The piezoelectric ceramics market is valued at an estimated USD 1,498.6 million in 2023, which is expected to reach USD 2,098.5 million by 2030, growing at a CAGR of 5.2% during 2024–2030.
Due to the rising consumer demand for smart devices, wearable electronics, smartphones, and IoT devices, the worldwide electronics industry is expanding incessantly. Sensors, actuators, and transducers play a key role in these gadgets; hence, the desire for effective and dependable sensing & actuation capabilities in electronic goods drives the market. These ceramics are used as the primary sensing components in a wide range of sensors crucial in many sectors. Precision, accuracy, a wide sensing range, and quick responses are required from high-performance sensors, which these materials can offer.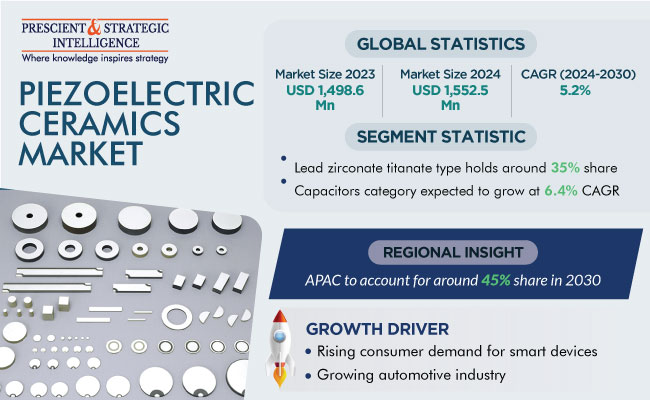 They are suitable for miniaturized electronics and hostile environments due to their small sizes, robustness, and dependability. The need for them is fueled by their diverse application areas, which include manufacturing automation, electronic goods, medical devices, automobiles, and aviation. They are also used for force sensing, vibration monitoring, and precision positioning, which is boosting the market's growth as more sectors adopt IoT and automation. In general, adaptability and a host of other desirable qualities drive their usage in an expanding application area.
Specifically, due to their ability to convert mechanical stress into electrical signals and vice versa, they are extremely useful in the medical field. They are used in ultrasound transducers to utilize the vibrations caused by electrical voltage to provide real-time images of organs and tissues. Further, these materials provide fine control in surgical equipment for sensitive operations, such as dental procedures and neurosurgery. Additionally, for targeted medicine delivery to the lungs, inhalers use piezoelectric ceramics to turn liquid medication into aerosols.
Moreover, the market is expanding due to the growing focus on energy harvesting, which entails gathering and transforming mechanical energy into electricity. Here, these materials utilize vibrations, motion, and pressure variations in the environment to create sustainable energy. They can also be used as self-powered devices to gather energy from the environment, thus reducing the dependence on batteries and increasing the efficiency of power generation.
Additionally, this enables the utilization of mechanical energy that would otherwise be lost, in turn, making equipment and systems more energy-efficient. This might make this technology a key focus area as the world places a stronger emphasis on environment-friendliness and energy efficiency. This is because they are perfect for compact and portable devices, such as smartwatches and wearables medical monitors, by allowing them to be miniaturized without compromising their efficiency.
Lead Zirconate Titanate Dominates Market
Lead zirconate titanate holds a significant share, of 35%, in 2023, primarily due to its high piezoelectric coefficient, which allows it to effectively convert mechanical stress into electrical signals and the other way round. Hence, PZT is ideally suited for sensors that are used for measurement and control purposes, as it creates an appropriate electrical charge when subjected to mechanical pressure or vibration. PZT can also be designed to optimize energy conversion in consumer electronics, tolerate severe vibrations in automobile sensors, and be biocompatible in medical implants.
Its wide variety of compositions and characteristics enables its use in diverse fields, including energy harvesting, pressure sensing, and precision actuation. Moreover, due to its ability to maintain its piezoelectric characteristics over a broad temperature range, lead zirconate titanate is appropriate for extremely cold and hot climates. Further, its robust crystalline structure allows electric dipoles to create electrical charges when subjected to mechanical stress or vibrations and convert the reaction to a voltage. This makes it useful for a variety of applications in aerospace, automotive, and industrial contexts.
Moreover, lead zirconate titanate manufacturing processes have advanced as a result of decades of research and development. Because of this thorough understanding, high-quality PZT ceramics with a reliable performance can be created. A stable supply of such ceramics for essential applications, such as medical devices and aerospace components, as well as their cost-effectiveness due to lower manufacturing costs, drive the market.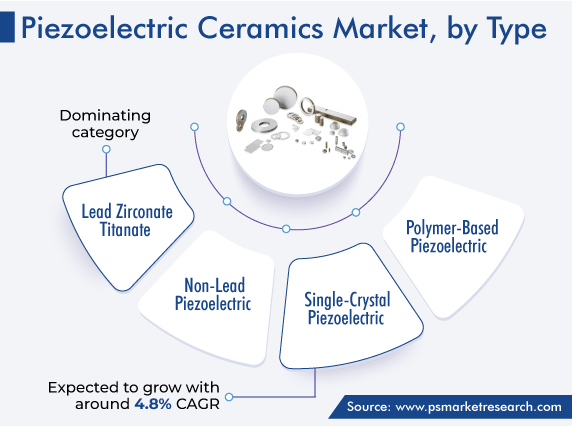 Capacitors Are Expected to Witness Highest Growth Rate
Within the application segment, the capacitors category is expected to witness robust growth, due to the rising demand for advanced capacitors in electronic products. For creating capacitors with ample energy storage, these materials are advantageous. Additionally, they are perfect for the capacitors integrated into cell phones, computers, and IoT devices, to which they offer efficiency and quick functioning.
Additionally, the emphasis on eco-friendly materials has increased the interest in lead-free materials for capacitors. Potassium niobate has shown promise as a lead-free material for capacitors, with companies exploring new environment-friendly solutions to satisfy legislations and consumers' needs. Hence, the booming demand for electronic gadgets and energy storage systems will stimulate more research to expand the application of KNbO₃.
Piezoelectric Ceramics Producers:
Johnson Matthey
KYOCERA Corporation
Ceram Tec GmbH
CTS Corporation
Murata Manufacturing Co. Ltd.
TDK Corporation
Physik Instrumente (PI) GmbH & Co. KG
APC International Ltd.
Arkema S.A.
HOERBIGER Motion Control GmbH
Sensors Are Also Expected To Witness High Growth Rate
The sensors category is also expected to experience rapid expansion in the forecast period. Such ceramics display high accuracy and sensitivity in detecting pressure, force, acceleration, and vibrations, which makes them essential in the healthcare, aerospace, and automobile industries. In applications such as structural health monitoring, process control, and environmental monitoring, these sensors offer precision and trustworthiness.
Additionally, the utilization of sensors for condition monitoring and preventative maintenance is escalating with the growth in the adoption of smart, connected devices. The advent of piezoelectric materials and advancements in manufacturing processes have enabled the creation of highly sensitive, miniaturized sensors for wearable technologies, consumer electronics, and medical equipment.
Additionally, the acceptance of autonomous vehicles is a primary driver for the need for piezoelectric sensors, due to their accuracy, dependability, and superior detecting capabilities. They assist with parking & maneuvering, vibration & road condition monitoring, collision detection & avoidance, and structural health monitoring.
The sensors category is also driven by the prospering consumer electronics sector. Consumer electronics products use these sensors for various applications, such as touchscreens in smartphones & tablets, vibration & motion detection in wearables, microphones & speakers in audio equipment, and energy harvesting, to extend battery life.
Haptic feedback, which improves user experience by imitating actual touch sensations, is also made possible by these components. Therefore, the demand for efficient and adaptable sensors will rise as consumer electronics with more-sophisticated features emerge.
Piezoelectric Ceramics Market Report Coverage

| | |
| --- | --- |
| Report Attribute | Details |
| Market Size in 2023 | USD 1,498.6 Million |
| Market Size in 2024 | USD 1,552.5 Million |
| Revenue Forecast in 2030 | USD 2,098.5 Million |
| Growth Rate | 5.2% CAGR |
| Historical Years | 2017-2023 |
| Forecast Years | 2024-2030 |
| Report Scope | Market Trends, Drivers, and Restraints; Revenue Estimation and Forecast; Segmentation Analysis; Impact of COVID-19; Companies' Strategic Developments; Market Share Analysis of Key Players; Company Profiling |
| Segments Covered | By Type; By Application; By End User; By Region |
Explore more about this report - Request free sample pages
APAC Is Expected To Showcase Significant Growth
The Asia-Pacific region holds a largest share, of 45%, in 2023, and its revenue contribution is expected to witness a CAGR of 5.8% during 2024–2030.
This is majorly credited to the robust manufacturing capacities and supportive industrial infrastructure of APAC. The key electronics manufacturing countries are China, Japan, and South Korea, which produce a variety of consumer electronics and automobile parts. Thus, the growth of these sectors creates a high demand for piezoelectric ceramics.
The demand for smartphones, tablets, wearable technology, and other electronic devices is driven by the region's massive population and expanding middle class, making APAC the world's largest consumer electronics market. To offer cutting-edge functionalities and memorable user experiences, these gadgets make heavy use of capacitive touchscreens, vibration sensors, and other components.
In the same way, the APAC region is the world's biggest automobile market. Top Japanese and South Korean automakers, including Toyota, Honda, Hyundai, and Kia, utilize these materials in a range of sensors and actuators. The performance of several systems of vehicles, such as airbags, tire pressure monitoring systems, and fuel injection systems, is improved by these ceramics.
The sophisticated healthcare systems and medical technologies of Japan and South Korea are another key driver for the regional market. Numerous diagnostic and therapeutic devices make use of piezoelectric ceramics due to the rising demand for accurate and dependable medical equipment.
APAC countries are also exhibiting a growing interest in energy harvesting technologies as the demand for sustainable energy solutions increases. To convert mechanical vibrations and movements into electricity, to power wireless sensors, IoT gadgets, and other low-power electronics, these materials are employed in energy harvesting systems. The demand for efficient piezoelectric energy harvesters is expected to increase further, as regional nations are concentrating on smart city projects.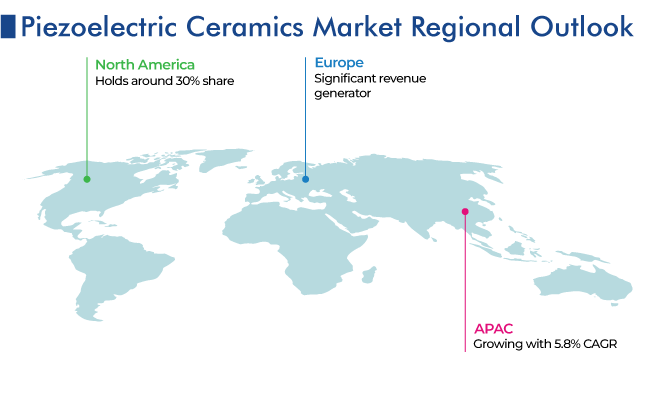 Market Size Breakdown by Segment
This report offers deep insights into the piezoelectric ceramics market, with size estimation for 2017 to 2030, the major drivers, restraints, trends and opportunities, and competitor analysis.
Based on Type
Lead Zirconate Titanate
Non-Lead Piezoelectric
Single-Crystal Piezoelectric
Polymer-Based Piezoelectric
Based on End User
Consumer Electronics
Automotive and Transportation
Healthcare and Medical Devices
Industrial Manufacturing
Aerospace and Defense
Based on Application
Sensors
Capacitors
Actuators
Transducers
Energy Harvesting Devices
Generators and Transformers
SONAR Systems
Communication Devices
Geographical Analysis
North America
Europe

Germany
U.K.
France
Italy
Spain

Asia-Pacific

Japan
China
India
South Korea
Australia

Latin America
Middle East and Africa

Saudi Arabia
South Africa
U.A.E.