Market Overview
The energy storage market size stood at 36,774 MW (Megawatts) in 2022, and it is expected to grow at a CAGR of 35.2% during 2022–2030, to reach 410,543 MW by 2030.
The growing emphasis on alternative electricity sources, the high availability of batteries, and the increasing concerns over the rising pollution levels because of the combustion of fossil fuels are the major drivers for industry growth.
On the other hand, the COVID-19 had an adverse effect on market participants, such as component manufacturers, contractors, and utility firms. The sector's slowdown was a result of project postponement or cancellation, logistical challenges, difficulty in procuring the equipment, and delay in obtaining the necessary permissions. These factors resulted in decreased revenue and workforce layoffs.
Due to the financial insecurity of the consumers, the COVID-19-induced economic depression made it difficult to deploy domestic power storage mechanisms. Conversely, the commercial and industrial (C&I) sector suffered a setback as a result of the enterprises' avoidance of non-essential capital investments. In the upcoming years, the market is projected to be primarily driven by the expanding renewable sector, favorable government policies and programs for energy storage systems (ESS), and improving economy.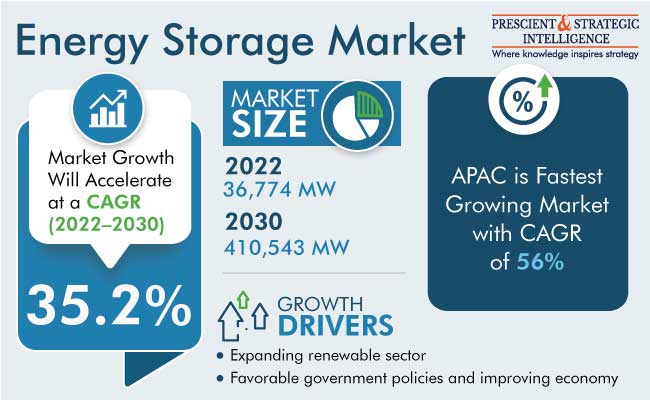 Rising Focus on Renewable Sources of Power
One of the main drivers for the global market is the rising focus on unconventional sources of electricity generation. With the rapid urbanization, there is a rising demand for hydro, solar, and wind power.
This can be attributed to the fact that these resources are readily available, produce clean power, and can easily meet the increasing demand for electricity. Since renewable technologies, such as wind and solar, have variable outputs, ESS technologies have a great potential for smoothing out the power supply from these sources and ensuring that the supply of electricity generated meets the demand. Energy storage is also valued for its rapid response in this scenario.
Most of the technologies can discharge power to the grid quickly, while fossil fuel sources tend to take longer to ramp up. This quick response is important for ensuring the stability of the grid when there is an unexpected increase in demand.
Demand for Lithium-Ion Batteries Is Extremely High
Li-ion battery held the largest share in 2022 in the electrochemical subsegment. This can be attributed to the various advantages associated with it, such as high power density, low self-discharge, and low maintenance.
Moreover, due to the falling prices, lithium-ion batteries are in high demand for electricity storage. Moreover, these products will also hold the largest share of all battery energy storage technologies due to their low maintenance requirements, lightweight design, long life, high power density, and high charge/discharge efficiency.
Moreover, Sodium–sulfur (NaS) batteries experience higher growth rate, while other batteries such as lithium-ion (Li-ion), Lead–Acid , and flow batteries offer advantages including improved durability and higher capacity for longer-term storage or other applications.
Additionally, utility-grade battery ESSs offer an affordable alternative to traditional infrastructure, particularly when it comes to assisting substations and transmission and distribution (T&D) lines in meeting the rising demand.
The electrochemical market will continue to grow rapidly during the forecast period as more utilities incorporate storage in their requests for proposals for solar projects.
Big batteries and renewable projects work together to increase reliability, while emitting no greenhouse gases (GHGs). As a result, companies and residential buildings are emphasizing on using batteries as a source of backup power and collecting extra electricity from rooftop systems, to utilize whenever necessary.
The main causes of the increasing deployment of battery energy storage in these regions are the increasing rates of renewables penetration and the deteriorating grid infrastructure. As a result of the aforementioned reasons, the electrochemical subsegment will grow with 54% CAGR during forecast period.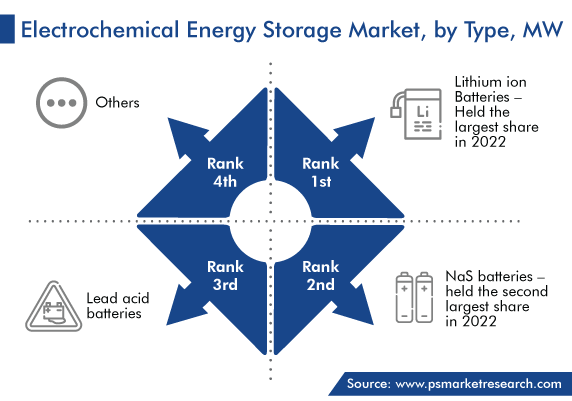 Increasing Electricity Cost
Another factor driving the demand for ESSs globally is the increasing cost of electric power. Due to the growing population and urbanization, especially in China, Brazil, and India, there is a high requirement for electricity. As a result, power plants are running at full capacity, resulting in a gradual increase in power prices. Additionally, the unavailability of fuel is resulting in the volatility of prices. These factors have led to an increased focus on resource conservation, thereby resulting in the adoption of ESSs. These systems are used to store power when its price is low or to store whatever excess is produced. The stored power can be used when the price of the power increases.
Energy Storage Market Report Coverage

| | |
| --- | --- |
| Report Attribute | Details |
| Historical Years | 2017-2022 |
| Forecast Years | 2023-2030 |
| Market Size in 2022 | 36,774 MW |
| Revenue Forecast in 2030 | 410,543 MW |
| Growth Rate | 35.2% CAGR |
| Report Scope | Market Trends, Drivers, and Restraints; Revenue Estimation and Forecast; Segmentation Analysis; Impact of COVID-19; Companies' Strategic Developments; Market Share Analysis of Key Players; Company Profiling |
| Segments Covered | By Type; By Region |
Explore more about this report - Request free sample pages
APAC To Remain Dominant Region in Global Market
APAC was the largest user of energy storage solutions with market size of 17,652 MW in 2022, owing to the high-volume project engineering, procurement, and construction (EPC) activities in India, Japan, and China. Moreover, the highest storage capacity will be added in APAC, which will observe the significant growth during 2022–2030. At present, Asian power utilities consider power storage systems the next upgradation in smart grid technologies. With the increasing demand for stable grids and increasing focus of governments on smart grids, the region is expected to increase its investment in these technologies.
Modernizing transmission systems will further help the region counter the challenges in handling electricity requirements. Hence, the governments of various countries, including China, Japan, and India, are showing interest in grid-tied storage technologies and adopting smart grid community systems for electricity delivery, which can be owed to the escalating non-conventional power generation and decreasing reliance on traditional modes of power generation.
Energy storage plays a significant role in meeting the electricity demand by ensuring high reliability, improving the operational capabilities of the grid, lowering costs, and reducing infrastructure investments.
Moreover, in APAC, the adoption of solar energy storage systems is increasing at a significant rate, as these systems are cost-effective for users for controlling utility costs and for grid operators for managing network instability. The increasing amount of variable renewable power generation in the region, primarily solar and wind power is driving interest in grid-tied electricity storage technologies. Thus, it is fueling the market growth and will grow with CAGR of more than 56% during forecast period.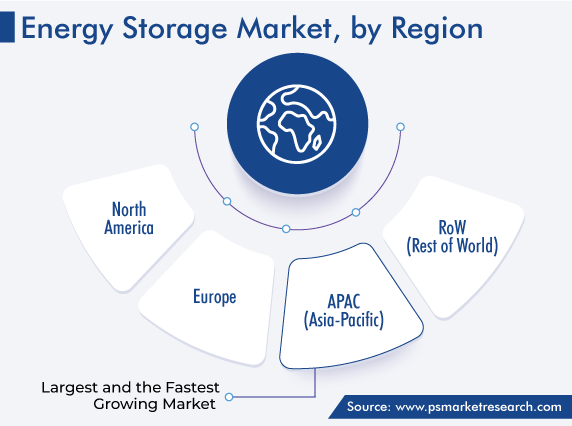 Key Market Players in Energy Storage Market are:
S&C Electric Company
LG CNS Co Ltd.
NEC Corporation
Fluence Energy LLC
Contemporary Amperex Technology Co. Limited
Convergent Energy and Power LP
Duke Energy Corporation
Tesla Inc.
NextEra Energy Inc.
Energy Storage Market Size Breakdown by Segment
This fully customizable report gives a detailed analysis of the energy storage market from 2017 to 2030, based on all the relevant segments and geographies.
Based on Type
Mechanical

Pumped hydro storage (PHS)
Liquid air energy storage (LAES)
Compressed air energy storage (CAES)

Electrochemical

Lithium battery
Lead–acid battery
Sodium–sulfur (NaS) battery

Thermal
Based on Application
Residential
Commercial
Distribution
Transmission
Based on Region
North America
Europe

Portugal
Spain
Switzerland
Germany
Austria

Asia-Pacific

China
Japan
India
Indonesia
South Korea

Rest of the World