Energy Storage Market Overview:
From 171,039.3 Megawatts (MW) in 2019, the global energy storage market size is projected to witness a CAGR of 3.3% during the forecast period (2020–2030). The rising focus on unconventional sources of energy, falling cost of batteries, higher costs for securing energy supply, and international outcry over the pollution from conventional energy sources are the key growth factors driving the energy storage industry.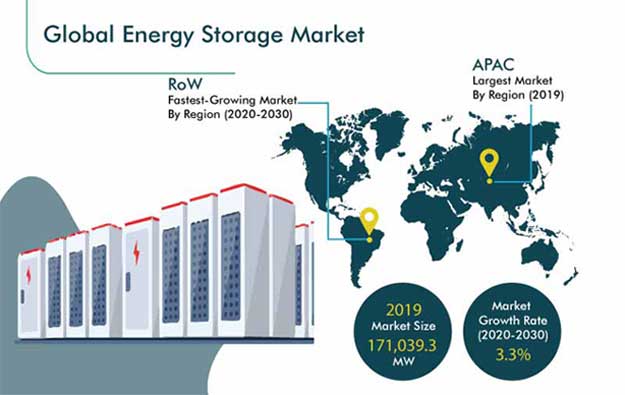 Segmentation Analysis
Sheer Scale and Preferable Attributes of Mechanical Systems Drove their Mainstream Adoption
Historically, on basis of type, mechanical category held a commanding share in the energy storage market. For a long time, mechanical utility storage systems have been witnessed mainstream adoption, owing to their sheer storage capacity, ability to maximize natural resources, and favorable economics over a period.
The market category is further sub-categorized into pump hydro storage (PHS), liquid air energy storage (LAES), compressed air energy storage (CAES), and others (flywheels). On account of the existence of a significant number of storage systems using water reservoirs, the PHS category had a monumental size in the industry.
Several stakeholders, including component manufacturers, contractors, and utility companies, have been negatively impacted by the COVID-19 crisis. The deferment or cancelation of projects, difficulty in the procurement of equipment and supplies, logistical delays, and issues with securing requisite permits and approvals have been cited by industry respondents as the key factors that are likely to result in lower revenue and workforce layoffs. Recovery in the demand is expected to occur in Q2 2021, before which the stakeholders will have to rally through hard times.
In the long run, the negative impact of COVID-19 is likely to taper off, with the response from policymakers and regulators expected to cushion the blow. Government support policies for distribution system operators (DSOs) and transmission system operators (TOSs) and a more-focused approach toward the "green" mode of power generation are likely to provide traction to the recovery in the energy storage market.
Geographical Outlook
High Energy Demand and Proliferation of Energy Systems Lead to Asia-Pacific (APAC)'s Market Domination
During the historical period (2015–2019), APAC held the largest energy storage market share, due to the high-volume project equipment, procurement, and construction (EPC) activities across countries such as India, China, and Japan. Additionally, the APAC region is projected to add the highest amount of storage capacity and witness the second-fastest growth in the energy storage industry during 2020–2030. Currently, such power storage systems are considered the next level of upgradation in smart grid technologies by Asian power utilities. With the increasing demand for stable grids and the growing government focus toward smart grids, APAC is expected to invest heavily in the energy storage industry, with the regional market having a bullish outlook in foreseeable future.
Governments of various countries, including China, Japan, and India, are adopting smart grid community systems for electricity delivery. The increasing amount of renewable energy generation in the region and shift away from conventional modes of power generation are driving the interest in grid-tied storage technologies, thus fueling the energy storage market growth and compounding its share in the energy mix.
Expeditious Surge Expected in EPC across Latin American (LATAM) and African Countries for Energy Storage Projects
One of the major factors responsible for driving the energy storage market growth in the LATAM and African region, at a CAGR of 12.0% during the forecast period, would be the increasing interest in the potential of such systems, primarily PHES (pump hydro electrical systems) and battery storage systems, across the African and LATAM regions. Moreover, the falling raw material costs have incentivized governments to employ these systems and improve the base power deficits in these countries.
In recent years, several countries in the region, including Argentina, South Africa, Iran, and Israel, have installed PHS or thermal energy storage systems, while some countries in the African and Middle Eastern regions, such as Haiti and Qatar, have integrated a series of battery-based systems in their energy mix. With time, these countries are likely to ramp up such projects, thereby witnessing high-volume growth in the energy storage industry.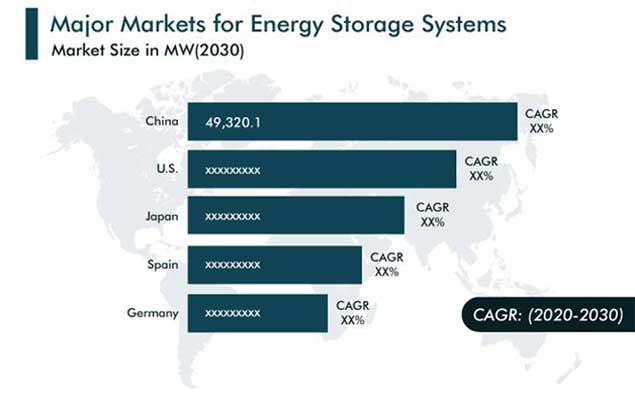 Trends & Drivers
Rising Focus on Unconventional Sources of Energy Generation To Boost Market Growth
The need to depend less on conventional sources of energy, such as oil, gas, and coal, and focus more toward unconventional sources of power is one of the key drivers affecting the energy storage market. Furthermore, renewable energy sources, such as wind and solar, have variable outputs, and storage technologies can offer a solution to the conundrum, by smoothing out the electricity supply from these sources and ensuring that it matches the demand.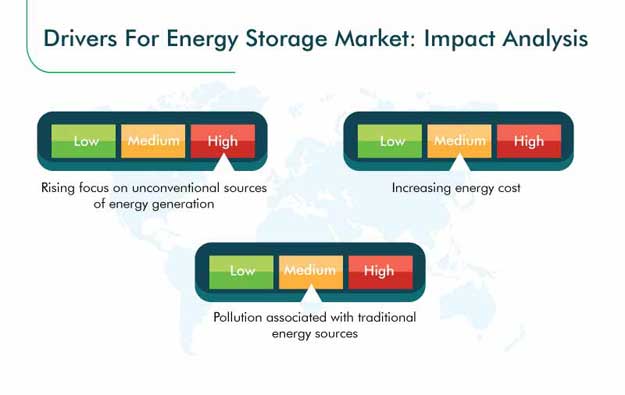 Storage technologies have other benefits too: they can discharge power to the grid quickly, unlike fossil-fuel sources, which tend to take longer to ramp up and deliver full power. This rapid response is important for ensuring the stability of the grid, when an unexpected increase in the demand occurs.
Increasing Cost of Conventionally Produced Power To Promote Market Growth
The high-volume demand for energy has made power plants run at full capacity, resulting in the gradual increase in power prices. Additionally, constraints such as higher downstream and logistics costs and unavailability of regular fuel supply are resulting in the volatility in prices. These factors have led to an increased focus on energy conservation, thereby resulting in the adoption of such systems. These systems are employed to store energy when the prices are low or to store in cases of excess energy generation. The stored energy can be used when the price of power increases. Thus, the rising energy cost, coupled with the need for storing excess energy, is expected to drive the energy storage market.
Energy Storage Market Report Coverage

| Report Attribute | Details |
| --- | --- |
| Historical Years | 2015-2019 |
| Forecast Years | 2020-2030 |
| Base Year (2019) Market Size | 171,039.3 MW |
| Forecast Period (2020-2030) CAGR | 3.3% |
| Report Coverage | Market Trends, Revenue Estimation and Forecast, Segmentation Analysis, Regional and Country Breakdown, Companies' Strategic Developments, Product Benchmarking, Company Profiling |
| Market Size by Segments | Type and Geography |
| Market Size of Geographies | U.S., Canada, Portugal, Spain, Switzerland, Germany, Austria, China, India, Japan, Indonesia, South Korea, South Africa, Israel |
| Secondary Sources and References (Partial List) | Association of European Automotive and Industrial Battery Manufacturers, Australian Energy Storage Alliance, British Photovoltaic Association, California Energy Storage Alliance, China Energy Storage Alliance, Electricity Storage Association, Energy Storage Association, Energy Storage Canada, European Association for Storage of Energy, Federal Association of Energy Storage, International Energy Agency, U.S. Department of Energy, World Bank, World Energy Council |
International Outcry regarding Pollution from Conventional Source of Power To provide Market with Necessary Regulatory Traction
Traditional sources of power, such as coal, oil, and natural gas, have had a widespread negative impact on the environment. Governments across the world have started encouraging the use of power storage systems employing renewable and significantly less-polluting forms of energy generation. They are used to store the excess power generated, for later use, when required. These systems are increasingly being installed with the growing shift toward renewable energy. This increasing focus on pollution-free and environmentally sustainable energy resources is fueling the growth of the energy storage market.
Market Players Engaging in Partnerships to Gain Competitive Edge
The energy storage market in recent years has been characterized by contracting, installation, and commissioning of projects across the globe. In recent years, players in the industry have launched a number of projects centered on novel technologies and entered into partnerships with stakeholders, in order to stay ahead of their competitors. For instance:
In November 2019, Sweden-based company Azelio entered into an agreement with U.S.-based biorefinery operator Biodico for the development of 120 MW energy storage projects in California by 2024.
In April 2018, Sungrow Power Supply Co. Ltd., an inverter solution supplier for renewable- power plants, announced intentions to work with Greensmith Energy, to provide an advanced power storage system to Origis Energy USA, in Sterling, Massachusetts, U.S. The project involved the installation of a 1 MW rooftop solar entity, with a 1 MW/2 MWh energy storage system.
In March 2018, Fluence Energy LLC signed a contract with the Victorian Government and the Australian Renewable Energy Agency (ARENA) to manufacture Victoria's first utility-scale, grid-connected, battery-based storage system, to enhance the capabilities of the Victorian electricity network, support renewable electricity generation, and tap economic growth.

Some of the Key Players in Energy Storage Market include:
Greensmith Energy

S&C Electric Company

LG CNS

NEC Energy Solutions

Fluence Energy LLC
Contemporary Amerex Technology Co. Limited

Convergent Energy and Power LP

Duke Energy Corporation

Tesla Inc.

NextEra Energy Inc.
Energy Storage Market Size Breakdown by Segment
The energy storage market report offers comprehensive market segmentation analysis along with market estimation for the period 2015–2030.
Based on Type
Mechanical

Pumped hydro storage (PHS)
Liquid air energy storage (LAES)
Compressed air energy storage (CAES)

Electrochemical

Lithium battery
Lead–acid battery
Sodium–sulfur (NaS) battery

Thermal
Chemical
Geographical Analysis
North America
Europe

Spain
Portugal
Switzerland
Germany
Austria

Asia-Pacific (APAC)

China
Japan
India
Indonesia
South Korea

Rest of the World (RoW)