Market Overview
The peripheral IV catheter market is expected to produce USD 6,247.6 million in revenue in 2023 and grow at a CAGR of 8.0% during 2024–2030, reaching USD 10,637.5 million by 2030.
This can be ascribed to the rising prevalence of chronic and lifestyle-related diseases, aging of the population, increasing expenditure on healthcare, and advancing technology of these essential consumables. The injection of drugs, fluids, or blood products, as well as blood sampling, are the key uses of peripheral intravenous catheters, which are inserted into a vein in the arm or hand. They can stay in for 3–4 days, after which they need to be replaced.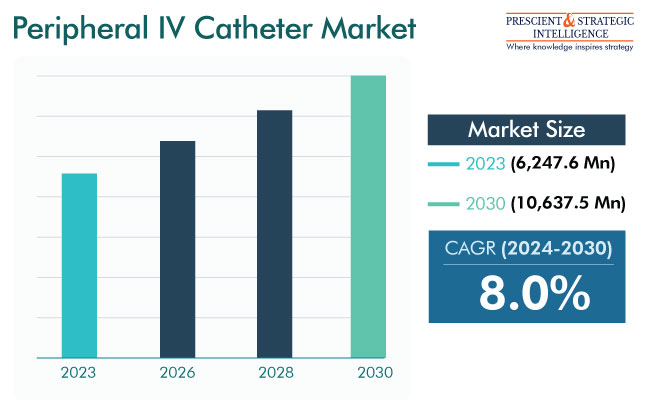 Increasing Count of Hospitalizations Is Biggest Market Driver
Global hospitalization rates are rising as chronic and lifestyle-associated diseases are increasing in incidence. As per the NCBI, four major non-communicable diseases (NCDs)—heart disease, cancer, chronic lung illnesses, and diabetes—are responsible for three in five deaths worldwide. As an increasing number of people are suffering from these diseases each year, the volume of peripheral intravenous catheterizations is rising too.
Additionally, the market is expanding as a result of the surging demand for injectable drugs, increasing R&D for developing biotechnology-engineered anti-cancer drugs, growing use of prefilled syringes for biologics, and booming number of surgeries. Furthermore, the market will grow due to an increase in the adoption of these devices for blood sampling.
Rising Use of Parenteral Drugs
The market is also being driven by an increase in the number of approvals for parenteral medications. After tablets and syrups, parenteral administration is the second-most-popular method of drug delivery. These drugs are being accepted by doctors, patients, and insurers as they generally have the quickest effect, being directly delivered into the bloodstream. The parenteral drugs market is prospering due to an increase in the number of aged people, pediatric patients, and people with cancer and other chronic illnesses.
Technological Advancements in Catheters and Biologics
Safety features are being incorporated into IV catheters to safeguard patients and healthcare workers from unintentional needlestick injuries. The usage of ultrasound equipment to find veins that are hidden from view is one of the trending approaches. This technique has become a popular practice for preventing problems and improving patient comfort as many people are afraid of needles and prefer as few pricks as possible. Moreover, small-caliber catheters, which are appropriate for a variety of regularly administered drugs for numerous indications, have been developed as a result of the continuous R&D.
Another key driver for the market is the advancements in biologic drugs. These medications can successfully treat a variety of chronic conditions and unusual diseases. Biologics need parenteral administration because of their huge molecular size and other physicochemical characteristics.
Peripheral IV Catheter Market Report Coverage

| | |
| --- | --- |
| Report Attribute | Details |
| Market Size in 2023 | USD 6,247.6 Million |
| Revenue Forecast in 2030 | USD 10,637.5 Million |
| Growth Rate | 8.0% CAGR |
| Historical Years | 2017-2023 |
| Forecast Years | 2024-2030 |
| Report Scope | Market Trends, Drivers, and Restraints; Revenue Estimation and Forecast; Segmentation Analysis; Impact of COVID-19; Companies' Strategic Developments; Market Share Analysis of Key Players; Company Profiling |
Explore more about this report - Request free sample pages
Increasing Use of Integrated/Closed Peripheral IV catheters
On the basis of type, the integrated/closed bifurcation is expected to witness the higher CAGR over the forecast period. When the staff manipulates the catheter to connect the extension set, internal pressures on the vein are reduced by integrated peripheral intravenous catheters. By minimizing manipulation and unintentional disconnections these variants lower the risk of contamination and infection.
North America Dominates Market
North America is the largest market for PIVCs because of its large geriatric population, which suffers from infectious diseases and chronic illnesses. This has increased the number of patients admitted to the ICU and emergency rooms, where these devices are commonly needed for drug and nutrient administration and blood drawing. The market is also expanding in this region as a result of the enhancements in these medical devices as well as the rising demand for safety PIVCs.
The APAC region will likely witness the fastest growth, due to the changing demographics, increasing hospitalization volume, advancing medical technology, and a lack of a legacy health infrastructure. Along with this, the rising number of initiatives by governments and NGOs in Asian countries to boost the healthcare sector drives the market. Some initiatives of the Indian government in this regard are Ayushmaan Bharat and Pradhan Mantri Swasthya Suraksha Yojana.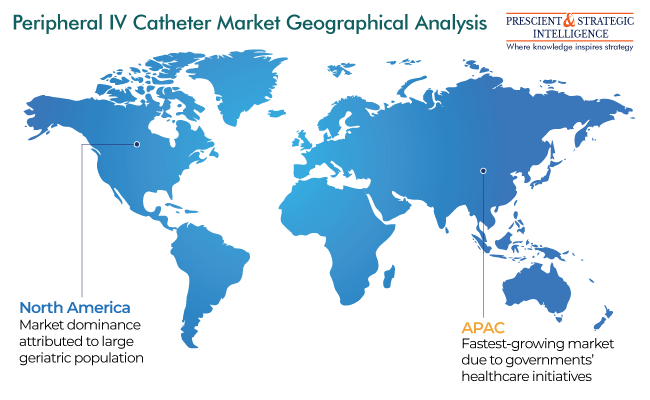 Hospitals Are Largest End Users
The hospitals category is expected to continue to dominate the market under the end user segment throughout this decade. Up to 80% of the patients have a peripheral intravenous catheter inserted during their hospital stay in the U.S. In all, 150 to 200 million peripheral intravenous catheters are used in the country annually. Rheumatological, cardiovascular, infectious, and respiratory diseases are increasing in incidence due to lifestyle changes and the growing pollution levels.
This is leading to a rise in the number of hospitalizations for long-term treatment. During their stay, patients may have to undergo peripheral IV catheterization several times, as one catheter lasts 3–4 days. Hence, with the increasing hospitalization volume, the demand for these medical consumables continues to surge.
Short Peripheral IV Catheters Are Larger Revenue Contributors
The market for peripheral IV catheters worldwide is dominated by the short bifurcation. As they are safer and easier to place, short PIVCs are utilized far more than midline PIVCs. They are typically employed in situations where long PIVC placement is not viable due to anatomical restrictions, such as close to the bones or joints. Moreover, due to their lower cost compared to other types, short PIVCs are preferred by low-income patients with chronic diseases. This is because they require frequent infusions, but cannot afford the longer devices with more-advanced features, such as locking mechanisms and anticoagulant filters.
Further, cancer cases are rising continuously all over the globe and leading to a huge number of deaths. With the increase in the number of successful treatments available, the usage of short peripheral IV catheters is rising during chemotherapy. Because peripheral catheterization is an invasive technique, there is a need for greater uniformity in the choice, insertion, and management of the devices. This is particularly true in the context of cancer, where patients may get a range of IV treatments over an extended period, occasionally with only short remissions.
Key Players in Peripheral IV Catheter Market
Becton, Dickinson and Company
B. Braun Melsungen AG
Terumo Corporation
Teleflex Incorporated
Tangent Medical Technologies Inc.
C.R. Bard Inc.
Argon Medical Devices Inc.
VIGMED AB
Medical Components Inc.
NIPRO Medical Corporation
Argon Medical Devices Inc.
ICU Medical Inc.
Lineus Medical