Patient Handling Equipment Market Overview
The global patient handling equipment market size was $9.5 billion in 2015, which is expected to reach $19.1 billion by 2022, growing at a CAGR of 10.5%. Patient handling equipment are used to support, transfer, or move a patient. The equipment is designed to help patients by providing them some mobility, who lack in strength to control their body movements. The proper use of equipment is essential for the safety of both the care provider and patient, and to improve patient's quality of care.
GLOBAL PATIENT HANDLING EQUIPMENT MARKET, BY END USER, $M (2012-2022)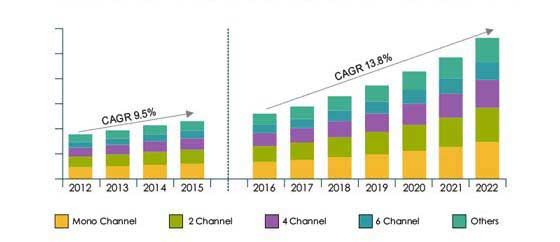 Based on product, the patient handling equipment market has been segmented into wheelchair & scooters, medical beds, bathroom safety supply, mechanical equipment, non-mechanical equipment, ambulatory aids and others. Medical beds are expected to account for the largest share in the market, mainly due to increasing number of beds in elderly care and nursing homes, and growing geriatric population.
On the basis of type of care, wound care holds the largest share of the patient handling equipment market, due to the increasing incidence of various medical conditions such as acute, critical and chronic wounds, postoperative injuries, diabetic ulcers, pressure ulcers, venous leg ulcers, and burns.
Based on the end user, hospitals are the largest end user in the patient handling equipment market due to increasing number of disabled patients in the hospitals, rising implementation of safety guidelines and rising pressure from government to follow these guidelines.
Patient Handling Equipment Market Dynamics
The global patient handling equipment market is expected to witness a CAGR of 10.5% during the forecast period (2016 – 2022). Growing geriatric population, increasing incidence of disability, increasing prevalence of chronic and lifestyle associated diseases, rising number of surgeries, high risk of injuries to caregivers during manual handling of the patients, implementation of regulation against manual lifting of heavy loads, and difficulty in handling bariatric patients are some of the major factors driving the growth of the market. However, lack of training provided to a caregiver is the key factor hindering the growth of the patient handling equipment market. Moreover, increasing demand and penetration of patient handling equipment in emerging economies provides many opportunities to the manufacturers in the patient handling equipment market.
Opportunities
Emerging economies provide many opportunities for patient handling equipment market. Although the patient handling equipment market is growing at a considerable rate in the emerging economies, there is still massive unexplored market in various countries. With the high economic rise and increasing government initiatives in regions such as Asia-Pacific, the major manufacturers of the patient handling equipment are penetrating in the untapped market in these regions.
Countries such as China and India have a huge market potential. The healthcare industry is continuously growing in these countries. The large population base and improving healthcare infrastructure are attracting medical devices manufacturers to develop their manufacturing sites in these countries. Governments in different countries is also shifting its focus towards universal healthcare coverage. Therefore, the increase in healthcare access in these countries creates ample opportunities for players in the market.
Growth Drivers
Increasing life expectancy and fall in birth rates are the major causes of aging population. The elderly population requires extensive care, since they are prone to illness due to low immunity levels and high recovery time. The elderly people are also more susceptible to chronic diseases, such as neurological disorders and cardiovascular diseases, thus leading to the increased probability of disability. Therefore, the need for patient handling equipment would increase, to help geriatric population perform activities associated with daily living.
Disability is a collective term for impairment, participation restriction and activity limitations. According to the World Health Organization (WHO), approximately 15% of the world's population have some form of disability. People with disability cope with various barriers in services such as healthcare, education, employment and social services and also have less access to healthcare services therefore experience unmet healthcare needs. In order, to improve mobility and transfer of disable patients, the demand of patient handling equipment has been increasing.
According to the WHO, more than 1.9 billion adults aged 18 years and above in 2014 were over-weight and out of these 600 million were obese, globally. This is major challenge to healthcare providers and facilities to provide distinguished care that is effective and safe both for the patient and the provider. It puts workers at risk for injuries during repositioning and nursing care activities that assist patients in meeting their daily activity needs, such as hygiene, bathing, ambulation, and dressing changes. It also includes physical differences, mobility, safety, use of specialized equipment and unique skills required to provide a sensitive and dignified care experience.
As the patient is more mobility-dependent it increases the risk for injury for those providing the care. Increase in the number of bariatric patients has also resulted in increased development and availability of bariatric equipment. A bariatric bed, full body slings, walkers, wheelchairs in varying width and depths, pressure reducing mattresses, bariatric washbasins, shower chair, sit-stand device bad walkers are some of the equipment used for bariatric care. Thus, to provide care and mobility to the bariatric patient, the demand of patient handling equipment is expected to increase in the future.
Patient Handling Equipment Market Competitive Landscape
Key player in patient handling equipment market are collaborating and acquiring other players to offer more advance patient handling equipment. For Instance, in October 2016, LINET Group SE acquired BORCAD Medical to strengthen its product portfolio. BORCAD Medical is specialized in ambulatory and gynecological exam tables range. In October 2016, Etac Group acquired Star Cushion Products, Inc., to strengthen its antidecubitus portfolio. Star Cushion Products, Inc. is involved in manufacturing of quality therapeutic wheelchair cushions.
Some of the key players operating in this industry include Stryker Corporation, Hill-Rom Holdings Inc., Invacare Corporation, Getinge Group, Prism Medical Ltd., Guldmann Inc., LINET Group SE, Joerns Healthcare LLC, Stiegelmeyer-Group, and Handicare.