Market Overview
The global electronic health record market size stood at USD 28,652 million in 2022, and it is expected to grow at a CAGR of 4.4% during 2022–2030, to reach USD 40,435 million by 2030.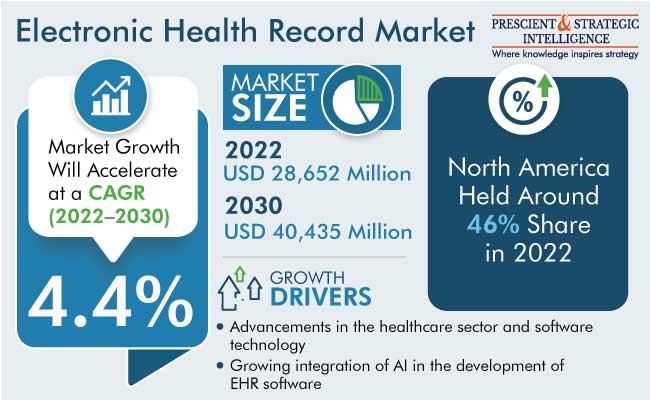 The growth can be primarily ascribed to the advancements in the healthcare sector and software technology. The growing integration of AI in the development of EHR software contributes to the growth of the market.
The software improves patient care by minimizing the incidence of medical error thereby enhancing the clarity and accuracy of medical records driving the market growth. Furthermore, it also helps in reducing treatment delay and test duplication.
The Finnish data system for healthcare services, pharmacies, and citizens is called KanTa, the National Archive of Health Information. Moreover, it includes e-prescription and pharmaceutical databases. For instance, under the Act on the Electronic Processing of Client Data in Social and Healthcare Services, public healthcare organizations are obliged to enter patient records in a nationally centralized archive. The deployment of a centralized archive is mandatory for private healthcare organizations if they have an electronic system for the long-term storage of patient records.
Cloud-Based Delivery Mode Dominates Market
Based on delivery mode, the cloud-based category dominates the market due to the rising focus of healthcare providers and insurance companies on the global accessibility of patient health records. Besides, these solutions are more cost-effective than on-premise solutions. The cloud-based EHR can be installed without in-house servers and provide customizations and improvements as per the requirements.
The on-premises category is expected to show significant growth in the forecast period. This is because it is a quite safer alternative as it offers in-house data storage. Moreover, it can be customized and is also a preferred option in the case of multi-physician facilities.
E-Prescription Is Expected To Witness Fastest Growth
The e-prescription category is expected to witness the fastest growth, at a CAGR of 4.9%, owing to the growing implementation of e-prescriptions supported by various government policies. For instance, the eRx Incentive Program was created as part of the Medicare Improvements for Patients & Providers Act (MIPPA) in 2008, which encouraged physicians to adopt e-prescription, by increasing Medicare payments.
Globally, the practice management category generated the highest demand for EHR solutions during the historical period. This can be attributed to the various advantages of EHR implementation, such as improved efficiency in day-to-day operations in healthcare practices and increased focus of healthcare providers on patient care.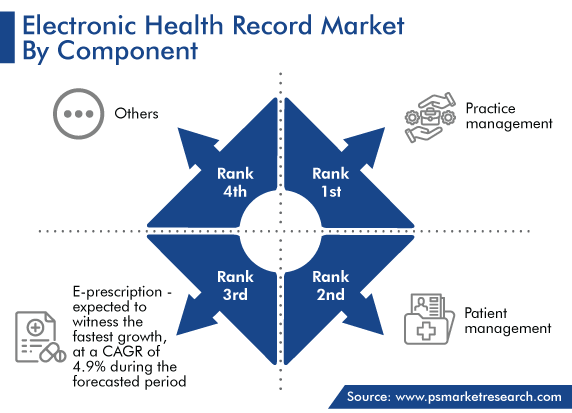 Inpatient Facilities Hold Major Share
The inpatient facilities category held the largest end-user base of EHR solutions in the global market in 2022, with 52% market share. This can be attributed to the high adoption of EHR solutions in a large number of hospitals to cater to the increasing volume of patient visits. However, the fastest growth in the market during the forecast period is expected from ambulatory care centers, due to the escalating number of ambulatory care centers globally.
The high demand for EHR solutions in inpatient acute care settings can be attributed to the surging prevalence of cardiovascular diseases, which generated the need for efficient patient information management solutions.
The physician offices show significant growth owing to the huge amount of medical data generated in hospitals. Moreover, it also helps in saving time for large-scale hospitals which drives the market growth. Furthermore, the ease of deployment and increasing adoption of electronic health record in mid and small- sized hospitals fuel the demand.
Similarly, ambulatory care centers are driving the market growth owing to reduced costs through decreased paperwork, improved safety, and reduced duplication of testing. The rapid adoption of the electronic health records by large-scale ambulatory care centers is due to its quick access and security of patient records.
EHR Market Report Coverage

| | |
| --- | --- |
| Report Attribute | Details |
| Historical Years | 2017-2022 |
| Forecast Years | 2023-2030 |
| Market Size in 2022 | USD 28,652 Million |
| Revenue Forecast in 2030 | USD 40,435 Million |
| Growth Rate | 4.4% CAGR |
| Report Scope | Market Trends, Drivers, and Restraints; Revenue Estimation and Forecast; Segmentation Analysis; Impact of COVID-19; Companies' Strategic Developments; Market Share Analysis of Key Players; Company Profiling |
| Segments Covered | By Delivery Mode; By Component; By End User; By Region |
Explore more about this report - Request free sample pages
North America Is Leading Market
North America has the leading position in the electronic health record market, and it will hold the same position till 2030, with a value of USD 18,196 million.
This is attributed to the increasing geriatric population, rising awareness about the relevance of EHRs in healthcare settings through various workshops and conferences in the U.S.; and surging government efforts to improve the healthcare delivery system in the region. There is also increased adoption of EHR solutions in Canada, as the provinces and territories there develop their own electronic information systems with the support of Canada Health Infoway, a non-profit organization that encourages the adoption of digital health solutions across the country.
In North America, the U.S. holds the leading position, and it will grow at a CAGR of 4.5%, due to the increasing government initiatives to create awareness of EHR solutions to encourage their adoption.
Moreover, collaboration with private sector providers would further lead to the development of a seamless health information system in India. The private sector can help the government by creating registries of patients, and documenting diseases and various health events.
Furthermore, various e-health initiatives are taken by the government and hi-tech industries, so as to overcome the challenges faced by other industries, such as consumer capability to interact with online information and possibilities of electronic exchange of data.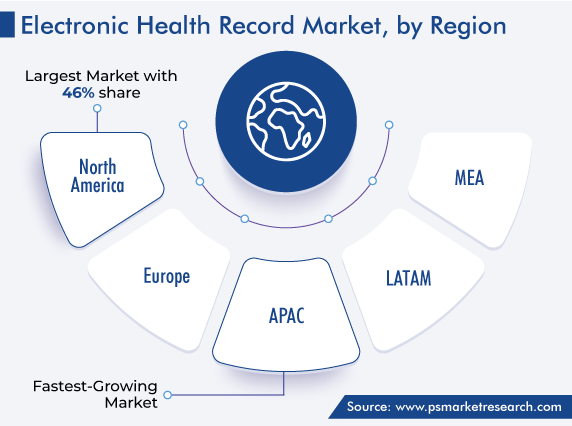 Increasing Government Initiatives Drives Market
Globally, governments are introducing various reforms in the healthcare sector to reduce healthcare costs and improve patient care. Moreover, governments in various countries are encouraging hospitals and clinics to convert traditional health records into an electronic format, as EHRs help considerably reduce healthcare costs and maintain the quality of healthcare services. For instance, the U.S. government is taking initiatives to increase the use of EHR solutions. The HITECH Act was authorized as a constituent of the American Recovery and Reinvestment Act (ARRA).
Moreover, the HITECH Act was passed in 2009 to advance the utilization of EHR systems, with a specific goal of modernizing and improving the healthcare system in the U.S. The HITECH Act authorizes the EHR Incentive program to provide incentives to eligible professionals and hospitals for the adoption and meaningful use (MU) of certified EHR technology. As a result, hospitals and physicians in the country are increasingly adopting EHR systems to get incentives under this system. The EHR Incentive program focuses on maintaining healthcare quality and reducing healthcare expenses in the U.S. These systems facilitate secured storage of clinical data, which can be easily accessed when needed, even in times of power cuts or natural calamities. Due to such advantages of EHR systems, there is a surge in the demand for these systems globally.
Popularity of Patient-Centric EHRs Is Increasing
Patient-centric EHR systems are gaining popularity worldwide. This can be viewed as a growth opportunity for the players in the market for investment. These systems help secure and track patient information. Moreover, patient-centric EHRs detail all vital parameters, including medical history and present illness, and diagnosis and treatment, along with suggested investigations and clinical procedures. Besides, these systems capture data in different formats and merge the inputs into business intelligence analytic tools.
The purpose of this system is to connect all the clinical data of a patient and allow the healthcare provider to work in collaboration with other providers, thereby allowing the in-time exchange of information and improvement in patient health outcomes. The provider treating the patient, inputs the data into the patient-centric EHR, thereby centralizing the updated data, which is available at all times. This, in turn, helps improve the patient's health and reduce the treatment cost.
Rising Need for Advanced Healthcare Information Systems Propelled Market
An integrated healthcare information system helps in improving healthcare quality by digitizing patient records, supporting clinical decision-making, and enabling coordinated patient care. Moreover, EHR is an integrated healthcare system that provides access to patient's medical records. It helps in systematizing services related to diagnosis, treatment, care, and rehabilitation, and in improving coordination between patients and healthcare providers.
Furthermore, it has been observed that fragmented healthcare information (related to diagnosis, medical history, patient demography, billing and administrative data, and medication) and lack of coordination among patients and healthcare professionals often negatively impact the quality of healthcare facilities and add to the overall treatment price. Thus, there is a need for advanced integrated healthcare information systems to reduce medical errors and aid in better patient care. Hence, the growing need for advanced healthcare information systems is driving the growth of the global EHR market.
Key Players in Electronic Health Record Market Are:
Cerner Corporation
Allscripts Healthcare LLC
General Electric Company
McKesson Corporation
Epic Systems Corporation
NextGen Healthcare Inc.
Medical Information Technology Inc.
Health Information Management Systems
CureMD Healthcare
Greenway Health LLC
Market Size Breakdown by Segment
The study uncovers the biggest trends and opportunities in the market, along with offering segmentation analysis at the granular level for the period 2017 to 2030.
Based on Delivery Mode
Web/Cloud Based
On Premises
Based on Component
Practice Management
Patient Management
E-prescription
Referral Management
Population Health Management
Based on End Users
Inpatient Facilities

Acute care
Long-term care
Post-acute care

Ambulatory care centers
Physician offices
Geographical Analysis
North America
Europe

Germany
U.K.
France
Italy
Spain

Asia-Pacific

Japan
China
India
South Korea
Australia

Latin America
Middle East and Africa

Saudi Arabia
South Africa
U.A.E.