Market Overview
The organ preservation market size stood at USD 243.7 million in 2022, and it is expected to grow at a CAGR of 7.7% during 2023–2030, to reach USD 442.6 million by 2030. This is mainly attributed to the rising cases of multi-organ failure, the increasing number of organ transplants and organ donors, and the growing geriatric population. For instance, as per the United Network for Organ Sharing (UNOS), more than 42,800 organ transplants happened in 2022 in the U.S., a rise of 3.7% as compared to 2021.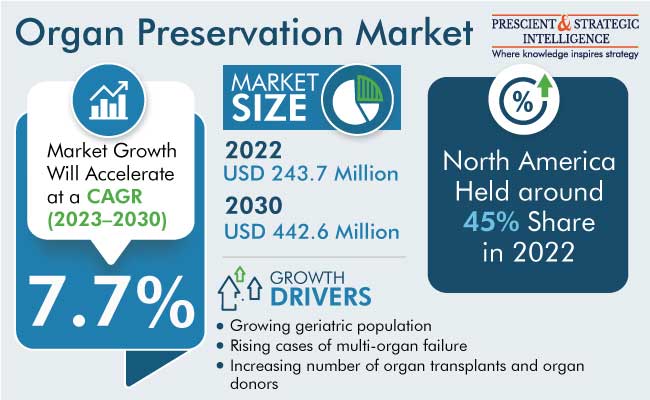 Moreover, several initiatives taken by governments to create awareness about organ donation, a surge in healthcare income, and technological advancements, such as better organ transportation facilities and robot-assisted kidney transplants, are expected to propel the market growth throughout the forecast period.
Rising Incidences of Multiple Organ Failure
One of the most common causes of death in ICUs is multiple organ failure, occurring due to septicemia. According to a journal, it is estimated that the fatality rate due to septic shock & multiple organ dysfunction syndromes, if not treated in due time, could be around 28–56%. Moreover, the geriatric population is in danger of developing acute renal failure diagnosed with sepsis, showing a rate of up to 20% of acute respiratory failure. This is because of an age-linked fall in the renal plasma flow and glomerular filtration rate.
Furthermore, diabetes greatly increases the risk of various problems and the failure of multiple organs. Also, the occurrence of liver cirrhosis and tuberculosis among the population is resulting in the failure of organs needing organ transplantation. Hence, such factors are promoting the market for organ preservation.
UW Solutions Are Most-Frequently Used
The UW solution category accounted for the largest revenue share in 2022. This is attributed to the rising adoption of this solution, as it has metabolically inert substrates, including raffinose and lactobionate. These substrates enable less historical damage, improved transplantation outcome, and better physiological function of organs in comparison to other solutions. In addition, it is the most commonly used solution for organ preservation, as it can flush and cold store the liver, kidneys, and pancreas. It is the first intracellular preservation solution and is treated as the standard for the preservation of organs.
Moreover, this solution is ideal for preserving liver grafts of humans, for a time period of more than 15 hours. It permits easy transportation of organs over large distances without causing any damage. Hence, it is especially used for liver preservation resulting in a higher success rate of liver transplantation.
Whereas, the perfadex solution category is expected to exhibit the highest CAGR during the forecast period. This can be due to the specialized formulation of the solution to preserve an organ's function and integrity, as it is rich in endothelium during cold ischemic storage as well as flushing before reperfusion and transplantation.
Organ Preservation Market Report Coverage

| | |
| --- | --- |
| Report Attribute | Details |
| Historical Years | 2017-2022 |
| Forecast Years | 2023-2030 |
| Market Size in 2022 | USD 243.7 Million |
| Market Size in 2023 | USD 262.6 Million |
| Revenue Forecast in 2030 | USD 442.6 Million |
| Growth Rate | 7.7% CAGR |
| Report Scope | Market Trends, Drivers, and Restraints; Revenue Estimation and Forecast; Segmentation Analysis; Impact of COVID-19; Companies' Strategic Developments; Market Share Analysis of Key Players; Company Profiling |
| Segments Covered | By Solution; By Technique; By Organ Type; By End User; By Region |
Explore more about this report - Request free sample pages
North America Is the Market Leader
North America leads the organ preservation market, with a revenue share of 45% in 2022. This is attributed to the rising need and adoption of organ transplantation due to the occurrence of several chronic disorders in the region and the surging need for preservation solutions for keeping the viability of organs in ex-vivo settings. Additionally, better reimbursement policies, growing acceptance of innovative healthcare technologies, and rising investments for better healthcare infrastructure are fueling the regional market.
Canada contributes around 10% to the North American market. The market is growing due to increased number of transplant patients in the country, even though the organ donor number is less. Therefore, to fulfill the gap, the Government of Canada invested USD 2 million for research on innovative organ and tissue donation projects in April 2022. One such project being undertaken by BI Expertise and Ortho BioMed will receive USD 1 million for over two years, from Health Canada to test and develop prototype tools that utilize artificial intelligence for accurately matching organ donors with recipients.
Moreover, the increasing FDA approvals and the rising number of kidney disorders in the U.S. are driving the market growth. For instance, in September 2021, TransMedics Group Inc. received the FDA-granted premarket approval for its OCS Liver System for the preservation and assessment of donor livers for transplantation from donors after brain death (DBD) and after circulatory death (DCD).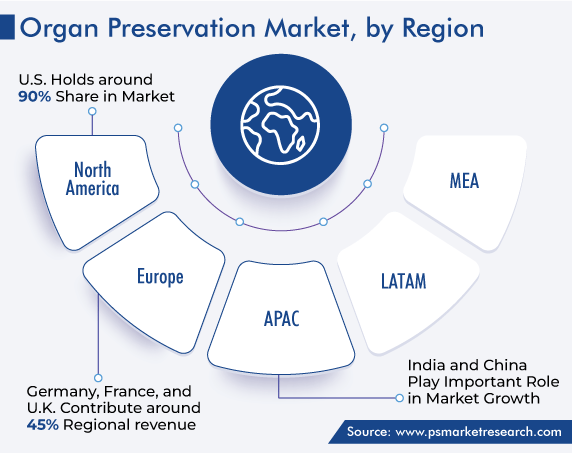 Static Cold Storage Technique Exhibits Major Share
The static cold storage category accounts for the largest revenue share, due to its broad applicability and increasing usage and the presence of various players providing static cold storage services. This technique entails the transportation of a donor's organ on ice and considered a gold standard for preservation in the last decade. Also, this confides in hypothermia to lower the cellular metabolism and demand for oxygen during a prolonged preservation time of organs.
Whereas, the normothermic machine perfusion category is projected to witness the fastest growth during the forecast timeline. This can be because this technique offers ample nutrition and oxygen for the process of aerobic metabolism and decreases the pro-inflammatory response of the liver and the risk of ischemia damage, supporting the graft healing process.
Additionally, the technique is improving the safety of an organ by recreating physiologic conditions by maintaining the average organ temperature consistent during the delivery of important substrates for metabolism, feeding, and oxygenation. Also, for increasing the contingency of long-term graft survival and enhancing the result of marginal donor kidney transplantation, this technique is extensively used. Thus, these factors are expected to boost the market growth in this category in the coming future.
Kidneys Category Holds Significant Share
The kidneys category held the largest revenue share, of 30%, in 2022. This is primarily ascribed to the rising number of end-stage renal diseases, which require kidney transplantation for therapeutic treatment. Also, the incidence of kidney failures across the globe is increasing. Kidney disorders usually worsen with time and lead to kidney failure and various other health issues like heart attack and stroke. For instance, an estimated 2 in 1,000 Americans are having end-stage kidney disorders, and approximately 1 in 7 U.S. adults have chronic kidney disease.
Moreover, many public awareness campaigns associated with the benefits of surgical treatment are propelling the growth of the market in this category. For instance, the National Kidney Foundation launched 'The Advancing American Kidney Health' initiative for improving the availability of organs accessible for transplant.
Whereas, the heart category is expected to have the fastest growth during the forecast period. This can be attributed to the rising demand for heart transplants. For instance, according to the National Library of Medicine Journal, roughly 2,000 heart transplants are performed every year in the U.S. In addition to that, in 2021, a total of around 4,599 heart transplantations occurred in North America and approximately 2,350 heart transplants were performed in the European region.
Organ Transplant Centers To Witness Highest Growth
The organ transplant centers category is expected to grow at the highest rate in the market for organ preservation during the forecast period, based on end user. This can be due to the rising number of transplant centers across the world, which are highly equipped with technologically advanced products and the latest techniques. In these facilities, organs can easily be preserved for a long duration and remain viable.
Additionally, the increasing awareness among donors and patients about the availability of specialized surgeons and doctors in these centers for carrying out procedures is fostering the growth of the market in this category. Together with a strong procurement of organs, tissues, and transplantation networks, these centers are engaged in associated research and development that results in technological as well as organ transplantation procedure advancements.
Moreover, due to the increasing government supports for the development of advanced biobanking facilities, healthcare providers are also preferring biobanks along with organ transplantation centers for preserving organs. This is one of the most trending facts observed in the bio-preservation sector. These biobanks are government funded and offer several types of services at a minimal cost.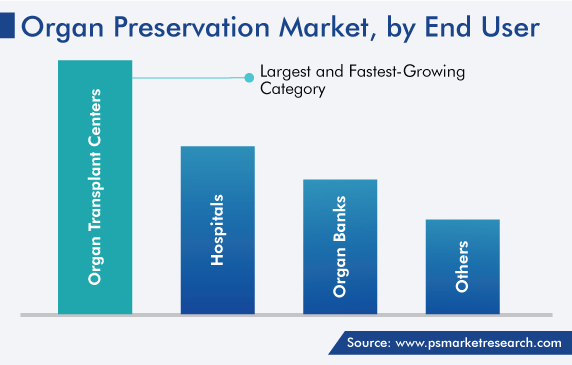 Key Organ Preservation Solution Providers Are:
XVIVO Perfusion AB
Paragonix Technologies Inc.
Dr. Franz Köhler Chemie GmbH
OrganOx Limited
Bridge to Life Ltd.
Artivion Inc.
21st Century Medicine Inc.
TX Innovations
Institut Georges Lopez
Market Size Breakdown by Segment
This fully customizable report gives a detailed analysis of the organ preservation market from 2017 to 2030, based on all the relevant segments and geographies.
Based on Solution
University of Wisconsin Solution
Custodial HTK
Perfadex
Based on Technique
Static Cold Storage
Hypothermic Machine Perfusion
Normothermic Machine Perfusion
Based on Organ Type
Kidney
Liver
Lung
Heart
Pancreas
Based on End User
Organ Transplant Centers
Hospitals
Organ Banks
Geographical Analysis
North America
Europe

Germany
U.K.
France
Italy
Spain

Asia-Pacific

Japan
China
India
South Korea
Australia

Latin America
Middle East and Africa

Saudi Arabia
South Africa
U.A.E.