Omega-3 Market Overview
The global omega-3 market generated the revenue of $19.7 billion in 2019, and is projected to reach $49.7 billion by 2030, progressing at a CAGR of 8.8% during 2020–2030. Increasing awareness among consumers regarding healthy eating is driving the growth of the market across the globe. Among all regions, Asia-Pacific (APAC) is expected to record the fastest growth in the market during the forecast period. Supportive government regulations and ongoing advancements in science, coupled with increasing disposable income, are some of the key factors driving the APAC market growth.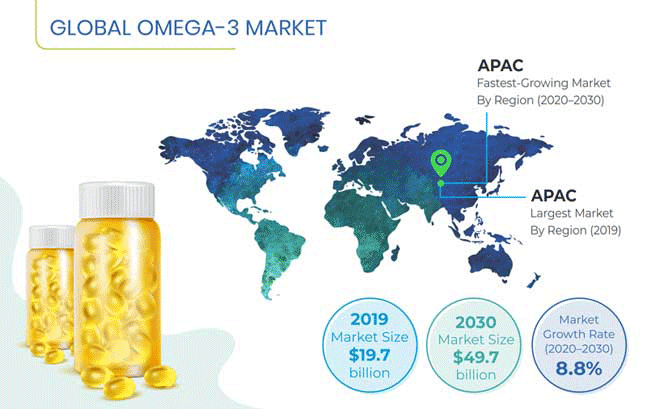 Trends and Drivers
Increasing awareness among consumers about health products is a major trend in the omega-3 market. Consumers are increasingly accepting health and beauty products as extensions of the foods they consume. A new continuum of nutrient-positioned products extending from fortified/functional foods to nutrient supplements is emerging across the globe. In the case of pet owners, this continuum extends to pet foods and grooming products, essentially replicating the range of human products available.
The industry has witnessed rapid increase in the adoption of omega-3 supplements in past five years, with growing evidence supporting their use in preventing cardiovascular disease, depression, rheumatoid arthritis, and asthma, and in slowing cognitive decline. Since these are essential and cannot be synthesized in the human body, omega-3 fatty acids are required to be obtained via diet. This is steering the growth of the market across the globe.
Additionally, since docosahexaenoic acid (DHA) is particularly essential throughout pregnancy and during the early stages of an infant's life, pregnant and breastfeeding mothers also prefer using these supplements. Furthermore, need for DHA remains crucial for brain development in a newborn. All these factors further propel the omega-3 market growth across the globe.
Requirement of supplements by growing number of athletes across the globe is expected to pose opportunity for the omega-3 market. A number of research studies are being conducted in the industry regarding the extensive benefits of the supplements and functional foods comprising animal- and plant-based omega-3. These supplements are known for their ability to fight inflammation, thereby reducing joint pain and tenderness associated with arthritis.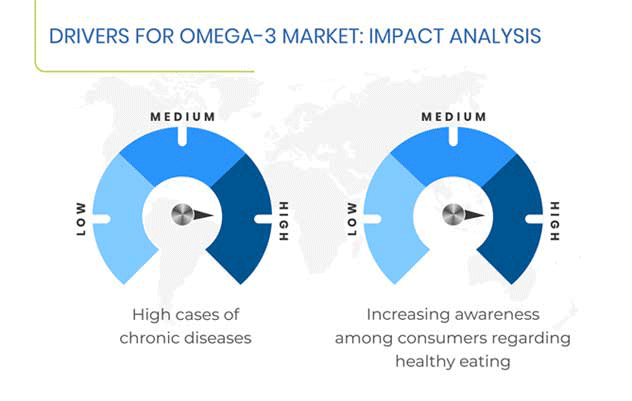 Currently, the supplements positioned specifically for sports nutrition have not gained traction as much as the ingredients such as protein powder or amino acids, in terms of sales and product development. However, historical period witnessed the emergence of sports nutrition and increased number of scientific research studies that back the benefits of omega-3 supplements for athletes. With their rising interest in these supplements to increase metabolic capacity, delay fatigue onset, improve muscle hypertrophy, and shorten recovery periods, athletes may pose a potential consumer base in the omega-3 market.
Segmentation Analysis
The dietary supplements category under the end use segment generated the largest revenue in the market for omega-3 in 2019. The dietary supplements are largely preferred by the consumers for healthy lifestyles with no impact on dietary routine.
The plants category under the source segment is projected to register higher CAGR during the forecast period, owing to the propelling demand for vegan or vegetarian food products in the industry. Additionally, growing demand for flaxseed oil is also fueling the market growth.
Geographical Analysis
APAC recorded the largest revenue in 2019, owing to the shift in consumer preference toward a healthy diet, comprising omega-3 ingredients. China is the third-largest market for eicosapentaenoic acid (EPA) and DHA oils in the world. Consumers in China mostly obtain omega-3 from fish supplements and fortified foods.
Omega-3 fatty acids have obtained a couple of food for specified health uses (FOSHU) claims over the years in Japan. However, the new regulations in Japan have enabled a number of Japanese companies to successfully apply for new health benefit claims for these fatty acids. However, this also signifies that there is significant opportunity to develop the omega-3 supplement landscape in the region, if industry becomes more active to validate such claims.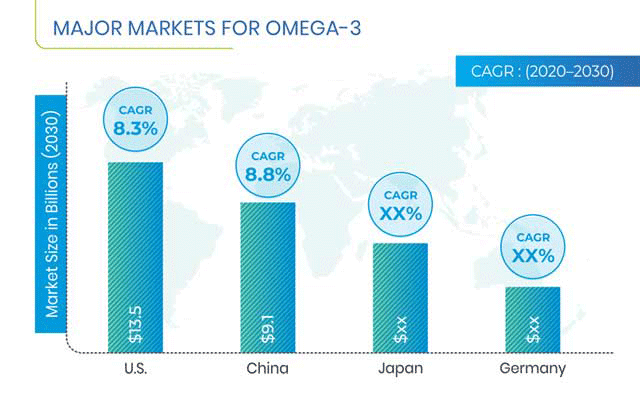 Competitive Landscape
The market players are focusing on product refinement by conventional, molecular, and chromatographic techniques, along with comprehensive analysis and documentation. Consumers rely on the brands that first and foremost guarantee quality control in their offered products.
Several players in the global omega-3 market are focusing on enhancing and innovating their product portfolios by incorporating new fragrances, taste profiles, nutritional value, and other characteristics in their offerings. With this, numerous products in gummies, powders, omega-3-fortified beverages, food, and dairy product categories are emerging. The focus of innovation is taste, nutrition, and increased bioavailability of the molecules for nutritional benefit. Moreover, testing of personalized nutrition in the industry is considerably growing. For instance, the Omega-3 Index test enables a user to choose a supplement and customize plans to fit in a lifestyle. The Index factors age, sex, weight, diet, genetics, smoking, medications, and other medical conditions, and offers alerts to guide the individual to manage intake of dosage of omega-3 products.
Some of the prominent market players include Abbott Laboratories, Sanofi SA, Pharma Marine AS, Croda International PLC, OLVEA Group, GC Rieber Oils AS, Polaris SACA, Reckitt Benckiser Group PLC, Omega Protein Corporation, and Herbalife Nutrition Ltd.
In recent years, major players in the market for omega-3 have taken several strategic measures to ensure their foothold. For instance, in November 2019, Aker Biomarine Antarctic AS announced a partnership with Acasti Pharma Inc. (Acasti), where the latter would use the former's supply of krill oil as the core ingredient for the development and commercialization of hypertriglyceridemia drug, CaPre. The agreement ensures an adequate supply of raw krill oil to meet Acasti's needs, including the expected production scale-up prior to the drug's commercial launch. In addition, Acasti was granted certain intellectual property rights, and the two parties agreed to contemplate future commercial collaborations.
Furthermore, in October 2018, Cargill Incorporated announced the launch of Latitude, a plant-based alternative to fish oil that provides long-chain omega-3 fatty acids for aquafeed. Made from canola seeds, Latitude offers traceability from canola seed to crop cultivation and oil production. Salmon feed manufacturers in Chile and Canada would be able to purchase Latitude once commercially available 2020 onward.
Market Size Breakdown by Segment
The offers comprehensive market segmentation analysis along with market estimation for the period 2014–2030.
Based on Product Type
Liquid Form
Tablet or Capsule Form
Based on Source
Animals

Krill oil
Fish oil
Cod liver oil

Plants
Based on End Use
Dietary Supplements
Functional Food Ingredients
Pharmaceuticals
Infant Nutrition Formulas
Veterinary Supplements
Geographical Analysis
North America
Europe

Germany
U.K.
Italy
Netherlands
France

Asia-Pacific (APAC)

China
Japan
India
Australia

Latin America (LATAM)

Mexico
Brazil
Argentina
Chile

Middle East and Africa (MEA)

South Africa
Turkey
Saudi Arabia
U.A.E.