Market Outlook
The fatty acid esters market value was $2,240.9 million in 2019, and it is predicted to rise to $3,688.9 million by 2030. Furthermore, the market is predicted to demonstrate a CAGR of 4.6% from 2020 to 2030.
The Asia-Pacific (APAC) region is predicted to exhibit the fastest industry growth in the forthcoming years due to the expansion of the personal care sector in Indonesia, Malaysia, and India. Fatty acid esters are extensively used in skincare products, such as face creams, moisturizers, and body lotions, as well as in lipsticks, concealers, and various other cosmetic products. Additionally, the growing usage of bio-based and organic personal care products is pushing up the requirement for fatty acid esters.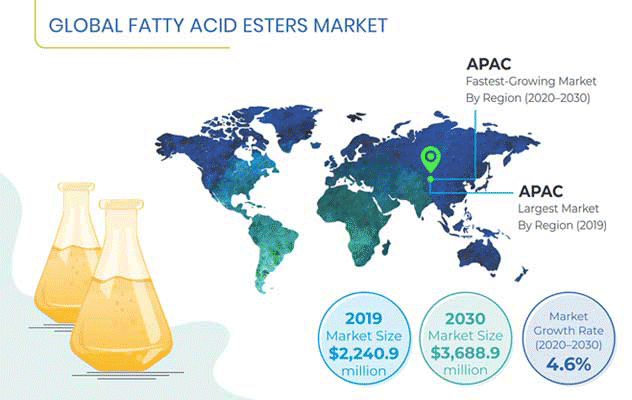 Market Dynamics
A prominent trend currently being witnessed in the fatty acid esters industry is the increasing preference of end users for tall-oil-based fatty acid esters over those derived from tallow. This is credited to the availability of tall oils at affordable prices, especially in Europe and North America. Apart from this, the excellent performance of tall oils at low temperatures is propelling their usage across the world. Tall oil fatty acid (TOFA) esters are suitable for the additives used in various personal care products and lubricants.
One of the major fatty acid esters market drivers is the growing public awareness about the benefits of bio-based fatty acid esters and their utilization as lubricant additives in metal cutting, hydraulic, and automotive applications. These environment-friendly esters provide excellent lubricity and a less toxic and cleaner work environment in comparison to the conventionally used lubricants.
Moreover, these esters have low costs on account of the abundant availability of raw materials, such as plant oils (including coconut oil, rapeseed oil, and soy oil) and animal fats. Furthermore, the surging concerns being raised over fossil fuel reserve depletion are massively augmenting the requirement for bio-based fatty acid esters. The market has a huge growth potential in the forthcoming years on account of the implementation of strict policies regarding the usage of fossil fuels around the world.
Natural gas, oil, and coal are natural resources present in limited quantities. The combustion of these fuels causes the emission of toxic pollutants into the atmosphere, including nitrogen oxides and sulphur dioxide. With the rising health and environmental concerns, governments across the globe are enacting policies for curtailing their consumption. This is predicted to fuel the usage of biofuels, which will, in turn, propel the fatty acid esters market expansion in the coming years.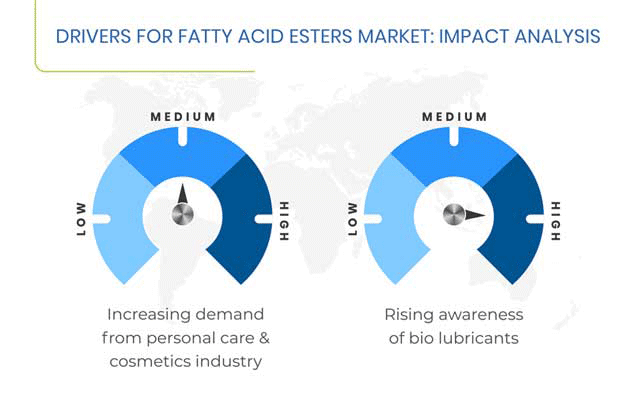 Segmentation Analysis
The oleates category had the largest volume share, of around 32.0%, in the market for fatty acid esters in 2019, under the product type segment. This category is predicted to advance at a CAGR of 4.7% from 2020 to 2030 and contribute revenue of $1,180.8 million to the market in 2030. This will be because of the huge requirement for these products for the manufacturing of pharmaceuticals (solvents), personal care products, and lubricants. As oleate-based fatty acid esters possess cold-flow properties, excellent lubrication, and low toxicity and volatility, they are highly suitable for various applications.
The personal care & cosmetic products category is predicted to exhibit the fastest growth in the coming years, under the application segment. This is attributed to the rapid usage of fatty acid esters as thickeners and emollients in skin creams and as detergent cleansing agents. Additionally, the growing public awareness about bio-based cosmetics is augmenting the requirement for fatty acid esters.
Geographical Analysis
Globally, APAC held the largest share in the market in 2019. Moreover, the fatty acid esters market is predicted to demonstrate the fastest growth in this region in the coming years on account of the surging requirement for such chemicals in the personal care, agriculture, and lubricant sectors in India, Indonesia, and China. Besides this, the existence of several leading fatty acid ester producing companies, such as Kao Corporation, KLK OLEO, Wilmar International Ltd., DKS Co. Ltd., Emery Oleochemicals Group, and Mitsubishi Chemical Corporation, is fueling the market advance in this region.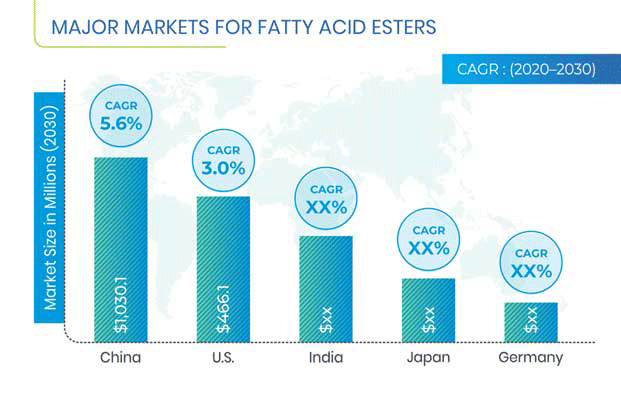 Recent Strategic Developments of Major Players
Major players in the market for fatty acid esters have taken several strategic measures, such as mergers & acquisitions and geographical expansion, in order to gain a competitive edge in the industry. For instance, in February 2018, KLK Oleo announced the acquisition of Elementis Specialties Netherlands B.V., located in Delden (Netherlands), which is a manufacturer of fatty acid polyglycol esters and several other chemical products. With this acquisition, KLK Oleo aims to accelerate its growth in downstream chemical specialties business in Europe.
Fatty Acid Esters Market Report Coverage

| | |
| --- | --- |
| Report Attribute | Details |
| Historical Years | 2014-2019 |
| Forecast Years | 2020-2030 |
| Market Size by Segments | Product Type, Application |
| Market Size of Geographies | U.S., Canada, Germany, U.K., France, Italy, China, India, Japan, Malaysia, Indonesia, Brazil, Mexico, South Africa, Saudi Arabia, U.A.E., Turkey |
Explore more about this report - Request free sample pages
Market Size Breakdown by Segment
The report offers comprehensive market segmentation analysis along with market estimation for the period 2014–2030.
Based on Product Type
Tall Oil Fatty Acid (TOFA)-Based Esters

Monoesters
Diesters
Polyol esters

Trimethylolpropane (TMP)
Pentaerythritol
Oleates
Pelargonates
Dimerates
Stearates
Laureates
Palmitates
Based on Application
Lubricants

Fuel Additives
Lubes & Greases

Chainsaw lubricants
Marine lubricants
Food-grade lubricants

Metalworking Fluids
Cooling Liquids
Hydraulic Fluids
Oils

Personal Care & Cosmetic Products
Food Additives
Industrial Solvents & Additives
Geographical Analysis
North America
Europe

Germany
France
U.K.
Italy

Asia-Pacific (APAC)

China
Japan
India
Malaysia
Indonesia

Latin America (LATAM)
Middle East & Africa (MEA)

South Africa
Saudi Arabia
U.A.E.
Turkey