Market Overview
The non-surgical skin tightening market size was $1,140.6 million in 2021, and it is set to grow with a CAGR of 6.8% during 2021–2030. The key factors driving the market growth include the rising focus on skin appearance among people 25 to 65 years of age, growing adoption of non-invasive procedures, and rising acceptance of aesthetic procedures.
The augmented approvals of technologically advanced skin tightening products are also bolstering the market growth. For instance, in April 2021, Alma Lasers unveiled the new Alma PrimeX platform during a worldwide live launch event. Alma PrimeX is designed for skin tightening in the abdomen, waist, thighs, and buttocks. The device is powered by Alma's patented Guided Ultrasound waves, which selectively affect adipose tissue and result in a reduction in fat thickness; and its patented UniPolar Radio Frequency, which provides effective heating in the dermal and subcutaneous layers, targeting collagen and elastin fibers and promoting new collagen formation.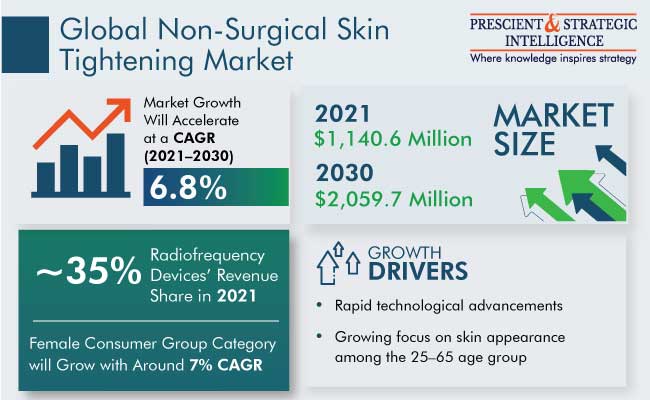 Non-invasive procedures to eliminate fat and tighten the skin are gaining popularity, with the volume of cellulite treatments up by 20% from 2020. Moreover, there is a significantly higher demand for non-surgical cosmetic procedures and related dermatology drugs post-COVID, compared to the past few years. According to an article published by the Baylor College of Medicine, 11% of the females surveyed were more interested in cosmetic plastic surgeries or non-surgical procedures, and the volume of virtual consultations for cosmetic procedures rose by 64% among surgeons during the pandemic in the U.S.
Radiofrequency Skin Tightening Devices Lead Market
The RF skin tightening device demand has increased, and the category accounted for the dominant market share, of around 35%, in 2021. Moreover, this trend is expected to continue during the forecast period (2022–2030). This will be because RF-based skin tightening therapy aids in getting rid of wrinkles and fine lines, face slimming, body and face contouring, and fighting sun damage, owing to its ability to stimulate the production of collagen. Moreover, this treatment is painless, quick, and replaces the damaged skin, thus providing a youthful appearance.
Major Opportunity Areas
Technologically advanced non-invasive skin tightening devices, such as those based on laser, offer improved efficiency and performance, and they are gaining fast approvals. The technological development in Lumenis Ltd.'s NuEra Tight, which now comes with FocalRF, is notable as it provides personalized solutions for fat reduction, skin tightening, and cellulite and wrinkle reduction in one device. The company offers devices based on numerous energy-based technologies, including laser, intense pulsed light, and RF.
Moreover, home-use aesthetic devices' demand has been rising as they are less painful and leave no scars. These devices are better than the surgical procedures opted for skin tightening, cost-effective, and easy to use. The rising awareness of home-use devices and their advantages drives the market. These devices are FDA-approved for home use and are even recommended by professionals.
35–65 Age Group Is Major Shareholder of Non-Invasive Skincare Devices Market
The population in the age group of 35–65 contributed around $900 million to the non-surgical skin tightening market in 2021. This was majorly due to the high demand for facial skin tightening procedures within this age group for a better physical appearance. For instance, according to the Plastic Surgery Statistics Report 2020, the total number of non-surgical cosmetic procedures performed on people in the age group of 40–54 years was 5.4 million.
Moreover, this demographic experiences skin sagging and laxity. Skin sagging at this age leads to marionette lines, jowls, and nasolabial folds, which leads to a high demand for the improvement of the physical appearance via aesthetic procedures. This age group comprises most of the working population, which highly prizes its looks, especially when among peers. A good physical appearance also boosts self-confidence and the attitude toward life.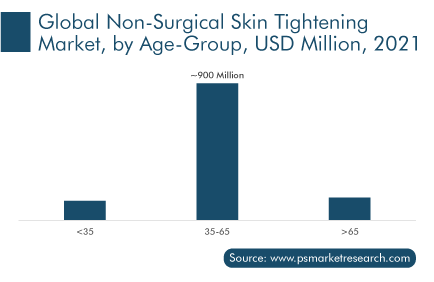 Female Category Accounted for Higher Demand for Non-Surgical Skin Tightening Devices
Beauty products for Skin tightening are extensively adopted by the female population, which, hence, dominates the market and is also expected to progress with the higher CAGR, of around 7%, during the forecast period. According to the Plastic Surgery Statistics Report, the number of non-surgical procedures done on females in 2020 was about 10.4 million, which was 92% of the total. Women have come to prefer non-invasive procedures for body contouring, breasts, face, and fat reduction in the recent past. The need for cosmetic makeovers rises in women after pregnancy due to their increased weight and related physical changes.
Dermatology Clinics Captured Majority of Market Share
As an end user, dermatology centers took the lead in the market, and they are expected to grow with around 8% CAGR during the forecast period, as these places offer numerous non-surgical treatments for skin tightening. Specialized dermatology centers have become the immediate points of contact for patients, instead of hospitals, in recent years. Thus, the number of dermatology and cosmetology centers has increased due to the variety of skincare services they provide. The expectation of better results of the procedures from skilled dermatologists boosts the demand for specialized dermatology centers. The unique offers and packages provided by them are also expected to drive the market.
Non-Surgical Skin Tightening Market Report Coverage

| | |
| --- | --- |
| Report Attribute | Details |
| Historical Years | 2017–2021 |
| Forecast Years | 2022-2030 |
| Market Size in 2021 | $1,140.6 Million (Estimated) |
| Revenue Forecast in 2030 | $2,059.7 Million |
| Growth Rate | 6.8% CAGR |
| Report Scope | Market Trends, Drivers, and Restraints; Revenue Estimation and Forecast; Segmentation Analysis; Impact of COVID-19; Companies' Strategic Developments; Market Share Analysis of Key Players; Company Profiling |
| Segments Covered | By Product, By Age Group, By Gender, By End User, By Region |
Explore more about this report - Request free sample pages
North American Market Generates Majority of Revenue
Geographically, the North American region seized the largest market share during the historical period (2017–2021), and it will remain dominant in the years to come. The adoption of non-surgical cosmetic procedures, advanced healthcare infrastructure, increasing prevalence of skin disorders, and presence of board-certified and skilled cosmetic surgeons in North America are some of the major factors contributing to the non-surgical skin tightening market growth in the region.
Focus on Physical Appearance among 25–65-Year-Old People Is Key Driving Force for Industry
Due to the concerns over appearance, medical aesthetics has become a subject of great interest to people. There is also social pressure to maintain a good facial and physical appearance, which is why 25–65-year-old people opt for various cosmetic procedures. Even the cosmetics industry is focused on a youthful appearance. Thus, the desire to have beautiful skin and good facial features is important in the age group of 25 to 65.
According to the Plastic Surgery Statistics Report 2020, non-surgical skin tightening procedures accounted for 1.4% of the total cosmetic minimally invasive procedures. The total expenditure on non-invasive procedures for skin tightening in the U.S. in 2020 was estimated to be $462,988,577. Moreover, the highest number of non-invasive procedures for skin tightening were done on people in the age groups of 35–50 and 51–64 years.
Moreover, the main problem faced in the older population, that is, between 60 and 65 and older, is sagging skin on the face, neck, and body, the solution to which is skin tightening. Thus, the growing older population and its desire to maintain a youthful look drive the market to a great extent.
Market Players Are Involved in Product Launches to Gain Significant Position
The global non-surgical skin tightening market's top manufacturers are involved in product launches to gain a competitive edge. For instance:
In March 2021, Bausch Health Companies Inc. and its Solta Medical business announced the U.S. launch of the Clear + Brilliant Touch laser, the company's next-generation Clear + Brilliant laser. This system delivers a customized and more-comprehensive treatment protocol for all ages and skin types, with a combination of two wavelengths.
In February 2020, Cynosure LLC received regulatory clearance from the FDA for its RF micro-needling device, named Potenza. The device is intended for the electrocoagulation and hemostasis of soft tissue, for dermatologic conditions.
Key Players in Non-Surgical Skin Tightening Market Are:
Sisram Medical Ltd.
Bausch Health Companies Inc.
Cutera Inc.
Merz Pharma GmbH & Co. KGaA
Cynosure LLC
Lumenis Be Ltd.
Market Size Breakdown by Segment
The report offers comprehensive market segmentation analysis along with market estimation for the period 2017–2030.
Based on Product
Laser-Based Devices
Ultrasound Devices
Radiofrequency Devices
Based on Age Group
Based on Gender
Based on End User
Hospitals
Dermatology Clinics
Beauty Clinics
Geographical Analysis
North America
Europe

Germany
U.K.
Italy
France
Spain

Asia-Pacific (APAC)
Latin America (LATAM)
Middle East and Africa (MEA)

Saudi Arabia
South Africa