Neem Extract Market Overview
The neem extract market is expected to grow at the fastest rate in health and personal care products, with a CAGR of 16.3% during the forecast period. This is due to the fact that consumers are looking for herbal alternatives in toothpastes, shampoo, medicinal gels etc., over chemicals, whose negative effects have garnered attention of consumers and healthcare professionals, worldwide. Also, the growing awareness about the benefits of neem is driving the demand of neem extract products. Neem extracts are used extensively in bio based fertilizers and pesticides, and neem fertilizers and pesticides are one of the best suited agro-supplements for organic food agriculture. As neem is known to cause no harm to plants, its demand for agriculture products is fueling the growth of the global market.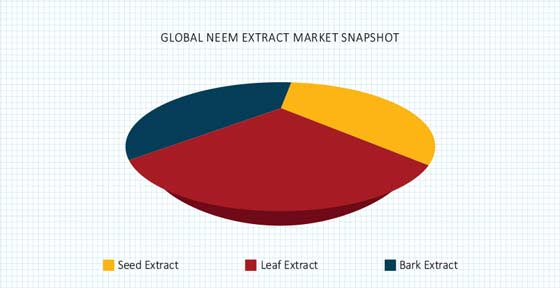 Asia-Pacific will continue being the largest market for neem extracts globally till 2022, and exhibiting a CAGR of 15.8% during the forecast period. Leaf extract and bark extract have higher market share in Asia-Pacific neem extract market as compared to other regions. This is due to the extensive use of toothpaste, powder, soaps, shampoos and other cosmetics in the region, where bark and leaf extracts are extensively used.
Neem Extract Market Dynamics
The neem extract market is driven by the increasing demand for animal and pet care products. The increased use of neem extract in livestock feeding is expected to fuel the growth of the global market during the forecast period. China and Brazil's investment in neem plantation, in the recent past, serves as a lucrative opportunity for the neem extract market to grow.
Trends
The high growth rate of the neem extract market is encouraging the industry participants to grow organically as well as inorganically. The increasing number of acquisitions with different strategic purposes has also been in trend recently. The global neem extract market has witnessed mergers and acquisitions in the recent past. For instance, E.I.D. Parry acquired 100% stake of Alimtec S.A. in 2014. Alimtec S.A. before the acquisition was a part of Bayer. During the same year Terramerra, a Canadian company acquired India-based Plasma Neem. In 2012, InQpharm, a Malaysia based company acquired Neem BioTech, a U.K.-based company.
Growth Drivers
The increasing concern of people and regulatory authorities towards harmful effects of chemical-based fertilizers and pesticides on human health has been compelling farmers to use bio-based farm products. This has led to significant increase in demand for bio-based fertilizers and pesticides. Following the effect, the demand of neem extract based fertilizers and pesticides are also escalating. Rich in proteins, amino acids, carotene and minerals, neem leaves and seed cakes are given as fodder to livestock population, such as camel, goat, sheep and cross bred lambs, to increase their productivity. Neem is also well known as an effective pest repellent for pet animals, which encourages neem oil manufacturing and eventually, drive the growth of the market.
Opportunities
Brazil and China have realized neem as a highly beneficial tree, which is resulting their increased investment in its plantations. This not only hints at the growth of their domestic production of neem extracts, but also points to the expected increase in exports from these countries. Moreover, some Asia-Pacific countries, such as India and Philippines, have a large belt of neem plantation, which along with the increased awareness of people towards the benefits of neem in animal care and agriculture, act as significant growth opportunities for the market.
Factors Hindering Market Growth
Neem trees grow in tropical regions because of which they are for the most part found in the Asian nations, particularly in India which holds more than 60% share of worldwide neem plantations. The other significant Asian nations with neem ranch incorporate Myanmar, Thailand, Malaysia and Indonesia. Neem trees are additionally developed in some parts of Africa, but in less numbers. The worldwide neem product manufacturers import neem extract from Asian and African nations, which increases cost of their final product significantly. This urges them to incline towards different herbs over neem extract for the production of similar products.
Neem Extract Market - Competitive Landscape
Large number of players in the neem extract market and the industry's high growth intensifies the competition among players. Moreover, the switching cost for the buyers is less, which further tightens rivalry in the global market. Products of different suppliers can be differentiated on the basis of their certification such as ISO 9001, GMP and HACCP.
Key players in the industry are focusing on research and development, and bringing out new products or new uses of the products in the market. Some major companies have raised funds to undertake clinical trials for neem extract in face creams, gels, biopesticides, etc. Some of the major companies in the neem extract market are Groupo Ultraquimia, Terramera Inc., American Vanguard Corporation, Bayer AG, Certis USA LLC, Boss India Group, The Indian Neem Tree Company, Fortune Biotech Ltd, Ozonw Biotech Pvt. Ltd., Gree Neem Agri Pvt. Ltd, besides others.