Organic Fertilizers Market Overview
The global organic fertilizers market was valued at $4,512.1 million in 2019 and is projected to demonstrate a CAGR of 14.1% during the forecast period (2020–2030). Both upstream and downstream variables, such as the increasing acreage and number of organic farmlands across the world and the growing demand for organic food products in North America and Europe, are providing impetus to the market demand and are likely to fuel the growth of the organic fertilizers industry in the coming years as well.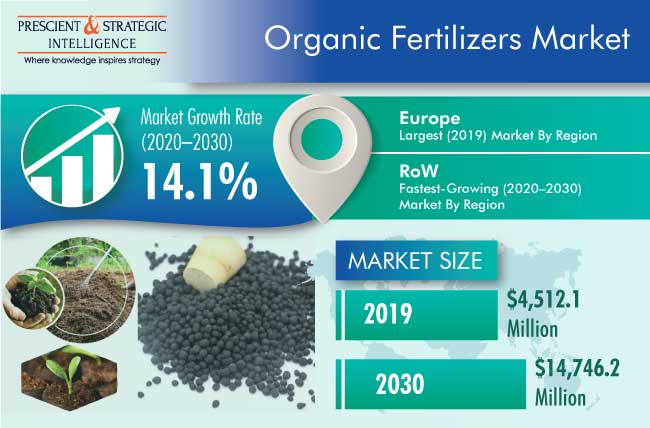 Segmentation Analysis
Increased Cereal and Grain Production Generated the Highest Demand in the Industry
The demand for these natural fertilizers for the production of cereals and grains generated the highest revenue, of over 60.0%, in the organic fertilizers market in 2019. In the same year, a significant share of organic farm area, amounting to nearly 4.8 million hectares, was employed for the production of cereals and grains. Furthermore, as per the data released by several government and private sources, a significant portion of this acreage was employed for the production of wheat, oats, rice, and barley, on account of the high downstream demand for these products. Moreover, the perceived environmentally sustainable and non-toxicological attributes of organically farmed products have contributed to the market growth in this category.
The COVID-19 outbreak has caused major supply chain disruptions in Asian countries and a fair degree of adverse effect across the European continent due to complete/partial lockdowns and temporary suspension of trade activities. Farmers are facing logistical issues in sourcing materials, conducting farming and allied activities, and selling their produce.
From a retail perspective, however, the stakeholders have reported positive consumer sentiment toward organic food and beverages, with a surging interest due to the perceived health benefits of these products. This, in turn, is driving the mainstream adoption of these products and translating into indirect growth of the organic fertilizers market.
Geographical Outlook
High-Volume Production and a Cohesive Retail Market Enabled Europe to Generate Highest Revenue
During the historical period (2015–2019), Europe held the largest revenue share in the organic fertilizers market. The region has the largest tract of organic arable land across the world and has been witnessing a surge in organic cultivation across several countries, including Germany, France, Spain, and Italy. Furthermore, a number of factors, including the introduction and ratification of legislations and policies such as the EU Regulation 2018/848 and the Common Agricultural Policy (CAP), downstream retail demand for organic products, high per capita spending, and an organized supply chain for the production–packaging–distribution model, are helping the organic fertilizers industry advance in the region.
Demand from Latin American and African Countries Witnessing the Fastest Growth in the Industry
The growth in the Rest of the World (RoW) organic fertilizers market is primarily driven by the increasing product demand in the Latin American (LATAM) and African countries. As against its 2019 share, RoW is expected to nearly double its share in the global market by 2030. The demand for organic fertilizers in LATAM countries for the production of quinoa, coffee, cocoa, bananas, and sugarcane is growing considerably. In the African region, the demand for these fertilizers continues to witness growth for the cultivation of coffee, oilseeds, textile crops, olives, nuts, and cocoa.
With the rising levels of soil degradation, organic agriculture has gained momentum and is finding widespread interest among differentiated stakeholders in the industry, such as policy makers, farmers, and landowners. Government and private investments, coupled with initiatives such as the Ecological Organic Agriculture Initiative (EOA-I) and those by institutions such as the African Organic Network (AfrONet) and the Network of Organic Researchers in Africa (NOARA), are likely to propel growth in the regional market.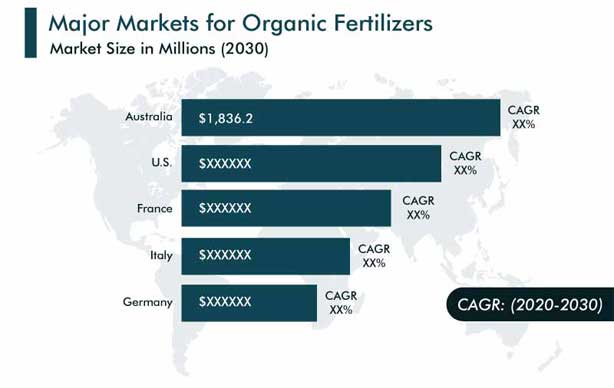 Growing Number and Acreage of Organic Farmlands to Act as a Catalyst for Market Growth
In recent years, the land under organic farming has compounded across several regions of the world. This can be attributed to a number of direct and indirect factors. Primary factors contributing to this include the increasing investments by public and private players in the organic food supply chain and the growing downstream demand for organic products due to their perceived health benefits and low chemical leaching during their production, further resulting in premium pricing and higher margins.
Secondary factors also contribute to the increasing emphasis on organic farming. As per the data released by the Research Institute of Organic Agriculture (FiBL), equivalence agreements between countries for product certification, benchmarking, and labeling; government initiatives and policies; and participatory guarantee systems (PGSs) pushing landowners toward organic farming are the factors propelling growth in the organic fertilizers market, globally.
Trends & Drivers
Proliferation of Retail Markets of Organic Food and Beverages in North America and Europe Serving as a Key Growth Driver
As per the data released by the International Federation of Organic Agriculture Movement (IFOAM), as of 2019, the demand for organic products was chiefly concentrated in North America and Europe, with countries such as the U.S., Germany, and France generating a high-volume demand for these products on account of the high per capita income. Furthermore, the forecast model indicates that the demand for these products is projected to rise in the near future, further translating into lucrative opportunities for the stakeholders in the organic fertilizers industry.

Moreover, the growth in these markets is creating a considerable value potential for not just localized organic stakeholders but also for individuals engaged in the organic supply chain in the APAC and Latin American (LATAM) countries. Dependency of the region on the import of agricultural commodities can be leveraged to increase the supply of organic products, thereby opening avenues for the expansion of the organic fertilizers market size in the coming years.
| Report Attribute | Details |
| --- | --- |
| Historical Years | 2015-2019 |
| Base Year (2019) Market Size | $4,512.1 million |
| Forecast Years | 2020-2030 |
| Forecast Period (2020-2030) CAGR | 14.1% |
| Report Coverage | Market Trends, Revenue Estimation and Forecast, Segmentation Analysis, Regional and Country Breakdown, Companies' Strategical Developments, Product Benchmarking, Company Profiling |
| Market Size by Segments | By Crop Type, By Region |
| Market Size of Geographies | U.S., Canada, Spain, Italy, France, Germany, Poland, Sweden, China, India, Australia, Argentina, Brazil, Uruguay |
| Secondary Sources and References (Partial List) | Bio Suisse, Demeter International, European Organic Certifiers Council European Union, Eurostat, Food and Agriculture Organization, International Federation of Organic Agriculture Movements, Irish Organic Association, National Centre of Organic Farming |
Moderate to High Degree of Fragmentation in the Market
The organic fertilizers market is fragmented in nature, with startups and small- to medium-scale organic chemical companies operating in the industry.
In recent years, the market has witnessed several strategic activities by players in terms of product launches, partnerships, and facility expansions, in order to stay ahead of their competitors. For instance:
In March 2019, Biolchim SPA announced that its six products had been approved for use in organic agriculture in Germany by the certification organization Forschungsinstitut für biologischen Landbau (FiBL). The FiBL-certified products included BetaB, FYLLOTON, CREMALGA, PROTAMIN GR, PROTAMIN 7.14, and PROTAMIN 7.5.14.
In April 2018, Italpollina S.p.a launched a new capping technology for the management and transport of organic and organo-mineral fertilizer pellets. The new mechatronic system ensures greater safety during transport, as it allows better refinement and complete waterproofing and protection of pellets, as well as greater stability during loading and unloading.
In December 2019, Italpollina S.p.a signed a strategic partnership with InnovaFeed, a French biotechnology company, for the development and commercialization of organic fertilizers and biostimulants made from insect ingredients. The partnership would run a joint R&D program for the launch of a novel, 100% natural fertilizer, developed from insect frass sustainably produced by InnovaFeed at its Nesle plant (Somme, France) and future sites.
Some of the Key Players in the Organic Fertilizers Market
The Scotts Miracle-Gro Company

Coromandel International Limited

Fertikel NV

Fertoz Limited

Italpollina S.p.a

Midwestern BioAg

Multiplex Group of Companies

Perfect Blend LLC

Walt's Organic Fertilizer Co.

Biolchim SPA
Israel Chemical Limited

AgroCare Canada Inc.

Sustane Natural Fertilizer Inc.

Nature Safe

True Organic Products Inc.

Hendrikus Organics

Jaipur Bio Fertilizer

hubey GmbH

Aryan Crop Protection Pvt. Ltd.

Pruthvi Khhetiwadi Kendra
Organic Fertilizers Market Size Breakdown by Segment
The organic fertilizers market offers comprehensive market segmentation analysis along with market estimation for the period 2015–2030.
Based on Crop Type
Cereals & Grains
Oilseeds & Pulses
Fruits & Vegetables
Geographical Analysis
North America
Europe

Spain
Italy
France
Germany
Poland
Sweden

Asia-Pacific (APAC)
Rest of the World (RoW)