Market Overview
The natural fiber composites market generated revenue of USD 392.1 million in 2023, which will reach USD 546.3 million by 2030, advancing at 5.0% CAGR between 2024 and 2030. This is ascribed to the rising demand for sustainable and eco-friendly materials in various industries and the numerous advantages of natural fiber composites (NFCs).
They integrate natural fibers, such as hemp, flax, jute, and kenaf, with a polymer matrix to create lightweight, sturdy, and environment-friendly materials.
The growing awareness amongst consumers and manufacturers regarding the environmental impact of traditional materials is fueling the usage of NFCs. They offer several benefits over conventional composites, inclusive of a smaller carbon footprint, decreased energy consumption during production, and better recyclability. As result, industries such as automobile, construction, aerospace, and consumer goods are adopting these materials in increasing quantities in their products.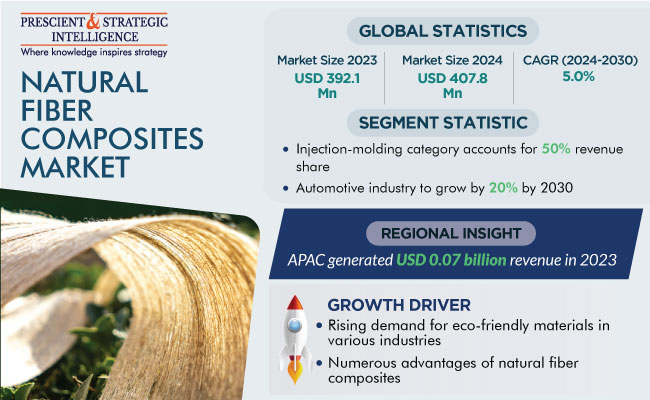 The automobile sector, particularly, has emerged as a strong driving force for the natural fiber composites market. The stringent regulations aimed at lowering carbon emissions and enhancing fuel performance have forced vehicle manufacturers to use lightweight alternatives in place of standard materials. Here, NFCs prove useful by offering mix of strength, low weight, and sustainability. Therefore, they are being utilized in various automobile applications, such as interior components, door panels, seat backs, and trunk liners.
Another key factor contributing to the increase in NFC consumption is the growing focus on research and development. Manufacturers are making significant investments in creating new and advanced natural fibers with enhanced compatibility with polymer matrices. They are also optimizing their manufacturing strategies to fulfill the unique necessities of different industries. This continuous innovation is expanding the range of applications for natural fiber composites and driving the market growth.
Growing Automotive Industry
The automotive industry is a significant driving factor for the natural carbon fiber composites market. With the rising concerns about greenhouse gas emissions, fuel efficiency, and sustainability, automobile OEMs are actively looking for lightweight substances to reduce the weight of automobiles and enhance their overall performance.
One of the primary advantages of NFCs for the automotive industry is their amazing strength-to-weight ratio. These composites are enormously lightweight, but they possess exceptional strength and stiffness, which makes them perfect for the structural components of vehicles. By incorporating NFCs, automakers can extensively reduce the weight of automobiles, which leads to an improved fuel efficiency and reduced carbon emissions.
Moreover, natural carbon fiber composites (NCFCs) offer amazing impact resistance, which is important for ensuring passenger safety in vehicles. The high electricity absorption capacity of these composites makes them effective in absorbing and dispersing impact, thereby saving passengers in the event of a crash.
In addition to weight loss and safety advantages, NCFCs provide flexibility and versatility in automotive design. They can be molded into complex shapes and incorporated into numerous parts of the car, such as frame panels, chassis components, indoors trims, and structural reinforcements. This flexibility lets manufacturers and engineers optimize the usage of materials in modern and efficient automobile designs.
Furthermore, the usage NCFCs in the automotive industry aligns with the rising client demand for sustainable and low-emission vehicles. As customers become increasingly environmentally aware, they will choose automobiles made of lightweight and sustainable materials. NCFCs, being derived from renewable resources, make significant contributions in minimizing the environmental impact of vehicles during the course of their lifecycle.
Natural Fiber Composite Market Report Coverage

| | |
| --- | --- |
| Report Attribute | Details |
| Market Size in 2023 | USD 392.1 Million |
| Market Size in 2024 | USD 407.8 Million |
| Revenue Forecast in 2030 | USD 546.3 Million |
| Growth Rate | 5.0% CAGR |
| Historical Years | 2017-2023 |
| Forecast Years | 2024-2030 |
| Report Scope | Market Trends, Drivers, and Restraints; Revenue Estimation and Forecast; Segmentation Analysis; Companies' Strategic Developments; Market Share Analysis of Key Players; Company Profiling |
| Segments Covered | By Type; By Resin Type; By Technology; By Application; By Matrix; By Region |
Explore more about this report - Request free sample pages
Recyclability Is the Future
The need for recyclability is a significant driver for the natural fiber composites market. The ability to recycle and reuse NFCs addresses environmental issues, promotes sustainable practices, and gives monetary advantages all through the value chain.
Unlike traditional carbon fiber composites, which can often be tough to recycle due to the complex and energy-intensive processes involved, the natural variants can be recycled to yield higher amounts of ingredients. These composites can go through mechanical recycling, wherein they are chopped, ground, and shredded into smaller pieces, which could be used to extract useable material.
Recyclability gives several environmental benefits, the biggest of which is the reduction in the dependence on virgin raw materials. By recycling NFCs, the demand for new raw materials is reduced, which helps maintain natural resources and lower the environmental impact of their extraction and processing. Moreover, recycling facilitates prevent composite waste from entering landfills, thus mitigating the problem of waste accumulation and minimizing the discharge of harmful materials into the environment.
Economies are targeting the creation of a closed-loop system, where materials are continuously reused, thus reducing waste and promoting resource efficiency. Being easily recyclable, NFCs contribute in achieving a more-sustainable and circular technique for material utilization.
Recyclability, additionally, brings financial benefits to the natural fiber composites market as reprocessing composite waste reduces the cost associated with waste disposal and landfilling. Additionally, recycled NFCs can be obtained at a lower cost in comparison to their virgin counterparts, which makes the former even more attractive for various industries. The ability to be reprocessed expands the market possibilities and enhances the competitiveness of the material.
Injection-Molding Category Held Largest Share
Based on technology, the injection-molding category accounted for the largest share, of around 50%, in the market in 2023, and it will further maintain its dominance in the future. This is because, by using this technology, this material can be utilized for mass production. The process involves injecting molten material into a mold or hollow space, to create products with complex shapes.
Injection-molding offers high manufacturing performance and cost-effectiveness. It allows for the mass production of components with consistent quality and more precision, which makes it appropriate for various industries, such as automotive, construction, and packaging.
Furthermore, the adaptability of injection-molding plays an important role in its market dominance. The potential to mix natural fibers with thermoplastic polymers through the injection-molding technique opens up possibilities for developing lightweight, durable, and sustainable products.
Additionally, this method allows for the production of delicate and complicated shapes with exceptional surface finish. This makes it rather appropriate for manufacturing parts and components that require a precise geometry and visual appeal. In industries such as automotive and aerospace, in which both functionality and design are crucial, injection-molded NFCs offer a compelling solution.
The automotive industry, specifically, drives the demand for injection-molded NFCs. With the strengthening emphasis on weight reduction, fuel efficiency, and sustainability, automakers are looking for the latest materials and fabrication techniques. Natural fiber composites processed by injection-molding offer a combination of a low weight and eco-friendliness for diverse automobile components, including interior trims, door panels, and structural reinforcements.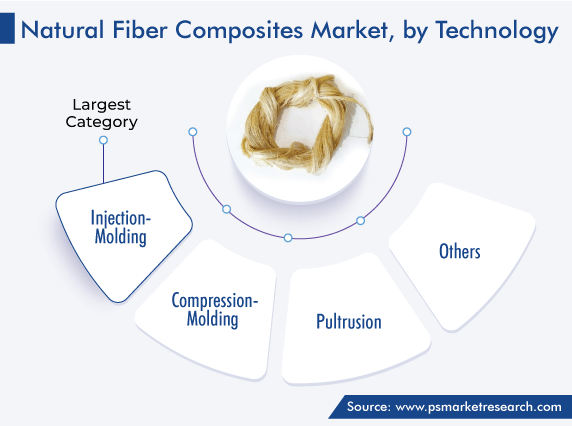 Asia-Pacific Region Held Significant Share
APAC held a significant share in the market, of around 20%, in 2023. This is because of the region's strong economic growth and the increasing consumption of natural fiber composites in various industries, such as automotive, electronics, and construction.
The rampant infrastructure development and authorities' supportive initiatives for R&D on sustainable materials have created a supportive environment for the adoption of NFCs in the region, led by India, China, Japan, Malaysia, and South Korea. These countries are also making huge investments in research and development for new ways of utilizing eco-friendly materials in construction projects and the automotive industry.
Due to the rising demand for lightweight and electric vehicles, high investments in research and development in various industries, such as healthcare and automotive; presence of key players, and high adoption of advanced technologies in the region.
Europe has been at the forefront of sustainable practices and environment-friendly technologies. The region has a strong focus on decreasing carbon emissions, promoting the economy, and investing in renewable resources. These elements create a good environment for the usage of natural fiber composites across numerous industries, such as automotive, production, aerospace, and consumer goods. The construction industry is also adopting NFCs for applications such as insulation, decking, and furniture.
European countries, including Germany, France, the Netherlands, and the U.K., had been actively making an investment for utilizing NFCs and other cleaner materials in infrastructure projects. This becoming possible due to the collaborations between industries, market players, and government organizations to advance NFC technologies.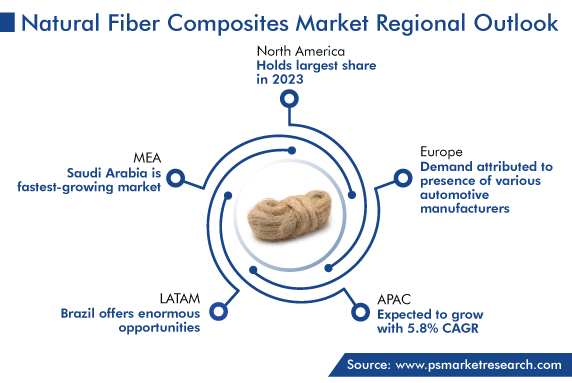 Some Key players in Natural Fiber Composites Market Are:
DuPont de Nemours Inc.
FlexForm Technologies LLC
Tecnaro GmbH
UPM-Kymmene Corporation
Fiberon LLC
Trex Company Inc.
Procotex SA Corporation NV
Bast Fiber Technologies Inc.
MCG BioComposites LLC
FlexForm Technologies LLC
TTS Biocomposites Inc.
Natural Fiber Welding Inc.
JELU-WERK J. Ehrler GmbH & Co. KG
Market Size Breakdown by Segment
The study uncovers the biggest trends and opportunities in the natural fiber composites market, along with offering segmentation analysis at the granular level for the period 2017 to 2030.
Based on Type
Wood
Cotton
Flax
Kenaf
Hemp
Based on Resin Type
Based on Technology
Injection-Molding
Compression-Molding
Pultrusion
Based on Application
Automotive
Electronics
Sporting Goods
Construction
Based on Matrix
Inorganic Compound
Natural Polymer
Synthetic Polymer
Geographical Analysis
North America
Europe

Germany
U.K.
France
Italy
Spain

Asia-Pacific

Japan
China
India
South Korea
Australia

Latin America
Middle East and Africa

Saudi Arabia
South Africa
U.A.E.