Corrugated Packaging Market Overview
The global corrugated packaging market was valued at $237.5 billion in 2017 and is projected to reach $294.3 billion by 2023, witnessing a CAGR of 3.7% during the forecast period. Environmental sustainability as well as cost benefit associated with corrugated packaging and increasing preference for sustainable packaging solutions are the major market drivers.
GLOBAL CORRUGATED PACKAGING MARKET, BY APPLICATION, $B (2013-2023)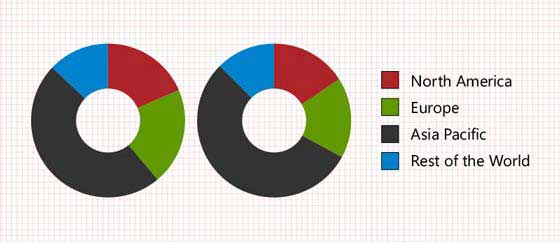 Corrugated box is made from the combination of two sheets of paper called liners, which are glued to a corrugated inner medium called fluting. These three layers of paper are assembled in a way that gives overall structure a better strength. These boxes are designed to match the processing and end-use requirements.
On the basis of application, the corrugated packaging market is categorized into processed food, fresh food and produce, beverages, personal and household care, chemicals, paper products, electrical and electronics goods, glassware and ceramics, tobacco, wood & timber, textiles, direct mail & dispatch, transport, and others; 'others' include footwear, apparel, and furniture. Of these, processed food was the largest application area in the market, contributing more than 25.0% in 2017. The packaging of processed food demands secure and flexible packing material, to ensure product safety and convenience to customers. Hence, corrugated packing solutions are being developed by manufacturers to tap the growing demand in the packaging market.
Globally, Asia-Pacific (APAC) was the largest corrugated packaging market, contributing more than 45.0% in 2017. The region is observed to be influenced largely by westernization, growing consumption of retail ready-to-eat food, thus, propelling the demand of corrugated packing. The busy lifestyle of consumers and surging urbanization in developing countries have increased the consumption of durable and non-durable goods. Furthermore, booming sales of processed foods, especially in developing countries including India, China, and Indonesia, are attributing to the highest share of the market in APAC.
Corrugated Packaging Market Dynamics
A shift toward internet shopping is the major trend witnessed in the corrugated packaging market. Rapid industrialization, and growth of e-commerce and courier as well as delivery service industry are the major drivers identified in the market.
Trend
Corrugated packaging in one of the most convenient and affordable modes of packaging for the e-commerce industry, as it is light weight and available at low cost and helps in easy and convenient delivery of the product to consumer's door-step. This is prompting manufacturers to increasingly use this packaging for internet or online shopping and giving impetus to the market.
Drivers
Corrugated packing is one of the most cost-effective packaging solutions for many industries, as it is made from natural materials, having the highest recycling rate, when compared to other packaging solutions. In recent years, both consumer and regulatory bodies have raised their concern toward environment and sustainability. The increasing landfill is becoming a major challenge for the government and hence, the demand for environment-friendly material for packaging is growing, especially for non-durable consumer goods. Hence, the governments of various countries are also encouraging the use of corrugated packing material for sustainable development, thus driving the corrugated packaging market growth.
Rapid industrialization in developing nations has resulted in increased international trade activities, expansion of infrastructure facilities, upsurge in per capita income, and growth in several industries such as chemicals, oil and gas, and energy. All this has boosted the growth of the corrugated packing material market in recent years. The developing economies are witnessing rapid industrialization in the current scenario. As per Central Intelligence Agency's (CIA) World Factbook, China's industrial production was valued at $3.7 trillion, as compared to that of the U.S. with $2.9 trillion, in 2012. Thus, the demand for corrugated packaging market is expected to increase in the coming years.
Restraints
Corrugated packing is among the most cost-effective packaging solutions for various industries. However, certain limitation such as low strength and poor barrier properties of corrugated material is restricting its use in many applications. Corrugated packing is best suited for bulky solid industrial products. This packaging is not a preferred packing material for liquid products, as they carry a chance of product leak due to low absorption or containing properties. Moreover, moist and humid weather decreases the firmness and strength of corrugated boxes. Corrugated packing also has poor fire resistibility. Hence, low strength of corrugated materials and poor barrier properties are hindering the corrugated packaging market growth.
Corrugated Packaging Market Competitive Landscape
Some of the major players operating in the global corrugated packaging market are Nine Dragons Paper (Holdings) Limited, International Paper Company, WestRock Company, Smurfit Kappa Group, Georgia-Pacific Equity Holdings LLC, Lee & Man Paper Manufacturing Ltd., Oji Holdings Corporation, Mondi Group, Packaging Corporation of America, and DS Smith PLC.