Market Overview
The revenue of the monolithic microwave IC market stood at USD 9,541.3 million in 2022, and it is expected to witness a compound annual growth rate of 11.4% during 2022–2030, to reach USD 22,649.1 million by 2030.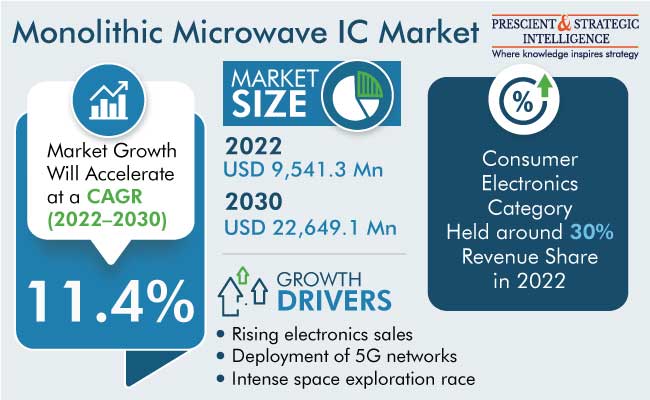 The deployment of the 5G technology and the subsequent increment in the usage of smartphones, rise in the demand for higher bandwidths, technological advancements in defense equipment, and growth in the number of space missions and programs are some of the major aspects that are likely to boost the growth of the monolithic microwave IC market.
MMICs are integrated circuits that can operate at various frequencies ranging from 300 MHz to hundreds of GHz. They are mostly small in size and manufactured on a huge scale; thus, are cost-effective as well. Some of the major functionalities of MMICs include switching to higher frequencies, amplification of low noise as well as power levels, and mixing of microwaves.
The number of MMIC users is growing, which is subsequently leading to a high data generation and transmission; hence, there are also certain regulations for the efficient management of radio frequencies and communication via different modes, such as radio and satellites.
Constant Rise in Demand for Smartphones
The increment in the disposable income of people, the availability of economical smartphones, and the rapid developments in telecommunications are some of the factors contributing to the rising demand for smartphones. Their usage has also been increasing due to the numerous purposes they fulfill for people with a stable internet connection, such as searching for product reviews, online shopping, voice searches, social media, and bill payment.
Here, MMICs aid in efficiently increasing the data transfer rates of smartphones, by receiving and amplifying weak signals. Photonic-integrated circuits (PICs) can be used as well in such telecommunication applications.
Rising Number of Space Exploration Programs
Many nations, such as the U.S., India, China, EU members, and Japan, are conducting operations in space, boosted by government as well as private funding. The existence of various profitable business opportunities, the decrease in the prices of various space components due to technological advancements, and the innovations being carried out for better and faster communication are encouraging private organizations to be a part of space programs.
MMICs are preferred for space equipment due to their compact size, overall low cost for huge quantities, and higher speed of signal propagation. These components are, thus, used to facilitate communication via satellites, in radar systems, as well for the accurate detection, tracking, and location of astronomical bodies in space.
Investments for Advancement of Defense Inventories
Countries around the world are continuously allocating funds to ensure that they have easier access to the latest tools and technologies for enhancing national security. Wireless communication systems have necessitated the utilization of MMICs for supporting higher frequencies and bandwidths and ensuring faster communication with compact and lightweight devices that offer low power consumption benefits as well.
By Component, Power Amplifiers Category Is Likely To Lead in Sales
The power amplifiers category is expected to witness a CAGR of 16% during the projection period and dominate the market. Power amplifiers are an important component used for efficient signal transmissions during wireless communications. They also support high frequencies and are reliable, hence widely used for military applications. Furthermore, the rollout of 5G networks is likely to lead to a high demand for power amplifiers for mobile phones.
Additionally, low-noise amplifiers are likely to exhibit a significant growth in sales revenue in the coming years, owing to their increasing demand for integration into smartphones. Since the usage of smartphones is rising, the demand for low-noise amplifiers is also likely to grow, as they aid in amplifying the weak signals.
Gallium Arsenide Is Expected To Be Most-Popular Material
The gallium arsenide material category is expected to grow substantially and dominate the market in the coming years. The advantages GaAs offers in terms of weight, as well as power consumption and resistance to heat and moisture, over silicon make it popular for high-frequency applications, such as wireless and satellite communication.
Additionally, the utilization of gallium nitride semiconductors is increasing due to the comparatively higher efficiency and lower cost of GaN than silicon.
MMIC Market Report Coverage

| | |
| --- | --- |
| Report Attribute | Details |
| Historical Years | 2017-2022 |
| Forecast Years | 2023-2030 |
| Market Size in 2022 | USD 9,541.3 Million |
| Revenue Forecast in 2030 | USD 22,649.1 Million |
| Growth Rate | 11.4% CAGR |
| Report Scope | Market Trends, Drivers, and Restraints; Revenue Estimation and Forecast; Segmentation Analysis; Impact of COVID-19; Companies' Strategic Developments; Market Share Analysis of Key Players; Company Profiling |
| Segments Covered | By Component; By Material; By Technology; By Frequency Band; By Application; By Region |
Explore more about this report - Request free sample pages
E-pHEMT To Grow Fastest and HEMT To Retain Its Market Dominance
During the projection period, the HEMT category, in segment by technology, is likely to hold the largest monolithic microwave IC market share. This technology has applications in the telecommunications and defense verticals due to its high gain and switching speed, low-noise operations, and high efficiency.
Furthermore, the E-pHEMT category is likely to grow the fastest in the coming years, attributed to the advent of the latest technologies and the usefulness of monolithic microwave ICs based on the E-pHEMT technology for wireless applications.
Ka Band Category Is Expected To Grow Fastest
During the projection period, the Ka band category (frequency range 27 GHz to 40 GHz) is likely to advance at a CAGR of 14%. Ka-band ICs' application in satellite communications as well as in emerging network technologies, i.e., 5G, and their advantage of a wider bandwidth would accelerate the growth in their adoption in the coming years.
Consumer Electronics Applications To Dominate Market
In the coming years, the category of consumer electronics, in the application segment, is likely to hold the largest market share. The swift pace at which digitalization is occurring across regions and the adoption of the latest technologies, such as automation, are leading to a demand for higher data transfer rates. MMICs provide high-frequency benefits and are manufactured in small sizes using materials such as gallium arsenide, which is quite efficient and has faster electron mobility than silicon.
There are several electronic devices that need to exhibit higher levels of performance with minimal or low power consumption, such as mobile phones, Wi-Fi devices, and tablet PCs. MMICs are efficient in providing telecommunication signals with minimal power consumption; hence, their deployment in advanced electronic devices is expected to increase in the coming years.
Additionally, the advent of automation solutions for vehicles is expected to contribute to the growth of the monolithic microwave IC market over the forecast period.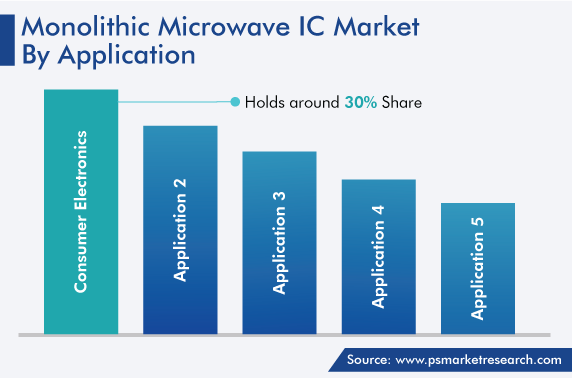 Asia-Pacific Region Is Expected To Witness Sturdy Growth and Dominate Market
The MMIC market in the Asia-Pacific region is expected to grow at a CAGR of 15% in the coming years and hold the largest share as well. The foremost existing scenarios influencing the market growth include the presence of extremely populous countries in the region, rampant urbanization, and the high pace at which new-age technologies are being adopted.
Countries such as China and India are highly populous and have been exhibiting major urbanization trends. They are fast-emerging economies, wherein the adoption of new-age technologies, such as AI, automation, IoT, smartphones, and other wireless communication protocols, is constantly rising for various business personal, business, and government purposes. Moreover, telecommunications infrastructure development is being done at a rapid pace to facilitate faster services.
The swift pace at which smartphone adoption has been growing is indicative of the expected growth of the market for MMICs. Several advanced smartphone lines have been introduced in the region to provide people with the latest models in the shortest period.
Smartphones, nowadays, are equipped with advanced software and functionalities that enable users to access numerous applications and systems. These devices ensure that communication services are accessible and data is transferred at higher rates, so that the exchange of various files, such as high-quality video, audio, and documents, becomes convenient and easy.
In 2022, the Defence Research and Development Organisation (DRDO) of India developed an MMIC and deployed it in a satellite meant for radar imaging purposes. Similarly, other countries in the region, such as China, which is one of the major markets for integrated circuits, are investing in the manufacturing of MMICs to be used in efficient radar solutions. Moreover, it is aiming to support industrial development and the deployment of advanced automation solutions to ensure better production quality.
Hence, China is expected to witness significant growth in the market in the coming years. The supportive initiatives of its government, such as tax incentives for manufacturing MMICs and efforts for their adoption across diverse sectors, as well as support from developed nations across the globe for the development of enhanced integrated circuits, would propel the demand for these semiconductor components.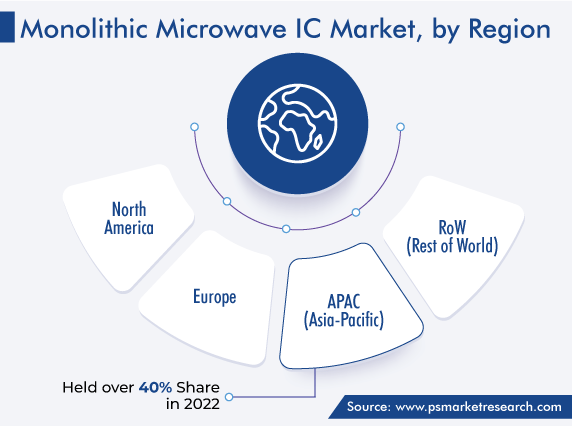 Some Major Companies Operating in Monolithic Microwave IC Market Are:
Qorvo Inc.
MACOM Technology Solutions Inc.
Skyworks Solutions Inc.
NXP Semiconductors N.V.
Infineon Technologies AG
WIN Semiconductors Corp.
STMicroelectronics N.V.
Semiconductor Components Industries LLC
Aspen Electronics Ltd.
VectraWave
Market Size Breakdown by Segment
This fully customizable report gives a detailed analysis of the MMIC industry from 2017 to 2030, based on all the relevant segments and geographies.
Based on Component
Power Amplifiers
Low-Noise Amplifiers
Attenuators
Switches
Phase Shifters
Mixers
Voltage-Controlled Oscillators
Frequency Multipliers
Based on Material
Gallium Arsenide
Indium Phosphate
Indium–Gallium Phosphide
Silicon–Germanium
Gallium Nitride
Based on Technology
HEMT
pHEMT
HBT
MESFET
mHEMT
E-pHEMT
MOS
Based on Frequency Band
W Band
V Band
L Band
Ka Band
S Band
K Band
C Band
Ku Band
X Band
Based on Application
Consumer Electronics
Wireless Communication
Automotive
Aerospace & Defense
Wired Broadband
Test & Measurement
Geographical Analysis
North America
Europe

Germany
U.K.
France
Italy
Spain

Asia-Pacific

Japan
China
India
South Korea
Australia

Latin America
Middle East and Africa

Saudi Arabia
South Africa