Microfluidic Devices Market Overview
The global microfluidic devices market size is predicted to reach $6.4 billion by 2020, growing at a CAGR of 23% during the forecast period. The market is driven by factors such as, increase in demand for point of care testing products, microfluidic technologies for miniaturization of chip, and rising demand for genomics and proteomics.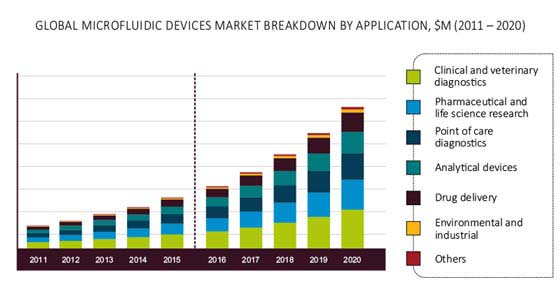 In terms of industry, the microfluidic devices market can be categorized as pharmaceuticals, in-vitro diagnostics (IVD), medical devices and others. These devices are being used by pharmaceutical companies, as they provide better control with lower cost and faster results in the drug development process. Among the various industries using microfluidic devices, the in-vitro diagnostics recorded the largest market share during the historical period and it is projected to hold a market share of more than 60% by 2020. The medical devices industry is expected to witness the fastest CAGR during the forecast period.
Based on application, the microfluidic devices market is divided into point of care testing, drug delivery, pharmaceutical and life science research, analytical devices, clinical and veterinary diagnostics, environmental and industrial segment, and others. Among these, pharmaceutical and life science research accounted for the largest share the microfluidic devices industry during the historical period and it is projected to hold a market share of over 25% by 2020. The point of care testing application category is expected to witness the fastest growth during the forecast period.
Geographically, North America is the largest microfluidic devices market, with factors such as growing old age population, increasing healthcare awareness, rising chronic and lifestyle diseases, technological developments for various home use applications and wider insurance infrastructure facilities driving the growth of microfluidic devices. With the rise in overall healthcare expenditure, the use of these devices has increased, since these devices provide accurate, reliable and quick results for early detection and prevention of diseases.
Microfluidic Devices Market Dynamics
Trends
The microfluidic devices market is driven by changing trends. Recently there has been an increase in the demand for these devices in proteomics and genomics. The overall market has also experienced development due to recent product innovations and various industry partnerships and collaborations. The use of microfluidic devices has gained importance in the biology and medical fields due to its potential to reduce sample and reagent volumes. These devices can also carry out reaction and detection at lower cost and with better efficiency.
Growth Drivers
Microfluidic devices are made of different materials such as glass, polymer, ceramics and silicon. The fabrication techniques for silicon and glass microfluidic devices are improving, making them attractive materials for manufacturing devices. Research and commercialization have helped to shift the emphasis towards devices made from polymeric materials. Due to these innovations in the material mix of microfluidic devices, the opportunities for new entrants is increasing in the market, thus driving the growth of the overall microfluidic devices market.
Restraints
There have been several developments in the area of diagnostic and medical science. Despite these advancements, the microfluidic system faces restraints, such as strict regulations forced by governments in various countries. Most of these regulations require microfluidic manufacturers to follow norms for delivering quality medical devices consistently. Therefore, to continue operating in the industry, manufacturers have to produce devices that follow standards of medical devices affiliation. The regulatory environment poses a challenge for the microfluidic devices market, since the process move at a slower pace and is not in line with the new technologies.
Microfluidic Devices Market Competitive Landscape
The major competitors in the microfluidic devices market include Agilent Technologies, Abbott Laboratories, Bio-Rad Laboratories, Inc. Becton, Dickinson and Company, Cepheid, Dolomite Centre, F. Hoffmann-La Roche, Johnson & Johnson, Fluidigm Corporation, Micronit Microfluidics, Siemens Healthcare, Inc. and RainDance Technologies, Inc.