Market Overview
The microfluidic devices market size stood at $14,218.6 million in 2021, and it is expected to grow at a CAGR of 17.3% during 2021–2030, to reach $59,785.3 million by 2030.
Microfluidics is an evolving scientific field with a wide range of analytical applications and commercial prospects in the fields of protein crystallization, cell biology research, and medicine. Thus, this technology is an important tool to reduce side-effects and improve the efficacy of treatments.
Moreover, the demand for micromachined biological instruments is expected to grow significantly over the coming years, boosted by the expansion of genomics and proteomics research, as well as the targeted integration of lab-on-a-chip tools into laboratory procedures.
With the recent developments in the biotechnology field, numerous applications of microfluidic technology have been identified, including next-generation sequencing, drug discovery, point-of-care diagnostics, cell analysis, and biomarker analysis. Companies are developing advanced instruments for various applications that have a higher speed and sensitivity, a smaller size, and a lower cost.
The high-throughput screening techniques allowed by in-vitro diagnostics (IVD) with low sample volumes and the advancement of sophisticated labs-on-a-chip are all driving industry expansion.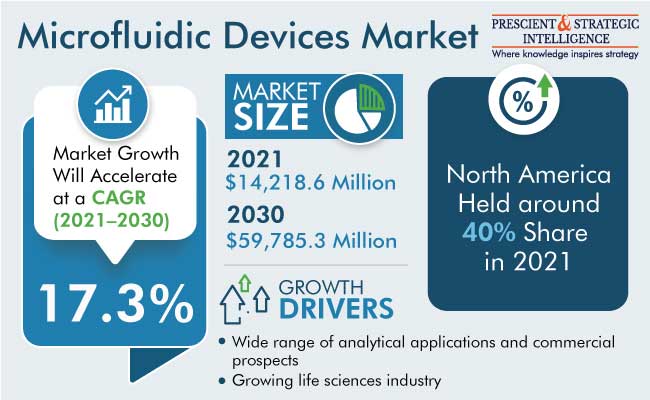 The market for microfluidic devices is expanding as a result of the technological developments in the associated products. Silicon, glass, polymer, and other materials are used to make microfluidic devices. It is now possible to fabricate silicon and glass materials for creating medical devices and equipment. In addition, the substantial research in the field of microfluidics has strengthened the attention on polymer-based devices as well.
The COVID-19 pandemic has had a favorable effect on the market of microfluidic devices as a whole. This is because rapid diagnostic tests, point-of-care assays, and intravenous diagnostic devices with the microfluidic technology were in high demand for drug discovery and COVID-19 testing.
In order to maintain their revenue and financial viability throughout the pandemic, several businesses altered their business models. In order to launch COVID-19 quick diagnosis tests, business concentrated on investing in R&D. By enhancing efficiency and accuracy, biotech firms and laboratories are putting more emphasis on of the accuracy of their test findings, which has contributed to the industry's expansion.
Rising Global Demand for Microfluidic Devices in Proteomics and Genomics
Microfluidic devices are becoming important for many chemical and biological analyses as they have the ability to manipulate bioparticles, such as cells, DNA, and molecules, at a micro level. Some of the advantages of genomics include improved test speed, reduced reagent consumption, higher efficacy, and smaller size of the devices.
With the growth in the usage of low-cost genomic devices and further enhancements in microfluidic equipment, an increase in research on biopharmaceuticals is expected. Moreover, the use of microfluidic devices has been gaining importance in research areas that target the integration of laboratory protocols into labs-on-a-chip.
Genomic and proteomic studies involve many steps, such as mixing, pre-treatment, reaction, separation, and pre-concentration. These processes help reduce the cost of process and consume less reagent/sample, which allows for medical diagnoses with merely a blood drop. The miniaturization of this technique is expected to drive the market as it helps reduce the overall cost of screening samples for cell biology problems. Additionally, the technique helps in the reduction of the analysis time and in carrying out parallel assays in microfluidic devices.
Microfluidic Devices Market Report Coverage

| | |
| --- | --- |
| Report Attribute | Details |
| Historical Years | 2017-2021 |
| Forecast Years | 2022-2030 |
| Market Size in 2021 | $14,218.6 Million |
| Revenue Forecast in 2030 | $59,785.3 Million |
| Growth Rate | 17.3% CAGR |
| Report Scope | Market Trends, Drivers, and Restraints; Revenue Estimation and Forecast; Segmentation Analysis; Impact of COVID-19; Companies' Strategic Developments; Company Profiling |
| Segments Covered | By Material; By Application; By Region |
Explore more about this report - Request free sample pages
North America Makes Largest Contribution to Global Revenue Generation
North America had the largest share, of around 40%, in 2021, and it is expected to maintain its dominance during the forecast years, due to the rapid adoption of cutting-edge technologies by the region's key users. Besides, the growing R&D activities and the presence of major players are expected to fuel the growth, especially in the U.S.
The microfluidic system has emerged as one of the most-attractive platforms in the field of diagnostics. Therefore, the aging population, rising health and wellness awareness, surging prevalence of chronic and lifestyle-associated diseases, availability of favorable insurance options, and technological advancements drive the regional adoption of this diagnostic approach.
In Asia-Pacific (APAC), China is one of the fastest-growing markets for microfluidics due to the increasing government funding and improving healthcare facilities. As a result, APAC is expected to emerge as an attractive market for companies manufacturing such medical instruments. While, in Europe, the market is driven by the increasing diagnosis requirements, attributed to the improving healthcare facilities and the rising incidence of diseases; itself due to the lifestyle changes and aging population.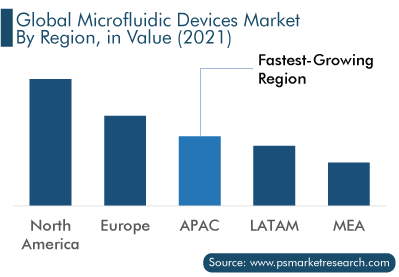 Moreover, the major market players are evolving their methodologies for the custom fabrication of microfluidic instruments made of polydimethylsiloxane and thermoplastics. Moreover, the growing interest of manufacturers in the development of advanced medical devices globally drives the industry.
The use of the 3D printing technology in the production of such apparatus also helps the market grow. A microfluidic device could possibly be made via 3D printing in a single step. Additionally, by modifying the CAD design of the product before each print, 3D printing enables speedy customization of instrument functionalities.
A new open-source, inexpensive 3D printing method has been created by researchers at the University of Bristol for the manufacturing of microfluidic devices, which increases the opportunities in the sector.
Polymer Is Used Most for Microfluidic Device Manufacturing
The polymer category dominated the market, with a share of around 60%, in 2021. Among other polymers, polymer has witnessed a significant increase in application, especially in the quick prototyping of microfluidic devices, ascribed to the material's ease of fabrication into products and low cost. Furthermore, new surface modifications are being introduced to solve the challenges brought on by the hydrophobicity of polymers.
Glass was ranked second in 2021, and its usage is expected to grow at a CAGR of around 18%. The majority of the analytical applications that use glass-based apparatus are subject to organic solvents and high temperatures. Glass is an amorphous substance that has optical transparency and electrical insulation.
However, because glass is costly, businesses are now concentrating on using less-expensive materials for the development of chips and sensors, such as polymers and paper.
Additionally, expensive reagents and materials have clearly emerged as bottlenecks in the industry, and removing these barriers is the primary objective of every business producing microfluidic devices. The emphasis has, therefore, switched to the development of affordable and potent platforms, depending on the technological requirements of the application.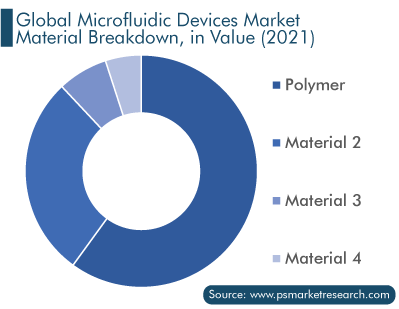 Key Market Players in Microfluidic Devices Market are:
Illumina Inc.
PerkinElmer Inc.
Agilent Technologies Inc.
Bio-Rad Laboratories Inc.
Thermo Fisher Scientific
QIAGEN N.V.
Micronit Micro Technologies B.V.
Fluidigm Corporation
Global Microfluidic Devices Market Size Breakdown by Segment
The study offers a comprehensive market segmentation analysis along with market estimation for the period 2017-2030.
Based on Material
Based on Application
Drug Delivery
Pharmaceutical and Biotechnology Research

High-throughput screening
Proteomics
Genomics
Cell-based assay
Capillary electrophoresis

Point-of-Care Diagnostics
Clinical Diagnostics
Geographical Analysis
North America
Europe

Germany
U.K.
France
Italy
Spain

Asia-Pacific

Japan
China
India
South Korea
Australia

Latin America
Middle East and Africa

Saudi Arabia
South Africa
U.A.E.