Microfluidic Devices Market Overview
The global microfluidic devices market is projected to generate revenue worth $6.4 billion by 2020, registering a CAGR of 23.0% during the forecast period (2015–2020). Rising demand for point-of-care testing products and increasing research activities in areas of genomics and proteomics are some of the key factors driving the market growth.
On the basis of industry, the microfluidic devices market is categorized into pharmaceuticals, medical devices, in-vitro diagnostics (IVD), and others. Among these, the IVD category is expected to hold the largest market share, of more than 60%, in 2020, and the medical devices category is expected to register the highest CAGR during the forecast period.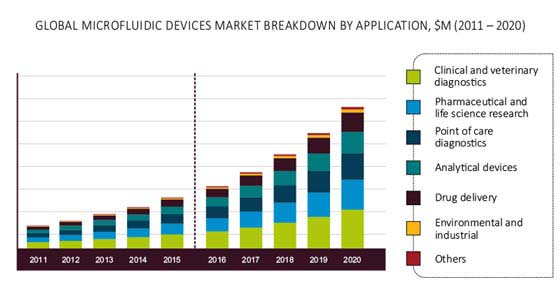 Based on application, the microfluidic devices market is classified into drug delivery, point-of-care testing, pharmaceutical and life science research, clinical and veterinary diagnostics, analytical devices, environmental and industrial, and other applications. Of these, the pharmaceutical and life science research category is projected to hold the largest share, accounting for over 25% revenue, in the market in 2020.
North America is expected to continue leading the microfluidic devices market, globally. Important factors driving the growth of the industry in the region include surging geriatric population, rising healthcare spending, growth in lifestyle diseases, technological developments, and favorable reimbursement policies. Increase in healthcare expenditure in North America has led to the wide adoption of microfluidic devices that offer accurate, reliable, and quick results for the early diagnosis and detection of diseases.
Microfluidic Devices Market Dynamics
Trends
In recent times, the microfluidic devices market has witnessed several collaborations and partnerships among organizations that are engaged in the research, manufacturing, or distribution of microfluidic devices. Such collaborations are primarily aimed at the development of new devices and the modification of existing ones. For instance, in February 2018, Northwestern University collaborated with Gatorade, the Seattle Mariners, and Shirley Ryan AbilityLab for the development of a wearable microfluidic sweat analytics system.
Growth Drivers
Technical advancements and product innovations are playing a pivotal role in the growth of the microfluidic devices market. Microfluidic devices are composed of diverse materials such as silicon, glass, polymer, and ceramics. The fabrication procedures for silicon and glass materials are improving, making them ideal for the manufacturing of medical equipment and devices. Besides, extensive research in the field of microfluidics has shifted the focus toward devices made from polymeric materials as well.
Microfluidic Devices Market Competitive Landscape
Some of the major companies operating in the global microfluidic devices market are Agilent Technologies Inc., Bio-Rad Laboratories Inc., Abbott Laboratories, Cepheid Inc., Becton, Dickinson and Company, Dolomite Microfluidics, Johnson & Johnson, F. Hoffmann-La Roche AG, Micronit Microfluidics, Fluidigm Corporation, Siemens AG, and RainDance Technologies Inc.