Organ-on-Chip Market Overview
The global organ-on-chip market size was valued at $11.0 million in 2017. It is expected to grow at a CAGR of 40.1% during the forecast period. On the basis of offering, services held a larger share in the global organ-on-chip market in 2017. This leading position of the category is mainly due to the availability of range of services offered by major players, that includes customized designing of new chips with specific organ arrangement and increase in toxicological testing of chemicals on the different types of organ cells.
GLOBAL ORGAN-ON-CHIP MARKET, BY TYPE, $'000 (2016-2025)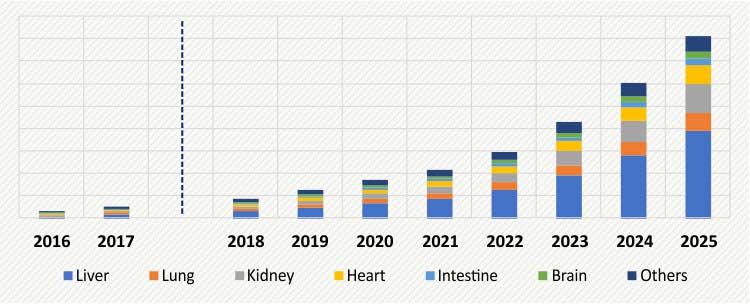 On the basis of the different type of organ cells, the liver cells are estimated to lead the market both in terms of size and growth in the organ-on-chip market. This category is projected to witness fastest growth in demand at a CAGR of 46.1% during the forecast period. Some of the other major types of cells used in chip creation includes lung, kidney, heart, intestine, brain cells.
In 2017, the organ-on-chip market by application was led by toxicology research with an estimated contribution of 48.4% in the market. This is primarily attributed to the large application of toxicity screening across different industries such as, pharmaceutical, biotechnology, consumer health, cosmetics, chemical, food, and agrochemicals. Other applications include physiological model development and drug discovery.
End users in the organ-on-chip market include pharmaceutical and biotechnology companies, academic & research institutes, and others. Pharmaceutical and biotechnology companies were the largest end users for the market in 2017. Also, the demand for these products by the pharmaceutical and biotechnology companies is likely to witness fastest growth in demand, registering CAGR of 42.4% during the forecast period.
Globally, North America was the the largest contributor to the organ-on-chip market in 2017, mainly due to the large contribution from government offering grants for organ-on-chip research activities, and investment from key players to explore the potential applications of these products. Many players in the region are working to ameliorate the strenuous, costly, time consuming drug discovery procedure by innovating and adapting organ-on-chip technologies.
Organ-on-Chip Market Dynamics
Trends
The increasing product launches, and the rising collaboration among major players are the key trends observed in the organ-on-chip market. Some of the collaborative highlights witnessed by the market include; InSphero AG collaboration with Charles River Laboratories International, Inc. (Charles River), in October 2017. Charles River agreed to license its collection of patient-derived xenograft (PDX) tumors to InSphero AG. Additionally, the company would also leverage InSphero AG proprietary 3D cell culture technology to further extend and complement its pre-clinical services, using in vitro 3D InSight Tumor Microtissues derived from its existing PDX collection.
Growth Drivers
The key factors driving the growth of the organ-on-chip market include; rising need for effective drug discovery and development, increasing demand for alternatives for animal models in research, increasing drug repurposing approaches, and government grants and funds for research. In support to promote research activities, government agencies provide grants to companies. For instance, in July 2017, the National Center for Advancing Translational Sciences (NCATS) awarded a research grant of $2 million to Emulate, Inc., to use its human Brain-Chip system and develop a fully automated research platform, to conduct experiments on the International Space Station.
Besides the market growth is also driven by the increase in the demand for alternatives for animal models in research. Animal surrogates of human diseases have been facing challenges regarding their scientific validity and translatability to humans. Reciprocating this demand, organ-on-chip hold the potential to address these complexities and has advantages over current animal models which is widely used by researchers in their disease model studies. Further, the surging initiatives by pharmaceutical companies to invest and investigate on drug repurposing utilizing organ-on-chip models, will drive the growth of the organ-on-chip industry.
Opportunities
The demand for personalized medication, and the vast application of organ-on-chip beyond pharmaceutical industry, are the major factors creating growth avenues for market players. The market players are advancing organ-on-chip technological application across agriculture, cosmetics, and chemical-based consumer products. For instance, in September 2016, the L'Oréal S.A. collaborated with the University of Central Florida (UCF) highlighted the challenge between cellular engineering and microfluidics technology. The group predicts that organ-on-chip technology will benefit it, by increase of cell lifespan, better prediction of both safety and efficacy, and integration of different cell types coming from different organs.
Organ-on-Chip Market Competitive Landscape
Major players in the organ-on-chip market are Emulate Inc., TissUse GmbH, Kirkstall Ltd., CN Bio Innovations Ltd, Ascendance Biotechnology, Inc., Nortis, Inc., Mimetas B.V., Hurel Corporation, and Organovo Holdings, Inc.
Increasing product launches by key players in order to expand their product portfolio is observed, which is further expected to increase their market share in the coming years. For instance, in March 2017, InSphero Ag launched the 3D InSight Monkey Liver Microtissues, leading to the expansion of the company's suite of organotypic 3D liver models for in vitro safety and efficacy testing.
Further, the company in September 2016, also launched a service, 3D InSight Mitochondrial Toxicity Testing, for the identification of mitochondrial liabilities during drug development and safety testing. The new service has combined the organotypic liver functionality and 28-day in vitro lifespan of 3D InSight Human Liver Microtissues with state of the art analysis of mitochondrial respiration using the Agilent XFe96 Analyzer.