Market Outlook
The in vitro diagnostics (IVD) market size was $63.5 billion in 2019, and it will witness a 6.6% CAGR during 2020–2030. The key factors driving this growth include the stringent legislations regarding blood safety and sample contamination, advancements in the IVD technology, high burden of chronic disorders, large number of hospitals and academic institutions, and hefty healthcare expenditure.
The in vitro diagnostics industry has received a boost with the outbreak of COVID-19 due to the rising number of IVD tests for the diagnosis of this infection. People hospitalized for COVID treatment may also need other IVD tests for regular monitoring, or if they have a history of any other chronic disorders. Moreover, the continuous operations of reference and private laboratories during the lockdowns have assisted the market in maintaining its growth rate.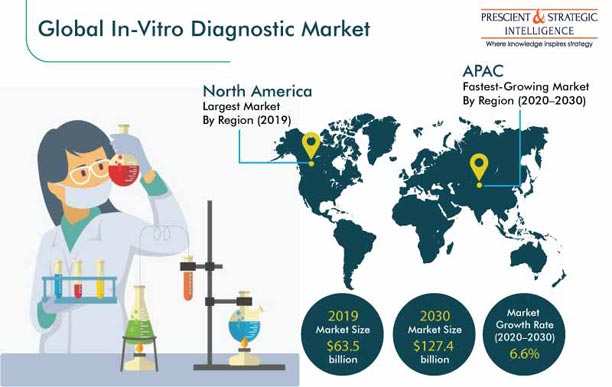 Reagents & Kits Dominated Market
The reagents and kits category of the offering segment held the largest share in the market for in vitro diagnostics solutions in 2019. This was due to the surging number of laboratory tests owing to the rising incidence of chronic and infectious diseases. Additionally, the increasing use of IVD testing in ongoing research activities and surging IVD product launches will enhance the adoption of reagents and kits, globally.
Clinical Chemistry Was Most-Popular Technology
The clinical chemistry category of the technology segment dominated the in vitro diagnostics market in 2019. This was due to the high prevalence of chronic diseases, presence of numerous market players, and availability of a wide range of clinical chemistry kits.
Infectious Diseases Category To Exhibit Highest Growth Rate
The infectious diseases category generates the highest revenue within the application segment, and it is expected to display the highest growth rate in the future. Infectious diseases are caused by pathogenic microorganisms, such as fungi, bacteria, parasites, and viruses, and they spread via direct or indirect patient contact. The global prevalence of infectious diseases, such as tuberculosis, influenza, hepatitis, human immunodeficiency virus (HIV), and human papillomavirus (HPV), is quite high despite considerable improvements in the medical technology and sanitation practices.
Laboratories To Showcase Fastest Growth
The laboratories category is projected to register the most-rapid advance in the market for in vitro diagnostics solutions in the end user segment. This is ascribed to the booming number of laboratories, including company, industrial, and private laboratories and those within clinics and hospitals. Moreover, the burgeoning patient population and rising accessibility of improved IVD technologies will lead to a significant rise in the volume of IVD tests at laboratories.
North America To Emerge as Largest Market
North America is expected to generate the highest revenue in the in vitro diagnostics market till 2030 owing to the high healthcare expenditure, numerous research and development (R&D) activities, and strong presence of market players in the region. Moreover, the extended government support and rapid adoption of advanced screening tests, such as nucleic acid testing (NAT), are facilitating the market growth here. According to the Canadian Blood Services, NAT has been implemented in Canada to provide a safer blood supply to Canadians, by identifying the viral genetic material in the blood of the donor, in case of infection.
Asia-Pacific (APAC) To Be Fastest-Growing Market
The APAC region is projected to record the fastest growth in the near future, primarily on account of the presence of key market players and their involvement in strategic developments to gain a competitive edge over other companies. For example, Abbott Laboratories, in October 2019, announced the signing of a long-term agreement with the Australian Red Cross Blood Service (Australian Blood Service) for the Alinity system, which is a blood screening and plasma screening technology developed by the company. The agreement also covers the total lab automation solution, informatics, and professional services of Abbott Laboratories.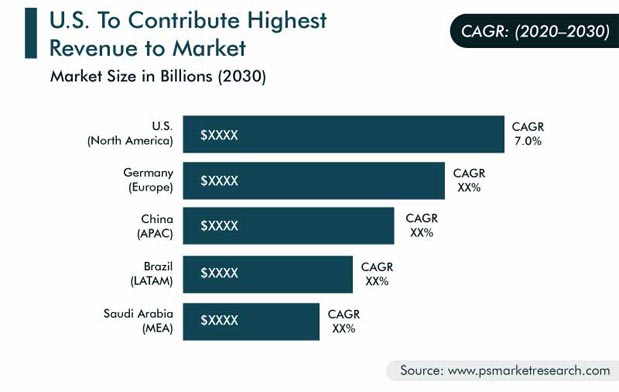 Increasing Product Launches Are Key Market Trend
The increasing number of approvals for IVD products is supporting the in vitro diagnostics market growth across the world. For instance, in January 2019, OPKO Health Inc. gained the approval for its Sangia total prostate-specific antigen (PSA) test from the U.S. Food and Drug Administration (FDA). The test measures the quantity of the total PSA in capillary whole blood. It is used with the digital rectal exam (DRE) to detect prostate cancer in the male population aged 50 years or above. This test can be conducted with a finger prick, and the results can be obtained within 12 minutes.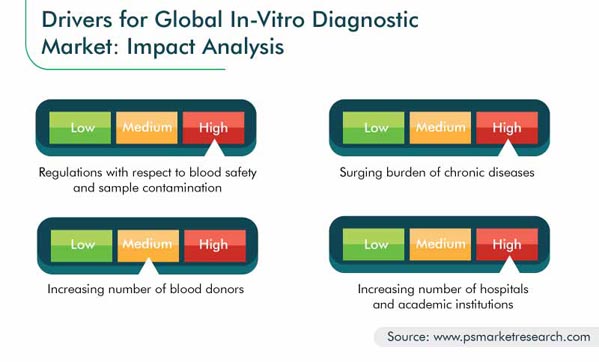 Rising Chronic Disease Cases Leading to Increasing Market Size
The International Diabetes Federation (IDF) Atlas 9th edition reveals that in 2019, 352 million people within the age group of 20–64 years had diabetes, and this number is predicted to rise to 486 million by 2045. Furthermore, the World Health Organization (WHO) recorded 9.6 million cancer deaths in 2018. Moreover, the Joint United Nations Programme on HIV/AIDS (UNAIDS) data reflects that 37.9 million people were affected by HIV/AIDS in 2018. Thus, the soaring number of chronic disease patients will drive the volume of such tests.
Burgeoning Number of Blood Donors also Aiding Market Advance
According to the WHO, 118.4 million units of blood were donated in 2018, which has been propelling the in vitro diagnostics market advance. Additionally, it was reported that there were nearly 106 million blood donations globally, and nearly 13,300 blood centers existed in 169 countries. Moreover, more than 90% of the donated blood in 79 nations came through voluntary unpaid donations, and more than 50% of the blood in 56 nations was from paid blood donors. Before the donated blood is transfused, it needs to be checked for infections and mutated genes, which propels the volume of IVD tests.
In Vitro Diagnostic (IVD) Market Report Coverage

| | |
| --- | --- |
| Report Attribute | Details |
| Historical Years | 2014-2019 |
| Forecast Years | 2020-2030 |
| Base Year (2019) Market Size | $63.5 Billion |
| Forecast Period CAGR | 6.6% |
| Report Coverage | Market Trends, Revenue Estimation and Forecast, Segmentation Analysis, Regional and Country Breakdown, Impact of COVID-19, Companies' Strategic Developments, Company Share Analysis, Company Profiling |
| Market Size by Segments | By Offering, By Technology, By Application, By End User, By Region |
| Market Size of Geographies | U.S., Canada, Germany, France, Italy, U.K., Spain, Japan, China, India, Brazil, Mexico, Saudi Arabia, South Africa |
| Secondary Sources and References (Partial List) | African Medical and Research Foundation; American Cancer Society; American Heart Association; Centers for Disease Control and Prevention; Centers for Medicare and Medicaid Services; China Food and Drug Administration; European Heart Network; European Society of Cardiology; German Medical Association; International Diabetes Federation; International Trade Administration; National eHealth Authority; Organisation for Economic Cooperation and Development ; Saudi Association of Health Informatics; U.S. Food and Drug Administration; World Bank Group; World Health Organization |
Explore more about this report - Request free sample pages
Market Players Are Introducing New Products to Gain Competitive Edge
The global in vitro diagnostic market is consolidated in nature, with the presence of players such as Thermo Fisher Scientific Inc., Danaher Corporation, F. Hoffmann-La Roche Ltd., and PerkinElmer Inc.
In recent years, players in the in vitro diagnostic industry have involved themselves in multiple product launches in order to stay ahead of their competitors. For instance:
In September 2020, Laboratory Corporation (LabCorp) launched a new single-panel test that can simultaneously identify COVID-19, influenza A/B, and respiratory syncytial virus (RSV). The company has filed an application with the U.S. Food and Drug Administration (FDA) to provide the combined test via Pixel, an at-home test collection kit developed by the company.
In June 2020, QuantuMDx Group announced that the SARS-CoV-2 detection assay has received the CE-IVD mark under the In-Vitro Diagnostics Directive (98/79/EC), which enables the use of the product within the European Union. The company registered the test with the U.K.'s Medicines & Healthcare Products Regulatory Agency (MHRA) and applied to the FDA for Emergency Use Authorization (EUA).
In April 2020, Ortho Clinical Diagnostics received the EUA approval for a total antibody assay for COVID-19, the VITROS immunodiagnostic products anti-SARS-CoV-2 total reagent pack and calibrators, from the USFDA.
Some of the Key Players in the Global In Vitro Diagnostic Market Are:
Thermo Fisher Scientific Inc.

Danaher Corporation

F. Hoffmann-La Roche Ltd.

PerkinElmer Inc.

Quidel Corporation

OraSure Technologies Inc.

Sysmex Corporation

DIAGNOSTICA STAGO S.A.S

Siemens AG

Abbott Laboratories
Becton, Dickinson and Company

Hologic Inc.

Sartorius Stedim Biotech S.A.

Bio-Rad Laboratories Inc.

bioMérieux S.A.

Trinity Biotech plc

Bio-Techne Corporation

DiaSorin S.p.A.

Ortho-Clinical Diagnostics Inc.

Grifols S.A.
In Vitro Diagnostic Market Size Breakdown by Segment
The In vitro diagnostic market report offers comprehensive market segmentation analysis along with market estimation for the period 2014–2030.
Based on Offering
Reagents & Kits
Instruments
Software & Services
Based on Technology
Clinical Chemistry

Basic metabolic panel
Lipid profile
Liver profile
Renal profile
Thyroid function panel

Immunochemistry

Enzyme-linked immunosorbent assay (ELISA)
Radioimmunoassay (RIA)
Fluoroimmunoassay (FIA)
Chemiluminescence immunoassay (CLIA)
Immunochromatographic Assay (ICA)

Molecular Diagnostics

Infectious diseases
Genomics
Blood donor screening

Hematology

Complete blood count (CBC)
Cholesterol testing
Blood glucose testing
Hemoglobin testing
Coagulation testing

Microbiology
Based on Application
Infectious Diseases
Diabetes
Oncology
Cardiology
Nephrology
Autoimmune Diseases
Based on End User
Hospitals & Clinics
Point of Care (POC)
Laboratories
Research & Academic Institutes
Geographical Analysis
North America IVD Market
Europe

Germany
France
U.K.
Spain
Italy

Asia-Pacific
Latin America (LATAM)
Middle East & Africa (MEA)

Saudi Arabia
South Africa