Middle East and Africa Chiller Market Overview
Middle East and Africa (MEA) chiller market reached $1.1 billion in 2018 and is expected to register a CAGR of 3.6% during 2019-2024. Factors including the growing construction industry pertaining to infrastructure spending by the government are one the major driver displayed by the market. Moreover, increasing deployment of chillers for district cooling system is propelling the growth of the market.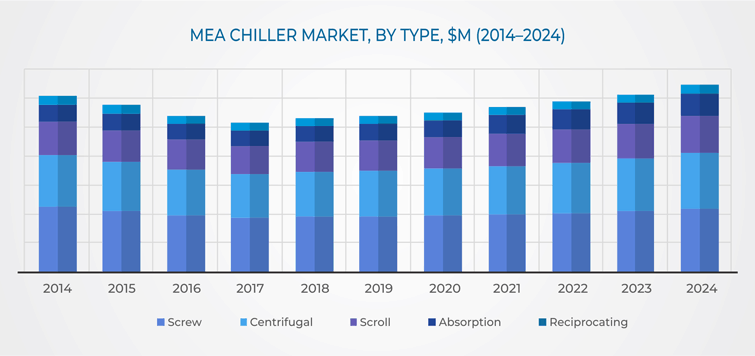 Based on type, the market is segmented into screw, centrifugal, scroll, reciprocating, and absorption, where the screw category contributed the largest share in 2018. During 2014-2018, screw chillers recorded large adoption in end-user sectors such as commercial and industrial. Commercial end users like hospitality, especially hotels, the screw chiller was the major revenue generating category. Further, in MEA, U.A.E. witnessed a significant growth rate during the historical period in the hospitality end-user sector. Upcoming Dubai Expo 2020 event is the major factor supporting the construction of hotels in the U.A.E.
On the basis of end-user, Middle East and Africa chiller market has been categorized into commercial, industrial and residential, wherein the market for commercial category witnessed the largest share in 2018. During the historical period, hospitality, transportation, and offices and building segments were the major contributors to the Middle East and Africa chiller market. Saudi Arabia is registering a large number of construction activities including various hotel and metro projects in response to increasing religious tourism.
Saudi Arabia accounts for the largest share in the Middle East and Africa chiller market. In the historical period, the country recorded numerous construction activities in response to the Saudi Vision 2030 and National Transformation Programme (NTP). Following this, $23.81 billion worth of contracts were awarded for the construction of buildings and other infrastructure developments in 2018. For instance, $500 billion is to be invested for the construction of the NEOM city. The city would comprise of various industries like energy, water desalination plant, biotechnology, food & beverage, and other manufacturing industries and commercial buildings such as airports, metros and various residential projects.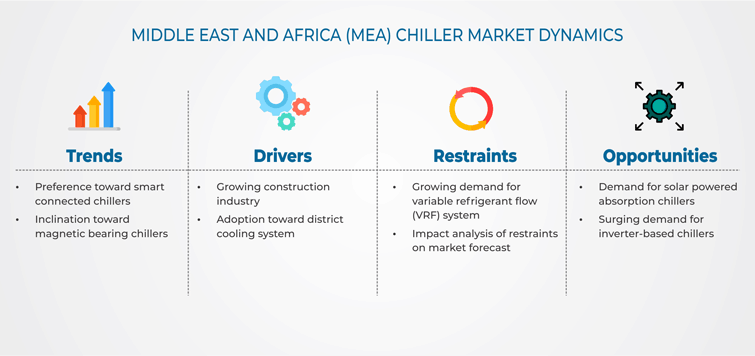 Middle East and Africa Chiller Market Dynamics
Growth Drivers
The growing construction industry in the MEA region has been observed as the major contributor to the market growth. Chillers are increasingly being deployed in metro stations, railways, supermarkets, offices and buildings, and in various transportation networks for cooling. The construction market in the MEA region is expected to grow at 7.5% year-over-year (YoY) in 2019 as compared to the previous year, and is expected to expand at an average of 6.8% till 2022. This can be attributed to the increasing infrastructure spending by the government for events such as Dubai Expo 2020, and FIFA World Cup 2020 in the region.
In March 2019, Etihad Rail signed an MOU with ZonesCorp, to establish railway and logistics facilities in the Industrial City of Abu Dhabi (ICAD), covering an area of approximately 6 million square meters. The agreement aims to establish a sustainable railway network to connect the entire U.A.E. Further, Dubai Silicon Park smart city project, an initiative of Dubai Silicon Oasis Authority, is set to be completed by the second quarter of 2019. It comprises of 25,000 sq. m of commercial space, 71,000 sq. m of office space, and 46,000 sq. m of a residential area, as well as restaurants, cafes, and fitness centers which is expected to further drive growth in the Middle East and Africa chiller market.
Trends
Middle East and Africa chiller market is witnessing an inclination toward magnetic bearing chillers, shifting from the standard centrifugal chillers. The use of magnetic bearing technology allows chillers to function without oil lubrication. Magnetic bearing chillers have fewer moving parts, which require no oil lubrication and therefore requires less maintenance and service. The maintenance tasks such as oil filter changes, oil disposal, and oil samples are eliminated, which result in reduced operational costs and an increase in maintenance savings. Moreover, magnetic bearing chillers are 40% more efficient, light-weight, and produce less sound as compared to standard centrifugal chillers.
Restraints
The replacement of chillers with the variable refrigerant flow (VRF) systems is noticed to be as one of the major restraints in the market. VRF system works by cooling and heating different zones in a building. VRF systems use sophisticated controls to remove the heat from one side of the building and can transfer it to other parts of the building that require heating. VRF system offers features such as control of the individual room, needs less facility space, and has an advanced control system and a high coefficient of performance (COP) & energy saving features. These factors make it more preferable for the deployment in energy efficient buildings.
MEA Chiller Market Competitive Landscape
Middle East and Africa chiller market is consolidated with a few top players including Ingersoll Rand Plc, Johnson Controls International PLC, United Technologies Corporation, and Daikin Industries Limited, who are the leading contributors. The major players in the MEA chiller market have been involved in product launches, facility expansions, and client wins. For instance, in August 2018, Trane Inc., a provider of indoor comfort solutions and services and a brand of Ingersoll-Rand plc, introduced RTHF G, a new addition in the XStream range of water-cooled screw chillers. The new design would be available in countries including Europe, Middle East and Africa. It operates with R-1234ze, a near zero GWP refrigerant.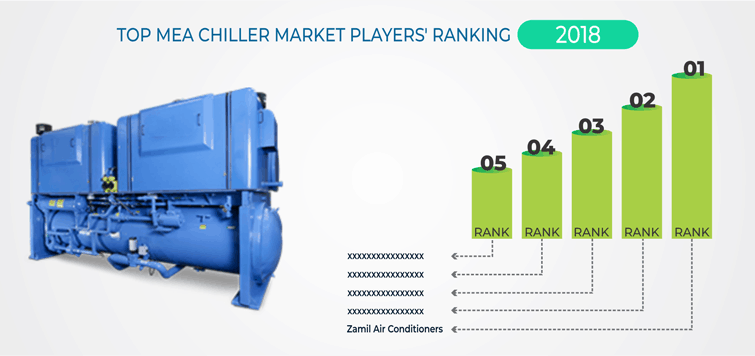 GAMI Air Conditioners Manufacturing Company L.L.C., Midea Group Co. Ltd., Mitsubishi Electric Corporation, Zamil Air Conditioners, Petra Engineering Industries Co., S.K.M Air Conditioning LLC, Daikin Industries Ltd., United Technologies Corporation, Ingersoll-Rand plc, and Johnson Controls International Plc are some of the major players in the Middle East and Africa chiller market.