Market Overview
The low light imaging market size stood at USD 23,749 million in 2022, and it is expected to advance at a compound annual growth rate of 10.15% during 2022–2030, to reach USD 51,466 million by 2030. This is ascribed to the rising use of such technology in cameras of tablets and smartphones, the increasing use of sensors in various applications, and the surging requirement for high-dynamic range, high resolution, and low maintenance of cameras.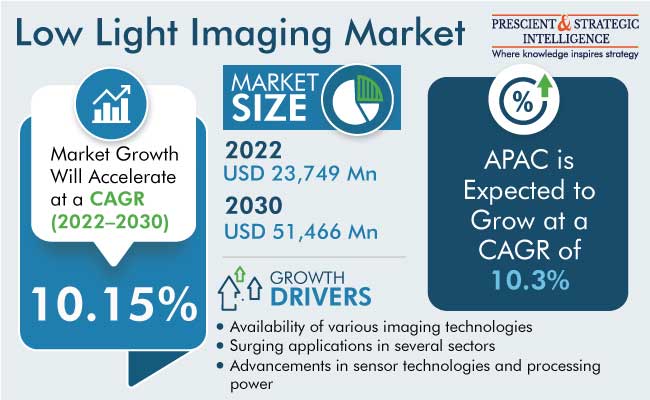 The revolution that took place in medical devices for complex procedures is another key factor fueling the market. The use of low-light imaging for medical devices enables such procedures to be done efficiently, which take place inside the body for both surgical and diagnostic operations. The use of a compact chip-scale sensor offers 1080-pixel full HD resolution and enhanced image quality for internal viewing of organs.
The demand for low-light imaging is also increasing in the automotive industry. For instance, in 2022, with a single monocular front windshield camera having a wide 120-degree field of view (FoV) and an 8 MP image sensor, the novel Mobileye EyeQ5 Mid chip was deployed in the BMW 3-Series sedan. It helps the driver by offering the end of the Mobileye Tri-Focal camera module with three separate cameras having different FoV and lower resolutions.
The improving performance of low-light cameras is rapidly changing video surveillance aspects, which is growing tremendously and leaving behind the bad memories of poor performance. In the past few years, cameras' low-light video basically consisted of black-and-white or monochrome video, supported by IR lighting or external white.
Complementary Metal Oxide Semiconductor (CMOS) Holds Largest Share
The CMOS category accounted for the largest revenue share, of more than 60%, in 2022. This is attributed to its low manufacturing cost, flexibility in the method by which pixels are read and processed, high-speed imaging, and resistance to smear and blooming. CMOS also possesses features such as low power consumption, small size, faster frame rate, easy integration, high-noise tolerance, and high-temperature stability, which, in turn, boost the market in this category. In addition, advancements in technology for microprocessors, application-specific integrated circuits (ASICs), and memories for semiconductors will drive the demand for low-lighting sensors.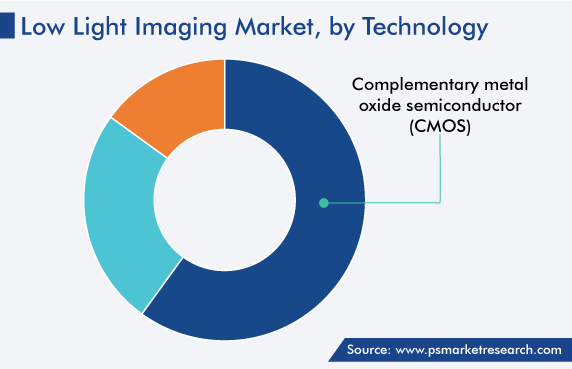 Monitoring, Inspection & Detection Is a Wide Application Area
Monitoring, inspection & detection is a wide application area in the market, as the automotive sector is contributing large revenue and is expected to continue the same in the coming years as well. This is due to the increasing implementation of advanced driver assistance systems (ADAS) for vehicles and the surging use of this technology in components of ADAS for forward-collision warning, lane-keep assistance, and blind spot monitoring. Additionally, rear-view cameras, dash cameras, 360-degree surround-view cameras, front-view machine vision cameras, and camera monitor systems are some of the major devices installed in vehicles, where low-light image sensors are applied.
A low-light imaging usage in the medical field is important in the monitoring of internal tissues and the detection of some internal injuries fuels the market growth. Life sciences applications such as single-molecule imaging and total internal reflection fluorescence (TIRF) microscopy can offer sensitivity and quantum efficiency of more than 95% with pixel sizes of 10, 13, and 16 micrometers. It also aids biotech companies, research labs, and pharma manufacturers to perform operations repetitively involving liquid handling, specialized robotics, transferring fluids from plates or test tubes to others, and performing various internal surgeries.
The consumer electronics category is also holding a significant share of the market. The surging demand for low-light imaging technology-based smart gadgets such as digital cameras and smartphones, increasing investment by consumer electronics manufacturers, and rapid product launches are some of the major factors supporting the industry growth in this category.
Automotive Industry To Witness Highest Growth Rate
Based on vertical, the automotive category is expected to witness the highest CAGR, of 11.2%, in the coming years. This can be attributed to applications of low-light imaging in ADAS, including camera mirrors and side view/rear view systems, and the surging launches of advanced products based on this technology. For instance, in January 2023, Immervision introduced an "off-the-shelf" in-cabin 190-degree lens for low-light conditions that meets safety and comfort requirements. The ultra-wide FoV lens provides a complete view inside the cabin to meet the requirements of both occupant monitoring and driver applications.
The lens is designed to build image quality and pixel density in order to improve passenger identification, gaze tracking, and hands-on wheel tracking. It also enables and promises the driver to meet low-light conditions for comfort and safety. Several applications can be combined in a single camera allowing OEMs and tier-1 companies to use new lenses to have a less intrusive in-cabin design, minimize costs, and provide a safe experience to end users.
Moreover, ADAS systems rely on cameras to accurately and quickly recognize and detect other vehicles, obstacles, pedestrians, lane lines, traffic signs, etc. The information captured by ADAS cameras is analyzed rapidly by endorsing software and aids in triggering a response by a vehicle to enhance safety such as lane departure warning, automatic emergency braking, driver awake and blind spot alerts, alert monitoring, etc. Additionally, the 360° surround view, driver monitoring systems, night vision systems, and collision avoidance and parking assistance systems are widely used to ensure driver safety, which, in turn, drives the demand for this technology.
Low Light Imaging Market Report Coverage

| | |
| --- | --- |
| Report Attribute | Details |
| Historical Years | 2017-2022 |
| Forecast Years | 2023-2030 |
| Market Size in 2022 | USD 23,749 Million |
| Revenue Forecast in 2030 | USD 51,466 Million |
| Growth Rate | 10.15% CAGR |
| Report Scope | Market Trends, Drivers, and Restraints; Revenue Estimation and Forecast; Segmentation Analysis; Impact of COVID-19; Companies' Strategic Developments; Market Share Analysis of Key Players; Company Profiling |
| Segments Covered | By Technology; By Application; By Vertical; By Region |
Explore more about this report - Request free sample pages
Asia-Pacific Is the Market Leader
APAC has the leading position in the low light imaging market, and it will hold the same position till 2030, with a value of USD 15,440 million. This is attributed to the high demand for such solutions in various automotive and electronics manufacturing companies that are located in the region and the surging adoption of low-light image sensors by smartphone companies.
In APAC, the Chinese market holds the leading position, and it will grow at a significant pace during the forecasted period. This is attributed to the growing automotive and consumer electronics industries, and the surging lunches of advanced smartphones.
In July 2022, China launched a limited supply of new smartphones from Xiaomi. The smartphone has a 1-inch sensor covered with Leica glass. Xiaomi 12S Ultra primary camera adopts an 8P aspheric lens, in order to resolve the photography issues, such as ghosting, flare, and chromatic aberration, and it also adds lens edge ink coating, anti-glare lens coating, cyclic olefin copolymer material, and infrared light filter with spin coating technology. Hence, it is predicted that companies in the country are also focusing on improving camera quality by using low-light imaging.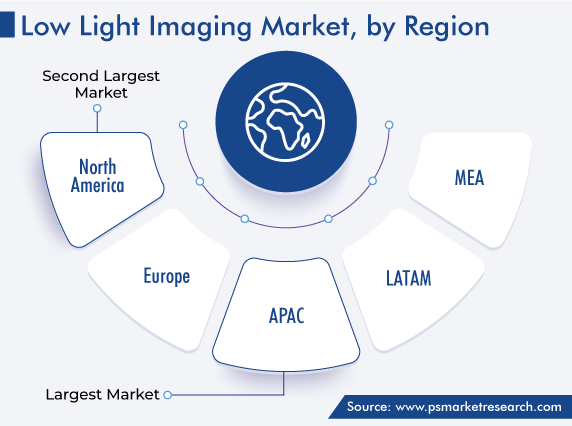 Surging Usage of Low-Light Imaging in Smartphones and Tablets
The increasing usage of smartphone imaging sensors is boosting the market. It is also driven by the increasing utilization of low-light imaging goods attributed to the rising adoption of sensor technology in smartphones and tablets.
The cameras which are used in smartphones need higher resolution, more extended range even in dim light conditions, and higher frame rates, and this creates a demand for low-light imaging solutions in the market. Vendors are constantly upgrading sensors to meet the requirement of end users who expect better imaging solutions year-on-year. The rising focus on cameras and image quality has also increased the focus of key players on developing image sensors with improved functionalities and smaller footprints including high-quality pixels and low-light visibility.
Thus, many companies are launching smartphones with an increasing focus on their cameras so as to increase their sales, as the demand for low-light imaging cameras is rising rapidly. For instance, in May 2022, the Vivo X80 series was designed using a Vivo V1+ chip, and the series has extended the black-light night vision function to an ultra-wide-angle lens and front camera, making the phone instantly become a powerful "night vision device". Hence, these factors are driving the usage of low-light imaging in smartphones and tablets.
Key Players in the Low Light Imaging Market Are:
Sony Corporation
Samsung Electronics Co. Ltd.
Omnivision Technologies Inc.
ON Semiconductor Corporation
STMicroelectronics N.V.
Panasonic Holdings Corporation
Canon Inc.
PixArt Imaging Inc.
Hamamatsu Photonics K.K.
Teledyne Technologies Incorporated
Market Size Breakdown by Segment
This fully customizable report gives a detailed analysis of the market from 2017 to 2030, based on all the relevant segments and geographies.
Based on Technology
Complementary metal oxide semiconductor (CMOS)
Charge coupled device (CCD)
Based on Application
Low light Photography
Monitoring, inspection & detection
Scientific & Medical imaging
security & surveillance
Based on Vertical
Consumer electronics
Automotive
Medical & Life sciences
Military & Defense
Industrial, commercial & residential infrastructure
Geographical Analysis
North America
Europe

U.K.
Germany
France
Italy
Spain

Asia-Pacific

China
Japan
Australia
India
South Korea

Latin America
Middle East & Africa

Saudi Arabia
South Africa
U.A.E.