Market Overview
The image sensor market size stood at USD 26,622 million in 2022, and it is expected to grow at a CAGR of 8% during 2022–2030, to reach USD 49,275 million by 2030.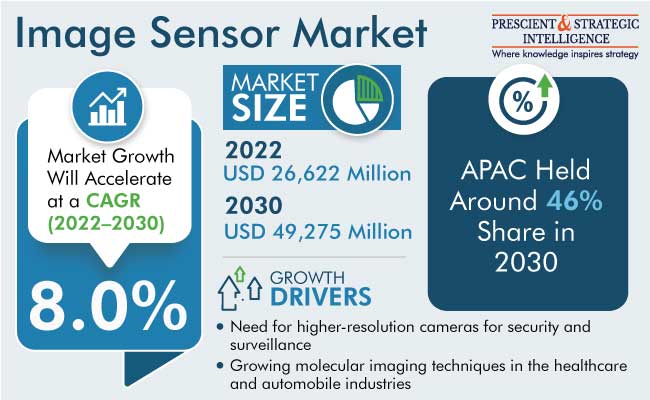 The global demand for such devices is growing as a result of technological developments and the extensive use of images across numerous applications. During the forecast period, it is predicted that the growing molecular imaging techniques in the healthcare and automobile industries, will drive the demand for imager expansion.
The need for higher-resolution cameras for security and surveillance is driven by surging concerns about monitoring and security in public spaces, including parks, public squares, malls, and train stations, coupled with the rise in terrorist activities.
The market for image sensors has benefited from the rise in smartphone cameras. Smartphone back cameras are coming equipped with high-resolution picture sensors together with several camera types, such as the telephoto or periscope zoom camera, standard/main camera, depth sensor or 3D ToF sensor, ultra-wide camera macro camera, and monochrome camera. In addition, the demand for image sensors is rapidly growing due to the surging application of smartphones on a global scale and the popularity of smartphone photography.
With the increasing adoption of camera phones, photography activities have also increased dramatically, thus driving the market for image sensors. The CMOS technology has had a high acceptance rate due to the snowballing demand for high-definition image-capturing equipment in various industries.
The size of the image sensor affects the security camera's field of vision for a certain lens and light sensitivity, which influences the demand for security cameras. Since most security camera systems use CMOS image sensors, which enable faster speed with less power consumption, is driving demand.
Moreover, the majority of industrial applications frequently employ cameras using CCD sensors. Furthermore, CCD sensors are more developed as a result of their extended period of mass production. They frequently have more pixels and better quality. On the other hand, such sensors are often of inferior quality, resolution, and sensitivity.
Application of Optical Molecular Imaging Techniques in Healthcare Is Increasing
Advancements in optical molecular imaging are leading to new capabilities in imaging, such as increased sensitivity and accuracy. Moreover, technological advancements in optical molecular imaging have widened the scope for the use of such devices in clinical translation, cancer research, and medical practices.
In addition, CMOS image sensors are widely used in optical molecular imaging tools. Besides, researchers are continuously working on research and development of new disease models that can be studied using optical molecular imaging technology.
Furthermore, optical molecular imaging is generally preferred for clinical use and medical research in areas, such as oncology (particularly for breast cancer), neurology, and cardiology. Researchers and medical professionals are combining optical molecular imaging technology with other modalities to enhance the efficiency of the overall technique. The combination of polyethylene terephthalate (PET) and computerized tomography (CT) scans in the clinical field helps to create quality images for accurate diagnosis.
Such imaging is expected to be used for in vitro (a technique to perform a procedure in a controlled environment) and in vivo (technique using a living organism as opposed to using a partial or dead organism) applications as an important tool for medical research and to help expedite drug discovery in future.
APAC Will Contribute Highest Revenue
APAC is expected to continue being the largest image sensor market, with 46% share of global revenue, in 2030. This is because of the presence of the surging number of imager foundries and manufacturers in the region. Some of the major manufacturers operating in APAC are Canon Inc., Hamamatsu Photonics K.K., Hitachi Ltd., Mitsubishi Motors Corporation, NHK, Sony Corporation, Toshiba Corporation, and Sharp Corporation. With the increasing investments by key players, the region will register the highest CAGR, during the forecast period.
Furthermore, China and Japan are expected to account for a significant revenue in the APAC for 2022. During the forecast period, India is expected to witness a significant growth rate in the region. The availability of low-cost labor and the establishment of new production facilities by global players are the key factors driving the Indian market.
Moreover, emerging companies in the field of smart devices, such as smartphones, tablets, and PCs, in China are tapping the potential of the demand in the country to dominate in terms of revenue. Major demand for such devices in the country has been observed from consumer electronics and security and surveillance sectors. Both sectors are expected to provide a strong base for the demand to grow in the years to come.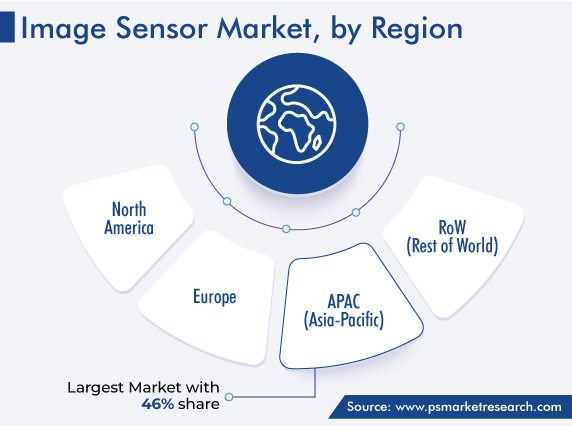 Increasing Application of Image Sensors in Automobiles
Image sensors are increasingly being used in the automotive sector, specifically in ADASs. It enhances driver safety by gathering information on the surroundings. Moreover, the ADAS comprises various types of semiconductor equipment, such as light detection and ranging (LIDAR) and radio detection and ranging (RADAR) integrated cameras and sensors, which assist drivers to have an all-around view of their surroundings. One such application of the ADAS is lane departure warning (LDW), a technology that warns the driver when their vehicle moves out of the lane.
The Federal Motor Carrier Safety Administration (FMCSA) aims to reduce the number and severity of commercial motor vehicle (CMV) accidents. The FMCSA, in association with the truck industry, has been testing, evaluating, and facilitating the use of onboard safety systems for CMVs. Such initiatives and developments have created the need for installing the ADAS in vehicles, which, in turn, has offered a huge growth opportunity for companies in the market.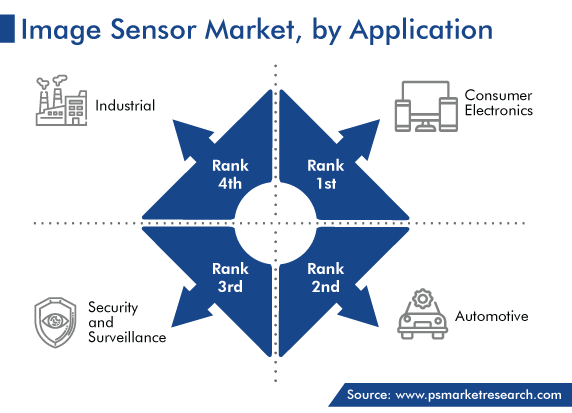 Complementary Metal–Oxide–Semiconductor (CMOS) Is Mostly Used for Sensor Manufacturing
The CMOS technology generated the higher revenue in 2022. It is because of the increasing adoption of the CMOS technology by the market players owing to the several advantages it offers, including lower power consumption, faster frame rate, easier on-chip integration, and lower fabrication cost, as compared to the CCD technology.
One of the main advantages of CMOS technology is that it encourages biometric producers to develop high-resolution CMOS-based systems that are highly accurate and have a superior processing speed.
Since the advent of CMOS imagers, they have witnessed a constant high demand, as they consume 100 times less power, as compared to CCD devices, and can be integrated on the same chip. Moreover, CMOS has a lower dynamic range, which refers to the ability of the camera to record low-light signals simultaneously with bright signals. Furthermore, CCDs were quite popular, a few years ago, owing to their increased usage in amateur and professional digital photography.
Moreover, CMOS image sensors are preferred owing to their reduced system size and lower power consumption because of the analog and digital processing features on a single sensor chip. In the last few years, it has been observed that major global players have discontinued the production of CCD imagers due to technological advancement in the CMO category.
For instance, Sony Corporation and ON Semi have announced their intention to discontinue the delivery/shipment of their CCD image sensors by 2020. The move is expected to adversely affect the global sales of CCD image sensors and shift the focus of major players toward CMOS-based image sensor technology. This shift of global players toward CMOS image sensors along with improvements in CMOS techniques is a key reason CMOS image sensors accounted for the major share, of more than 60%, in 2022.
Image Sensor Market Report Coverage

| | |
| --- | --- |
| Report Attribute | Details |
| Historical Years | 2017-2022 |
| Forecast Years | 2023-2030 |
| Market Size in 2022 | USD 26,622 Million |
| Revenue Forecast in 2030 | USD 49,275 Million |
| Growth Rate | 8.0% CAGR |
| Report Scope | Market Trends, Drivers, and Restraints; Revenue Estimation and Forecast; Segmentation Analysis; Impact of COVID-19; Companies' Strategic Developments; Market Share Analysis of Key Players; Company Profiling |
| Segments Covered | By Technology; By Processing Type; By Operating Spectrum; By Array Type; By Application; By Region |
Explore more about this report - Request free sample pages
Increased Usage of Image Sensors in Biometric Applications
In recent years, the extensive use of imagers for biometric applications has taken the demand to the next level. Moreover, biometric applications, such as fingerprint and palm scanning for identification, in police stations, borders, and offices issuing passports have become quite common.
Furthermore, manufacturers prefer high-resolution sensors for Biometric devices (particularly, greater than 5 MP) that are used to collect biometry data with the highest accuracy. The increasing adoption of access control devices by people has led to the rise in the demand for imagers for biometric applications.
Besides, a new model 'Biometric-as-a-Service' is witnessing significant growth in the global market, which is mainly driven by next-generation consumer electronics, faster and more secure mobile payments, and increased digital security and identity management requirements. The monetization of the new technology in these biometric services has helped to penetrate at a high rate across civil, banking, government, healthcare, and consumer electronics markets, which is further expected to drive the global demand in the coming years.
Top Image Sensor Manufacturers Are:
Sony Corporation
Panasonic Corporation
Samsung Electronics Co. Ltd.
OmniVision Technologies Inc.
Canon Inc.
STMicroelectronics N.V.
Toshiba Corporation
SK hynix Inc.
ON Semiconductor Corporation
Hamamatsu Photonics K.K.
Image Sensor Market Size Breakdown by Segment
This report offers deep insights into the image sensor market, with size estimation for 2017 to 2030, the major drivers, restraints, trends and opportunities, and competitor analysis.
Based on Technology
Complementary Metal–Oxide–Semiconductor (CMOS)

Front-Side Illumination (FSI)
Back-Side Illumination (BSI)

Charge-Coupled Device (CCD)
Based on Processing Type
Two-Dimensional (2D)
Three-Dimensional (3D)
Based on Operating Spectrum
Based on Array Type
Based on Application
Consumer Electronics

Smartphones and Tablets
Desktops and Laptops
Photography and Videography Products
Commercial Drones

Automotive
Healthcare and Life Sciences
Industrial
Security and Surveillance
Geographical Analysis
North America
Europe

Germany
France
Italy
U.K.
Spain

Asia-Pacific
Rest of the World