Market Overview
The global leukapheresis market generated revenue of USD 71.4 million in 2022, which is expected to witness a CAGR of 8.4% during 2022–2030, to reach USD 136.3 million by 2030. This can be ascribed to the escalating incidence of leukemia and other hematologic diseases, increasing count of government initiatives for raising cancer awareness, rising volume of blood donations worldwide, rapidly advancing technologies, and surging R&D on leukopaks and their usage in clinical research.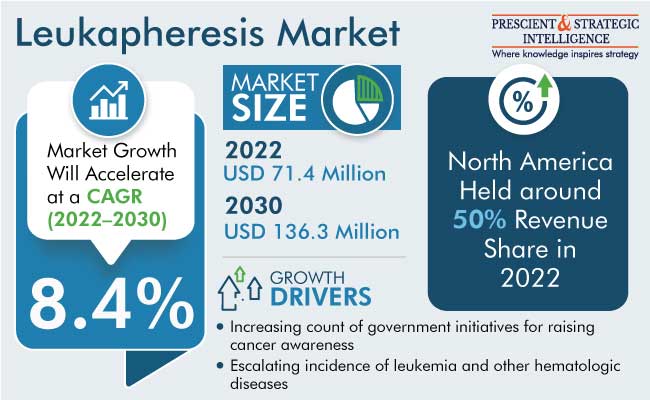 Rise in Cases of Blood Cancers
Leukapheresis is a procedure used to treat chronic lymphocytic leukemia (CLL) and other kinds of blood cancer.
Hence, the rise in the number of leukemia patients due to the sedentary lifestyles, smoking, and exposure to radiation and specific chemicals is driving the growth of market. Additional risk factors for lymphomas and leukemias include infection by Epstein–Barr virus, HIV, and human T-cell lymphoma/leukemia virus.
The Leukemia & Lymphoma Society reports that leukemia is the sixth-most-common cancer in terms of the number of deaths worldwide. One diagnosis of leukemia, myeloma, or lymphoma is made in the country every three minutes. In all, 186,400 persons are estimated to have been diagnosed with these three diseases combined in 2021, making 9.8% of all the 1,898,160 new cancer cases that year.
Moreover, after the U.S. and China, studies indicate that India has the highest recorded rate of blood cancers, which affect more than 70,000 men and women nationwide.
Furthermore, leukemia is the most-frequent malignancy found in children and adolescents in the U.S. (28% and 13%, respectively), according to the American Cancer Society. Acute lymphocytic leukemia (ALL) is the most common in children, and leukapheresis has proved to be the most-effective treatment for it. It is performed to remove the extra WBCs from children with this cancer, as well as to collect stem cells from kids, for use in treating other cancers. Therefore, the potential of this procedure beyond the treatment of blood-borne disorders bodes well for the market.
Moreover, the rise in the geriatric population leads to an increase in the cases of blood cancers. Research has established that acute myeloid leukemia (AML) is majorly found in older people and is uncommon before the age of 45. The average age of people upon being first diagnosed with AML is about 68 years. But, AML can occur in children as well.
The WHO predicts that by 2030, one in six people would be 60 years of age or older. By this time, this population will have rapidly increased to 1.4 billion from 1 billion in 2020; moreover, it will double by 2050. Additionally, by 2050, there will be 426 million people of age 80 years or more.
Leukapheresis Market Report Coverage

| | |
| --- | --- |
| Report Attribute | Details |
| Historical Years | 2017-2022 |
| Forecast Years | 2023-2030 |
| Market Size in 2022 | USD 71.4 Million |
| Revenue Forecast in 2030 | USD 136.3 Million |
| Growth Rate | 8.4% CAGR |
| Report Scope | Market Trends, Drivers, and Restraints; Revenue Estimation and Forecast; Segmentation Analysis; Impact of COVID-19; Companies' Strategic Developments; Market Share Analysis of Key Players; Company Profiling |
| Segments Covered | By Offering; By End user; By Application; By Region |
Explore more about this report - Request free sample pages
Government Initiatives for Treatment of Blood Cancer
Governments have taken different initiatives for the treatment of leukemia, by initially making people aware of this disease. Additionally, governments and regulatory bodies in different nations have launched many reimbursement policies and set up dedicated cancer hospitals and oncology centers.
For instance, the National Health Mission, an overall population health management scheme of India, launched a program to prevent and treat non-communicable diseases in 2010, with a focus on building the physical environment, developing human resources, and promoting health through early detection, management, and referral. The government has created constituent organizations at the national, state, and district levels for program management and providing services for early diagnosis, treatment, and follow-ups for non-communicable diseases. Under this initiative, free diagnostic services and medications are provided.
Increase in Blood Donation Volumes Drives Market Growth
The expansion of the global leukapheresis market has also been positively driven by the rising number of blood donors worldwide. RBCs, platelets, and other components can be replaced through transfusions, utilizing donor blood from healthy individuals. Chemotherapy is frequently prescribed to leukemia patients, who may have temporary immune system and blood cell impairment. As a downside, chemotherapy can cause blood cell impairment, which makes leukapheresis an essential supplementary therapy. Donating blood can provide healthy RBCs and WBCs to cancer patients, which is becoming easier because of the rise in the volume of blood donations.
With the demand for blood and its components increasing on a global scale, developed and developing countries are strongly focusing on blood donation. Many countries organize donation camps on a large scale, and many NGOs have also been established with the help of public and private support.
Approximately 16 million units of blood components are transfused annually in the U.S., according to the American Red Cross. With the expanding need for leukopaks in clinical research and the growing number of clinical trials for the development of CAR-T treatment for leukemia, the need for leukocytes/WBCs will rise, thus offering a huge growth potential to the industry.
In 2020, 79 nations worldwide collected more than 90% of their required blood from voluntary, unpaid donors, according to the WHO. They include 60 self-sufficient nations, such as Iceland, Turkey, and the U.A.E.,which can meet their entire blood needs through voluntary blood donations.
With the rise in the number of blood donations, the increasing demand for apheresis machines for the separation of blood products and the creation of leukopaks for clinical research will continue to propel the market over this decade.
Disposables Dominate Market
The market is bifurcated into devices and disposables, depending on product, of which disposables held the dominating share in 2022, a situation that will likely remain unchanged. The increasing demand for leukapheresis disposables as a result of the rising leukemia prevalence is the major driver for the growth of this market. In addition, the correct usage of a variety of disposables has the benefit of lowering the danger of infections during blood transfusions.
Moreover, companies are expanding their production capacity of leukapheresis disposables to cater to the growing demand for them worldwide. For instance, Fresenius Kabi opened another unit at its transfusion and apheresis disposables facility in Santa Domingo, Dominican Republic, in January 2020.
Research Applications Dominated Market
The research application category held the larger revenue share, around 80%, in 2022, and it is further expected to maintain its dominance in the coming years. This is mostly due to the rising usage of leukapheresis products for the creation of cell-based immunotherapies, surging need for leukopaks in scientific research, and escalating adoption of leukapheresis-derived primary cells in pharmaceutical research and development.
The therapeutic application category will show healthy growth during the forthcoming period. This is attributed to the robust global network of companies offering leukapheresis equipment and disposables for therapy. Moreover, hospitals are rapidly acquiring leukapheresis equipment to treat patients for a range of blood-borne disorders.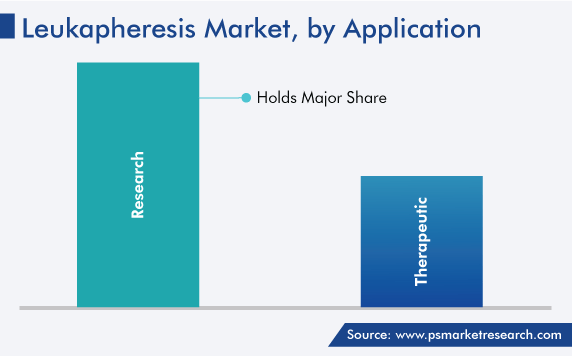 North America Dominates Market
Geographically, North America accounted for the largest share, of around 50%, in 2022, and it is projected to grow at a robust CAGR during the forecast period. This will be due to the substantial research and development activities in the pharmaceutical and biotechnology sectors. This region also has a stronghold due to the presence of a large number of industry players and healthcare providers, the high count of ongoing CAR T-cell therapy clinical trials, as well as the elevated risk of pandemics and communicable diseases. Additionally, the region's rapid adoption of new technologies and the rising prevalence of chronic diseases support the expansion of the regional industry.
Moreover, the recent strategic developments by the players in the region are a key factor for the market growth. For instance, in January 2019, Key Biologics LLC and Cascade Regional Blood Services (CRBS) signed a multi-year agreement to supply blood products and materials that are essential for research and product development to academic, pharmaceutical, and biotech researchers. The agreement comprises cooperative donor recruiting, product distribution, and marketing in the U.S., and it is focused on the collection of mononuclear cells via leukapheresis.
Moreover, the American Red Cross is currently undertaking renovation at its Red Cross Mary Coultrap Johnson Blood and Platelet Donation Center. The USD 2-million product includes a new blood donation facility spanning 8,000 square feet, 12 beds for whole blood donation, 15 apheresis donor beds for plasma and platelet donation, two beds for collecting white blood cells from donors via leukapheresis, and 10 health history rooms.
The APAC market is expected to witness the fastest growth during the forecast period, mainly on account of the improving healthcare infrastructure, increasing prevalence of leukemia in the region, rising per capita income, and growing geriatric population. Additionally, the market is growing due to the government programs to support healthy lifestyles and raise awareness and the technological improvements in hematology. Moreover, the expansion in the network of cancer hospitals and blood donation and processing centers in this region contributes to the market's growth.
Within the region, China will show significant growth for this market, due to its advancing healthcare infrastructure, surging cases of blood cancers, especially leukemia; and evolving government policies for cancer treatment reimbursement.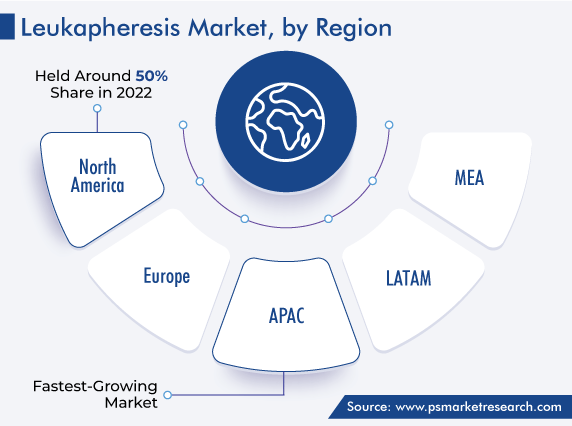 Top Providers of Leukapheresis Equipment and Disposables Are:
Asahi Kasei Medical Co. Ltd.
FRESENIUS SE & CO. KGaA
Haemonetics Corporation
Macopharma
Terumo BCT Inc.
B. Braun Melsungen AG
STEMCELL Technologies Inc.
Precision Medicine Group LLC
BioIVT LLC.
Market Size Breakdown by Segment
The report analyzes the impact of the major drivers and restraints on the leukapheresis market, to offer accurate market estimations for 2017–2030.
Based on Offering
Devices

Centrifugal devices
Apheresis devices
Columns and cell separators
Leukoreduction filters

Disposables
Based on Application
Based on End user
Pharmaceutical and Biotechnology Companies
Academic and Research Institutes
Hospitals and Transfusion Centers
Blood Component Providers and Blood Centers
Geographical Analysis
North America
Europe

Germany
U.K.
France
Italy
Spain

Asia-Pacific

Japan
China
India
South Korea
Australia

Latin America
Middle East and Africa

Saudi Arabia
South Africa
U.A.E.