Market Overview
The Italy electric scooter and motorcycle market revenue was $26.7 million in 2021, and it is expected to reach $707.1 million by 2035, at a CAGR of around 30.5% during 2021–2025 and, further, of about 24.4% during 2026–2035. The market is expected to witness the fastest growth in the category of electric scooters and motorcycles with a maximum speed above 80 km/h, with over 35% CAGR during 2026–2035, in terms of value.
Furthermore, the demand for sports motorcycles is increasing in the Italian market owing to the presence of a large number of racing enthusiasts. Additionally, the better performance and long-term value associated with these two-wheelers are expected to help boost their sales in the coming years.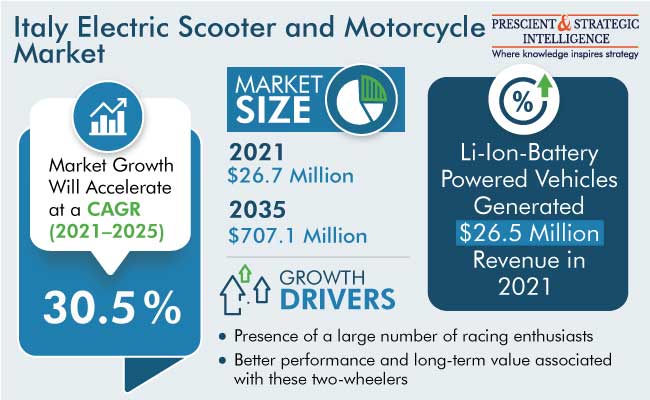 Li-Ion Battery Type Is Highest Revenue Generator in Market
Li-ion is the highest-revenue-generating battery type in the market, accounting for $26.5 million revenue in 2021, which is projected to grow at a CAGR of around 30.6% during 2021–2025. Most of the manufacturers of e-scooters and e-motorcycles choose the Li-ion battery type due to its low self-discharge rate, high energy density, and no memory effect.
Moreover, Li-ion batteries have a longer life (more than 2,000 charge cycles) as compared to sealed lead–acid batteries (maximum 400 charge cycles). However, despite the fall in battery prices in recent years, Li-ion battery-powered electric two-wheelers cost more than the ones powered by sealed lead–acid batteries. However, automobile companies believe that customers would be willing to spend extra on a higher-quality product, which is why they continue to transition to the Li-ion chemistry.
Moreover, Li-ion battery prices are expected to further decline in the coming years, already falling by around 97% since 1991. According to industry analysts, lithium-ion battery price is expected to decrease to below $100 per kWh by 2024. This is crucial for greater product acceptance, which would present a tremendous opportunity for OEMs, as more customers would be able to buy electric scooters and motorcycles.
Thus, the market is expected to witness significant growth in the demand for Li-ion-battery-powered electric scooters and motorcycles in the coming years.
Low Vehicle Operating and Maintenance Costs Spur Market's Growth
The rapid surge in the price of petroleum products is one of the most-important factors driving the Italy electric scooter and motorcycle market. Electric two-wheelers are less expensive to operate and more efficient than traditional ones. Because of the reduced friction and wear, electronic systems outperform mechanical counterparts in terms of efficiency and durability.
As a result, electric two-wheelers outperform ICE variants and have a lower environmental impact. In addition, manufacturers will likely produce electric scooters and motorcycles with higher driving ranges than the existing models, which will assist in market's growth in the country.
Electric Scooters Have Captured Greatest Market Share
Electric scooters account for the largest share in the market, and they are expected to witness a CAGR of 22.7% during 2021–2025, in terms of value. Electric scooters are used more than electric motorcycles as the latter need more power, which means they require a bigger electric motor and battery, which pushes up their purchase cost. Moreover, e-scooters are among the most-cost-effective short-distance travel option, thereby driving the market's growth.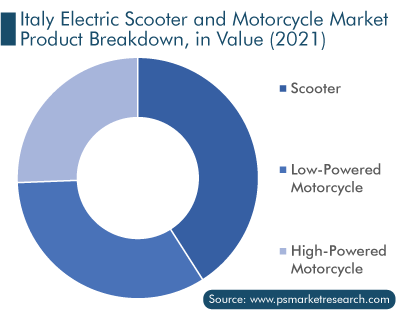 The fastest growth in the market is expected from electric scooters and motorcycles having battery voltage of 100 V and above, at a 38.1% CAGR during 2026–2035, in terms of value. The better performance and mileage of these electric scooters and motorcycles are expected to drive their sales in the coming years, thereby further bolstering the market demand.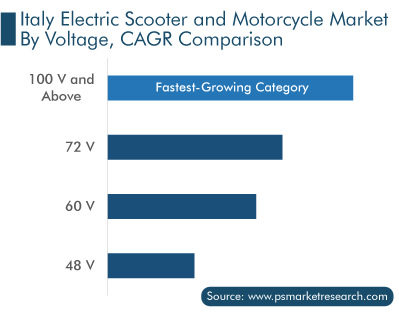 Increasing Concerns over Greenhouse Gas Emissions Biggest Product Sales Driver
Just like elsewhere around the world, Italians and the country's government are strongly concerned about the environmental degradation due to the emission of greenhouse gases from the transportation and other sectors. Thus, the government has taken various initiatives to reduce emissions in the country significantly.
Between 1990 and 2019, Italy reduced its emissions by 19.4%. Its emissions-cutting efforts and ambitions are inextricably linked to the EU policies and recommendations. The EU recently drafted a new agreement on the European Climate Law, aimed at reducing greenhouse gas emissions by at least 55% by 2030 compared to the 1990 levels, which is a significant increase over the previous goal of 40% reduction established under the umbrella of the Paris Agreement (European Commission, 2021).
Thus, Italy has announced a new target for 2030 under the Effort Sharing Regulation (ESR), of a 33% decrease in emissions compared to 2005. These initiatives will definitely help in augmenting the Italy electric scooter and motorcycle market growth potential.
Italy Electric Scooter and Motorcycle Market Report Coverage

| | |
| --- | --- |
| Report Attribute | Details |
| Forecast Years | 2022-2035 |
| Market Size in 2021 | $26.7 Million |
| Revenue Forecast in 2035 | $707.1 Million |
| Report Scope | Market Trends, Drivers, and Restraints; Revenue Estimation and Forecast; Segmentation Analysis; Impact of COVID-19; Companies' Strategic Developments; Market Share Analysis of Key Players; Company Profiling |
| Segments Covered | By Product; by Power; by Voltage; by Cooling System; by Maximum Speed; by Battery Type; by Battery Charging Mode; by Charging Time; by Battery Capacity; by Range |
Explore more about this report - Request free sample pages
To Increase Market Share, Companies Involved in Several Strategic Developments
The market has the presence of several key players, who, in recent years, have been involved in various strategic developments in order to stay ahead of their competitors. For instance:
In December 2021, TIER, a micromobility operator in Europe, acquired Vento Mobility Srl, the Italian subsidiary of Wind Mobility. The acquisition resulted in the entry of the former company in the Italian market.
In May 2020, Niu Technologies launched a new electric scooter model, MQi2, in two variants: Lite and Citi. The Lite variant is priced at $669.6 and the Citi variant at $757.0. The scooters comprise a 400W electric motor and offer a top speed of 25 km/h. The Lite variant possesses a 16Ah battery pack and offers a range of 50–60 km per charge, whereas, the Citi variant comprises a 20Ah battery pack and offers a range of 65–75 km.
Market Size Breakdown by Segment
The study offers comprehensive market segmentation analysis along with market estimation for the period 2021-2035.
Based on Product
Scooter
Low-Powered Motorcycle
High-Powered Motorcycle
Based on Power
<1.5 kW
1.5–5 kW
6–15 kW
>15 kW
Based on Voltage
48 V
60 V
72 V
100 V and Above
Based on Cooling System
Natural Convection
Forced-Air Convection
Liquid
Based on Maximum Speed
<40 km/h
40–80 km/h
>80 km/h
Based on Battery Type
Sealed Lead– Acid
Lithium-Ion
Based on Battery Charging Mode
Based on Charging Time
Based on Battery Capacity
< 2 kWh
2–2.5 kWh
> 2.5 kWh
Based on Range
<50 km
50–100 km
101–150 km
>150 km