Market Overview
In 2021, the global industrial hemp market size was valued at $4452.0 million, and it is projected to progress at a CAGR of 33.7% during 2021–2030.
In Europe, the French market contributed the highest revenue in 2021, and it is projected to grow at a significant rate of more than 18%. The market is mainly driven by the surging need for industrial hemp in several sectors and the increasing legalization of the cultivation of this crop for industrial uses.
Developed countries, such as the U.S., the U.K., and France, are seeking for ways to grow crops with a low environmental impact, such as cereals, which are produced in excess. Hemp is a potentially profitable crop, fitting into sustainable farming systems. Interest in "new" fiber crops is growing as a means of finding alternatives to high-input crops, such as cotton, or reducing the paper industry's impact on forests. It has prospective uses in the paper, textile, composite, biofuel, and food industries, as well as novel uses as renewable raw materials for seed oils and essential oils.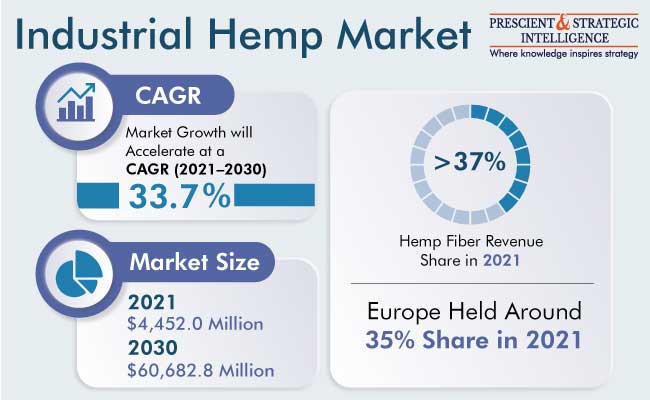 In Europe, the area allocated to hemp farming has increased by more than 70%, from roughly 20,000 hectares in 2015 to 35,000 hectares in 2019. Moreover, hemp production increased by roughly 65% during the same period, from around 95,000 tonnes to 155,000 tonnes. THC levels in hemp harvests have also been raised from 0.2% to 0.3%, allowing European farmers access to more than 500 hemp varieties.
With the outbreak of COVID-19, the majority of the countries implemented lockdowns and curfews, which had a significant impact on people's lifestyles, health, and wellbeing, as well as on the manufacturing industry, thereby negatively affecting the market growth.
Hemp Oil also Preferred by Consumers
The hemp oil category held the second-largest share in the industrial hemp market, of around 30%. Hemp oil is primarily valued by consumers for its nutritional properties and health benefit, as it is a complete source of all essential amino and fatty acids. Furthermore, customers are increasingly drawn to organic and natural products, and hemp oil is preferred since it contains cannabidiol, caryophyllene, and myrcene, which provide health benefits.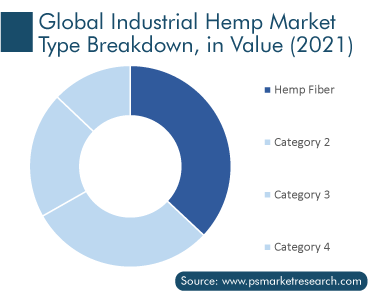 Hemp Trends Worldwide
Globally, 36 countries permit hemp cultivation, and there is an increasing bast fiber demand for the production of high-quality textiles. In the past, Canada concentrated on hemp cultivation for the production of seeds for the food and cosmetics industries. The country has recently begun to grow this crop for fibers, which will be used in bio-composites, insulation, and building materials. Furthermore, an increasing number of states in the U.S. are legalizing hemp farming, indicating that the country would experience a burgeoning hemp demand for its fibers and seeds.
Moreover, in terms of fiber hemp cultivation, China is the most-important country. For export to Europe and Northern America, the country produces both traditional long fibers and enzymatic cottonized hemp fibers.
Cultivation of Industrial Hemp Being Legalized
The legalization of the cultivation of industrial hemp in many countries is driving the market. Cannabis sativa L., which is used to make industrial hemp, is not marijuana, but a different cultivar of the same species. A resurgence in cultivation is being seen since the European Union, the U.S., and many other countries have legalized it, provided that the mandates for low THC levels are adhered to.
In the U.S., the 2018 Farm Bill (the Agriculture Improvement Act of 2018) removed hemp with less than 0.3% THC from the Controlled Substances Act's definition of 'cannabis'. In June 2018, the FDA approved the first CBD-based drug, Epidiolex, for the treatment of childhood seizures associated with two forms of epilepsy.
In the European Union, the cultivation must be of varieties containing less than 0.2% THC. In these countries, hemp seeds, seed oil, and flour are permitted, while all extracts and derivatives containing cannabinoids are considered "novel". Additionally, in March 2019, the Chinese National Anti-Drug Committee announced that CBD is not included on the list of narcotic drugs in the country and that it is not a controlled drug. It also stated that cannabis with a THC content of 0.3% or less can be grown in certain parts of China.
The legalization of industrial hemp cultivation in North America and Europe has shifted the focus on producing oilseeds and CBD oil; CBD is a non-psychoactive cannabinoid that can be employed in the food and medicinal industries. Further, CBD is becoming popular as a food supplement and a component of pharmaceutical and cosmetic products.
Pharmaceutical Industry Uses Hemp in High Amounts
The demand for hemp in the pharmaceutical industry is projected to witness the highest CAGR, of around 35%, during the forecast period. Hemp delivers a desirable omega-6-to-omega-3-PUFA ratio, which helps promote cardiovascular health, lessens osteoporosis symptoms, and alleviates eczema symptoms. It also contains CBD, which has pharmacological qualities, which make it a possible therapeutic agent for illnesses of the central nervous system, such as epilepsy, neurodegenerative diseases, and multiple sclerosis. Furthermore, the demand for this product for pharmaceutical applications is predicted to grow due to the aging and expanding population, as well as medical challenges such as multiple sclerosis, neurodegenerative disorders, and epilepsy.
Hemp Is Mostly Used in Food Industry
The food industry held the largest industrial hemp market share, of more than 25%, in 2021. Hemp has been utilized for millennia as a source of fiber and oilseeds in a variety of industrial and consumer products around the world. More than 25 countries already grow industrial hemp as an agricultural commodity, and it is also traded in the global market. In APAC and Europe, hemp seeds and oil have been part of the human diet for more than 5,000 years.
Food products currently being made internationally with hemp seeds and hemp oil include health bars, salad oils, non-soy tofu, non-dairy cheeses, non-dairy milks, additives for breads, biscuits, and cakes; butter pastes, as well as whole seeds eaten raw or roasted.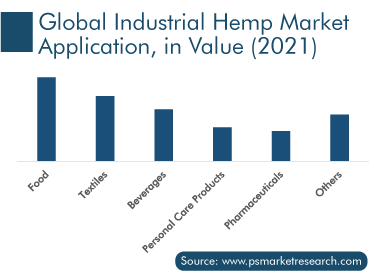 Conventional Type Has Stronger Presence
The conventional type held the larger market share, of more than 50%, in 2021, because conventionally grown hemp has a low price. Additionally, it does not require stringent inspection or adherence to guidelines to meet the certified organic standards, which makes the production process faster. Apart from this, it is rich in vitamins and other essential fatty acids.
Industrial Hemp Market Report Coverage
| | |
| --- | --- |
| Report Attribute | Details |
| Historical Years | 2017–2021 |
| Forecast Years | 2022–2030 |
| Market Size in 2021 | $4,452.0 Million |
| Revenue Forecast in 2030 | $60,682.8 million |
| Growth Rate | 33.7% CAGR |
| Report Scope | Market Trends, Drivers, and Restraints; Revenue Estimation and Forecast; Segmentation Analysis; Impact of COVID-19; Companies' Strategic Developments; Market Share Analysis of Key Players; Company Profiling |
| Segments Covered | By Type; By Application; By Source; By Farm; By Region |
Europe Holds Largest Market Share
Globally, the European industrial hemp market held the largest revenue share, of around 35%, in 2021. This is due to the presence of a large consumer base for food, beverages, dietary supplements, and personal care products and the existence of various key market players, including HempFlax BV, Konoplex Group, HemPoland, Dun Agro, South Hemp Tecno, and MH Medical Hemp, in the region. Furthermore, government authorities in several European countries have approved the cultivation of industrial hemp, which has boosted the crop output. Moreover, the introduction of hemp-based products for skincare applications is having a significant positive impact on the demand for this crop in the region.
Moreover, France is the leading producer of industrial hemp in Europe and the third-largest globally. France is home to more than half of Europe's hemp-growing territory. In 2020, over 1,300 French farmers planted more than 18,000 hectares. The hemp market in France has been growing since the harvesting methods were modernized; previous methods involving a lot of manual labor were replaced by a fully automated harvesting system. Moreover, a new market for hemp has been created in the specialty paper sector (mainly cigarette paper). As a result of these improvements, hemp acreage in France has increased.
Market Players Are Involving in Product Launches to Gain Competitive Edge
The global industrial hemp market is fragmented in nature, with the presence of several major players. In recent years, they have pursued product launches in order to stay ahead of their competitors. For instance:
In January 2022, Hemp Inc. launched cannabidiolic acid (CBDA) and cannabigerolic acid (CBGA) products, in response to new COVID study findings. These products will come in a variety of potencies, flavors, and formulae.
In February 2021, HemPoland launched CannabiGold Sport, a range of CBD pre- and post-workout supplements made from hemp for professional and recreational athletes.
Key Players in Market Are:
Ecofibre
Hemp Inc.
HempFlax Group B.V.
Konoplex Group
Hemp Oil Canada
HemPoland
Dun Agro Hemp Group
Colorado Hemp Works
GenCanna
MH Medical Hemp
Segmentation Analysis
The research offers market size of the global industrial hemp market for the period 2017–2030.
Based on Type
Hemp Seed
Hemp Oil
Hemp Fiber
CBD Hemp Oil
Based on Application
Food
Textiles
Beverages
Personal Care Products
Pharmaceuticals
Based on Source
Based on Farm
Geographical Analysis
North America
Europe

Germany
France
U.K.
Italy
Spain

Asia-Pacific

China
India
Japan
Australia
South Korea

Latin America
Middle East and Africa

Saudi Arabia
South Africa