Tincture to Be Preferred Product in CBD Oil Market till 2025
From $1,735.1 million in 2019, the global CBD oil market value is predicted to increase at a CAGR of 24.3% from 2020 to 2025. The key reasons behind the growth of the industry are the legal approval been given to the compound for medical, recreational, and research purposes and the promotion of cannabiodiol-containing products by companies as having wellness advantages. cannabiodiol is a non-psychoactive chemical or cannabinoid, extracted from the cannabis (marijuana) plant.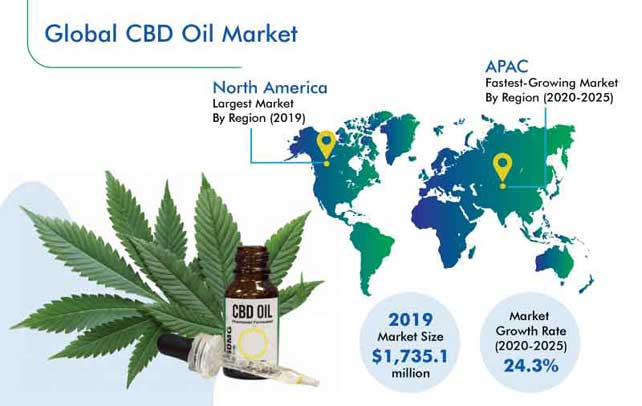 Segmentation Analysis of CBD Oil Market
In the coming years, the fastest growth in the CBD oil market would be experienced by the tincture category, under segmentation by product. This is primarily credited to the growing demand for medical-use cannabiodiol by patients suffering from depression, anxiety, movement disorders, and pain. Moreover, the popularity of cannabidiol tinctures is also rising among recreational users, whose number is expected to burgeon in the coming years. Other reasons behind the high demand for tinctures are that they are easily available via numerous distribution channels, including pharmacies, e-commerce websites, and retail and specialty stores, and have less-potent effects than other forms of the cannabinoid. Similarly, its administration route, i.e. sublingual, which involves placing the tincture under the tongue, is favored over inhalation.
North America was the largest market in the past, on account of the legalization of cannabidiol for medical and research purposes in the continent, which has led to rapidly increasing sales. The status of the product as a natural phytocompound, its strong promotion by companies as a lifestyle and wellness product, launch of cannabidiol-based pharmaceuticals, such as Sativex and Epidiolex, and wide availability of various products containing this compound are further expected to propel the sale of cannabiodiol in the region in the coming years.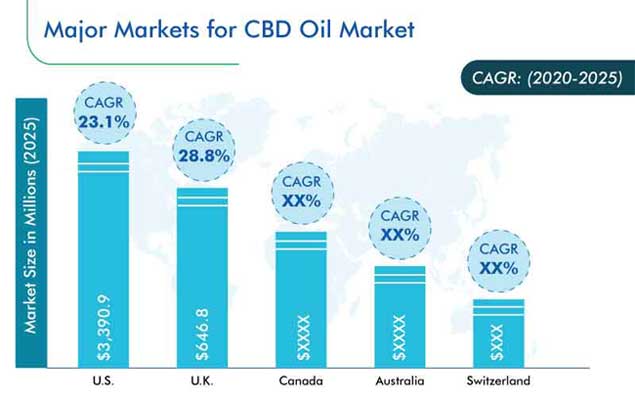 Investments across Cannabidiol Value Chain are Trending in Market
The key trend being witnessed in the CBD oil market is the increasing investments across the value chain of the product. With the deregulation of hemp and cannabidiol in several countries, companies are looking at them as a lucrative business area. Organizations are stepping up efforts to license the production of marijuana and hemp, set up downstream distribution channels, invest in research and development (R&D), develop the supply chain, enter new geographies, and increase the output of different products containing this cannabinoid.
All these steps are aimed at ensuring brand equity in the early-stage market, garnering a loyal customer base, and securing consistent-revenue streams. Since 2018, Aurora Cannabis Inc., Canopy Growth Corporation, and Aphria Inc. have implemented a number of strategies to raise the sale of cannabidiol and increase their revenue. These include launching new products, acquiring licenses, and entering into collaborations with omni-channel marketing organizations, dispensaries, pharmacies, and specialty retailers. Similarly, market players are investing in enhancing their supply chain, to meet the demand for cannabidiol-containing stuff.
CBD Oil Market Report Coverage

| | |
| --- | --- |
| Report Attribute | Details |
| Historical Years | 2018-2019 |
| Forecast Years | 2020-2025 |
| Market Size by Segments | Product Type |
| Market Size of Geographies | U.S., Canada, Belgium, Bulgaria, Czech Republic, Denmark, France, Germany, Netherlands, Poland, Ukraine, Romania, Russia, Spain, Switzerland, U.K., Australia, Japan, Malaysia, New Zealand, South Korea, Taiwan, Vietnam, Argentina, Brazil, Chile, Colombia, Mexico, Turkey, Nigeria, South Africa |
Explore more about this report - Request free sample pages
Legalization of Cannabidiol Is Powering Market toward Bright Future
The major force taking the market toward a potential boom is the legalization of the compound in numerous countries. Since the receipt of the legal approval by cannabidiol in Canada and the U.S., several countries have followed suit and many more are doing the same. Currently, a number of nations in Latin America (LATAM), Asia-Pacific (APAC), and Europe have allowed partial or complete sale of cannabiodiol -containing products. These include Norway, the U.K., Japan, Spain, Thailand, South Korea, Brazil, Mexico, and South Africa.
Though regulations vary, the cultivation of cannabis and downstream production is rising across nations, which is expected to create interest among prospective customers. This is helping governments create additional jobs and gain revenue from the sale and licensing of cannabidiol-containing products. Additionally, with countries giving the regulatory approval to hemp and marijuana, investing in mass production and commercialization, and bettering their supply and logistics chain, the demand for the compound and related products is expected to be bolstered in the near future.

Mergers and Acquisitions Being Seen as Best Strategy for Position Consolidation
In recent years, companies engaged in cannabidiol-based product manufacturing have merged with or acquired numerous firms, as a means to consolidate their position in the industry.
For instance, in February 2020, Yunnan Lvxin Biological Pharmaceutical Co. bought Hemp Foods Australia, the Australian hemp subsidiary of Elixinol Global. The agreement gives Yunnan Lvxin Biological Pharmaceutical Co. the rights to the intellectual property (IP) trademarks of Elixinol and license to distribute the latter's products in Taiwan and mainland China.
In the same vein, in October 2019, Canopy Growth Corporation acquired BioSteel Sports Nutrition Inc., which offers sports nutrition products. With this acquisition, Canopy Growth Corporation has forayed into the sports nutrition niche with an attractive portfolio of cannabis-infused foods and beverages.
The major players in the global CBD oil market are Aphria Inc., CV Sciences Inc., Endoca BV, Isodiol International Inc., Aurora Cannabis Inc., Canopy Growth Corporation, Tilray Inc., Folium Biosciences, Gaia Botanicals LLC, and CBDfx.
CBD Oil Market Size Breakdown by Segment
The CBD oil market report offers comprehensive market segmentation analysis along with market estimation for the period 2018–2025.
Based on Product Type
Cartridges
Topicals
Capsules
Tinctures
Geographical Analysis
North America
Europe

Belgium
Bulgaria
Czech Republic
Denmark
France
Germany
Netherlands
Poland
Ukraine
Romania
Russia
Spain
Switzerland
U.K.

Asia-Pacific (APAC)

Australia
Japan
Malaysia
New Zealand
South Korea
Taiwan
Vietnam

Rest of Word (RoW)

Argentina
Brazil
Chile
Colombia
Mexico
Turkey
Nigeria
South Africa