Market Overview
The global industrial enzymes market stood at around $5.7 billion in 2020, and it is expected to grow at a significant rate in the forecast period (2021–2030). The market is mainly driven by the rising environmental concerns, extensive research and development (R&D) activities, rising demand for carbohydrase and protease in the food and beverage industry, rapid industrialization, developments in the nutraceutical sector, and escalating demand for bioethanol. In addition, the advancements in enzyme engineering and green chemistry and the introduction of genetically engineered enzymes have increased their industrial usage, which leads to the growth of the market.
Due to the COVID-19 pandemic, market players started manufacturing COVID-related products, which led to an overall decline in the market value. Moreover, governments of several countries have implemented strict lockdowns and other regulations, thereby effectively closing industries other than those working on COVID-19 aid. Thus, owing to the limited operations, there was a negative impact on the market for industrial enzymes, and only after the lifting of the lockdowns is the industrial enzymes market expected to grow.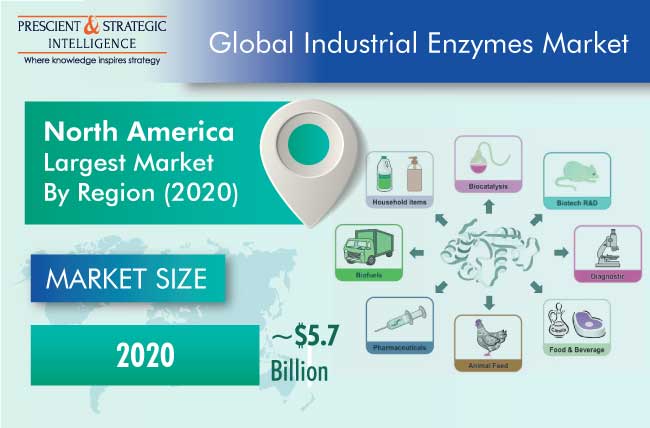 Due to its Multiuse Nature, Carbohydrases Category Held Largest Share in 2020
The carbohydrases category held the largest share in the market for industrial enzymes in 2020, based on type. This can be attributed to the multiple uses of this enzyme in various industries, including pharmaceuticals, animal feed, and food and beverage. Moreover, these enzymes have several advantages, such as cost-effectiveness, less time for performing the particular reaction, and easy modification and optimization of the process performed by the enzyme.
Microorganism Category to Show Significant Growth in Forecast Period
The microorganism category held the dominating share in the industrial enzymes market in 2020, and it is expected to grow significantly in the forecast period, based on source. This is attributed to the fact that a wide range of enzymes are produced from bacteria, fungi, and yeast. Fungal enzymes have multiple uses in the production of food products, such as beer, soy sauce, dairy items, and baked goods.
Importance of Enzymes in Food and Beverage Industry Leading to this Application Category's Domination
The food & beverage category held a significant share in the market for industrial enzymes in 2020, based on application. This was due to the fact that industrial enzymes play a vital role in the manufacturing of nutritious food and beverage products. Enzymes are used in cheese processing, fruit and vegetable processing, fats and oils processing, grain processing, protein processing, baking, dairy production, cereal extraction, and brewing.
North America Held Largest Share Owing to Its Dynamic Food & Beverage Trends
Globally, North America held the largest share in the industrial enzymes market, both in terms of volume and value, in 2020, and it would continue to maintain its dominance till 2030. The rising number of clinical trials to develop potent therapeutics, surging technological advancements, increasing development of high-performance items such as biofuels, biopolymers, and processed food, growing food and beverage processing sector, policies for biofuel production, and a strong presence of global players are propelling the growth of the regional industry.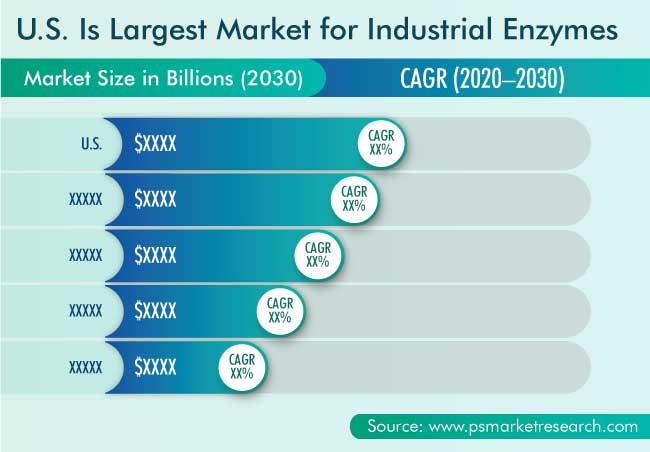 Multifunctional Usage of Industrial Enzymes is a Key Trend
Multifunctional usage is a key trend in the market for industrial enzymes. Multifunctional enzymes catalyze at consecutive steps of a metabolic pathway, where the same polypeptide chain is located. Food enzymes, including amylase, cellulase, xylanase, pectinase, protease, lipase, glucosyltransferase, arabinanase, polygalacturonanace, chymosin, and beta-glucanase, have become indispensable in the food additives sector. Moreover, these multifunctional enzymes maximize the catalytic efficiency. Other examples of these enzymes are acetyl-CoA carboxylase (ACC), type I fatty acid synthase, glutamine phosphoribosylpyrophosphate (PRPP) amidotransferase [GPAT], and carbamoyl-phosphate synthetase 2, aspartate transcarbamylase, and dihydroorotase (CAD) protein.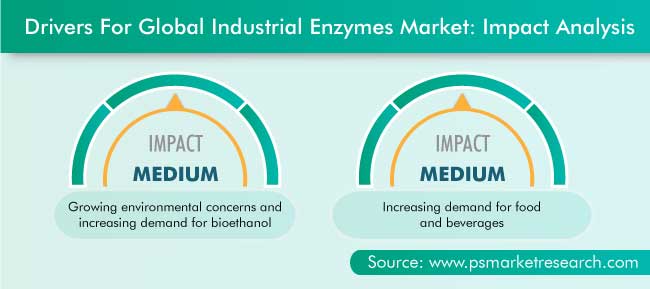 Growing Environmental Concerns and Increasing Demand for Bioethanol are Driving the Market
The scarcity of non-renewable resources has increased the need for and relevance of bioethanol production, which has a negligible environmental impact. Ethanol produced from biomass can be used as a substitute, extender, or octane enhancer for traditional motor fuels, such as gasoline, diesel, and kerosene, in nations with an excess agricultural capacity. Biofuels can also be used to replace toxic oxygenates in petroleum fuels, which also helps reduce pollution, and in the production of several products, such as biodiesel, and biogas. Due to these factors, the surging demand for bioethanol is leading to the growth of the industrial enzymes market.
Industrial Enzymes Market Report Coverage

| | |
| --- | --- |
| Report Attribute | Details |
| Historical Years | 2015-2020 |
| Forecast Years | 2021-2030 |
| Base Year (2020) Market Size | ~$5.7 Billion |
| Report Coverage | Market Trends, Drivers, and Restraints; Segmentation Analysis; Country Breakdown; Impact of COVID-19; Companies' Strategic Developments; Company Profiling |
| Market Size by Segments | By Type; By Source; By Application; By Region |
| Market Size of Geographies | U.S.; Canada; Germany; France; U.K.; Italy; Spain; China; Japan; India; Australia; South Korea; Brazil; Mexico; South Africa; Saudi Arabia |
| Secondary Sources and References (Partial List) | American Association of Pharmaceutical Scientists; American Institute for Medical and Biological Engineering; American Society for Microbiology; Association for Accessible Medicines; Association of the British Pharmaceutical Industry; Association of Manufacturers and Formulators of Enzyme Products; Biochemical Technology Division; Biomedical Engineering Society; Biotechnology Industry Organization |
Explore more about this report - Request free sample pages
Market Players are Involved in Product Launches and Acquisitions to Gain Significant Position
In recent years, players in the global industrial enzymes industry have been involved in product launches and acquisitions in order to attain a significant position. For instance,
In March 2021, Novozymes A/S acquired the data science platform of Biota Technology Inc. to strengthen its microbiome R&D capabilities that are focused on probiotic developments and boost its sales in the consumer health industry.
In December 2019, Seqens SAS launched the 7 SEQENZYM kits, selected among an extensive panel of extremophile strains from around the world. The easy-to-use enzyme kits can accelerate the screening of enzymes to facilitate rapid assessment, for molecule synthesis transformations.
Key Players Operating in Industrial Enzymes Market Are:
Associated British Foods plc

Chr. Hansen Holding A/S

Advanced Enzyme Technologies Ltd.

Enzyme Development Corporation
Market Size Breakdown by Segments
The industrial enzymes market report offers comprehensive market segmentation analysis along with market estimation for the period 2015-2030.
Based on Type
Carbohydrases
Proteases
Lipases
Polymerases
Based on Source
Microorganisms
Plants
Animals
Based on Application
Food & Beverage
Bioethanol
Detergent
Textile & Leather
Paper & Pulp
Wastewater Treatment
Animal Feed
Geographical Analysis
North America
Europe

Germany
France
U.K.
Italy
Spain

Asia-Pacific (APAC)

Japan
China
India
Australia
South Korea

Latin America (LATAM)
Middle East and Africa (MEA)

Saudi Arabia
South Africa