Market Overview
The global biodiesel market generated revenue of around $39.0 billion in 2020. The major factors responsible for the growth of the market are the increasing demand for biodiesel to replace crude oil, surging research and development (R&D) activities on it, and different government initiatives and mandatory regulations for its adoption.
Due to the COVID-19 pandemic, governments of various countries have sealed their borders and enforced lockdowns to prevent the spread of the virus. This caused a major downfall in manufacturing, freight transportation, and logistics activities. In addition, there has been a major drop in automobile usage, which, in turn, has been reducing the demand for biodiesel since 2020 till date. Due to the above-mentioned factors, there is a negative impact on the market for biodiesel.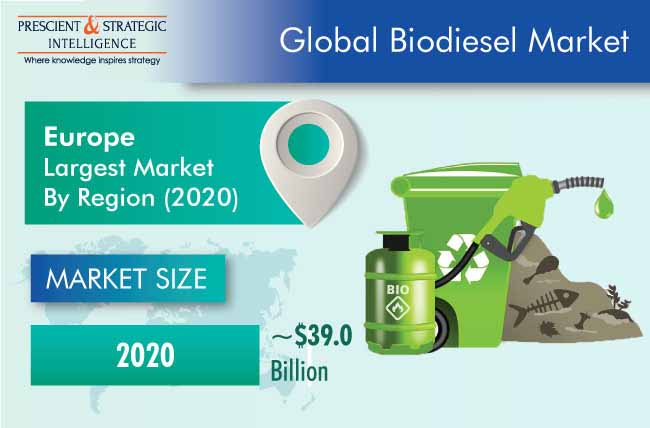 High Availability of Vegetable Oils Leads to their Domination
The vegetable oils category held the larger share of the biodiesel market in 2020, based on feedstock. This was mainly due to the easy availability of vegetable oils and their renewable nature. Moreover, oil crops provide a high oil yield, and they are cost-effective.
Fuel Held Largest Share due to Increasing Adoption of Biodiesel for Transportation
The fuel category accounted for the largest share of the biodiesel market over the past few years, and it is further expected to grow at the highest CAGR during the forecast period, based on application. This is attributed to the increasing adoption of biodiesel as a fuel in the automotive, agriculture, and marine industries. In addition to its eco-friendliness, biodiesel has better lubricity (50:1) than conventional diesel, which helps in reducing friction and wear in the engine.
Due to Balanced Performance, B5 Blend Held Largest Market Share
The B5 category held the largest share in the biodiesel market in 2020, based on blend. This is mainly attributed to the balanced performance, low emission, fuel economy, and cost-effective nature of B5 over other blends.
Largest Share of Pyrolysis Attributed to its Versatility
The pyrolysis process held the largest shares of the biodiesel market in 2020, and it is further expected to retain its position in the coming years, based on production technology. This is mainly attributed to the fact that it is relatively a simple and inexpensive technique for processing a wide variety of feedstock.
Due to Rising Government Initiatives, Europe Holds Largest Share
Geographically, the Europe region held the largest share in the biodiesel market in 2020. This is mainly attributed to the increasing implementation of government regulations and initiatives to mitigate greenhouse gas emissions.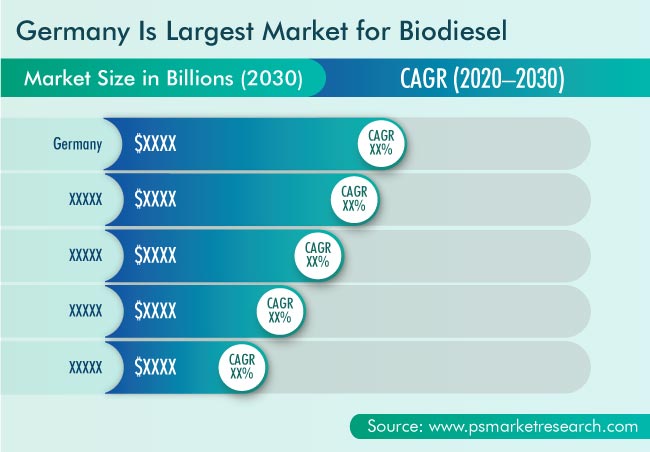 R&D on New and Sustainable Production Methods of Biodiesel Is Key Trend
Investments in renewable energy, both in R&D and commercial production, have risen significantly during the current decade. Advanced technologies in genomics and biotechnology, process chemistry, and designing are being applied to deliver new kinds of energy feedstock and transform them into novel biofuels. On and off chances that these ventures prove to be fruitful, biodiesel can possibly replace a significant volume of crude oil in the coming years, with a restricted adverse consequence on food supply. Hence, the increasing research on new methods for the production of biodiesel is the key trend in the market for biodiesel.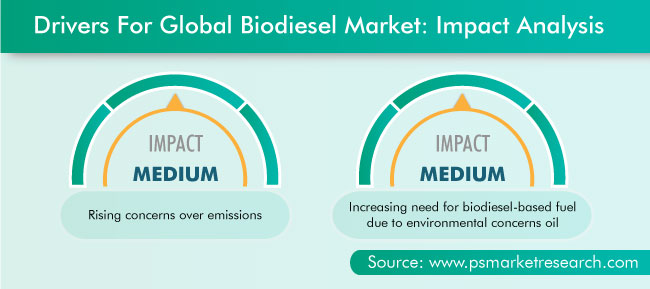 Rising Concerns over Emissions Are Driving Market
Biodiesel emits 50% less carbon dioxide (CO2) and other greenhouse gases as compared to conventional fuel, and it is also free of sulphur and aromatic compounds. According to the U.S. Environmental Protection Agency (EPA) and U.S. Energy Information Administration (EIA), approximately 43 billion gallons of biodiesel were consumed in the U.S. in 2019. Biodiesel is a fuel that can be produced domestically and used in a diesel engine with little-to-no change to the engine or fuel system, thus allowing many countries to reduce their reliance on foreign oil reserves. These factors lead to the growth of the market for biodiesel.
Biodiesel Market Report Coverage

| | |
| --- | --- |
| Report Attribute | Details |
| Historical Years | 2015-2020 |
| Forecast Years | 2021-2030 |
| Base Year (2020) Market Size | ~$39.0 Billion |
| Report Coverage | Market Trends; Revenue Estimation and Forecast; Segmentation Analysis; Regional Breakdown; Companies' Strategic Developments; Product Benchmarking; Company Profiling |
| Market Size by Segments | By Feedstock; By Blend; By Application; By Production Technology; By Region |
| Market Size of Geographies | U.S.; Canada; U.K.; Germany; France; Spain; Italy; China; India; Japan; South Korea; Australia; Mexico; Brazil; Saudi Arabia; South Africa |
| Secondary Sources and References (Partial List) | American Chemical Society; American Society for Testing and Materials; Biodiesel Association of India; Chemical Business Association; Chemical Industries Association; Energy Information Administration; Federal Energy Regulatory Commission; International Biodiesel Producers and Consumers Association; Society of Chemical Manufacturers and Affiliates (SOCMA) |
Explore more about this report - Request free sample pages
Market Players Are Focusing on Collaborations for Competitive Edge
Some of the key players in the market for biodiesel are Archer Daniels Midland Company, Wilmar International Limited, Bunge Limited, Neste Oyj, Renewable Energy Group Inc., Louis Dreyfus Company B.V., Cargill Inc., BIOX Corporation, Münzer Bioindustrie GmbH, and Emami Group.
In recent years, players in the biodiesel industry have focused on collaborations in order to gain a significant position.
In March 2021, Renewable Energy Group collaborated with Optimus Technologies to deliver biodiesel to naval fleets in the U.S., to help them achieve their sustainability goals and reach near-zero emissions. Renewable Energy Group is providing B100 fuel, as well as investing in infrastructure used in navy.
In October 2019, BioD Energy Pvt. Ltd. partnered with Zomato Pvt. Ltd. to reduce the wastage of used cooking oils. Zomato is collecting the spent cooking oil to be converted to biodiesel by BioD Energy Pvt. Ltd. The recycled biodiesel will be sold to oil companies to be blended with regular diesel.
Key Players in Biodiesel Market Include:
Archer Daniels Midland Company

Wilmar International Limited

Bunge Limited

Neste Oyj

Renewable Energy Group Inc.
Market Size Breakdown by Segments
The biodiesel market report offers comprehensive market segmentation analysis along with market estimation for the period 2015-2030.
Based on Feedstock
Vegetable Oils
Animal Oils

Poultry
Tallow
Lard & white greases
Based on Blend
Based on Production Technology
Pyrolysis
Transesterification
Based on Application
Fuel

Automobile
Marine
Agricultural

Power Generation
Geographical Analysis
North America
Europe

Germany
France
U.K.
Italy
Spain

Asia-Pacific (APAC)

Japan
China
India
Australia
South Korea

Latin America (LATAM)
Middle East and Africa (MEA)

Saudi Arabia
South Africa