India Electric Scooter and Motorcycle Market Overview
The Indian electric scooter and motorcycle market has experienced continuous growth since 2014. In 2019, about 152.0 thousand electric scooters and motorcycles were sold, a 20.6% rise on an annual basis from 2014. It is predicted that the yearly retail sales volume will reach 1,080.5 thousand units by end of 2025, with a CAGR of 57.9% during 2020–2025 (forecast period). Meanwhile, the retail sales value is expected to rise to over $1.0 billion by 2025, a CAGR of 63.9% during the 2020–2025 period.
India is the third-largest carbon emitting country in the world, accounting for around 6% of the global CO2 emissions from fuel combustion. According to a report published by IQAir, in 2019, 21 of the world's 30 most polluted cities were in India. Also, according to the WHO's Global Air Pollution Database (2018), 14 out of the 20 most polluted cities in the world are in India. Two-wheelers are the largest vehicle class in India, accounting for 70% of the 200 million on the road currently and 80% of new vehicle sales every year. They represent an important source of pollutant emissions, responsible for 20% of the total CO2 emissions and about 30% of the particulate matter (PM) emissions in urban areas.
To regulate the pollution by vehicles, the central, state, and local governments have taken several initiatives in recent years, including tax exemptions, purchase rebates, and financial incentives to the buyers of electric vehicles (EV). The rising government focus to curb pollution levels in the country promises a positive regulatory push for electric two-wheelers, thus helping the Indian electric scooter and motorcycle market grow.
However, the preventive measures taken by Government of India during the COVID-19 crisis, such as the nationwide lockdown and even curfew in infection hotspots, have impacted the Indian electric scooter and motorcycle market. Moreover, electric vehicle companies are highly dependent on Chinese imports for assembling EVs in the country. The lockdown in China, especially in Wuhan, which is ground zero for COVID-19, has led to severely slashed imports of batteries, motors, and other electrical and electronic components.
However, industry experts believe that in post-COVID days, people would be paranoid about shared commute, and the ridership would be nowhere near previous levels. They are likely to choose a form of personal mobility, with electric two-wheelers being a preferred option due to their convenience.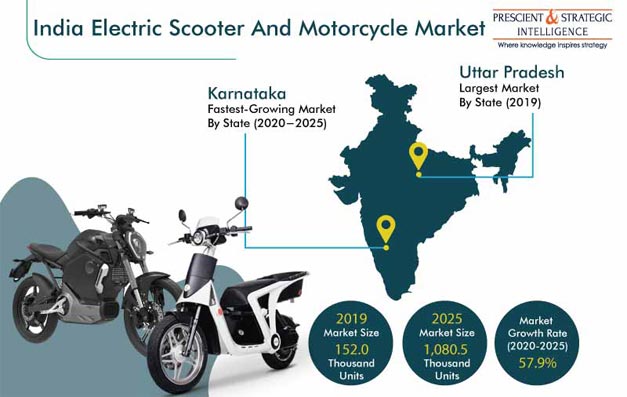 Segmentation Analysis
Electric Scooter To Be Dominant Product in Market
Electric scooters, especially low-speed (less than 25 km/h) electric scooters, are expected to dominate the Indian electric scooter and motorcycle market during the forecast period. The availability of a considerable number of electric scooter models, their low cost, as well as their availability as a substitute for conventional fuel-based mopeds are fueling the demand for them in the Indian two-wheeler industry. The revenue of the electric motorcycle market was negligible in 2019; however, two-wheeler manufacturers are expected to launch electric many motorcycle models in the country in the coming years, thus benefiting the market for this category during the forecast period.
Lithium-Ion (Li-Ion)-Battery-Based Two-Wheelers To Be Faster-Growing Category
While most of the electric two-wheelers in the Indian electric scooter and motorcycle market are powered by sealed lead–acid (SLA) batteries, the share of Li-ion batteries in such automobiles is expected to increase, due to the latter's declining prices and government incentives for them. The Indian government approved the Phase II of the Faster Adoption and Manufacturing of (Hybrid &) Electric Vehicles in India (FAME) scheme in April 2019. Under FAME-I, incentive was provided to all battery-powered vehicles, including those that run on SLA batteries, but FAME-II excludes SLA-battery-powered two-wheelers.
Furthermore, the prices of Li-ion batteries have been falling sharply over the last 10 years, at a rate of ~20% annually. The fall will continue at a rate of around 10%, annually, over the next five years. Moreover, as India is planning the transition to electric mobility, the leading global manufacturers of Li-ion batteries have started exploring the opportunities to initially build battery pack assembly units and eventually transition to large-scale Li-ion cell production in the country.
In the last two years, many stakeholders in the Indian electric scooter and motorcycle market and Li-ion battery domain, such as Bharat Heavy Electricals Limited (BHEL), SUN Mobility, Exide Industries Ltd., Leclanche SA, Tecchren Batteries Pvt. Ltd., Kinetic Engineering (KEL), Andhra Pradesh Economic Development Board (APEDB), Urja Global, and Tata Sons, have announced plans to manufacture Li-ion batteries locally and offer related services. This will further reduce the battery prices, thus supporting the adoption of Li-ion-battery-based electric scooters and motorcycles.
48 V-Battery-Based Two-Wheelers Generated Highest Revenue
48 V batteries are the most commonly used power source in the Indian electric scooter and motorcycle market, holding an over 85.0% sales volume share in 2019. Scooters with 48 V batteries are a reasonable buy in terms of cost-effectiveness, range, and safety, which is why the category is expected to remain dominant during the forecast period. However, with the growing demand for higher speed and range, the share of higher-voltage-battery electric two-wheelers, especially those with 60 V batteries, is expected to increase in the coming years.
Removable Battery Technology Will Pave Path for Two-Wheeler Electrification
Since 2017, the share of removable-battery-based electric scooters has increased significantly in the Indian electric scooter and motorcycle market. Due to the lack of charging infrastructure and range anxiety among customers, removable batteries have emerged as a solution. The technology is expected to be a significant impact on the market and double the speed of vehicle electrification in the country.
High-Speed Two-Wheelers Are Gaining Momentum in market
Electric two-wheelers with a maximum speed of less than 25 km/h held the largest share in the Indian electric scooter and motorcycle market in 2019, owing to no license and number plate registration requirement for these vehicles. However, government support in the form of incentives and subsidies, coupled with the decreasing Li-ion battery price, is supporting the adoption of high-speed electric scooters and motorcycles in the nation.
As per FAME-II guidelines, electric two-wheelers with a speed higher than 40 km/h are eligible for incentives. Original equipment manufacturers (OEMs) in the country are focused on launching electric scooters and motorcycles with a speed greater than 40 km/h, to avail the incentives. In the last two years, OEMs have launched around 35 new models in the Indian electric scooter and motorcycle market, approximately 60% of which are high-speed variants, with a top speed in the range of 40-150 km/h.
Sales of Electric Scooters through Online Channels Are Surging
The online retail market in the country has evolved and grown significantly in the past couple of years. The increasing internet penetration, expanding e-commerce sector, ease and convenience of shopping through these sales channels, increasing popularity of electric two-wheelers among millennials, and increasing consumer confidence are leading to a buyer shift to online platforms, thereby helping the e-commerce sales of such automobiles grow.
Furthermore, due to COVID-19, people's movement in the country has been severely affected, which has greatly impacted offline lead generation and sales promotion activities. To overcome this, major players in the Indian electric scooter and motorcycle market are launching online platforms, to proactively engage with prospective buyers through digital channels and share the leads with their dealer partners.
Use of Electric Scooters and Motorcycles among Businesses Is Growing
With the emergence of shared mobility and last-mile delivery services, such as scooter sharing, moto taxi, and urban freight & logistics, the business-to-business (B2B) bifurcation is witnessing significant growth, based on application. Furthermore, the two-wheeler sharing market in India is expected to reach $94.0 million by 2025, witnessing a CAGR of 20.2% during the forecast period (2020–2025). This guarantees an addition of 150 thousand two-wheelers to the shared mobility fleets in the country.
Despite a higher acquisition cost, the total cost of ownership (TCO) of an electric scooter is ~25% lower than a petrol-based scooter used for commercial purposes, due to the former's lower maintenance and fuel/electricity expenditure. Owing to such benefits, last-mile transportation companies are partnering with OEMs and adding electric scooters to their fleet, thus benefitting the Indian electric scooter and motorcycle market.
Last-Mile Logistics To Be Faster-Growing B2B Application during Forecast Period
Over 2 million petrol-run two-wheelers are engaged in courier services, plying for multiple hours every day. Furthermore, with a large number of food and beverage outlets opening across the major tier 1 and tier 2 cities, the growing demand for alternative transport options for delivery has provided an opportunity to the Indian electric scooter and motorcycle market players to replace traditional delivery models with cost-effective, low-maintenance, and environment-friendly automobiles. As a result, the market for the last-mile logistics B2B application category is expected to grow at a CAGR of 118.1% in terms of volume during the 2020–2025 period.
Uttar Pradesh To Be Largest State for Electric Scooters and Motorcycles in India
Uttar Pradesh is the largest two-wheeler market in India, holding an around 15% volume share in 2019, with the penetration of electric scooters and motorcycles continuously increasing in the state. The demand for these vehicles, especially low-speed electric scooters, from the major tier 2 and tier 3 cities is increasing. In addition, owing to the high growth potential in this state, the major OEMs' focus to increase their share, by expanding their dealer network, is benefiting the growth of the market in the state.
Delhi, Karnataka, Maharashtra, and Tamil Nadu Are among Fastest-Growing Markets
In recent years, the Indian electric scooter and motorcycle market has witnessed significant growth in the southern states of the country. Government support, developing EV value chain, and customer acceptance for such vehicles, coupled with the rising demand for electric two-wheelers from the major tier 1 and tier 2 cities in the region, are benefitting the market. Delhi is also witnessing an increasing demand for these vehicles, owing to the regulatory support by the government. In the coming years, Karnataka, followed by Delhi, is expected to be the fastest-growing market in the country.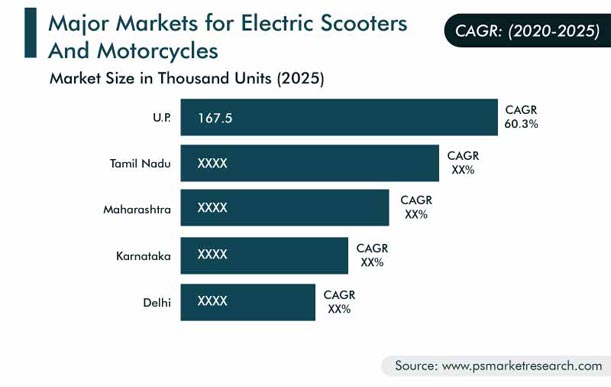 Trends & Drivers
Growing Investments Are Key Trend in Market
During the historical period (2014–2019), due to the lack of consumer awareness, flip-flop regulatory and incentive policies, and low market visibility, start-ups faced difficulty in getting investors onboard. However, with the entry of major two-wheeler manufacturers, such as TVS Motor Company Limited and Bajaj Auto Limited, coupled with the strong government push for EV, investors are now showing an active interest in the Indian electric two-wheeler space.
In the last two years, electric two-wheeler manufacturers have raised over $210 million in investments. These investments helped manufacturers not only with meeting the high upfront capital requirement in the initial stages of assembly and the supply chain setup, but also in keeping the cost of electric two-wheelers low, while boosting their quality.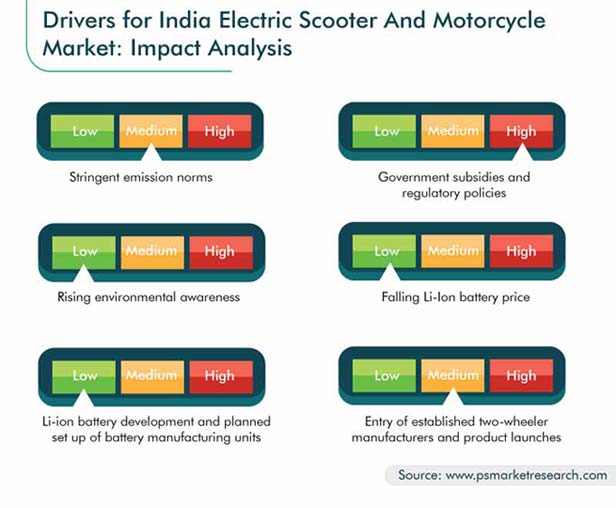 Growing E-Tailing of Electric Two-Wheelers
The lack of an adequate distribution network, especially among start-ups, has been a challenge for electric two-wheeler manufacturers, as it has led to a low sales volume and financial constraints. The online retail market in the country has evolved and grown significantly in the past couple of years. The increasing penetration of the internet and smartphones, convenient shopping experience, and time and cost advantages have brought customers to online platforms.
Government Subsidies and Regulatory Policies Driving Indian Electric Scooter and Motorcycle Market
Subsidies and regulatory environment can go a long way in pushing the sales of EVs. Subsidies have helped the market by making electric scooters and motorcycles more viable for the customer. Some of the supportive initiatives include tax exemptions on the purchase of EVs, purchase rebates, and financial incentives to customers.
EV adoption in India over the next five years is going to be largely driven by two-wheelers and three-wheelers. Recent government policies have taken into consideration the need to electrify the motorized two-wheeler fleet. In 2019, the national government proposed a plan to sell only electric two-wheelers (up to 150 cc) from March 2025 onward.
Moreover, to regulate the pollution emitted by vehicles, the central government has skipped Bharat Stage V (BSV) emission standards and mandated that all vehicle manufacturers, both of two-wheelers and four-wheelers, manufacture and sell only BSVI vehicles from 1st April, 2020. The strict emission standards have led to an increase in conventional fuel-based two-wheelers' prices in the range of 7% to 15%, which is further expected to benefit the Indian electric scooter and motorcycle market.
India Electric Scooter and Motorcycle Market Report Coverage

| | |
| --- | --- |
| Report Attribute | Details |
| Historical Years | 2014-2019 |
| Forecast Years | 2020-2025 |
| Base Year (2019) Market Size | 152.0 Thousand Units |
| Forecast Period CAGR | 57.9% |
| Report Coverage | Electric Scooter and Motorcycle Penetration in Two-Wheeler Industry, Market Trends, Revenue Estimation and Forecast, Segmentation Analysis, Country and State-Level Breakdown, Impact of COVID-19 on Market, Regulatory Framework at Country and State Levels, Company Share Analysis, Companies' Strategic Developments, Product Benchmarking, Company Profiling |
| Market Size by Segments | Product, Battery Type, Voltage, Technology, Maximum Speed, Sales Channel, Application, State |
| Secondary Sources and References (Partial List) | VAHAN, Society of Manufacturers of Electric Vehicles (SMEV), Society of Indian Automobile Manufacturers (SIAM), Ministry of Road Transport and Highways (MoRTH), National Automotive Board (NAB), Federation of Automobile Dealers Associations (FADA), Automotive Component Manufacturers Association of India (ACMA), Automotive Research Association of India (ARAI) |
Explore more about this report - Request free sample pages
Falling Li-Ion Battery Prices Making Electric Scooters and Motorcycles Affordable
Another important factor propelling the growth of the Indian electric scooter and motorcycle market is the expected cost reduction of Li-ion battery in the coming years, resulting out of economies of scale. Battery constitutes about 40–50% of the total EV cost. Currently, almost all the EV manufacturers import Li-ion batteries from China, Japan, and South Korea, due to a lack of raw material and underdeveloped value chain. However, the recent focus of major Li-ion battery stakeholders on developing batteries and related systems locally is expected to positively impact the Indian electric scooter and motorcycle market. At present, a battery is priced at around $260 per kilowatt-hour (kWh), with the price expected to fall to around $145 per kWh in the next five years, thereby making electric scooters and motorcycles more affordable for customers.
Moreover, the majority of the electric two-wheelers sold in the country have SLA batteries, and each such battery contains 10–20 kg of lead, which is a highly toxic substance. Li-ion batteries have a higher power density than SLA batteries, thereby making the former lighter and more efficient. Moreover, Li-ion batteries have a greater life span (more than 2,000 charge cycles), compared to SLA batteries (maximum 400 charges), and the former are faster charging as well. The added advantages of Li-ion batteries will position them with conventional internal combustion engines (ICE), thus benefitting the sales of Li-ion-battery-driven electric two-wheelers during the forecast period.
Market Players Launching High-Speed Models to Attain Competitive Edge
The major OEMs in the Indian electric scooter and motorcycle market are launching high-speed electric scooter models, to avail FAME-II incentives. Over 60% of the total 35 models launched in the market are high-speed electric scooters. Furthermore, Hero Electric, Tork, Emflux, and Evolet have plans to launch a total of six new high-speed models by the end of 2020. A few key developments in the market are as follow:
In February 2020, PUR Energy Pvt. Ltd. (Pure EV) launched an electric scooter, named EPluto 7G. The scooter has been priced at $1,136.0 (INR 79,999), and it would offer a range of 120 km and a top speed of 60 km/h. Moreover, the company would also offer a warranty for 40,000 km of travel distance on this vehicle.
In January 2020, TVS Motor Co. launched its first electric scooter, iQube. The model is priced at $1,633.0 (INR 1.15 lakh), and the company stated that the vehicle has been developed in India itself, including its electric motor, software as well as programming systems. Furthermore, the scooter is equipped with a 4.4 kW electric motor, has the ability to reach a top speed of 78 km/h, and offers a range of 75 km on one charge.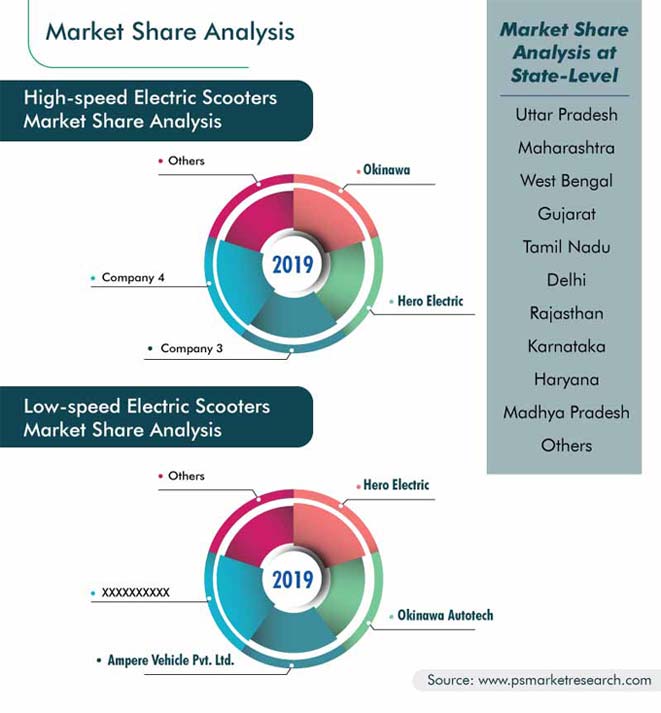 Some of the Key Players in the Indian Electric Scooter and Motorcycle Market include:
Hero Electric Vehicles Pvt. Ltd.

Electrotherm (India) Ltd.

Avon Cycles Ltd.

LOHIA AUTO INDUSTRIES

Okinawa Autotech Pvt. Ltd.

TVS Motor Co. Ltd.

TWENTY TWO MOTORS PVT. LTD. (22 KYMCO)

Bajaj Auto Ltd.
Ather Energy Pvt. Ltd.

Ampere Vehicles Pvt. Ltd. (Greaves Cotton Ltd.)

Tunwal E-Vehicle India Pvt. Ltd.

Revolt Motors

Pure EV

BattRE

Evolet
India Electric Scooter and Motorcycle Market Size Breakdown by Segment
The Indian electric scooters and motorcycles market report offers comprehensive market segmentation analysis along with market estimation for the period 2014–2025.
Based on Product
Based on Battery Type
Sealed Lead Acid
Lithium-Ion (Li-Ion)
Based on Voltage
36 V
48 V
60 V
72 V and others
Based on Technology
Based on Maximum Speed
<25 km/h
25–50 km/h
>50 km/h
Based on Sales Channel
Based on Application
Business-to-Business (B2B)

Shared mobility
Last-mile logistics

Business-to-Customer (B2C)
Geographical Analysis
Uttar Pradesh
Maharashtra
West Bengal
Madhya Pradesh
Gujarat
Tamil Nadu
Delhi
Rajasthan
Karnataka
Haryana
Rest of India