Market Overview
The India electric rickshaw battery market revenue was $141.3 million in 2021, and it is expected to reach $295.4 million by 2030, at a CAGR of around 8.5% during 2021–2030. The batteries used in passenger carriers held the larger share in the market in 2021, accounting for 96.9% of the total revenue. The presence of a large passenger base in the country, coupled with the rising demand for cost-effective last-mile connectivity, is a major factor driving the market in this category.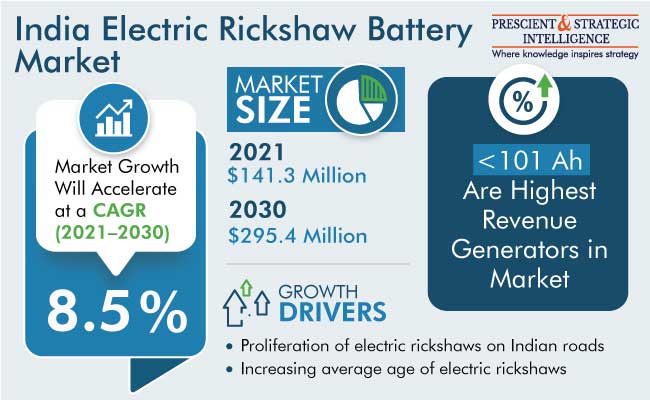 <101-Ah Batteries Are Highest Revenue Generators in Market
Batteries with a capacity of less than 101 Ah dominate the market, accounting for 60.6% of the sales revenue in 2021. The category is expected to continue dominating the market in the coming years owing to the end user preference for low-cost e-rickshaws. This can also be attributed to the market dominance of unorganized local players, most of whom manufacture low-cost e-three-wheelers.
During the forecast period, the Indian electric rickshaw battery market is expected to witness the faster growth in the demand for batteries with a capacity of more than 101 Ah, with a 10.6% CAGR, in terms of value. This can be attributed to the increasing demand for e-rickshaws that can travel longer distances without frequent charging.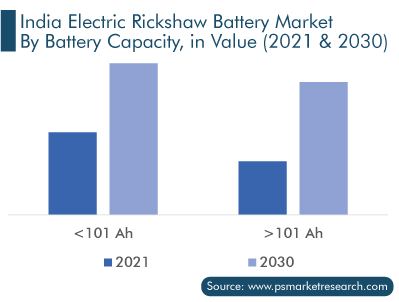 Increasing Average Age of Electric Rickshaws
Initially, the e-rickshaw market had been dominated by unorganized, local players, who enjoyed a collective share of around 80% in 2016. As the players were mostly local and operated on a small scale, the electric three-wheelers offered by them were of a substandard quality and had an average life of 1.8 years. However, since the GST rollout, the market has moved toward consolidation, with unorganized market players strongly hit by the higher manufacturing costs. In addition, issues with respect to customer services have instilled a sense of distrust among customers in unorganized companies. As a result, consumers have started preferring the reliable products offered by established multinational corporations (MNCs) and Indian manufacturers.
The market share of organized manufacturers grew up to 48.8% in 2021 from around 20.1% in 2016. With the market becoming more structured and organized, the quality of the products has also increased significantly in recent years. The electric rickshaws offered by established and organized manufacturers have an average life of 3.5 years. This higher average age propels the demand for batteries primarily for the replacement of the dead or older ones. Thus, it can be construed that with the increase in the average life of e-rickshaws, the demand for batteries is bound to rise.
Lithium-Ion Battery Type Is Widely Used
Based on battery type, the Indian electric rickshaw battery market has been categorized into lead–acid and lithium-ion. The lithium-ion battery type held the larger share, of 51.9%, in 2021, and its revenue contribution is expected to reach $196.1 million by 2030. This will mainly be due to their availability in standard industry sizes, 50–60% lower weight, and a 25–50% higher capacity. Additionally, they have a low self-discharge rate, which allows them to maintain their state of charge for a longer time. Moreover, they are highly efficient in charging, requiring 1–3 hours for a full charge, with built-in overcharge protection.
Favorable Operational Cost of Electric Rickshaws
The demand for electric three-wheelers is increasing in the country as they are one of the most-convenient and cost-effective modes of transport for short distances. These three-wheelers currently account for 83% of the Indian electric vehicle market. India currently has around 15 lakh electric rickshaws, with additional sales of around 11,000 new ones every month. These figures could be much higher, as a large percentage is still unregistered.
The initial cost of electric variants is between $811.6 (INR 60,000) and $1,487.9 (INR 1.1 lakh), while that of an ICE-based autorickshaw is between $2,029.05 (INR 1.5 lakh) and $4,058.1 (INR 3 lakh). Similarly, the running cost is only INR 0.4 per km for battery variants, compared to INR 2.1–2.3 per km for those driven by petrol (gasoline) or CNG. The maintenance issues related to electric rickshaws are also quite few, which further reduces the maintenance cost. Additionally, the specific energy consumption of ICE-based autorickshaws is 362.4 kJ/passenger-km and that of electric rickshaws is 53.76 kJ/passenger-km, which clearly shows that the latter are much more energy-efficient.
India Electric Rickshaw Battery Market Report Coverage

| | |
| --- | --- |
| Report Attribute | Details |
| Historical Years | 2017-2021 |
| Forecast Years | 2022-2030 |
| Market Size in 2021 | $141.3 Million |
| Revenue Forecast in 2030 | $295.4 Million |
| Growth Rate | 8.5% CAGR |
| Report Scope | Market Trends, Drivers, and Restraints; Revenue Estimation and Forecast; Segmentation Analysis; Impact of COVID-19; Companies' Strategic Developments; Market Share Analysis of Key Players; Company Profiling |
| Segments Covered | By Vehicle; By Battery Capacity; By End Use; By Battery Type; By State |
Explore more about this report - Request free sample pages
To Increase Market Share, Companies Involved in Several Strategic Developments
The market has the presence of several key players, who, in recent years, have been involved in various strategic developments in order to stay ahead of their competitors. For instance, in March 2022, Exide Industries Ltd. partnered with SVOLT Energy Technology of China for making lithium-ion batteries. This partnership helped them in taking a key position in the emerging new-age electric mobility and stationary application businesses.
Key India E-Rickshaw Battery Market Players Are:
Exide Industries Ltd.
Amara Raja Batteries Ltd.
Eastman Auto and Power Limited
Okaya Power Pvt. Ltd.
Jay Ace Technologies Ltd.
Gem Batteries Pvt. Ltd.
Luminous Power Technologies Pvt. Ltd.
Z-Power Impex Private Limited
Market Size Breakdown by Segment
The study offers comprehensive market segmentation analysis along with market estimation for the period 2017-2030.
Based on Vehicle
Passenger Carrier
Load Carrier
Based on Battery Capacity
Based on End Use
Original Equipment Manufacturer (OEM)
Replacement
Based on Battery Type
Geographical Analysis
Madhya Pradesh
Uttar Pradesh
Delhi
West Bengal
Rajasthan
Bihar
Haryana
Chhattisgarh
Uttarakhand
Punjab
Jharkhand
Assam
Tripura
Rest of India