India Computer-Aided Design (CAD) Software Market Overview
The Indian CAD software market size stood at $445.6 million in 2019, and it is expected to reach $696.9 million by 2025, exhibiting a CAGR of 8.2% during the forecast period (2020–2025). The major factors supporting the growth of the industry include the surging utilization of CAD software by the construction sector, rising focus on smart manufacturing, growing need for fast production of goods, and surging demand for accurate and improved-quality designs.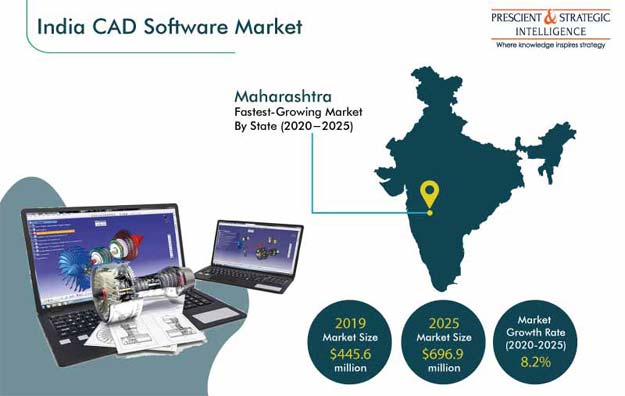 Owing to the COVID-19 pandemic, the adoption of CAD software would decrease, which would further result in slow market growth in FY2020–21 (as witnessed in the first half of this year). This would be due to the complete or partial lockdown situation across India, which has resulted in the temporary closure of business operations, thus further leading to huge losses for companies. The slowdown in economic activities has resulted in a reduced demand for industrial products, thereby further leading to the shutdown of manufacturing plants and the consequently subdued demand for CAD software in the country.
3D Software Is Larger and Faster-Growing Technology Category
The 3D software category held the larger share in the Indian CAD software market in 2019, and it is also projected to witness the faster growth during the forecast period. This is mainly due to factors such as 3D CAD's faster designing capabilities, accurate and realistic 3D drawings, and time and cost savings. Additionally, this technology allows for effective collaboration with customers and non-technical colleagues and competitive advantages for end users. Hence, businesses are adopting 3D CAD software to achieve design automation and optimization, validate performance, receive support for 3D printing, and get quick approvals from clients on project proposals.
Cloud Category To Witness Faster Growth
The cloud category is projected to witness the faster growth in the Indian CAD software market during the forecast period. Enterprises are increasingly shifting toward cloud solutions, due to digitization, as well as the enhanced scalability, data modernization, reduced IT costs, data flexibility access, and automatic update advantages of cloud-based software. As a result, the demand for cloud-supported CAD software is increasing, as it allows people to edit and design on different devices and better track the projects; it also improves the collaboration between stakeholders related to the updated designs.
Large Enterprises Are Generating Higher Revenue
The large enterprises category accounted for the larger size in the Indian CAD software market in 2019, owing to the surging use of CAD software by established companies in the construction, healthcare, automotive, and aerospace industries, for architectural designs, technical product drawings, building plans, and other purposes. CAD software offers several benefits to large companies, such as increased efficiency of designers, improved product quality, high precision, effective communication among team members, and longer product life.
Solid Category Held Largest Share and Is Registering Fastest Growth
In 2019, the solid category held the largest share in the Indian CAD software market, on the basis of model. It is also expected to register the fastest growth during the forecast period, mainly because of the increasing need for creating complete and accurate parts, which supports the requirement for advanced simulation and enhanced visualization of the designs. Solid modeling is also parametric in nature, which allows designers to save changes at each stage of the modeling process, which can be edited at any time during designing. Some of the advantages offered by solid modeling are a complete representation of an object, suitability for mass production, a lot of information about products, and quick creation of designs.
Architecture Is Projected To Be Fastest-Growing Industry
The architecture category, based on industry, is expected to register the fastest growth in the Indian CAD software market during the forecast period. This would be due to the increasing number of architectural projects in the country, especially for residential properties. CAD software is first used to make the architectural designs, and then, the engineers' team, with the help of those designs, works on the actual construction of the models. Further, the rising number of government and private infrastructure development projects is resulting in the increasing demand for architecture, engineering, and construction (AEC) services, thereby contributing to the considerable growth of this category.
Fastest Growth in Demand for CAD Software Is Projected in Maharashtra
The Indian CAD software market in Maharashtra is projected to witness the fastest growth during the forecast period. This can be ascribed to the increasing GDP of the state and its dominance on sectors including manufacturing, technology, international trade, and finance. According to the Economic Survey of Maharashtra 2019–2020, the state's contribution to India's GDP stood at 14.3%, which is the highest among all states.
Furthermore, the Indian CAD software market in Nashik is expected to witness the fastest growth during the forecast period. This can be ascribed to the presence of a large number of engineering and construction companies, rapid adoption of advanced technologies by industries and their strong focus on innovative product designing, increasing manufacturing of electrical parts and equipment, and surging number of infrastructure projects in the city. For instance, according to Invest India, Nashik presently has 19 ongoing projects in the transport sector, pertaining to railway tracks, roads, and bridges, worth $4 billion; and four projects in the commercial infrastructure sector, worth $85.4 million.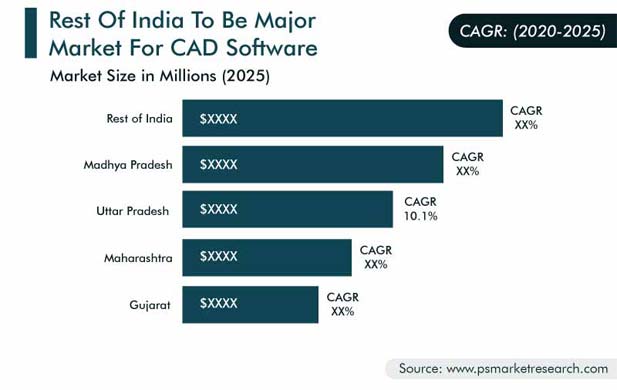 Surging Preference for Subscription-Based CAD Software
The rapid consumer shift toward subscription-based CAD software from the perpetual licensing model is a key trend being observed in the Indian CAD software market. High costs are associated with the traditional CAD software licensing model, due to which small and medium enterprises (SMEs), which generally have low IT budgets, often find it difficult to integrate the software into their work processes. Since SMEs account for more than 90% of the registered companies in India and they are also witnessing faster growth than large enterprises, market players are increasingly focusing on offering subscription-based CAD software, to cater to the growing customer base.
For instance, PTC Inc. and Autodesk Inc. have shifted their focus to the subscription-based model, to offer customers new ways of aligning the software with their business needs, with additional benefits of low-cost trials and multiple-machine/device access. This would also enable start-up companies to take quarterly or yearly licenses and analyze how the model works for them and, subsequently, invest in the long-term licensing model.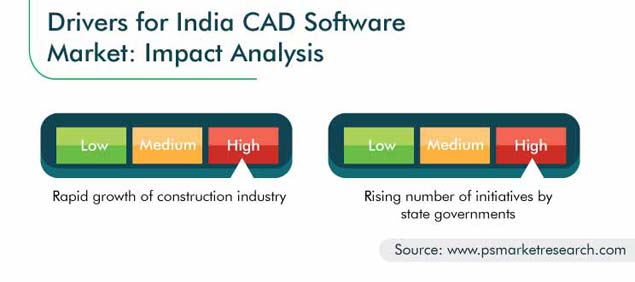 Rapid Growth of Construction Industry
The growth in the country's construction sector is one of the major factors positively impacting the Indian CAD software market. This is mainly due to factors such as the increasing government initiatives to facilitate infrastructure development and surging foreign direct investment (FDI). According to Invest India, the revenue generated in the construction equipment industry is projected to reach $5 billion by 2020. Moreover, India is expected to become the third-largest construction market in the world by 2025, registering a CAGR of 28% during 2019–2021.
The construction industry is recording notable growth in the demand for CAD software, to facilitate precise designs and accurate measurements, spot design flaws, and conduct advanced analysis of the designs. Some of the advantages offered by CAD software to construction managers are a better visualization of designs, reduced chances of error, faster completion of projects, and higher project efficiency and accuracy. Thus, with growth in infrastructure, the demand for CAD software is expected to further rise in the country during the forecast period.
Rising Number of Initiatives by State Governments
The rising number of initiatives by state governments is one of the major factors contributing to the growth of the Indian CAD software market. State initiatives focused on infrastructure development are resulting in heavy investments in several sectors, such as automotive, construction, aerospace, and healthcare, and increasing requirement for high-quality, customized industrial goods. As a result, several states in India are focusing on new industrial policies, which are expected to result in the rising demand for CAD software. For instance, in August 2020, the Gujarat government announced the Gujarat Industrial Policy 2020, which includes the following objectives:
To empower industries to set high-quality standards for products and enhance exports
To facilitate state-of-the-art, sustainable industrial infrastructure
To enable industries to focus on the adoption of sustainable, cleaner manufacturing and Industry 4.0 practices
To strengthen micro, small, and medium enterprises (MSMEs) and accelerate cluster development
To promote R&D, innovation, and entrepreneurship
India CAD Software Market Report Coverage

| | |
| --- | --- |
| Report Attribute | Details |
| Historical Years | 2014-2019 |
| Forecast Years | 2020-2025 |
| Base Year (2014) Market Size | $445.6 Million |
| Forecast Period CAGR | 8.2% |
| Report Coverage | Market Trends, Revenue Estimation and Forecast, Segmentation Analysis, State and City Breakdown, Company Share Analysis, Companies' Strategic Developments, Product Benchmarking, Company Profiling |
| Market Size by Segments | Technology, Model, Deployment, License, Organization, Industry, State |
| Market Size of Geographies | Madhya Pradesh, Bihar, Uttarakhand, Uttar Pradesh, Jharkhand, Maharashtra, Jammu and Kashmir, Gujarat, Rest of India |
| Secondary Sources and References (Partial List) | India Investment Grid (IIG), India Design Association (InDeAs), India Brand Equity Fund (IBEF), Design and Technology Association, Indian Construction and Materials Associations, Computer-Aided Architectural Design Research in Asia (CADDRIA), Association of Designers of India (ADI), All India Association of Industries (AIAI), Architectural & Civil Drafters Association (ACDA), Consulting Engineers Association of India (CEAI), Professional Designers Association (PDA), Construction Federation of India (CFI), Engineering Council of India, National Association of Software and Service Companies (NASSCOM) |
Explore more about this report - Request free sample pages
Market Players Focusing on Establishing Partnerships
Players including Autodesk Inc., 3D Systems Corporation, IronCAD LLC, and Bentley Systems Incorporated have a strong presence in the Indian CAD software market. Autodesk Inc. stood at the first position in the market, mainly due to its increasing focus on establishing partnerships with resellers, in order to capture a larger share and offer customers a wide range of CAD solutions.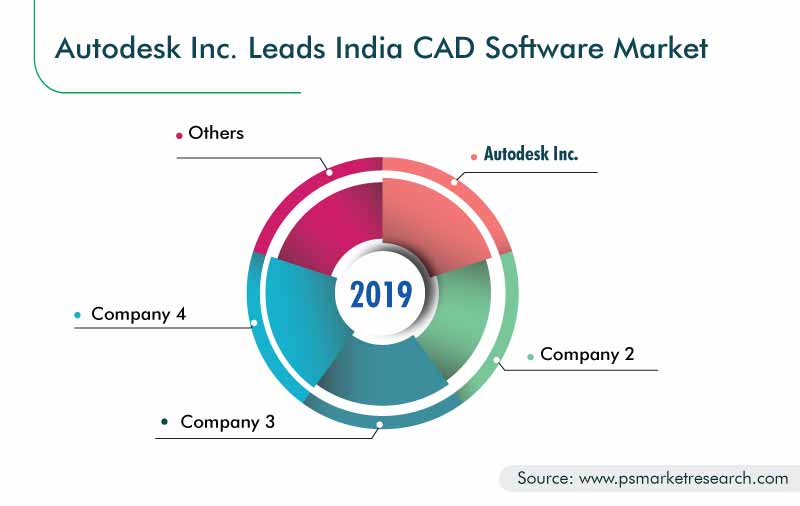 Some of the Key Players in the India CAD Software Market Report include:
Autodesk Inc.

Adobe Inc.

Siemens AG

3D Systems Corporation

Hexagon AB

IronCAD LLC
PTC Inc.

Trimble Inc.

Dassault Systèmes SE

PTC Inc.

Jytra Technology Solutions Private Limited

Murari Software Solutions
India CAD Software Market Size Breakdown by Segment
The India CAD Software market report offers comprehensive market segmentation analysis along with market estimation for the period 2014–2025.
Based on Technology
Based on Model
Based on Deployment
Based on License
Based on Organization
Large Enterprises
Small and Medium Enterprises (SMEs)
Based on Industry
Architecture
Engineering
Construction
Manufacturing
Geographical Analysis
Jammu and Kashmir
Uttar Pradesh
Jharkhand
Maharashtra
Uttarakhand
Bihar
Madhya Pradesh
Gujarat
Andhra Pradesh
Telangana
Kerala
Tamil Nadu
Rest of India