Market Overview
The implantable loop recorders market size stood at $1,341.2 million in 2022, and it is projected to rise at a compound annual growth rate of 8.0% during 2023–2030, to reach $2,490.4 million by 2030. This is attributed to the increasing prevalence of heart diseases, the growing aging population across all regions, the surging healthcare spending, the emerging new fields of clinical research, and the rising governments' support for creating better healthcare infrastructure.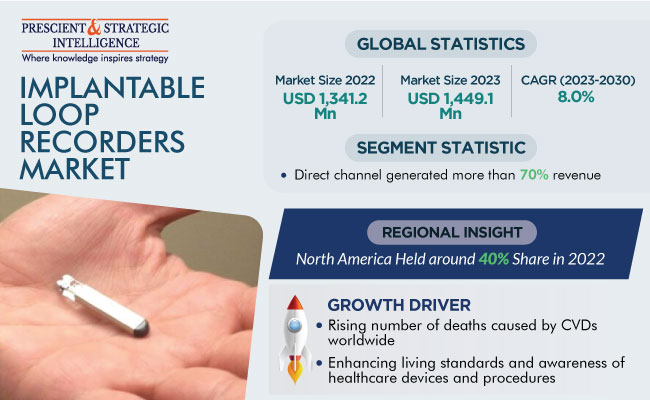 Additionally, the growing variations in lifestyle, lack of nutritional diet, and rising trend of junk food consumption are the major reasons behind the increasing cases of chronic health conditions in both the younger and older populations. Also, these ill health habits are the root cause of the surging incidences of CVDs and other chronic ailments. In addition, the growing mortality incidents of people suffering from chronic cardiac diseases have led to the rising adoption of implantable loop recorders (ILRs) for better information and treatment of existing heart patients.
Moreover, novel technical advancements in cardiac care, augmented demand for remote patient monitoring, and the growth and development of various heart disease treatment devices and therapies are driving the implantable loop recorders market.
Rising Cardiac Arrhythmia Incidence Boosts the Market
The cardiac arrhythmia category is expected to witness considerable growth in the coming years, due to the rising CVD incidences, the increasing adoption and usage of remote patient monitoring devices, and the growing incidence of Atrial fibrillation (AFib or AF), which is one of the sub-types of cardiac arrhythmia. For instance, nearly 33.5 million patients are suffering from AFib worldwide and it causes more than 150,000 deaths every year in the U.S.
Similarly, as per an article published on a European government website, AF is the most common heart rhythm disorder and accounts for approximately 3% of healthcare expenditure in European countries. Further, patients having AF are prone to have a five-time higher risk of stroke, and more than 20% of strokes are caused by this form of cardiac arrhythmia. Also, such strokes are more fatal than strokes caused by other reasons. Thus, this factor drives the demand for self-monitoring cardiac devices, which, in turn, is bolstering the market growth.
Moreover, remote patient monitoring is gaining traction for people having heart failure for the record of patients' heart conditions. Heart failure is a common chronic life-threatening illness. To better define the probable risk of deteriorating heart failure and as a life-saving step, several approaches have been conjectured to track the patient's condition without the need for frequent hospitalizations. Further, for patients having heart failure, the ICM monitoring is suitable when they reach a clinical status and may avoid indications for other types of cardiac implantable electronic devices (CIEDs).
In addition to the intensive care of arrhythmias, implantable systems have the capability to utilize parameters such as an upsurge in respiratory rate and pulse rate to predict a worsening medical condition of patients that may lead to hospitalizations. Such kind of prior monitoring serves early remedial involvement and thus provides outpatient and home management without frequent hospital visits, which, in turn, reduces economic costs. Also, the use of such devices positively impacts the patient's quality of life, along with minimizing the chances of hostile events such as infection caused by frequent hospitalizations. Therefore, such incidences of heart failure, cardiac arrhythmia, and strokes are expected to fuel the demand for implantable loop recorders.
Direct Distribution Channel Captures a Larger Market Share
Based on the distribution channel segment, the distribution of ILRs is dominated by the direct purchase of cardiac rhythm monitoring devices by end users like hospitals, ambulatory surgery centers, cardiac centers, and others. Thus, in 2022, the direct category captured a larger revenue share of 90%. This is also ascribed to the rising CVD patient population in both developed and emerging nations, the escalated number of hospital visits for diagnosis, and the increasing number of cardiac implantable electronic device procedures.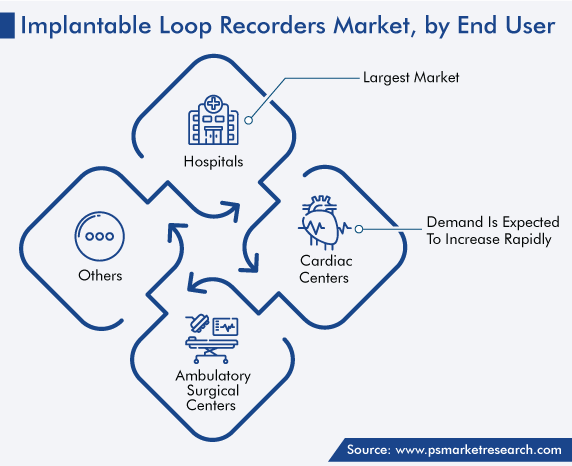 Technological Developments in Cardiac Monitoring Devices
The rising advancements in cardiac solutions and services and advanced product launches are key reasons for the augmented growth of the implanted loop recorders market. For instance, in February 2023, Medtronic plc announced the successful results of recent clinical data from the STROKE AF clinical study. It presented that the company's Reveal LINQ insertable cardiac monitor detects 10-fold more in AF detection of patients suffering from large vessel diseases and microvascular dysfunction stroke patients. It is an automatic, wireless, and patient-responsive intravenous ECG monitoring device.
Similarly, in 2021, RhythMedix, a medical device manufacturer, launched the next-generation RhythmStar, a wearable cardiac monitoring device with integral 4G cellular connectivity. It is worn for extended remote monitoring with no requirement for smartphones or any other communication device. The technology aids in quick ECG studies, reports heartbeat irregularities, and alerts doctors if any risk related to arrhythmia is detected.
Likewise, in 2020, Biotronik SE & Co. KG launched an ICM BIOMONITOR III. It is intended to help patients with irregular heart rhythms by describing unexplained syncope with amplified precision. It aims at providing the accuracy of arrhythmia detection and analysis, and it proposes enhanced signal quality. The product can be implanted under the skin with a quick injectable procedure following a small incision.
Furthermore, with the benefits such as automatic pairing, ease of data transmission, and no active patient involvement, the adoption of cardiac monitors is increasing. Also, the feature of intelligent memory management averts the double recording of medically relevant events so that no relevant evidence is missed. These devices are also used as monitoring equipment for patients with unexplained episodes of palpitations. Thus, these factors drive the growth of the market.
Implantable Loop Recorders Market Report Coverage

| | |
| --- | --- |
| Report Attribute | Details |
| Historical Years | 2017-2022 |
| Forecast Years | 2023-2030 |
| Market Size in 2022 | USD 1,341.2 Million |
| Market Size in 2023 | USD 1,449.1 Million |
| Revenue Forecast in 2030 | USD $2,490.4 Million |
| Growth Rate | 8.0% CAGR |
| Report Scope | Market Trends, Drivers, and Restraints; Revenue Estimation and Forecast; Segmentation Analysis; Impact of COVID-19; Companies' Strategic Developments; Market Share Analysis of Key Players; Company Profiling |
| Segments Covered | By Indication; By End User; By Distribution Channel; By Region |
Explore more about this report - Request free sample pages
High Usage of ILRs in North America
Due to the presence of well-developed healthcare infrastructure and facilities, the rising CVD incidences, the growing healthcare expenditure, high disposable income, and the augmented demand for remote patient monitoring devices in the region, the North American implantable loop recorders market accounted for the highest revenue share, of 40%, in 2022, and it is projected to grow at a CAGR of 7% during the forecast period.
Moreover, the rising heart disease and stroke statistics show an alarming rate of deaths in the U.S., and hence largely supporting the regional market growth. For instance, around 700,000 people die of heart disease in the country every year. Amongst these, around 150,000 people die from stroke every year. Additionally, the growing elderly population is more likely to develop heart diseases and necessitates unceasing cardiac activity monitoring and the wide availability of technologically advanced products are bolstering the demand for ILR devices in the region.
Furthermore, the European market is expected to witness significant growth in the coming years. This can be ascribed to the presence of established healthcare infrastructure and substantial healthcare investment. For instance, countries like Germany, the U.K., France, and Switzerland have a developed healthcare sector, owing to which new technology and diagnostic procedures are more frequently used. Further, the rapid increase in the proportion of the aging population and the rising CVD cases are creating a lucrative demand for ILRs.
In addition, in Europe, CVD causes more than three million deaths every year and accounts for around 45% of all deaths in the EU and thereby expected to bolster the need for enhanced heart care solutions to treat the patient population. Thus, this factor drives the regional market growth.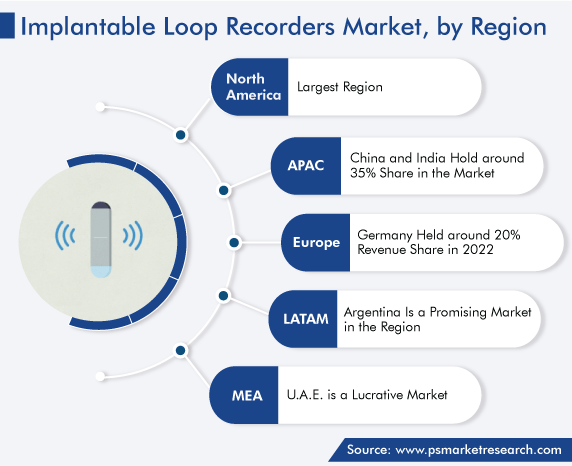 Key Implantable Loop Recorder Manufacturers Are:
Medtronic plc
Abbott Laboratories
Biotronik SE & Co. KG
Boston Scientific Corporation
Vectorious Medical Technologies Ltd.
NIHON KOHDEN CORPORATION
Koninklijke Philips N.V
Midmark Corporation
ZOLL Medical Corporation
SunTech Medical Inc.
Market Size Breakdown by Segment
This report offers deep insights into the implantable loop recorders market, with size estimation for 2017 to 2030, the major drivers, restraints, trends and opportunities, and competitor analysis.
Based on Indication
Cardiac Syncope
Stroke
Heart Failure
Cardiac Arrhythmia
Bundle Branch Block
Based on End User
Hospitals
Cardiac Centers
Ambulatory Surgical Centers
Based on Distribution Channel
Geographical Analysis
North America
Europe

Germany
U.K.
France
Italy
Spain

Asia-Pacific

Japan
China
India
South Korea
Australia

Latin America
Middle East and Africa

Saudi Arabia
South Africa
U.A.E.