Market Overview
The remote patient monitoring devices market generated revenue of USD 60.9 billion in 2023 (E), and it will advance at 15.7% CAGR during 2023–2030, to reach USD 168.5 billion by 2030.
The pandemic of COVID-19 has had a significant impact on the market as these devices provide advanced chronic illness management capabilities, such as progress trackers and early warning alerts. Since people were confined to their homes and could not visit doctors for routine checkups, the demand for these internet-connected medical devices grew during the lockdowns.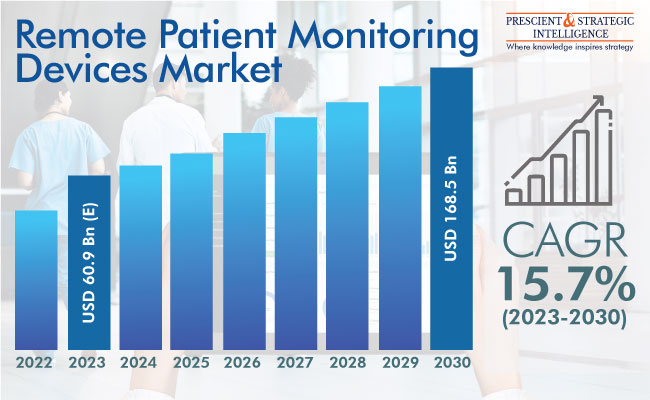 The increasing incidence of chronic illnesses, including diabetes, respiratory conditions, and cardiovascular diseases, results in a rising requirement for continuous vital signs monitors. For example, as per the WHO, globally, approximately 1.28 billion adults between the ages of 30 and 79 years suffer from hypertension. Remote patient monitoring helps in gaining real-time clinical data on patients with diseases including cancer, diabetes, and COPD, thus enabling timely disease management. The adoption of next-generation sensor technologies has benefited healthcare devices by lessening the distance between the healthcare provider and the patient.
Integration of IoT into Medical Devices Is Key Market Trend
The integration of the internet of things technology into medical devices is a key trend in the healthcare sector. This has created several possibilities to enhance the effectiveness and quality of patient care, especially for the aged populace with chronic diseases. The integration of actuators, sensors, Bluetooth connectivity, and several other communication devices has enabled patients to transmit their clinical data to the medical practitioner seamlessly, through a cloud-based platform.
In addition, medical device businesses are focusing on producing innovative and next-generation devices to offer cost-effective care to patients, by lessening product prices. For example, Philips introduced BX100, a next-generation wireless wearable biosensor, in May 2020 to help in the clinical management of patients suspected or confirmed with COVID-19. Therefore, the surging inclination toward effortless monitoring will boost the expansion of the remote patient monitoring devices market throughout the projection period.
Growing Geriatric Population Is Strong Market Driver
One of the biggest drivers for the market is the burgeoning geriatric population. With people aged above 65 years set to number more than 1.5 billion by 2050, as per the World Population Ageing 2020 report of the UNDESA, the demand for distance healthcare monitoring solutions will rise. This is because these people are highly vulnerable to diseases and find it difficult to visit hospitals every time. Additionally, many elderly people face mobility issues due to injuries or musculoskeletal or neurological issues, which further makes such digital health solutions vital for them.
Vital Signs Monitors Are Significant Revenue Contributors
The vital sign monitors category contributes significant revenue to the market, as these systems efficiently track a patient's non-invasive blood pressure, heart rate, body temperature, brain activity, and respiration rate. Moreover, the integration of multiple vital sign monitors in one system will increase their acceptance. This is because of their capability to identify symptoms, prevent complications, and monitor clinically important data before and after surgery. Moreover, innovative features, including smartphone and tablet connectivity and wireless communications, enable early disease diagnosis and better product applicability.
Additionally, the heart rate monitor, a sub-category of the vital signs monitors category, is the leading product, because of the surging prevalence of cardiac conditions across the globe. Different arrhythmias give different insights into the heart's functioning, each symptomatic of a particular condition. Therefore, by transmitting real-time data on the cardiac rhythm to a doctor, these devices enable a prompt response in the case of emergencies.
Diabetics Are Key Users of Remote Patient Monitors
The diabetes category, based on application, has a major share in the remote patient monitoring devices market in 2023. Patients with diabetes need constant blood glucose level monitoring, as hypoglycemia and hyperglycemia are the major causes of death among them. Further, this common endocrinological condition affects several body functions, such as vision, heart activity, renal activity, and liver function. Effective diabetes management can be accomplished easily with remotely accessible self-monitoring blood glucose devices.
Further, the hypertension category is likely to observe significant growth during the projection period. Patients with hypertension have higher chances of suffering from cardiovascular illnesses; therefore, non-stop monitoring of their blood pressure is vital. As per the CDC, over half the adult population in the U.S. has high blood pressure, on account of the heavy consumption of fatty, junk food and alcohol and inadequate physical activity.
Homecare Settings Are Significant End User
The homecare settings category has a significant share because of the rising healthcare expenses, a lot of which go into visiting the doctor and availing of routing checkups. Additionally, the focus on care at the bedside is boosting the advancement of diagnostic, therapeutic, monitoring, and display technologies. Additionally, the COVID-19 pandemic has amplified the number of patients consulting their doctors from home, using the telemedicine approach.
Remote Patient Monitoring Devices Market Report Coverage

| | |
| --- | --- |
| Report Attribute | Details |
| Market Size in 2023 | USD 60.9 Billion (E) |
| Revenue Forecast in 2030 | USD 168.5 Billion |
| Growth Rate | 15.7% CAGR |
| Historical Years | 2017-2022 |
| Forecast Years | 2023-2030 |
| Report Scope | Market Trends, Drivers, and Restraints; Revenue Estimation and Forecast; Segmentation Analysis; Impact of COVID-19; Companies' Strategic Developments; Market Share Analysis of Key Players; Company Profiling |
Explore more about this report - Request free sample pages
North America Is Market Leader
North America is dominating the global remote patient monitoring devices market in 2023. This can be credited to the increasing prevalence of chronic illnesses, the growing need for portable and wireless medical systems, technological advancements in wearable medical devices, and the existence of favorable reimbursement policies in the region.
Moreover, the increasing funding to manufacture advanced devices in North America, to provide quality care to the expanding patient pool, is aiding in the regional market expansion. Further, the region has one of the most-advanced IT infrastructures, as well as offers easy access to 5G networks, both of which enable the high-speed transmission of real-time clinical data from these devices to doctors' computer systems.
Europe is the second-largest market, and it is likely to remain this way throughout the projection period. This is mainly because of the surging need for affordable treatments and a high rate of mortality. Moreover, the regional market is boosted by the presence of a centralized data management framework, rising efficiency and accuracy of remote patient monitoring systems, and surging requirement for home-based care.
APAC is likely to observe the fastest growth, mainly because of the increasing utilization of EHR platforms, enhancing healthcare infrastructure, high incidence of chronic illnesses, and surging medical expenses. Moreover, China and India offer vast opportunities to the market players because of their huge patient pools and lack of access to quality care. Additionally, Japan will be a major revenue contributor because of its large elderly population.
Key Companies in Remote Patient Monitoring Devices Market
Abbott Laboratories
Smith & Nephew plc
Shenzhen Mindray Bio-Medical Electronics Co., Ltd.
F. Hoffman-La Roche Ltd.
Nihon Kohden Corp.
Medtronic plc
Boston Scientific Corporation
Johnson & Johnson Services Inc.
OMRON Corporation
BioTelemetry Inc.
OSI Systems Inc.
Honeywell International Inc.
GE Healthcare
Koninklijke Philips N.V.
AMD Global Telemedicine Inc.
Vitls Inc.