Market Overview
The global hydrogen generation market size stood at USD 169.3 million in 2023, and it is expected to advance at a compound annual growth rate of 9.4% during 2024–2030, to reach USD 315.3 million by 2030.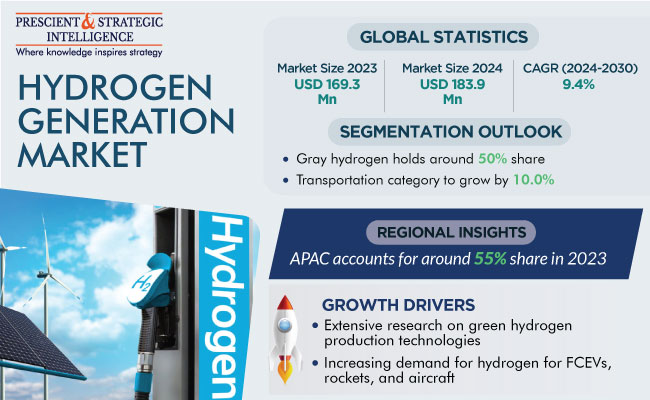 The growth is mainly attributed to the increasing demand for this gas for fuel-cell electric vehicles, rockets, and aircraft. In present times, the adoption of hydrogen is increasing in new applications, such as heavy-duty EV trucks in China, the steel industry, commercial airplanes and their auxiliary power units, and hydrogen trains, which have started operating in Germany. Additionally, many large shipping enterprises have entered into strategic partnerships to secure the supply of hydrogen and its derivative fuels for propulsion.
Growing Production of Gray Hydrogen Is Driving Market
The gray hydrogen category generated the highest market revenue, of USD 0.08 billion, in 2023, and it is expected to maintain its dominance throughout the forecast period. Gray hydrogen is the common form, which is generated from natural gas by modifying the molecular structure of hydrocarbons. The cost of producing gray hydrogen is less than that of both blue and green hydrogen, which is why it is widely adopted by industries. Moreover, the gray variant caters to most of the markets, unlike the blue and green alternatives. Thus, almost 95% of the hydrogen produced globally is gray.
Transportation Category To Witness Highest CAGR
Transportation is expected to be the fastest-growing category, at a CAGR of 10.0%, from 2024 to 2030. The increasing focus on reducing carbon emissions from the transportation sector is the key driving factor for the growing demand for this clean fuel.
For instance, NewHydrogen has made a generator that uses renewable energy and water to generate low-cost green hydrogen. In the same way, the North Carolina State University has created a new technique for removing hydrogen gas from liquid carriers, which is faster, less costly, and more efficient than the earlier methods.
Hydrogen is increasingly being adopted in EVs that use hydrogen fuel cells and a battery. Many OEMs are focusing on increasing the usage of the fuel cell technology because it is better than traditional internal combustion engines in that the former generates no tailpipe emissions. Additionally, just 1 kilogram of hydrogen can offer a driving range of up to 60 miles, but 1 gallon of gasoline offers only 25 miles. More than 50 fuel stations in the U.S. provide hydrogen to support more than 12,000 hydrogen-powered vehicles, including almost 70 buses.
Hydrogen Generation Market Report Coverage

| | |
| --- | --- |
| Report Attribute | Details |
| Market Size in 2023 | USD 169.3 Million |
| Market Size in 2024 | USD 183.9 Million |
| Revenue Forecast in 2030 | USD 315.3 Million |
| Growth Rate | 9.4% CAGR |
| Historical Years | 2017-2023 |
| Forecast Years | 2024-2030 |
| Report Scope | Market Trends, Drivers, and Restraints; Revenue Estimation and Forecast; Segmentation Analysis; Impact of COVID-19; Companies' Strategic Developments; Market Share Analysis of Key Players; Company Profiling |
| Segments Covered | By Type; By Technology; By Application; By Delivery Mode; By Region |
Explore more about this report - Request free sample pages
Asia-Pacific Region Is Expected To Lead Market
The APAC region generated the highest market revenue, of USD 0.09 billion, in 2023, and it is expected to be the largest region from 2023 through to 2030. The key hydrogen generation market growth factor in the region is the rising usage of FCEVs, consistent with a growing focus on a hydrogen-based economy, along with the increasing H2 output. The Asia-Pacific region has more than 100 oil refineries.
The major oil refining companies in India are Oil and Natural Gas Corporation (ONGC), Indian Oil Corporation Limited (IOCL), Bharat Petroleum Corporation Limited (BPCL), Hindustan Petroleum Corporation Limited (HPCL), and Reliance Industries. The demand for the gas is increasing due to the rising chemical production and crude oil refining activities in the region. Moreover, the rising investments in the fuel-cell electric vehicle market are propelling the demand for hydrogen.
For instance, the Ministry of Petroleum & Natural Gas is taking numerous steps to boost the adoption of hydrogen in the energy blend. The first step is based on gray hydrogen, or hydrogen CNG (H-CNG) step, in which 18% hydrogen is mixed with CNG, for use as a transportation fuel, at the Rajghat bus depot. Under this step, 50 buses in Delhi are running CNG–hydrogen blend. In addition, in 2022, the MRNE provided INR 20 crore for hydrogen energy and fuel cell R&D to be conducted in Mumbai, Delhi, Bengaluru, and Chennai.
Further, India will overtake China as the most-populous country by 2030. Due to the growing population, the consumer base for fertilizers is expanding as well, which is boosting the demand for ammonia, a key ingredient of fertilizers. According to NITI Aayog, green hydrogen can substantially spur industrial decarbonization and economic growth in the country in the coming years, thus allowing India to fulfill its net-zero ambitions by 2070. Thus, India plans to lower the price of green hydrogen to USD 1 per kg by 2030.
Moreover, the government of India and various other nations in the region, including Australia and Japan, is considering greener and cleaner technologies for H2 production. For instance, in 2023, Australia will power up one of GE's 9F hybrid gas–hydrogen turbines for generating electricity and feed it to the national grid. The Australian federal and state governments are currently in favor of creating an integrated green hydrogen sector, for which a few ports will have their infrastructure modified to allow for the export of liquefied H2.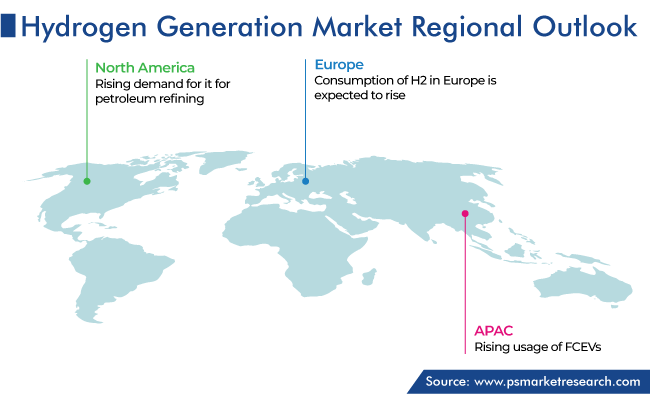 North America Is Growing at a Significant Rate
The demand for H2 in North America is expected to grow at a significant rate, due to the rising demand for it for petroleum refining. Additionally, the funding for hydrogen R&D rose by more than 30% in 2021 compared to 2020, and there are more than 130 refineries in the U.S.
In the U.S., almost 10 million metric tons of hydrogen are produced every year. The gas can be used in various sectors to enable zero emissions. Through the U.S. Department of Energy (DOE), in December 2022, the Biden–Harris Administration announced its intention to distribute USD 750 million from President Biden's Bipartisan Infrastructure Law to significantly reduce the cost of clean hydrogen technologies. The only challenges in the adoption of this clean fuel are its high cost. The DOE's Hydrogen and Fuel Cell Technologies Office is creating technologies that can help produce hydrogen at USD 2 per kg by 2025 and USD 1 per kg by 2030 via net-zero-carbon technologies.
Europe Is Growing at Steady Rate Too
Like in North America, the growth in the consumption of H2 in Europe is expected to arise from the deployment of fuel cell systems. The growth is essentially attributed to the projects for hydrogen production initiated by the European Commission through fuel cells and hydrogen joint undertakings for integrating energy systems, developing skills, scaling up projects, and removing policy hurdles.
For instance, the European Clean Hydrogen Alliance was launched with the European Hydrogen Strategy in 2020, bringing together businesses, civil society, government at the federal, state, and municipal levels, and other stakeholders to increase the usage of FCEVs in Europe. This will drive the creation of hydrogen infrastructure, which will, in turn, propel the demand for the gas as fuel.
Moreover, The EU's hydrogen strategy and REPowerEU have made a plan to take up low-carbon hydrogen to decarbonize the EU cost-effectively. The European Commission has also made a plan to manufacture 10 million tonnes of renewable hydrogen and import 10 million more tonnes by the end of 2030. In addition, in 2020, the EU unveiled a hydrogen strategy that calls on action to support the expansion of green hydrogen generating capacity. Similarly, Florida Power & Light intends to start operating a 20-MW green hydrogen station by 2023. This hydrogen will be used in a 20% mix at FP&L's 1.75-GW Okeechobee gas-fired facility.
Extensive Research into Developing Green Hydrogen Production Technologies
Hydrogen is mostly used by oil refineries and the fertilizer industry. India uses more than 5 million tonnes of gray hydrogen per year, up to 99% of which is consumed in the oil refining industry and for making ammonia for fertilizers.
On the other hand, electrolysis produces green hydrogen, if the electricity used to decarbonize and split water into hydrogen and oxygen is generated by renewable resources. The objectives of several nations by 2050 are to decarbonize themselves. One of the most-important components in attaining this aim is the production of green hydrogen.
Under the scenario of net-zero emissions, hydrogen generation could experience an unexpected increase in demand. When the world's total production reaches around 200 Mt in 2030, low-carbon technologies will account for more than 70% of that production (electrolysis). Moreover, by the end of 2050, the volume of hydrogen produced with the help of low-carbon technologies will have grown up to 500 Mt. Many other technologies will also be adopted to reach net-zero emissions by 2050.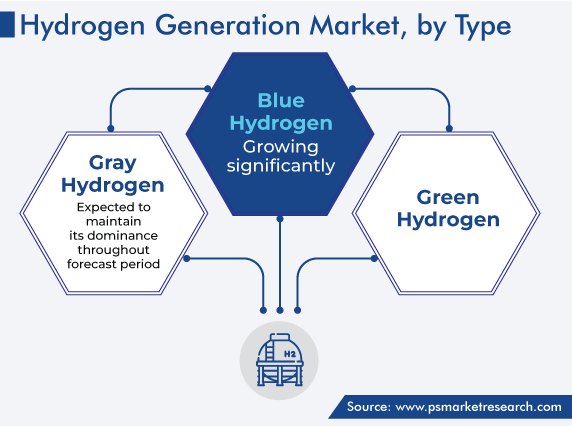 The strong hydrogen production growth and the increase in the usage of cleaner technologies for its production will permit it and derivative fuels to control up to 60 Gt of CO2 emissions, or around 6.5% of all cumulative emissions, by 2050. Hydrogen is important for cutting emissions in hard-to-decarbonize industries, such as heavy industries (mainly steel and chemical), heavy-duty road transport, marine, and aerospace, where direct electrification is tough.
Top Providers of Hydrogen Generation Solutions Are:
Linde Plc
L'AIR LIQUIDE S.A.
Cummins Inc.
Air Products and Chemicals, Inc.
Uniper SE
Engie SA
Siemens Energy
Nel ASA
ITM Power PLC
Iberdrola
Market Size Breakdown by Segment
This report offers deep insights into the hydrogen generation market, with size estimation for 2017 to 2030, the major drivers, restraints, trends and opportunities, and competitor analysis.
Based on Type
Blue Hydrogen
Gray Hydrogen
Green Hydrogen
Based on Technology
Steam–Methane Reforming
Coal Gasification
Electrolysis
Based on Application
Methanol Production
Ammonia Production
Petroleum Refining
Transportation
Power Generation
Based on Delivery Mode
Geographical Analysis
North America
Europe

Germany
U.K.
France
Italy
Spain

Asia-Pacific

Japan
China
India
South Korea
Australia

Latin America
Middle East and Africa

Saudi Arabia
South Africa
U.A.E.