Hydrogen Market Overview
The global hydrogen market valued $136,185.0 million in 2019, and it is expected to demonstrate a CAGR of 4.3% during the forecast period (2020–2030). The growing demand for ammonia, due to the increasing use of ammonia-based fertilizers to increase productivity and maintain crop nutrition, and rising demand for the gas from the refinery sector, owing to the stringent sulfur reduction regulations, are some of the key attributable factors that are driving the hydrogen industry.
COVID-19 has put the world on a standstill, by affecting major operations, leading to an industrial catastrophe. The pandemic has already affected every industry, including the hydrogen market, owing to the government-imposed lockdown in several countries. The operations of various industries, such as crude oil refining, chemical, and steel manufacturing, were temporarily halted or reduced, in order to curtail the spread of the disease. Further, border closures during the first and second quarters of 2020 impacted the hydrogen market negatively, due to the disturbance in the supply of natural gas, which is used for the production of hydrogen.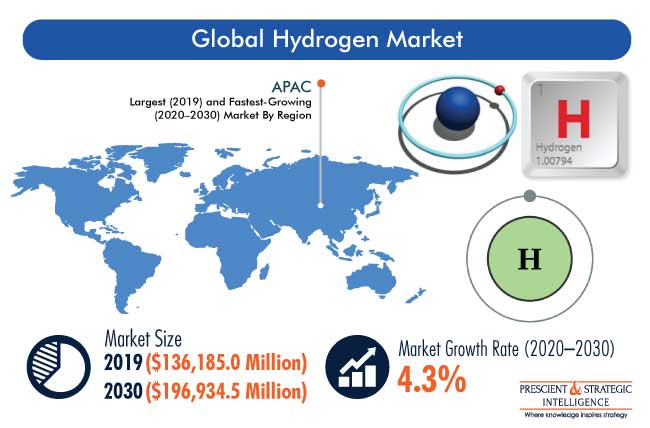 Steam–Methane Reforming Captured Largest Market Share on Account of High Production Efficiency
Based on production process, the steam–methane reforming category accounted for the largest share in the global hydrogen market in 2019. The low cost of hydrogen production via this process compared to others, easy availability of the feedstock, and a well-maintained supply chain are some of the factors responsible for the largest market share of this category.
On-Site Generation Method Is Expected To Witness Fastest Growth Owing to Convenience Offered in Transportation
The on-site generation method category is expected to showcase the highest growth rate during the forecast period. This can be attributed to the fact that it is a less-intricate method of transporting hydrogen to end customers and it is less costly as compared to the cylinder and tanker distribution methods, when used for longer periods (usually 10–15 years). Further, it helps companies maintain smooth operations, by reducing the risks associated with the supply chain.
Chemical Industry To Retain Its Dominant Position during Forecast Period on Account of High-Volume Usage of Hydrogen as a Feedstock
The chemical industry held the largest share in the hydrogen market in 2019, on the basis of end user, and the trend is likely to continue during the forecast period. Hydrogen is used as a raw material in the production of several basic chemicals, such as ammonia and methanol. Since the demand for these chemicals is increasing due to the rising population and demand for fertilizers, the requirement for hydrogen in the chemical industry is growing.
Asia-Pacific (APAC) Region to Retain its Dominance with Investments in Chemical and Petrochemical Sectors
The APAC region held the largest share in the hydrogen market in 2019, due to the presence of a large number of chemical and petrochemical companies in the region, mainly in China, India, Japan, and South Korea. As per the European Chemical Industry Council, in 2018, China contributed the highest revenue, of $1,341 billion, to the worldwide chemical market. Further, the vast population and increasing consumer purchasing power, due to a rise in their income, helped the region secure the top position in the market
APAC Region To Witness Fastest Consumption Surge With Growth of Industrial Sector
The consumption of hydrogen has increased significantly in APAC countries. This is attributed to the high economic growth rate and shift of companies across various end-use industries, such as petrochemical, chemical, and electronics, to the region, due to the low cost of labor and raw materials, along with less-stringent environmental regulations as compared to Western regions.
Additionally, the refinery and metal processing sectors in the region are projected to witness considerable growth, primarily in developing countries, such as China and India, due to the strong support being provided to industries by government and non-government organizations. With the growth of end-use industries, the consumption of the raw material used here is projected to increase in the foreseeable future, thereby propelling the hydrogen market in the region.
Increasing Number of Mergers and Acquisitions Increasing Market Attractiveness
Mergers and acquisition among key players, to increase their market share and improve their geographical presence, are a prominent trend in the hydrogen market. For instance, in September 2020, General Motor Company acquired an 11% stake in a U.S.-based electric truck manufacturer, Nikola Corporation. As part of the deal, General Motor Company will help Nikola Corporation in manufacturing battery and hydrogen fuel cell class 7 and class 8 semi-trucks, for which General Motor Company will supply hydrogen fuel cells to Nikola.
Moreover, in October 2019, Linde Plc acquired a minority stake in ITM Power Plc, a U.K.-based manufacturer of polymer electrolyte membrane (PEM) electrolyzers for the electrochemical splitting of water into hydrogen and oxygen. The strategic investment by Linde Plc is part of its effort to become a leading provider of integrated hydrogen energy solutions.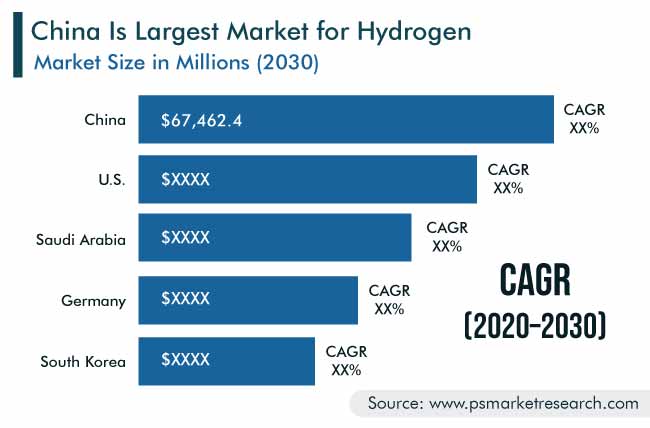 High Demand for Hydrogen for Production of Ammonia-Based Fertilizers Boosting Market Growth
In the past few years, the declining area of arable land due to a variety of climatic, environmental, and human factors has encouraged farmers and governments to efficiently utilize the available land for crop production. As per the World Bank, per person arable land decreased from 0.2 hectares in 2011 to 0.19 hectares in 2016. Owing to this, the demand for fertilizers is increasing, as they improve the growth rate of crops and productivity of farms.
Nitrogen-based fertilizers are widely used in agricultural activities. Ammonia, which is produced by reacting hydrogen with nitrogen, is the basic building block for the production of nitrogen fertilizers. Since the demand for fertilizers is increasing, the demand for ammonia is also rising. As a result, the production and supply of hydrogen would increase, in order to balance the supply–demand of ammonia.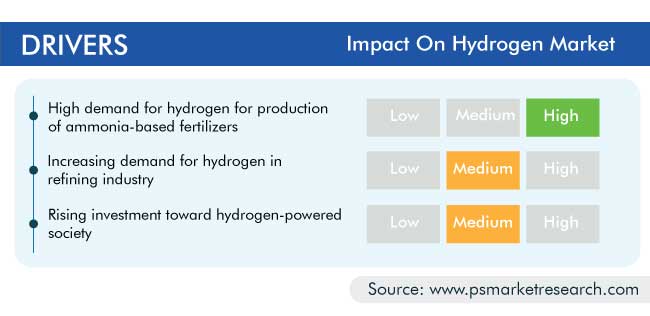 Increasing Consumption of Hydrogen in Refining Industry Driving Market Growth
Hydrogen finds several applications in the refining industry, such as for removing sulfur compounds from crude oil and cracking long-chain hydrocarbons to shorter chains, for the production of gasoline. Further, heavier and sour crude oil requires extensive processing, and the production of the former is rising at a rapid rate. In addition, the strict environmental regulations to reduce sulfur in the oil are leading to a heavy consumption of hydrogen at refineries. For instance, the International Maritime Organization (IMO) enforced a new 0.5% global cap on the sulfur content in fuel on January 1, 2020, thus significantly lowering the maximum permissible amount of sulfur in the oil from the earlier limit of 3.5%.
Hydrogen Market Report Coverage

| Report Attribute | Details |
| --- | --- |
| Historical Years | 2014-2019 |
| Forecast Years | 2020-2030 |
| Base Year (2019) Market Size | $136,185.0 Million |
| Forecast Period (2020-2030) CAGR | 4.3% |
| Report Coverage | Market Dynamics, Import–Export Analysis, Value Chain Analysis, Regulation Analysis, Revenue Estimation and Forecast, Segmentation Analysis, Regional and Country Breakdown, Company Share Analysis, Companies' Strategic Developments, Competitive Benchmarking, Company Profiling |
| Market Size by Segments | Production Process, Distribution Method, End User, Region |
| Market Size of Geographies | U.S., Canada, Germany, U.K., France, Italy, Spain, China, India, Japan, South Korea, Australia, Brazil, Mexico, Argentina, Chile, Saudi Arabia, South Africa, U.A.E. |
| Secondary Sources and References (Partial List) | American Council for an Energy-Efficient Economy, American Hydrogen Association, Asia Industrial Gases Association, British Compressed Gases Association, Energy Information Administration (U.S.), European Commission, Food and Agricultural Organization, Hydrogen Europe, International Association for Hydrogen Energy, Japan Industrial and Medical Gases Association |
Leading Players Entering into Mergers and Acquisition to Increase Their Market Share
The hydrogen market is highly consolidated in nature, with the presence of three major players: Air Products and Chemicals Inc., Linde Plc, and Air Liquide S.A.
In recent years, these players have entered into various mergers and acquisitions in order to capture a larger share in the industry. For instance,
In October 2019, Air Liquide S.A. completed the acquisition of Southern Industrial Gases Sdn. Bhd. (SIGSB) to strengthen its presence in Malaysia. SIGSB had eight manufacturing and refilling facilities and over 200 employees across Malaysia in 2019. The acquisition reportedly doubled Air Liquide's packaged gas filling capacity in Malaysia.
In October 2018, Linde AG merged with Praxair Inc., a U.S.-based gas producing company, to form Linde Plc. The merger allowed the companies to capture a larger share in the industrial gases market, including that of hydrogen.

Some Key Players in Hydrogen Market Are:
Messer Group GmbH

Yateem Oxygen

SOL SpA

Air Water Inc.

Nel ASA
Hydrogen Market Size Breakdown by Segment
The global Hydrogen Market report offers comprehensive market segmentation analysis along with market estimation for the period 2014–2030.
Based on Production Process
Steam–Methane Reforming
Coal Gasification
Electrolysis
Partial Oxidation
Others (Renewable Liquid Reforming, Fermentation, Methanol Reforming, and Ammonia Cracking)
Based on Distribution Method
On-Site Generation
Cylinder
Tanker
Based on End User
Chemical

Ammonia
Methanol
Polymer
Resin

Refineries
Metal Processing
Others (Transport, Aviation, and Marine)
Geographical Analysis
North America
Europe

Germany
U.K.
France
Italy
Spain

Asia-Pacific (APAC)

China
India
Japan
South Korea
Australia

Latin America (LATAM)

Brazil
Mexico
Argentina
Chile

Middle East and Africa (MEA)

Saudi Arabia
U.A.E.
South Africa

Major Market

U.S. hydrogen market
China hydrogen market
Saudi Arabia hydrogen market
Germany hydrogen market

South Korea hydrogen market

By production process
By distribution method
By end user