Market Overview
The hydrazine hydrate market size stands at an estimated USD 298.7 million in 2023, and it is expected to grow at a CAGR of 5.9% during 2024–2030, to reach USD 441.1 million by 2030.
The growth can be primarily ascribed to the rising water pollution levels and the rapid adoption of this compound in the aerospace industry. Moreover, the expanding pharmaceutical industry, coupled with rising population, is expected to fuel the growth of the market.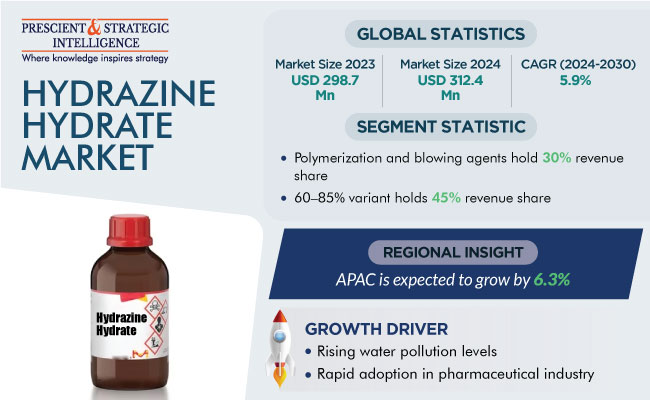 Triazole and triazine are derivatives of hydrazine hydrate that are used in the manufacturing of fungicides and pesticides. In turn, the vast usage of these products in the agriculture industry is expected to drive the market. In several countries, such as China, India, Vietnam, Thailand, and South Korea, agricultural activities have increased in recent times, thereby propelling the requirement for efficient crop management strategies. This is leading to a rising focus on pest control to increase the yield of crops, in order to ensure food security.
60–85% variant Holds Largest Share
The 60–85% category holds the largest share, within segmentation by concentration. This is attributed to the usage of this variant in a wide range of applications, including chemical synthesis, development of veterinary drugs, and as a blowing agent. In addition, it is used in the emergency power units (EPU) of aircraft that have a single engine as a catalyst. For instance, the F16 fighter jet's EPU contains hydrazine because it offers an immediate supply of power and does not require maintenance. By weight, the F-16's EPU has 70% hydrazine and 30% water.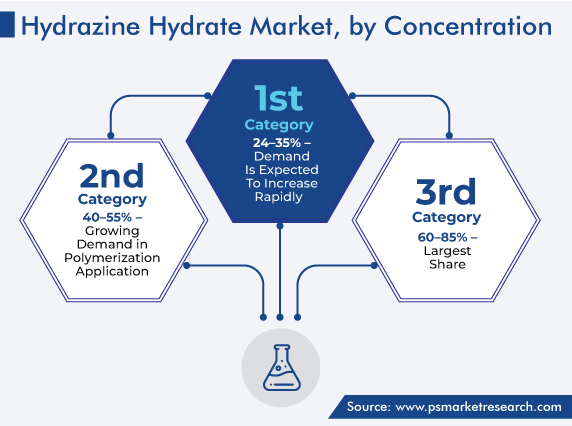 Polymerization and Blowing Agents Are Significant Applications
Polymerization and blowing agents are significant applications of the chemical, which is used for preparing polymer foams as a foaming agent. Polymer foams possess a low molecular weight and high thermal insulation, due to which they are used in various industries, such as construction, automotive, aerospace, and electronics.
The versatility of polymeric materials also helps lower the cost of manufacturing. They are widely adopted in the automotive and healthcare sectors because of their low cost, which helps manufacturers reduce the cost of production without compromising the product quality. Additionally, owing to the outstanding mechanical, electrical, and chemical properties, such as a high strength-to-weight ratio, elasticity, insulating and optical properties, and corrosion resistance, the application of plastics is extensive across many verticals.
Specifically, polymers have received a big boost from the trend of lightweight vehicles, to enhance fuel efficiency. It is estimated that an around 10% reduction in the weight of a vehicle causes a proportional reduction in its fuel consumption. OEMs are rapidly using plastics to reduce the unwanted noise, vibration, and harshness (NVH) in vehicles and produce lighter yet stronger auto parts. Essentially, the demand for these materials is high in the automobile sector because of the increasing disposable income, easy loan schemes, and growing adoption of vehicles.
Plastics are also used in almost every healthcare equipment. Medical device companies are strongly focused on devices that are lighter, smaller, and made up of advanced polymers that ensure safety and functionality. Moreover, there has been a considerable increase in the use of smart polymers in the healthcare industry to manufacture biosensors, artificial body parts, and hydrogels for targeted drug delivery, in recent years. Thus, the growing usage of polymers across sectors drives the demand for polymer foams, and this will, in turn, propel the demand for H6N2O.
Hydrazine Hydrate Market Report Coverage

| | |
| --- | --- |
| Report Attribute | Details |
| Market Size in 2023 | USD 298.7 Million |
| Market Size in 2024 | USD 312.4 Million |
| Revenue Forecast in 2030 | USD 441.1 Million |
| Growth Rate | 5.9% CAGR |
| Historical Years | 2017-2023 |
| Forecast Years | 2024-2030 |
| Report Scope | Market Trends, Drivers, and Restraints; Revenue Estimation and Forecast; Segmentation Analysis; Impact of COVID-19; Companies' Strategic Developments; Market Share Analysis of Key Players; Company Profiling |
| Segments Covered | By Concentration; By Application; By Region |
Explore more about this report - Request free sample pages
APAC Makes Largest Contribution to Global Revenue Generation
APAC has the leading position in the hydrazine hydrate market, and it will hold the same position till 2030, with a value of USD 0.1 billion. This is attributed to the increasing demand for polymers and the growing automotive and agrochemical industries.
In addition, the presence of key players and the increasing pharmaceutical demand across the region are fueling the need for this chemical. In this regard, the rising investments in pharmaceutical research and development, to create better treatments for major diseases, are contributing in revenue generation.
The expanding agriculture industry and the incidence of diseases in plants are also propelling the market. The rise in the investments in the agriculture sector fuels the requirement for agrochemicals, which, in turn, boosts hydrazine hydrate requirement. According to government websites, between 2017 and 2020, the agri-tech sector of India received USD 1 billion in funding. It is further expected that by 2025, India will receive USD 30–35 billion worth of investments.
Due to the rising agricultural activities and investments in the domain, the demand for fungicides and pesticides will increase rapidly. This is because crops often experience fungal diseases, and in order to prevent them, fungicide production will rise, which will, in turn, propel the growth of the market.
In APAC, China holds the leading position, and it will grow at a CAGR of 6.8% during the forecast period, attributed to the prospering plastics and packaging sectors.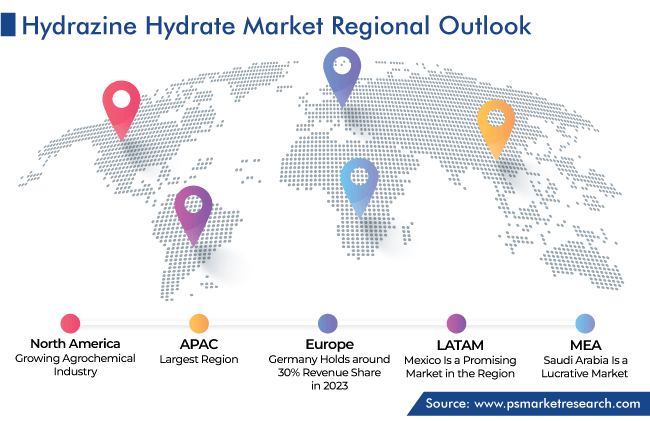 For providing protection to food, polymeric food packaging is used, as it helps in eliminating pollutants, thwarts attack by microbes, and minimizes exposure to the external environment. Additionally, it possesses a wide range of properties, including stiffness, strength, and flexibility and can eliminate moisture and oxygen. The versatility of plastic materials also helps reduce the cost of production. Plastics provide a reliable and cost-effective packaging solution for several industries, including pharmaceuticals, where the packaging must not react with the medicinal ingredients or change the formulations.
Furthermore, pharmaceutical packaging companies are majorly focusing on the incorporation of dispensing mechanisms, administration aids, and counterfeiting measures in the packaging, to improve their functionality and safety. Polyolefins, high-density polyethylene (HDPE), and polypropylene (PP) are the most-common polymers used in the production of vials.
Top Hydrazine Hydrate Manufacturers:
Arkema
LANXESS AG
Weifang Yaxing Chemical Co. Ltd.
Otsuka Chemical Co. Ltd.
Nippon Carbide Industries Co. Inc.
LGC Limited
Thermo Fisher Scientific Inc.
Lonza Group AG
HPL Additives Limited
Yibin Tianyuan Group
Expanding Pharmaceutical Sector Boosts Hydrazine Hydrate Sales
The expanding pharmaceutical sector boosts the demand for this chemical as it used for the manufacturing of tranquilizers and drugs for the treatment of tuberculosis. According to several government reports, in 2021, around 1.6 million people died of tuberculosis and approximately 10.6 million people suffered from it across the world. Some of the compounds prepared from hydrazine hydrate are pyridazine, triazole, triazine, pyrazole, and thiadiazol, which have applications in treating a wide range of health issues. Triazole aids in the treatment of bacterial infections, most prominently, pneumonia.
Pyrazoles are used for the management of diabetes and cancer and as antipyretics, analgesics, and tranquilizers. After heart disease, cancer is the most-common reason for death. Breast cancer is the most-prevalent type of cancer, and lung cancer is also increasing in incidence because of the rising usage of cigarettes and exposure to radon gas. Around 8 in 10 deaths due to cancer are attributed to lung cancer.
Market Size Breakdown by Segment
This fully customizable report gives a detailed analysis of the hydrazine hydrate industry from 2017 to 2030, based on all the relevant segments and geographies.
Based on Concentration
Based on Application
Polymerization and Blowing Agents
Pharmaceuticals
Agrochemicals
Water Treatment
Geographical Analysis
North America
Europe

U.K.
Germany
France
Italy
Spain

Asia-Pacific

China
Japan
Australia
India
South Korea

Latin America
Middle East & Africa

Saudi Arabia
South Africa
U.A.E.